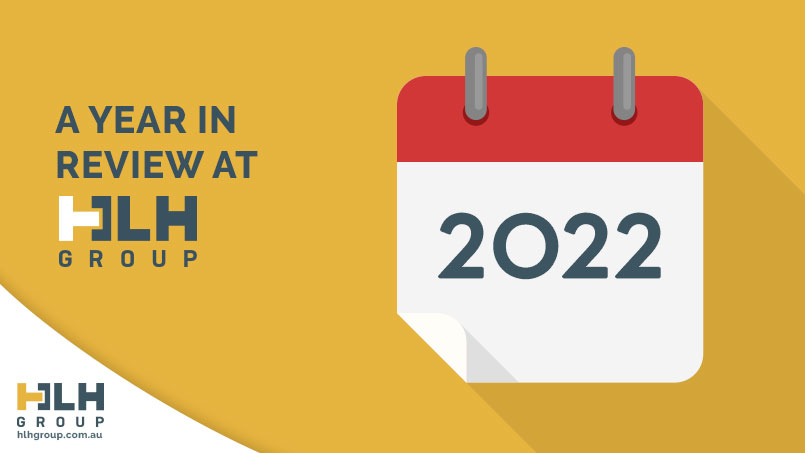 18 Jan

2022 – A Year in Review at HLH Group
January 2022 – Borders open and new Safety Coordinator
The year got off to a busier than usual start for January with a lot of client requests. With the international borders opened over a month now we had hoped to see the backpackers start to trickle through but unfortunately, that was not to be the case.
The start of the year also welcomed our new Safety Coordinator Patrick to the team. He has helped us maintain our high standards of safety on site and ensure we are up to date with all WHS and Safework NSW requirements.
February 2022 – La Nina
The only thing that started to trickle through and then turned torrential was the next La Nina and all the rain that came with it. This slowed a lot of projects down due to workers being rained off and sites being flooded and unsafe to work on.
March 2022 – More rain and International Women's Day
The rain continued but we didn't let it dampen our spirits and the women on our team celebrated with an International Women's Day lunch at North Bondi Fish.
April 2022 – Holidays & Unique Projects
The April public holiday season was well and truly in force with Anzac Day, Good Friday and Easter Sunday. Most of the team were out and about making the most of the public holidays. HLH Marketing completed a unique project at Mooney Mooney Creek for a luxury waterside real estate company.
May 2022 – Sydney Build Expo
After a 2 year postponement due to COVID, we finally got to get back out and meet clients face to face by exhibiting at the Sydney Build Expo in the Convention Centre. It was a great couple of days where we met existing clients, made some new clients and got to keep up with all the industry services and products on display there.
June 2022 – New Brazilian Recruiter & TV Appearance
With things slowly beginning to pick up following the Sydney labour shortages we decided to start expanding our internal team and Tiago our new Brazilian recruiter came on board. He's one of the friendliest additions to the team we've had in a long time and an excellent team player too!
We made our TV debut as HLH Group featured on Channel 9's A Current Affair to discuss the ongoing labour shortages in Australia's construction industry.
July 2022 – EOFY Celebrations
After a quiet year for social events because of restrictions the HLH Group team were excited to get out socialising again together again for our EOFY party we went to Archie Bros for some team bowling followed by some well-deserved drinks.
August 2022 – HLH Marketing Kicking Goals
HLH Marketing reaches its annual goal for the number of new clients well in advance of the end of the year. They have been keeping busy with lots of drone photo shoot requests from clients wanting to showcase projects from the beginning right through to the completion stage.
September 2022 – Annual Sports Day
Following restrictions last year due to COVID we can have our annual Sports Day with HLH Group v Stronghold Hire at Heffron Park. While the weather stayed dry for us Stronghold narrowly pipped us to the post at the final event the lawn bowls at Hillsdale Bowling club. Hopefully, with some training and more preparation, HLH Group can win the cup back in 2023!
October 2022 – New Irish Recruiter Joined Our Busy Team
We welcomed another new recruiter to the team all the way from Wexford in Ireland. Conel came on board to help manage the increasing number of candidates we are now beginning to finally see arrive from overseas.
November 2022 – Melbourne Cup, International Men's Day & Admin Extraordinaire
Our admin extraordinaire Jess joined the team with another recent arrival to Australia from Ireland. With our number of workers increasing Jess is helping out with payroll and the implementation of our exciting new system Entire HR Payroll launching in 2023 amongst plenty of other tasks.
December 2022 – Xmas Beer Drops & Xmas Party Season!
We ended the year on a high with our labour hire numbers back up to the highest they have been since pre-covid it took almost a year since the borders opened but finally, we've seen a good increase in workers entering the country from the UK, Ireland, South America, Germany and France to name a few.
With restrictions lifted we finally got out and about to see clients face-to-face on-site again and deliver them some beers to say thanks for using HLH Group in 2022!
The Xmas party was the finale of what started off a turbulent year but finished on a high with us celebrating down in Darling Harbour with an Escape room challenge, followed by dinner, drinks, dancing and the casino for some well-earned celebrations…now, onto 2023!