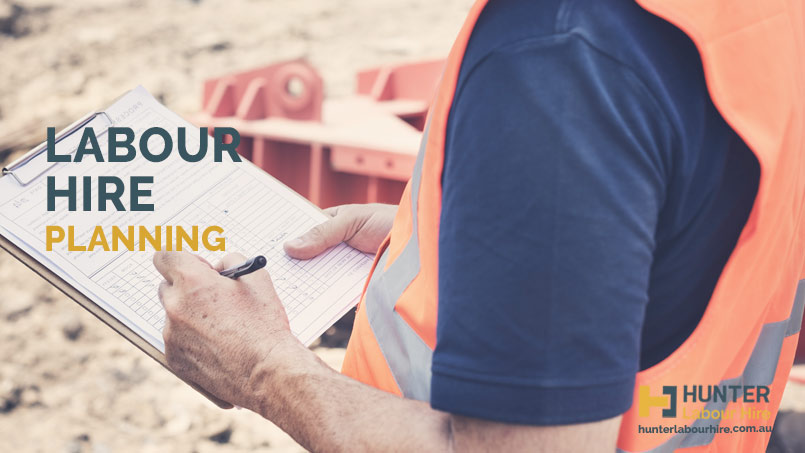 18 Jul

Labour Hire Planning

At Hunter Labour Hire we pride ourselves in being extremely flexible and offering each of our clients a 24/7 service to fit their requirements. Often our account managers can be extremely reactive to client requirements and can arrange workers for the next day, or as is sometimes the case, even the same day. However, as good as they are at getting you the labour hire you need quickly, we would always advise that you plan your upcoming labour hire requirements to avoid any project delays or difficulty in sourcing labour hire. Labour hire planning can be overlooked at times but in this post we'll give you some tips on how to plan your labour hire.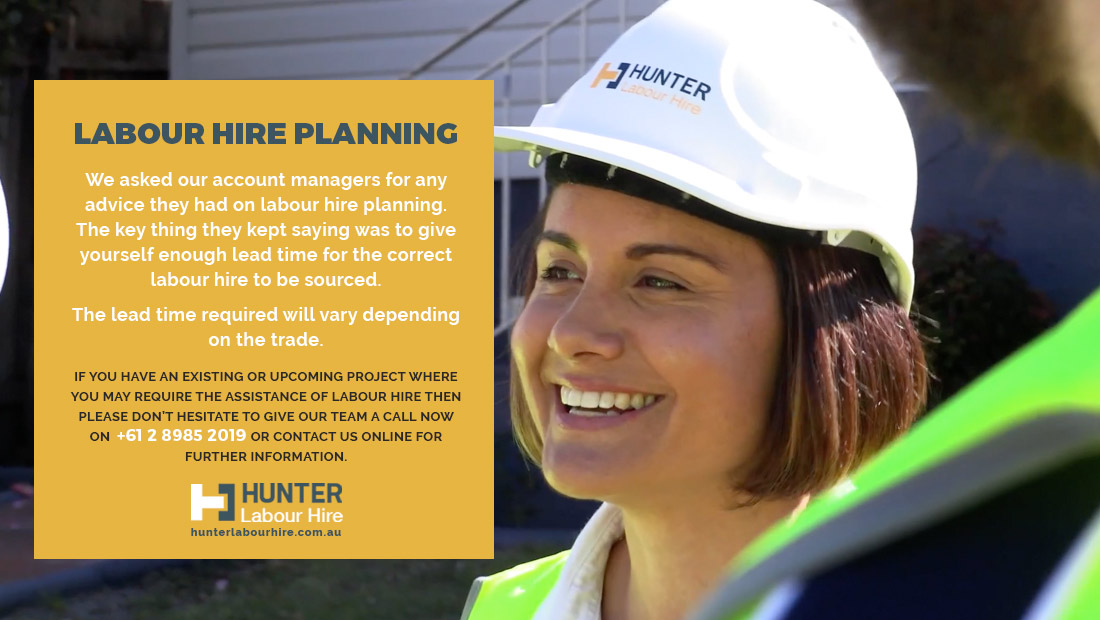 Labour Hire Planning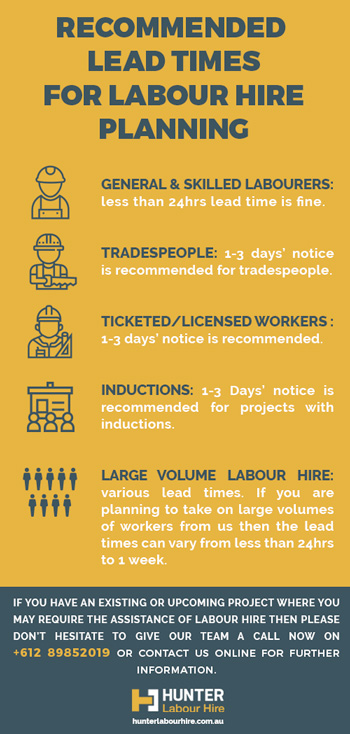 We asked our account managers for any advice they had on labour hire planning. The key thing they kept saying was to give yourself enough lead time for the correct labour hire to be sourced. The lead time required will vary depending on the trade. Below is a list of recommended lead times from our account managers for a variety of different trades – hopefully it will help you with your labour hire planning and ensure you are never left disappointed.
Labour Hire Planning – General & Skilled Labourers
Less than 24hrs lead time is fine
Generally, we can always supply general and skilled labourers with less than 24hrs notice. We have a constant flow of jobs finishing up and new jobs starting so retaining existing quality workers is much easier than it was a few years ago when we were smaller and we can guarantee tried and tested workers in most cases. We also always have at least 2 labourers on standby every morning so providing labour the same day is also an option for those clients who have been let down elsewhere or have unexpected labour requirements.
Labour Hire Planning for Tradespeople
1-3 days' notice is recommended for tradespeople
Due to the skills shortage in Sydney HLH realise that finding good tradespeople is difficult. We have a very good pool of tradespeople who we recycle across our jobs, but they do get booked up well in advance. Similar to the labouring jobs though we always have jobs finishing and new jobs starting so if our team are given at least 1-3 days' notice we can generally supply you with the required tradespeople with no issues.
Labour Hire Planning for Ticketed/Licensed Workers
1-3 days' notice is recommended for ticketed/licensed workers
Just like our tradespeople our ticketed labour hire and licensed workers get booked up in advance. However, if we are given at least a 1-3 days' notice for these workers we can always supply them. We also work very closely with our preferred training provider Simili Training who are extremely flexible in assisting HLH with workers who require additional training or NSW construction licences for certain projects.
Labour Hire Planning With Inductions
1-3 Days' notice is recommended for projects with inductions
Some projects require lengthy inductions often involving an offsite online induction before the onsite induction. Although we have up to date copies of all our workers licenses and personal information required for these inductions we advise clients to provide us with 1-3 days' notice for projects requiring an induction just to make sure there is no disappointment.
Large Volume Labour Hire Planning
Various lead times
If you are planning to take on large volumes of workers from us then the lead times can vary from less than 24hrs to 1 week. For example, we could provide 10 general labourers for a project tomorrow, however, for 10 carpenters you would be looking at around 1 week for us to confidently provide quality workers for your job. For further information about lead times for a large volume of workers please feel free to give the team a call today on 02 8985 2019 and speak to one of our account managers.
Preferred Supplier Agreement
Hunter Labour Hire offer all our clients the option of a preferred supplier agreement. A preferred supplier agreement displays loyalty to us from our client and assures us that our client will always turn to us before looking elsewhere for labour needs. Naturally all clients with a PSA in place will receive a superior service and more dedication from our team compared to those potential clients who call and say they have put the job out to another 10 companies. We firmly believe that if our clients give us 100% of their work and commitment then we will do the exact same in return and assure them we will not disappoint.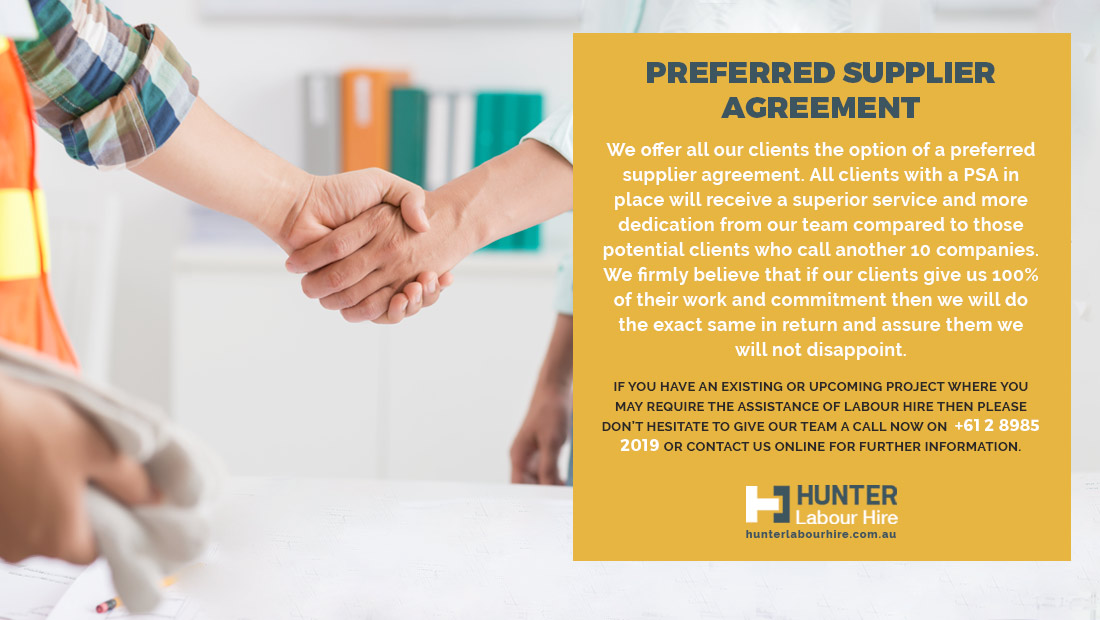 Planning for Labour Hire Costs
HLH would always advise that every client speaks with one of our account managers prior to quoting for a job to receive labour hire rates for the different types of labour hire they may require. Factoring in these costs from day one will help avoid any surprises once the project begins.
Historically companies see labour hire as an expensive alternative to recruiting direct and wonder why should they use a labour hire company?. However, once you take into consideration the fact that the costs include PAYG, Superannuation, Payroll tax, Workers Comp and Public Liability Insurance and take away any costs associated with the recruitment process, you can make huge savings by using labour hire.
Plan Your Upcoming Labour Hire With HLH Today
If you have an existing or upcoming project where you may require the assistance of labour hire then please don't hesitate to give our team a call now on +61 2 8985 2019, email info@hunterlabourhire.com.au or contact us online for further information.