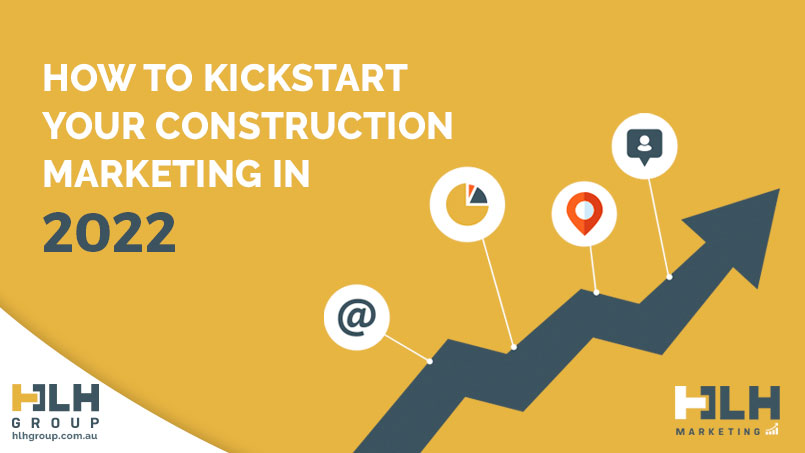 27 Jan

How to Kickstart Your Construction Marketing in 2022
Construction Marketing in 2022
It's 2022 which can only mean one thing…"New Year, New Me". Sound familiar? Everyone always says the same line every year in hopes that all their goals and achievements will be achieved without any effort put in. In construction, one of the most common goals that never get accomplished every year is "This year will finally be the year I prioritise marketing my construction business". There is nothing wrong with not achieving all your goals set at the start of the year but working in construction as long as we have, we know that marketing always gets brushed aside. So don't let 2022 be the year where you disregard your marketing goals again. In this post we'll give you the breakdown on what you need to know to kickstart your construction marketing in 2022!
Common Construction Marketing Questions
So, what's next? How do you start? What marketing do you need? How much money should you be spending? Well lucky for you, over the past year we have created a set of blogs to help you answer these common questions that ALL business owners have when first starting their marketing journey. You can read through them here:
Where to Start?
"Marketing" is such a broad term, that's why it's easy to be unsure about how it applies to your construction company. There are so many different avenues and services that can be classified as marketing such as traditional marketing, digital marketing, search engine marketing, content marketing, email marketing, telecommunications and the list goes on and on. To help you understand what you need, we've compiled an essential list of construction marketing services your business should have or try to use in 2022.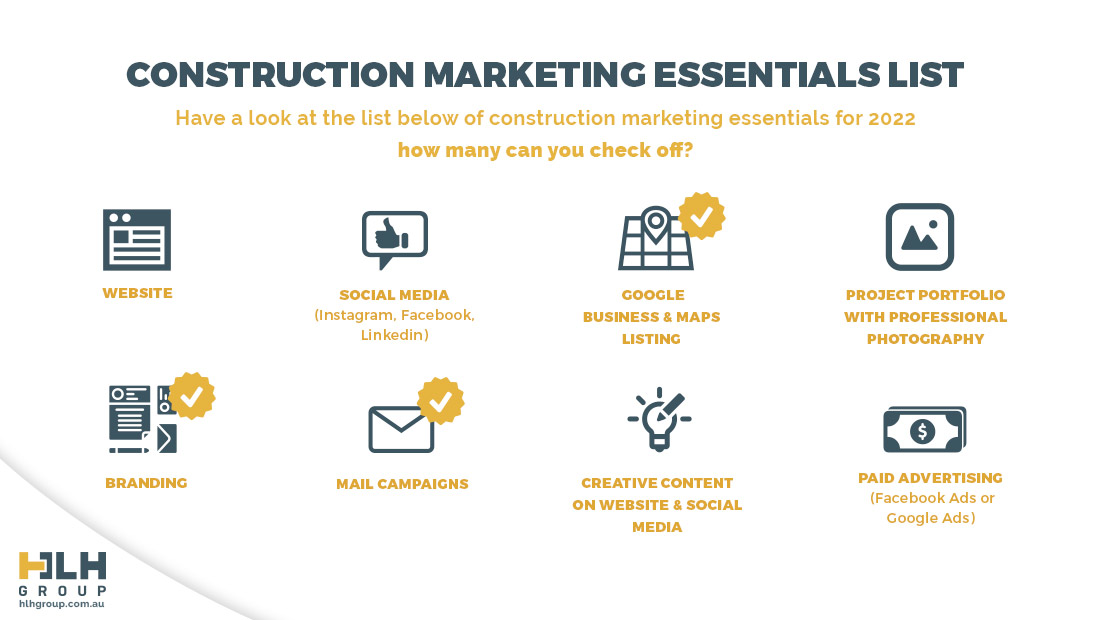 Construction Marketing Essentials List
Have a look at the list below of construction marketing essentials for 2022 – how many can you check off?
Website
Social Media (Instagram, Facebook, Linkedin)
Google Business & Maps Listing
Project Portfolio with Professional Photography
Paid Advertising (Facebook Ads or Google Ads)
Creative Content on Website & Social Media
Mail Campaigns
Branding
Analyse and Fill In The Gaps
Using the above list below you should be able to do some quick and easy gap analysis to determine what aspects of your marketing are not up to par. If your construction business does not use some of the above options in their marketing plan, it may be time to researching how they can benefit you. HLH Marketing offers all of the above services. We would be more than happy to discuss the benefits of each service and how they can help you grow your company with more clients and awareness over the phone.
Stop Making Excuses in 2022!
There is no time like the present so get your marketing sorted early in the year. Don't keep delaying and leaving it until later in the year as January/February is usually a quieter time in construction. The more you delay, the busier your schedule gets. Before you know it, it will be EOFY and you will have no time for marketing as you have a large amount of admin to complete. Then, if you leave it for even later in the year you'll have clients pushing you to meet the Christmas deadline. And then by the end of the year, you are back to where you started by having spent ZERO time or money on growing your construction business through marketing. These are the common excuses that builders make to avoid or delay using marketing:
"What's marketing?"
"I don't have any time"
"It is way too expensive for my business"
"Marketing … it's not important at all"
"I don't need it, I rely on word of mouth marketing"
"I'm not good enough with computers or phones to know what I'm doing"
TIP FOR 2022: There are always a million reasons not to do something. Stop delaying and instead start prioritising your business's marketing.
Your 2022 Marketing Goals
Once you've decided to eat the frog and sort your marketing plan out, it is time to decide your construction marketing goals for 2022. Identifying your marketing objectives and goals is a common issue construction companies have. It is hard to find a balance sometimes between too many project requests or not enough. The most common construction marketing goals that will determine what marketing services you need are growth, showcase and identity. For an in-depth review of each goal refer to our "What Marketing Does Your Construction Company Need?" article.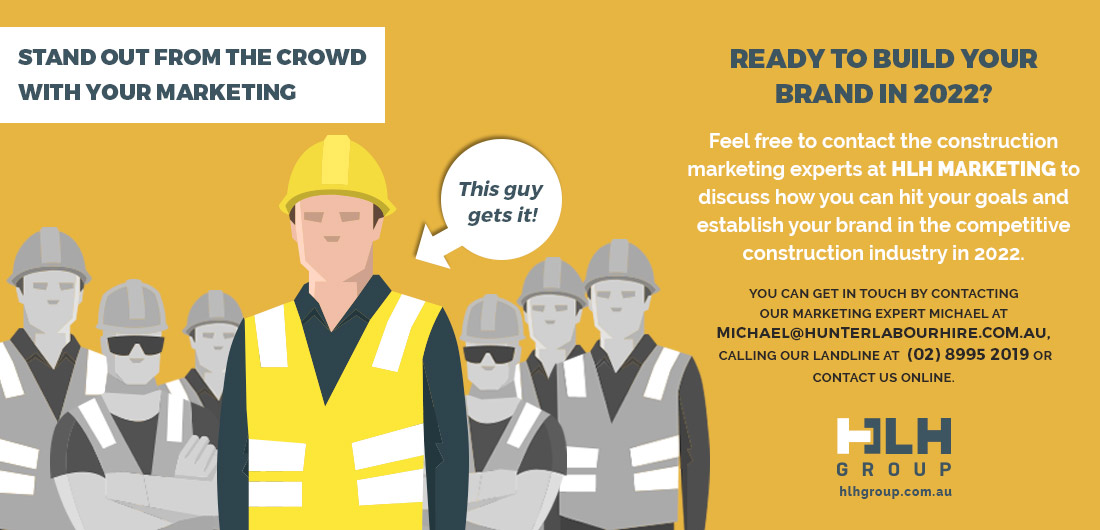 Ready to Build Your Brand in 2022?
Feel free to contact the construction marketing experts at HLH Marketing to discuss how you can hit your goals and establish your brand in the competitive construction industry in 2022. You can get in touch by contacting our Marketing expert Michael at michael@hunterlabourhire.com.au, calling our landline at (02) 8995 2019 or contact us online.