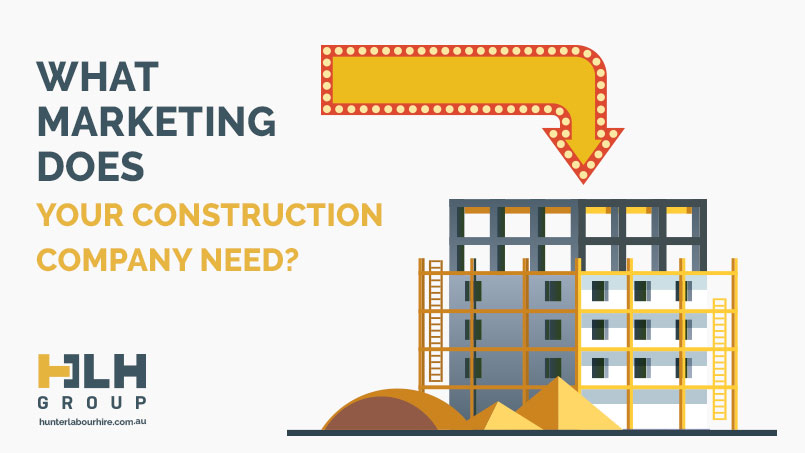 04 Aug

What Marketing Does Your Construction Company Need?
Marketing for Construction
You hear people talking about 'marketing' but do you understand what it means in the context of the construction industry? Marketing is a common buzzword many builders like to throw in to explain all their sudden influx of incoming projects or whilst they're explaining their business model. Whether you know what 'marketing' is or not, it is still one of the core essentials for any construction business. So in this blog, we will be explaining what marketing is and how you can benefit depending on what outcome/result you wish to see.
What is Marketing?
The official definition of marketing refers to any actions a company takes to attract an audience to the company's product or services through high-quality messaging. Marketing aims to deliver standalone value for prospects and consumers through content, with the long-term goal of demonstrating product value, strengthening brand loyalty, and ultimately increasing sales. In terms of construction marketing, this means promoting your business to your ideal audience to gain more projects and clients.
Construction Marketing Goals
Deciding on what you want to achieve from a marketing platform is a common issue construction companies have. It is hard to find a balance sometimes between too many project requests or not enough. We've broken down the most common construction marketing goals to help you decide what marketing your construction needs.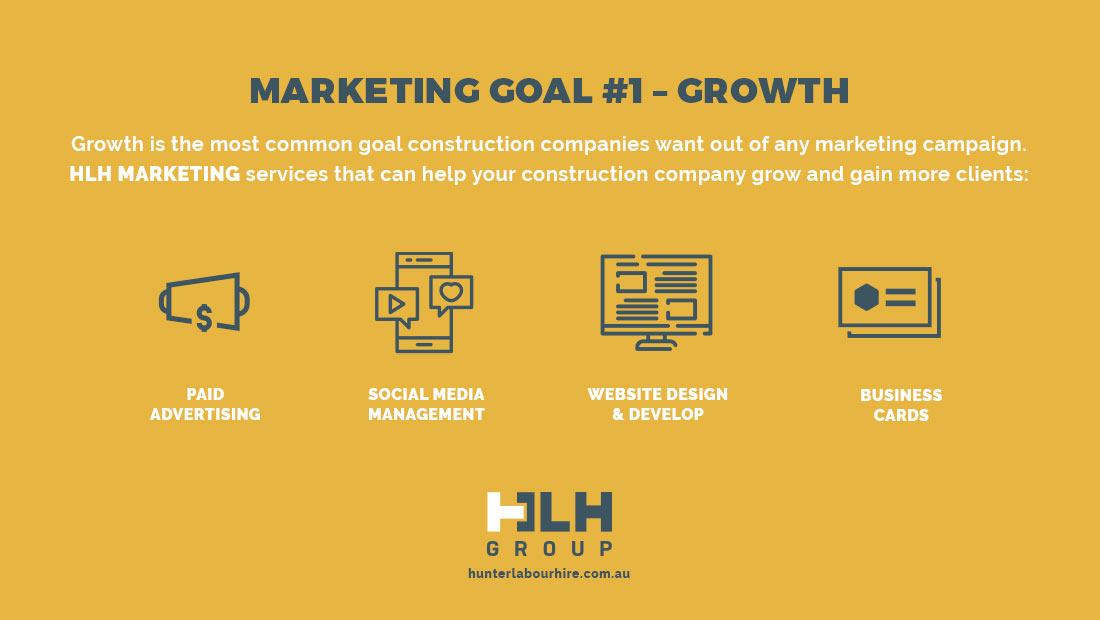 Goal #1 – Growth
Growth is the most common goal construction companies want out of any marketing campaign. Growth can be obtained in many different forms; however, the main goal is to generate an ROI (Return on Investment). For example, if you invest $1000 a month into paid advertising then ideally you want to be returning $1000 + from clients gathered directly from those paid ads. Many of our clients want more work and clients for their construction business. We assist them by increasing their construction company branding and making sure their business is showcased to audiences that are more likely to engage. Social media is another popular yet effective method many construction companies are using in today's age to gather more customers.
HLH Marketing services that can help your construction company grow and gain more clients:
Paid Advertising (Google Ads, and Facebook Ads)
Website Design & Develop
Business Cards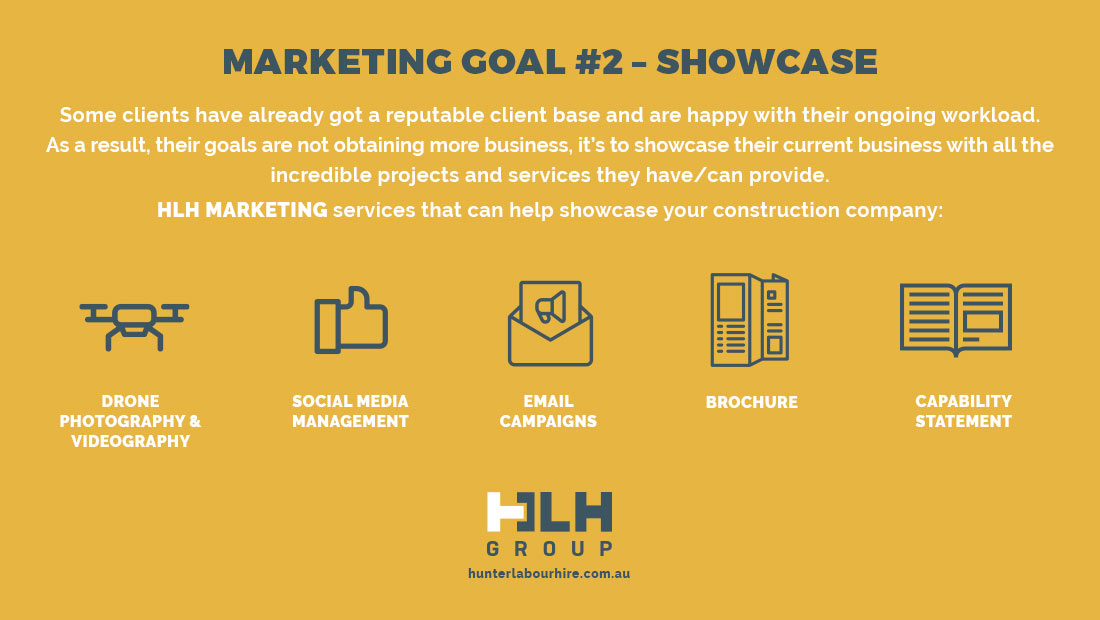 Goal #2 – Showcase
Investing money and not aiming for a return? What's the point in doing that? Well, some clients have already got a reputable client base and are happy with their ongoing workload. As a result, their goals are not obtaining more business, it's to showcase their current business with all the incredible projects and services they have/can provide. An example is a construction company that specialises in high-end residential renovations completing only one project per year. This company can't facilitate any more work but would still want to showcase their multi-million-dollar project online to highlight to customers that they are more than capable. To market and showcase their build, they would use drone photography to capture the beauty of the million-dollar project and then use social media to share it with their customer base. They can even go that one step further and create an email campaign sending it to their emailing list. In the long term, businesses that choose to showcase their company will reap major benefits as they will build a solid reputation in the construction industry. Additionally, if the company ever chooses to expand and grow it will be much easier as they've already made a name for themselves in construction as well as owning a luxurious & prestigious company image.
HLH Marketing services that can help showcase your construction company:
Drone Photography & Videography
Social Media Management
Email Campaigns
Brochure
Capability Statement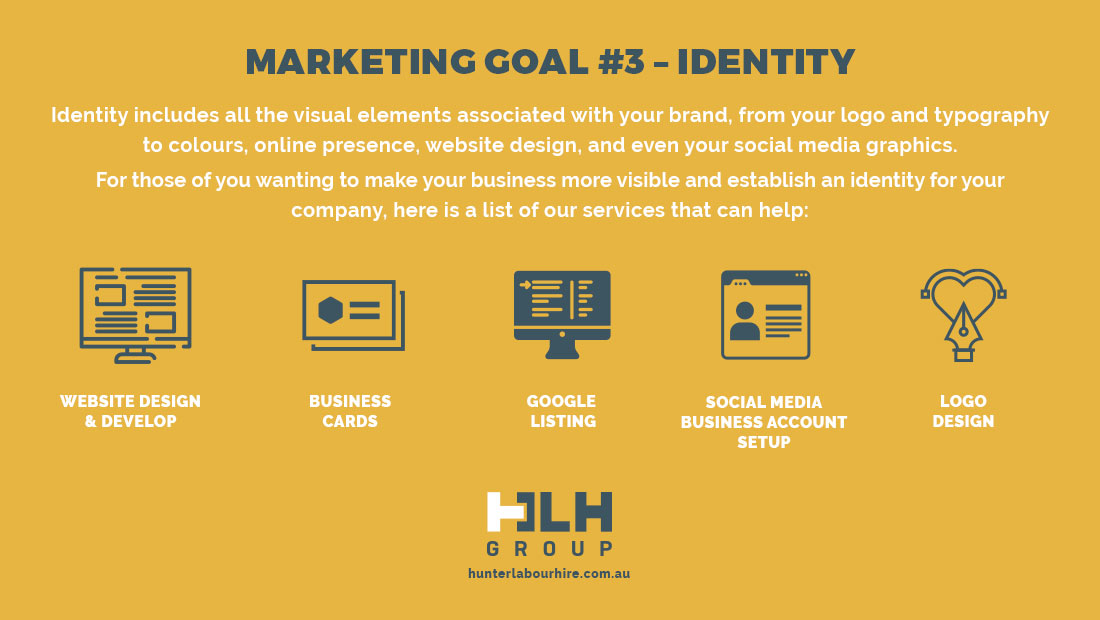 Goal #3 – Identity
Lastly, identity is the final goal many construction companies wish to receive from marketing. Identity includes all the visual elements associated with your brand, from your logo and typography to colours, online presence, website design, and even your social media graphics. Typically, any brand asset is a component of your brand identity. Generally, 'identity' is a goal for clients who are new to the industry and looking to get set up with all the essentials to make their brand visible. By having a unique logo and colour scheme, customers are more likely to remember your construction company meaning they are more likely to contact you. Alternatively, we have had clients approach us that have been in the construction industry for more than 10 years and looking to make their brand more recognisable. If your brand is already well established in the construction industry with a decent list of clients then this probably isn't the best goal for you.
For those of you wanting to make your business more visible and establish an identity for your company, here is a list of our services that can help:
Website Design & Develop
Business Cards
Google Listing
Social Media Business Account Setup
Logo Design
Need Help With Marketing Your Construction Business?
Does your construction company not use marketing at all? Do you feel that your marketing goals are currently not getting achieved? Feel free to contact the construction marketing experts at HLH Marketing to discuss how you can meet your goals and establish your brand in the competitive construction industry. You can get in touch by contacting our Marketing expert Michael at michael@hunterlabourhire.com.au or by calling our landline at (02) 8995 2019.