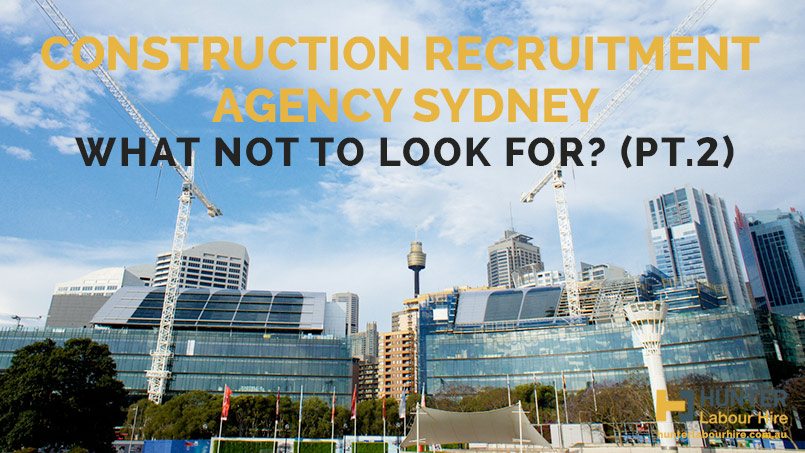 13 Apr

Construction Recruitment Agencies Sydney: What Not To Look For? (PT.2)
Construction Recruitment Agencies Sydney
In part one of our blog titled 'Construction Recruitment Agency Sydney'  we dissected what a quality construction recruitment agency does for their clients and staff. Now we are going to advise you on how to avoid the agencies that will waste your time and your money.
With more construction recruitment agencies, around than ever before you would be forgiven for finding the task of selecting a recruitment agency for your construction company a difficult one. So how do you go about avoiding the bad ones?
Signs Of Poor Construction Recruitment Agencies
There are some telltale signs and hallmarks of poor construction recruitment agencies and we have outlined some of these characteristics below so you know what to be aware of when choosing your agency.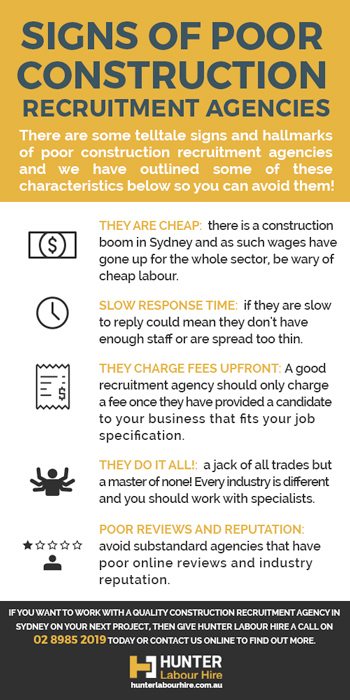 They Are Cheap!
Everyone knows that Sydney's construction sector is booming! This has had the effect of driving up wages and labour hire rates for the entire construction sector such is the demand for workers to get jobs done. For these reason alone, if you are after quality tradesmen.. you should expect to pay a higher price as they command a higher price.
As the old adage goes; "If you think it's expensive to hire a professional to do a job, wait until you hire an amateur!" Rarely is this more applicable than to the construction industry.
Slow Response Time
The recruitment agency is constantly slow in getting back to you regardless of your request or query. They are too busy and do not have sufficient numbers of staff to help your company. This can happen when they take on too much business, more than they can handle and as such are unable to provide a quality service to their clients.
They Charge Fees Upfront
The recruitment agency charges for their services before they even place a candidate with your business. A good recruitment agency should only charge a fee once they have provided a candidate to your business that fits your job specification.
They Do It All!
A good recruitment agency knows that it is foolish to try and be a jack of all trades. Every industry is different and as such recruiters are required to have excellent knowledge for the industry in which they recruit. If they attempt to recruit for more than one industry this should signal alarm bells.
Poor Reviews and Reputation
You can avoid substandard construction recruitment services by actively seeking out online reviews of recruitment agencies before deciding if their services are a good match for your business. Even reviews from current or ex-employees can give you a good idea of how they value their own staff. Check Social Media pages such as Facebook or even Google Reviews.
Why Use Hunter Labour Hire For Construction Recruitment?
Our rates are fair for both our clients and workers.
We have dedicated account managers for every client ensuring you have a direct line to someone who can help you when you need help.
We only charge fees for temporary and permanent placements when they happen.
We specialize in recruitment for the construction industry.
We have a good reputation amongst our peers and clients, for this reason we have many repeat customers and continue to forge long standing relationships with builders all over Sydney.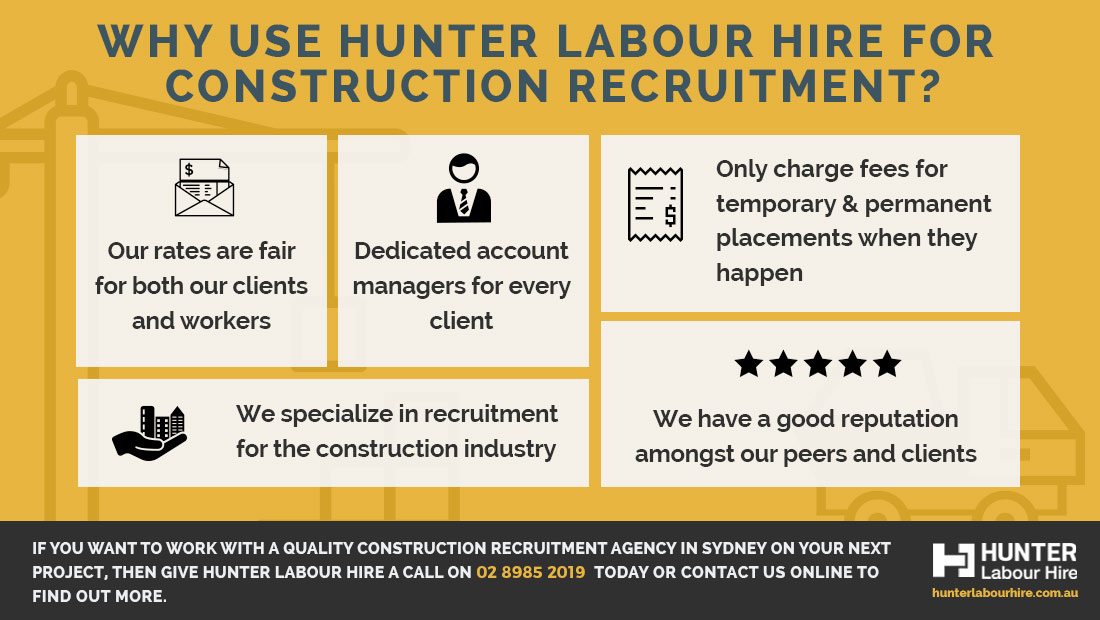 Quality Construction Recruitment Agencies in Sydney
If you want to work with a quality construction recruitment agency in Sydney on your next project, then give Hunter Labour Hire a call on 02 8985 2019 today or contact us online to find out more.