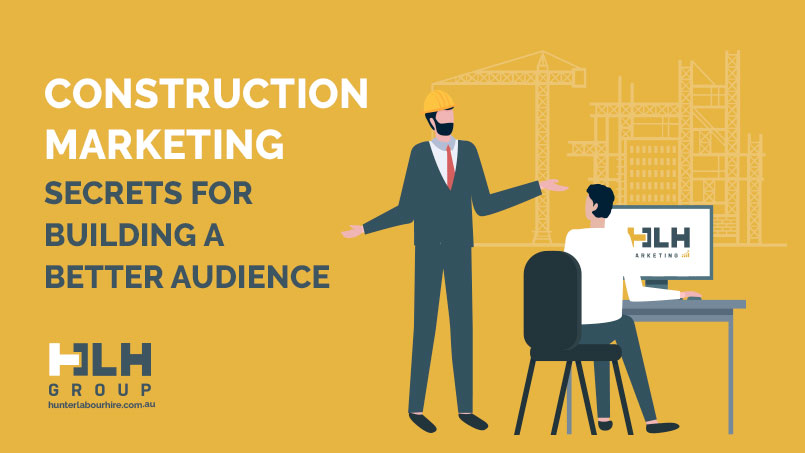 23 Sep

Construction Marketing: Secrets for Building a Better Audience
Construction Marketing Secrets
Regardless of the size of your company, the construction industry can be challenging. Many factors can affect the success of a construction marketing campaign. So, what can your construction company do to stand out? Here are some construction marketing secrets to out-book and out-build your competitors.
1. Ensure Your Phone Number is Accessible
Whatever platform you use to promote your construction business, whether it be Google, Facebook, Instagram or Linkedin you must make your phone number visible. More often than not construction companies build a flawless website design with special colours and images but don't display their contact number for the customer to find easily. If you search 'construction companies in Sydney' you will find that a lot of the Google listings do not have a phone number attached and you have to go looking for it on their website. By making it difficult for customers to contact you could be the difference between winning the project or not.
2. Feature Your Employees
The main challenge that construction marketers face is the level of trust that their leads have in their marketing. This is very important if they want to have a chance of converting these leads into future customers. When it comes to attracting new customers, showcasing a human face can help boost your sales. By creating a human element either on your website or social media pages can help individuals put a face to the name and feel a bigger sense of trust in the business. This is why if you've been following our social media accounts, we always tend to showcase the HLH worker or office staff at the forefront to promote a sense of trust.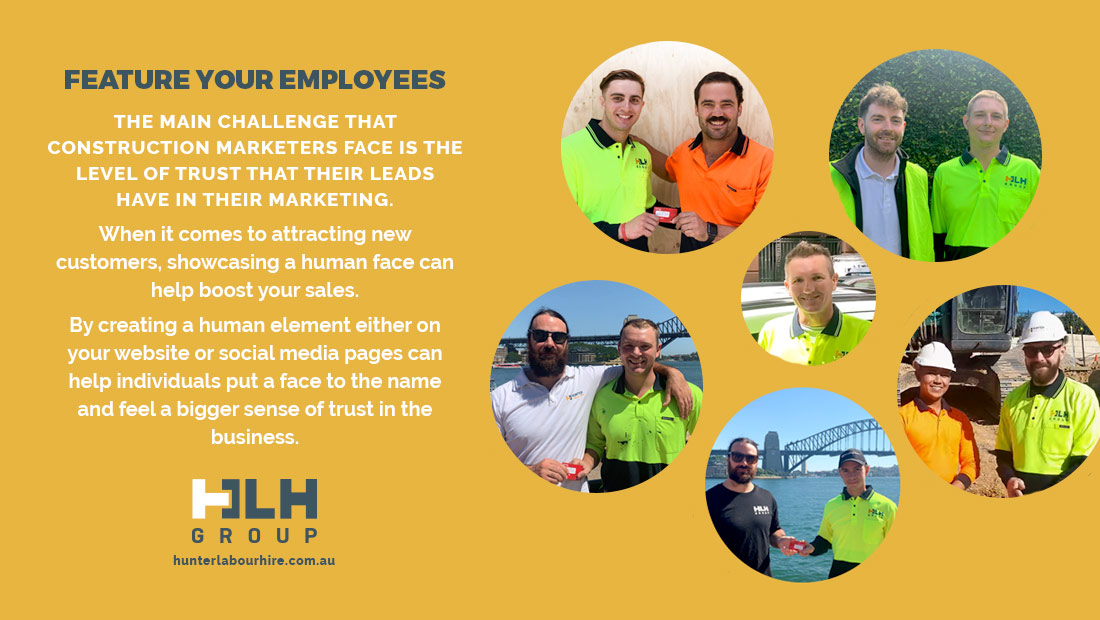 3. Make Your Website Helpful For Customers
Did you know that 63% of customers primarily use a contract companies website to find and engage with them, and 30% do not consider a business that does not have a website, according to Blue Corona. Therefore, having a website that is easy to navigate and digest is a must-have for construction marketing success. You can read some tips for improving your construction website traffic and get started on making your site more helpful for your customers today.
4. Create Compelling Video Content
With one-third of internet users watching videos online, it is clear that video is a must-have marketing strategy for businesses. In fact, it has been estimated that video content has a 157% boost in organic search traffic across all platforms. So, if you are not using video within your marketing campaigns then you are missing out on a large number of potential views from customers.
The best and easiest way to create interesting video content is by using drone photography to showcase some of your best projects. The lightweight technology now allows construction companies to showcase their work of art to a wide audience. Our marketing division – HLH Marketing – offers a range of licensed aerial photography options to help you market your construction company to gain a competitive edge over rivals. Here and the below are examples of compelling video content:
5. Set up Google Local Service Ads
While we would definitely recommend running your standard Google Search and Display ads for construction marketing you should take advantage of Google's local services ads. Why? Because these ads are made for the construction industry. These ads are set up so when someone searches for "construction company near me" your service ad with a "Google Guaranteed Badge" will appear alongside a direct link to your phone number. It will cost money each day to display your ad to potential customers but all it takes is one project to convert from the ad campaign and you are already making a profit from it. If you need help setting up your Google Ads campaign, HLH Marketing can provide a one-off cost to set up your ads to get you connecting with potential customers immediately.
6. REVIEWS! REVIEWS! REVIEWS!
As previously discussed, trust is everything for customers looking to engage with a construction company they have never used before. How can you build trust? Reviews by other customers and clients. How many times have you looked at a product online and read the reviews before purchasing it? Exactly, according to Oberlo Statistics, nine out of ten consumers read reviews before making a purchase or use a service. So, if your Google page doesn't have any Google reviews it may be time to start sending out those referral emails and get more reviews for your business. There are a few platforms that accept reviews, such as Google, Facebook, LinkedIn & even construction review websites. However, the most popular online review platform is Google as 59% of consumers use it to read reviews. Here at HLH Group, we are the highest rated labour hire agency in Sydney on Google with over 220 – 5-star reviews.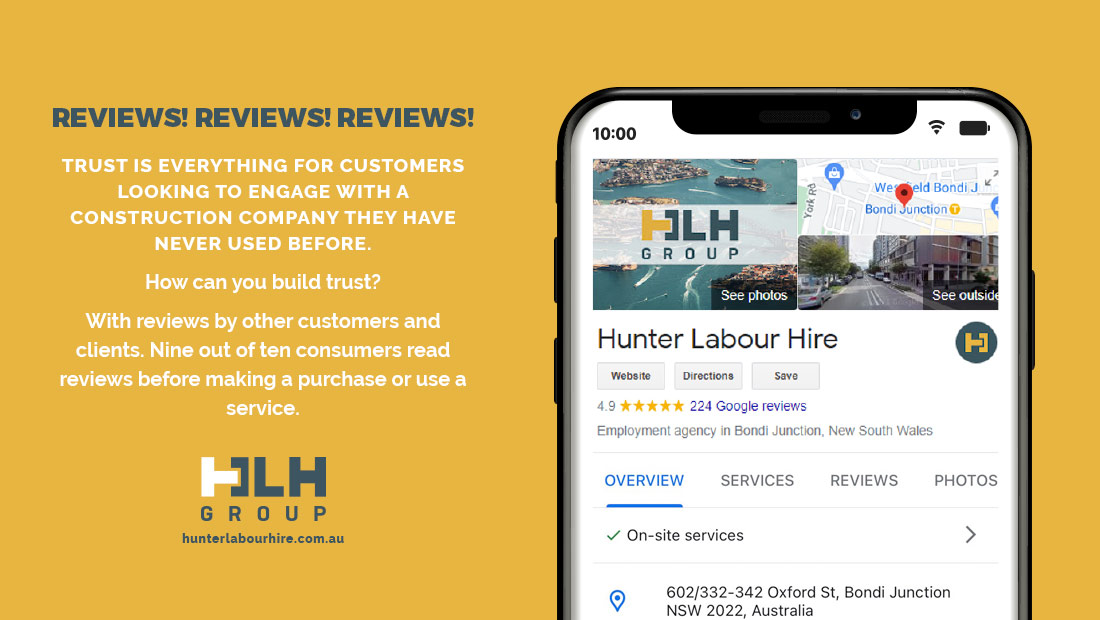 7. Branding
It may sound simple but having what is considered to be the "basics" or "essentials" for a business are much more effective than you may think. Most construction business owners overlook business cards or brochures to gain new business. Well, did you know that the number of sales increase by 2.5% for every 2000 business cards that get passed out? It may not seem like a major jump in sales but that minor increase in business sales far outweighs the average cost of 2000 business cards. Do you need help with your business card design? Get your construction business branding designed by our professional graphic designers at HLH Marketing, and watch your big ideas come to life.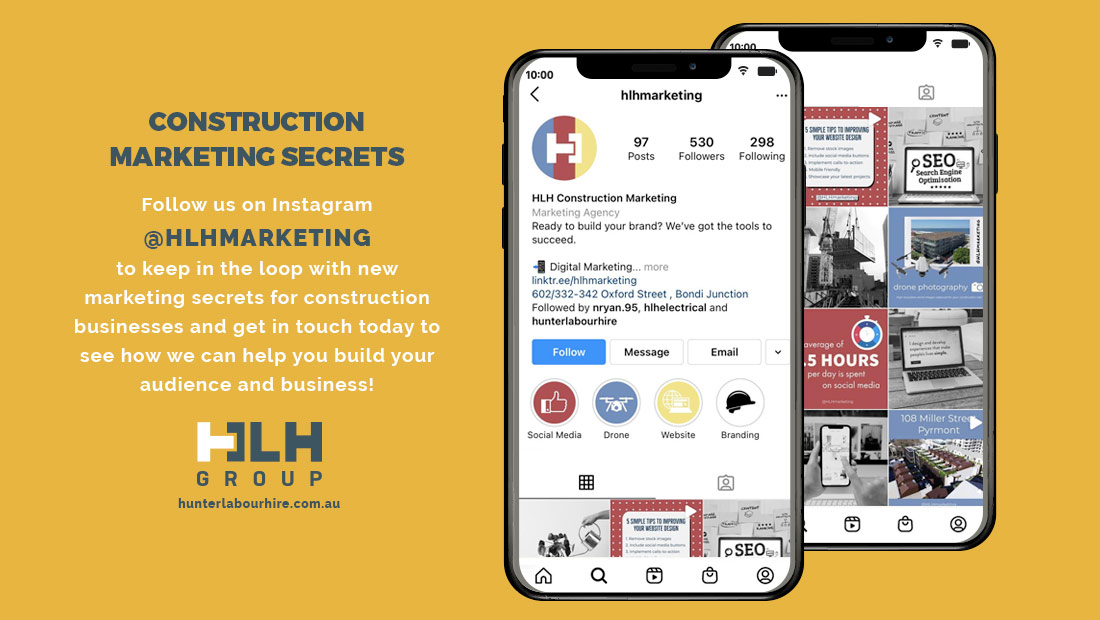 Construction Marketing Secrets
Now that you have all of our construction marketing secrets, we cannot wait to hear about all of the new projects that fall on your lap once these tips are in action! Follow us on Instagram @HLHmarketing to keep in the loop with new marketing secrets for construction businesses and get in touch today to see how we can help you build your audience and business!