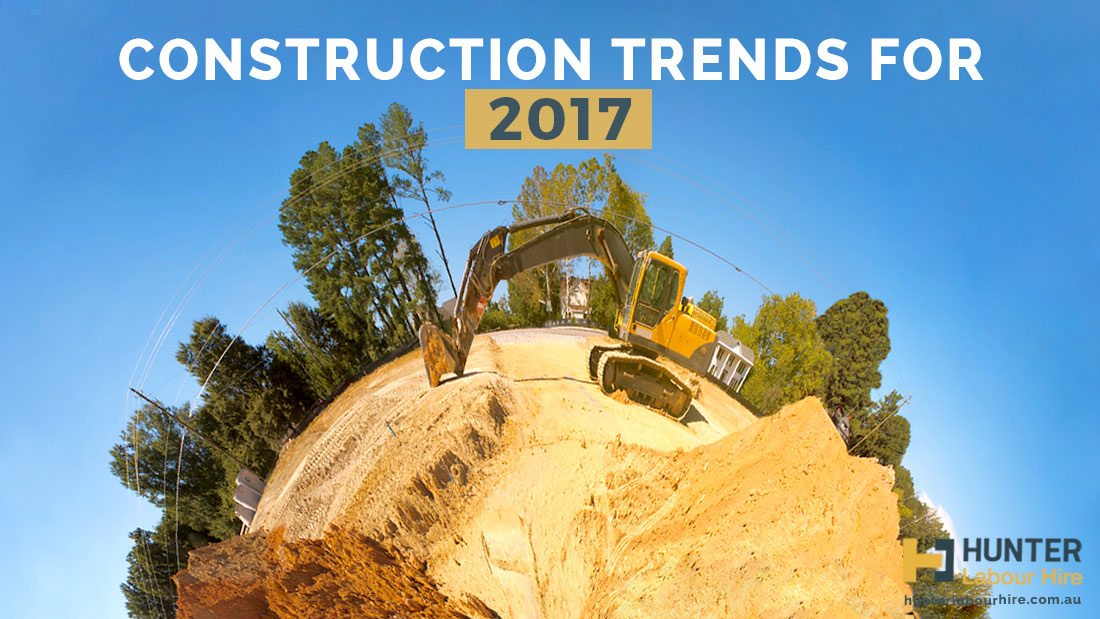 02 Feb

Construction Trends for 2017
2017 Construction Trends in Sydney
As in 2016 the Australian construction industry looks set to have another bumper year in 2017 particularly in New South Wales, Queensland and Victoria. See below we have outlined the following trends to watch out for in 2017 (and make sure to check out our trends for 2016 and the 2016 update).
Continued Shortage of Skilled Workers
In 2017 it is predicted that there will be a continued shortage of skilled labourers in the construction industry. The Australian Government have extended the age to obtain a working holiday visa to 35 years old in the hopes to increase skilled labourers and tradesmen coming to Australia.
If you are skilled labourer or a general labourer willing to learn quickly and work hard then register with us today and start working with Hunter Labour Hire.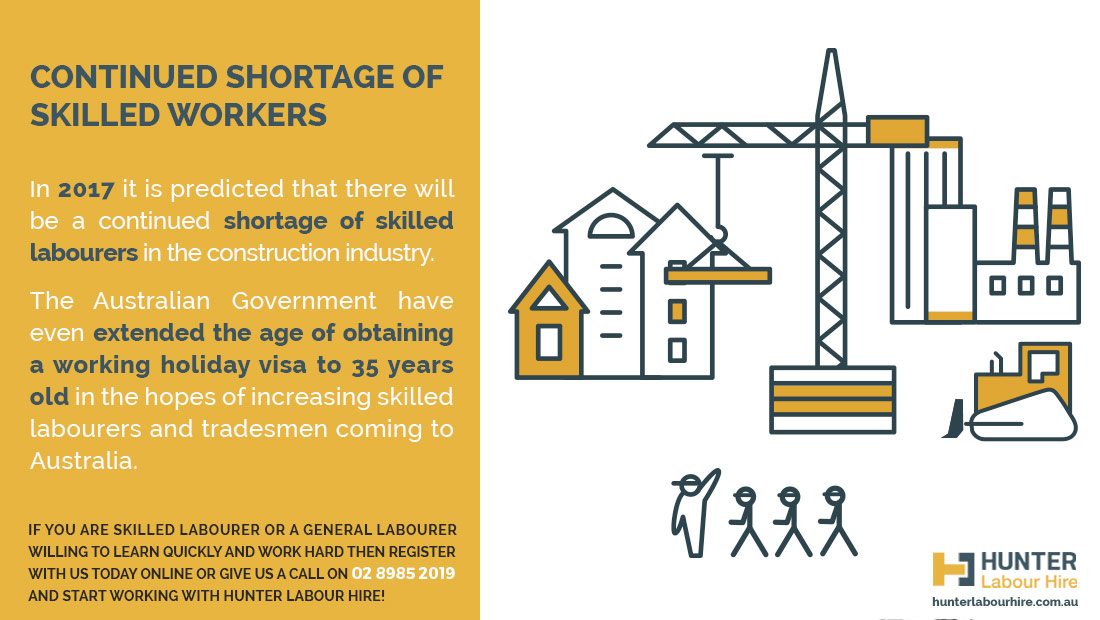 Where Is This Demand For Skilled Labourers Coming From?
The demand for skilled workers on construction sites is stemming from the work such as the West Connex, The Light Rail, other commercial projects, and continued investments in infrastructure. There are no shortage of large construction projects happening throughout Sydney.
The West Connex is a continued project that is ongoing construction work in the city as part of a transport plan to keep Sydney moving. This should hopefully result in easing congestion all around Sydney and CBD, which in turn will create more jobs around Sydney and NSW and connecting communities.
The light Rail is a 12km route through the city with 19 stops that will improve the commute for many workers in the city and surrounding suburbs. This project will run from Circular Quay through the City, Surry Hills and onto Randwick. It is estimated to be finished and up and running in 2019. It is expected that construction work for skilled labourers and tradesmen will continue to be on the increase for the next two years with a specifically high demand for rail workers.
Construction Turns Into Technology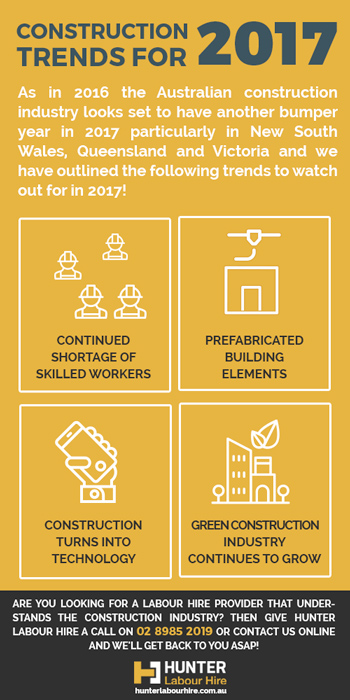 Another trend to keep an eye on is that construction sites are turning to technology now more so than ever whether it be software apps that carry important data regarding site information, records, task lists etc and mobile timesheets. This onsite technology allows site supervisors to get on with work on different construction sites instead of getting snowed under with admin.
Construction is already very smart, but this year will show the development of office buildings and commercial buildings being linked to iPads and tablets with the power to control the heating and cooling systems remotely.
Prefabricated Building Elements
Due to with an increase in population and a shortage of housing units worldwide there is set to be a rise in prefabricated housing. There are many benefits to this as prefabricated housing is easier, cheaper, and less time consuming than conventional housing units.
Green Construction Industry Continues to Grow
Green building is continuing to be on the rise with more residential properties and commercial properties using eco-friendly materials in construction and this will continue to have a huge influence on global construction. Governments worldwide must then ensure that all construction projects meet the required legislation when it comes to freshly built structures.
Labour Hire Providers Sydney
Are you looking for a labour hire provider that understands the construction industry? Then give Hunter Labour Hire a call on 02 8985 2019 or fill in our online contact form here and we'll get back to you asap!