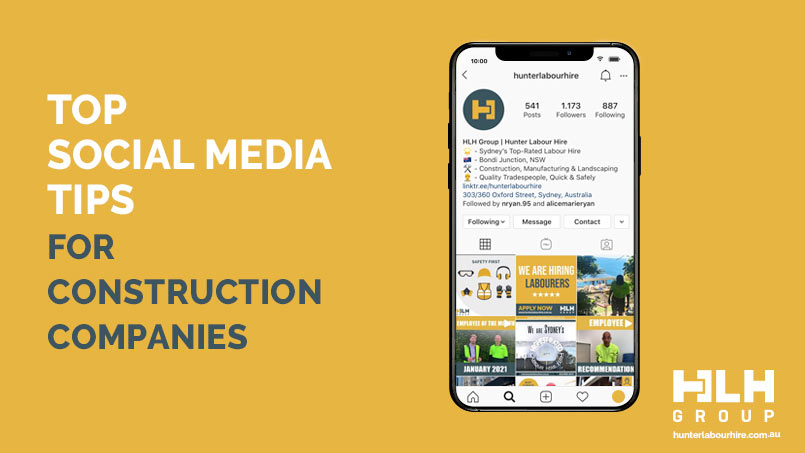 19 Feb

Top Social Media Tips for Construction Companies
Social Media for Construction Companies
Social media is quickly becoming one of the most important aspects of digital marketing, which can provide incredible benefits that help you reach millions of customers worldwide. For small businesses, social media is the most cost-effective tool available to help promote and raise brand awareness and this is particularly true for construction related companies. If you are not using social media, you are missing out on an incredible marketing opportunity. While it may seem overwhelming, the importance of social media for construction cannot be overstated. It is alarming that not all businesses are aware of how to use social media correctly. In fact, 50% of small businesses aren't using social media to promote their business and so in this post we'll give you some of the top social media tips for construction companies. We've narrowed down a set of tips and tricks you can use to help get your social media campaign started.
Social Media Profile Layout
Everybody is guilty of looking up someone on social media to see what they look like. We are all guilty of it, whether that be an old childhood friend, new work employee, or even an ex-partner (… you can't deny that one). The same principle can be used for companies and how they portray themselves to the public via social media. That's why it is essential to make sure your business profile on Facebook, Instagram, or LinkedIn is set up properly. If you don't know how to do this, you can enquire about our new construction marketing services to help get your social channel up and running.
What your profile must have:
Username: that incorporates your brand name e.g. Hunter Labour Hire = @hunterlabourhire
Profile Photo: Your company profile photo should include your company logo or brand colours at least. This will make your brand recognisable on customers' newsfeed.
Website Link: If your company has a website then it is crucial that you include this in the website field on your social media profile. This will allow customers to click directly on to your webpage to get further information about your product or service.
Business Details: Make sure that your business details are correctly included on your brand's profile, this includes your company email, phone number, opening hours and company address. By including these features your company will become more relevant for key searches on Google. Additionally, it will allow customers to directly contact your company for enquiries and purchases.
Bio: Lastly, your social media profile bio should include a quick summary of what your company does. For example, HLH Group's bio is "HLH Group can provide a range of labour hire solutions to construction companies throughout the Sydney Metro area" – short but straight to the point.
If you need help with this we have a specific
social media setup service
available that could be of use.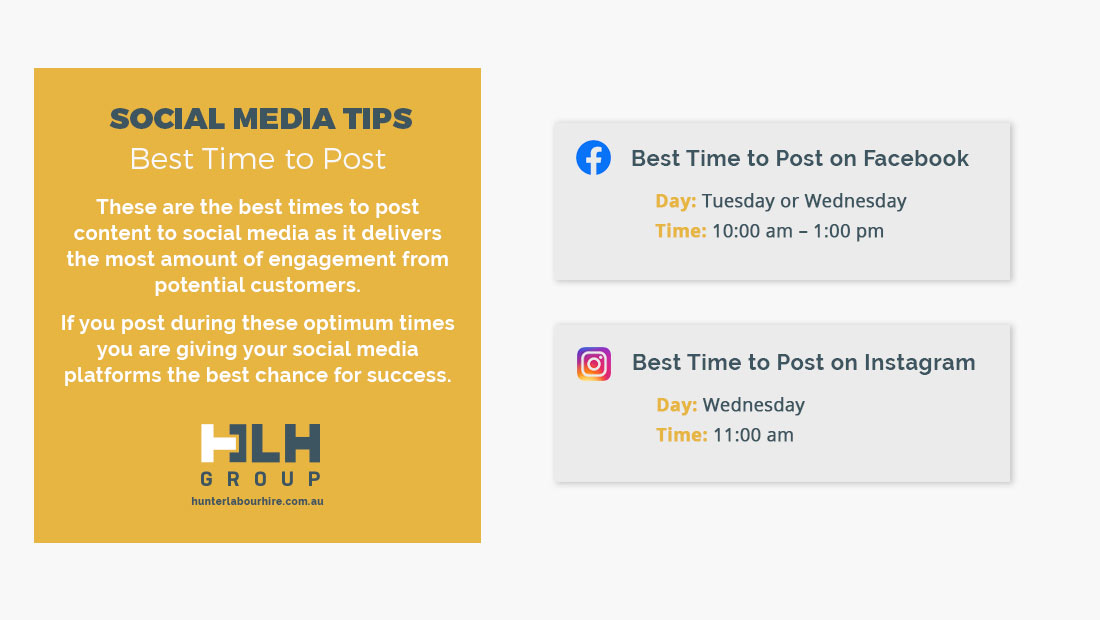 Social Media Tips – Best Time to Post
It is no coincidence that your photos on Facebook and Instagram receive more likes when they are posted during the daytime compared to the nighttime. This is because there are more active users using social media during the day than there is at night. You may not have thought there was a 'best time to post' on social media but I'm here to tell you it makes a significant difference. You can see the best times to post on Facebook and Instagram below:
Best Time to Post on Facebook
Day: Tuesday or Wednesday
Time: 10:00 am – 1:00 pm
Best Time to Post on Instagram
Day: Wednesday
Time: 11:00 am
These are the best times to post content to social media as it delivers the most amount of engagement from potential customers. If you post during these optimum times you are giving your social media platforms the best chance for success.
Social Media Captions – Dos & Don'ts
Captions are one of the most important marketing tools that can be easily forgotten about. The images you post are just the first step to having a unique social media channel, perfecting the wording your brand uses will maximise your online potential. To help your company out with your next post I've put together a set of words to use for certain emotions and ones to NEVER use ever!
Safety: Authentic, secure, proven…
Urgency: Exclusive, instant, limited…
Safety: Essential, affordable, unique
As for the terms to steer clear of make sure you do not use these outdated terms: Groundbreaking, once-in-a-lifetime and revolutionary. These terms are extremely overused, and nobody will believe you once you use them.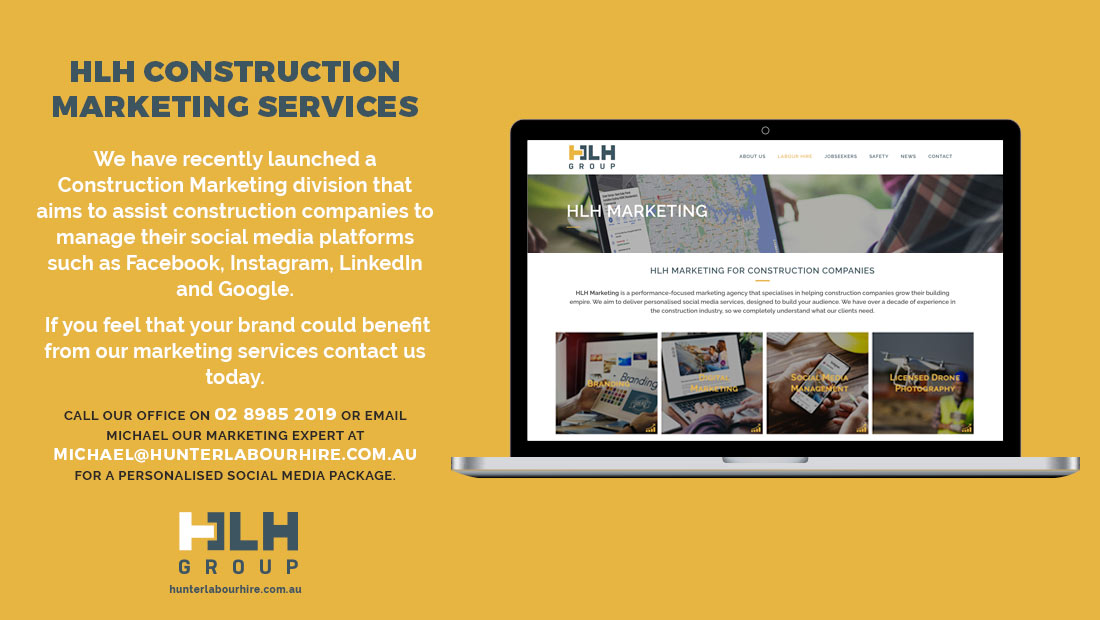 HLH Construction Marketing Services
We have recently launched a Construction Marketing division that aims to assist construction companies to manage their social media platforms such as Facebook, Instagram, LinkedIn and Google. If you feel that your brand could benefit from our marketing services then contact us today. Call our office on (02) 8985 2019 or email Michael our marketing expert at michael@hunterlabourhire.com.au for a personalised social media package.