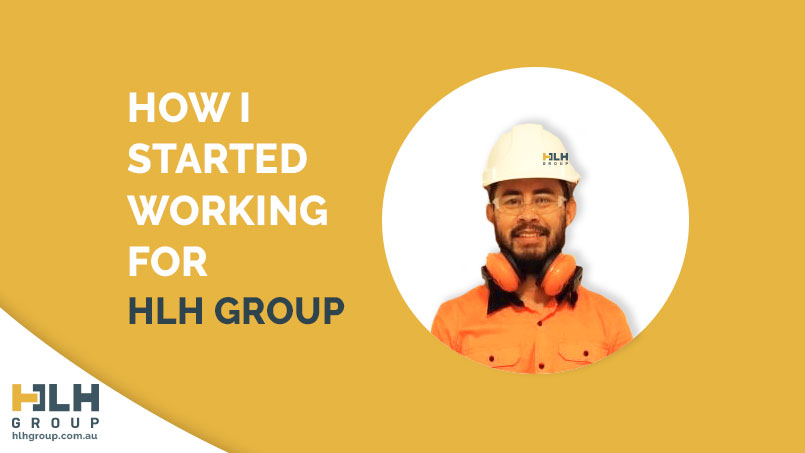 19 Jan

How I Started Working For HLH Group

The following post was written by one of our labourers, Ujjwal Rai, and tells the story of how he got to Sydney and started working for the HLH Group.
From Nepal to NSW
I grew up in a very poor community in Kathmandu, the capital city of Nepal. Raised by a single mother. Very strong wish to travel around the country. I started solo backpacking at the age of 12. Eventually, I found out that money can be earned whilst I was travelling so I started working in the mountains as a porter. Fortunately enough I didn't have to do consecutive trips up the mountains as it is very hard to carry 20 kg backpacks in the high altitude of the Himalayas. My whole life at one point was travelling and climbing the highest of peaks in Nepal. When 2016 hit, I decided to start working internationally away from Nepal. Although nervous about my decision I started working with a Norwegian 5-star cruise company as an intern and then eventually moved into a guiding role in the Antarctic peninsula.
Calling Sydney "Home"
Like many people around the world, COVID-19 affected my travelling plans and work-life. As a result, my wife and I moved to Australia in July 2021. It wasn't easy to get flights to Australia due to flight restrictions even though we were paying a fortune. We got a plane ticket not to Sydney but for Melbourne and we took it. As per Australian rules, we had to stay in hotel quarantine for 14 days. During the final days of quarantine, Sydney and Melbourne both went into lockdown. We eventually moved to Sydney and now it's where I call home.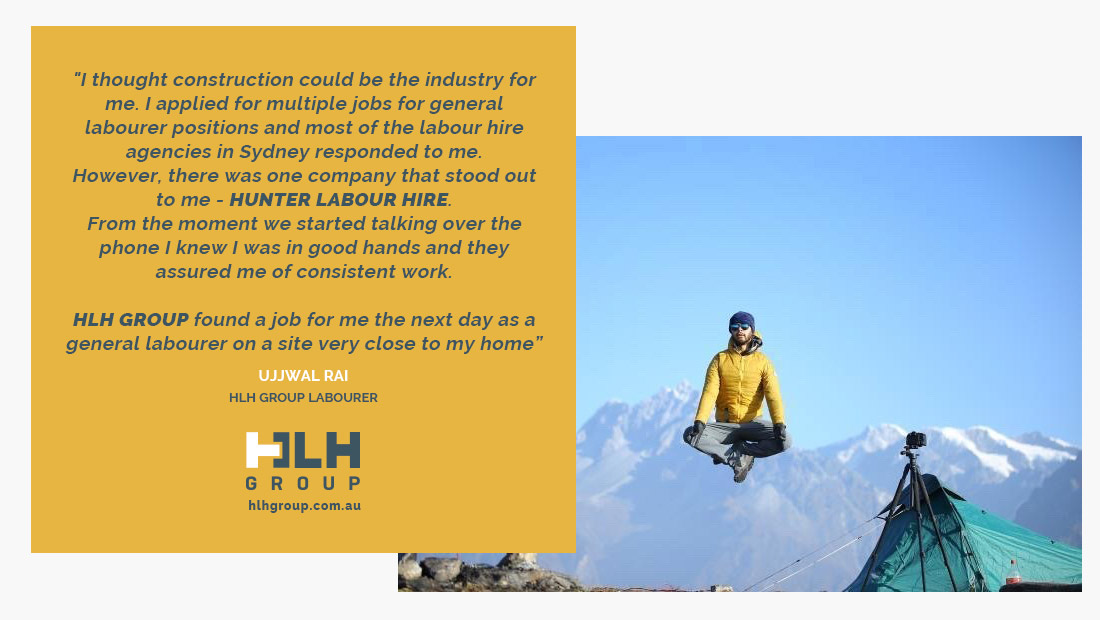 A Labour Hire Company That Stood Out
During the two months of lockdown, I was thinking about what career path I should take up. After some extended research, I tried to find some jobs in travel and tourism but unfortunately, it wasn't possible with ongoing restrictions and lockdowns. I was scrolling through Seek one day and saw heavy demand for construction workers. After some serious thought process, I thought this could be the industry for me. I applied for multiple jobs for general labourer positions and most of the labour hire agencies in Sydney responded to me. However, there was one company that stood out to me – Hunter Labour Hire. From the moment we started talking over the phone I knew I was in good hands and they assured me of consistent work. They were extremely helpful and even provided me with some new PPE to make my life easier and safer on site. HLH Group found a job for me the next day as a general labourer on a site very close to my home.
Physically Demanding But Enjoyable
Labour hire jobs are very physically demanding and I wasn't used to the Australian heat, so admittedly I struggled for the first couple of days. I worked on different client sites around the Sydney metro area which allowed me to explore different areas. That's probably the best part about Hunter Labour Hire – is that they have a lot of clients so they can move you around to prevent you from getting bored of one project. On one shift I wasn't the biggest fan of the job role and kindly asked my recruitment consultant to move me to another. By the next day, I was on another site with scenic beach views. I was lucky enough to go into their head office to collect some PPE and fill out some documentation. Everyone in the office was friendly and it made me enjoy working for them even more.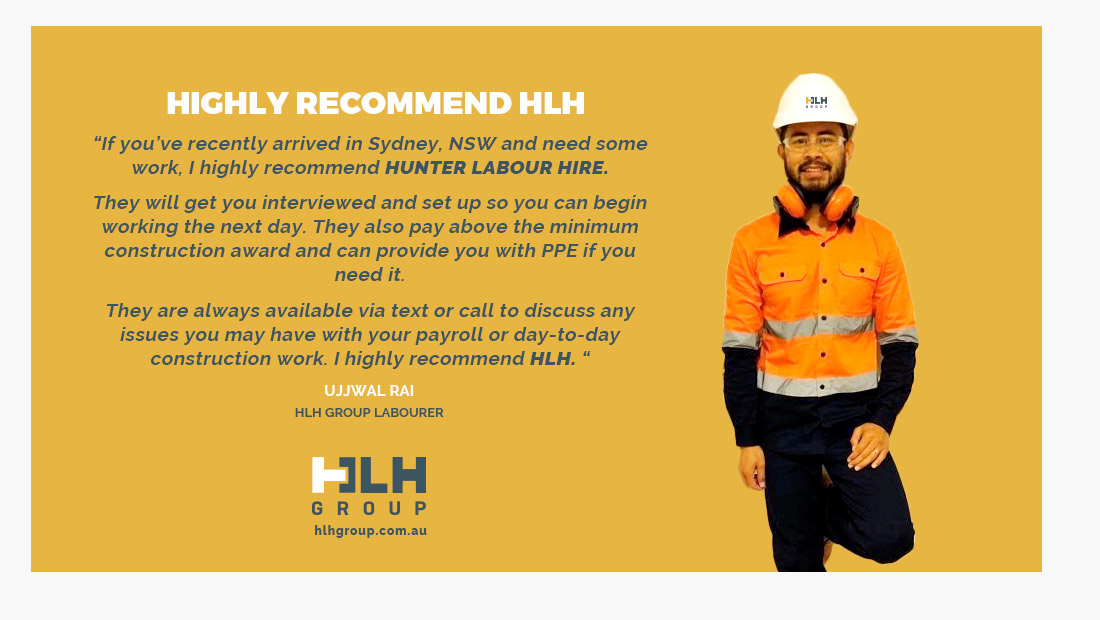 Highly Recommend HLH
If you've recently arrived in Sydney, NSW and need some work, I highly recommend Hunter Labour Hire. They will get you interviewed and set up so you can begin working the next day. They also pay above the minimum construction award and can provide you with PPE if you need it. They are always available via text or call to discuss any issues you may have with your payroll or day-to-day construction work. I highly recommend HLH.
Join The HLH Team and Win Free Flights!
Many thanks to Ujjwal Rai for sharing his experience with us and we're happy to have him on the HLH Team! If you'd like to join the team then register online and if you haven't see our draw for free flights to Sydney then check out "I'm A Tradie Get Me Down Under" now!