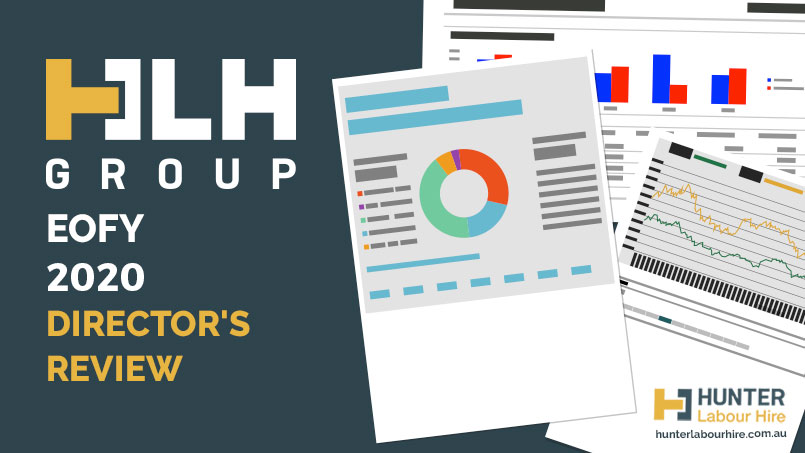 26 Jun

HLH Group EOFY 2020 – Director's Review
EOFY Review of 2020
While we understand 2020 has been a difficult year for many with the bushfires, then COVID-19 and now the economic aftermath of all that, as in previous years, I will aim to reflect on the positives the HLH Group had over the 2019-2020 financial year before it draws to an end.
2019-2020 Month by Month


July – 2019
We started off 2020 with a pay increase to all labourers in line with the Fair Work Building and Construction award. Some of the team also took on the challenge of Dry July and were successful in completing the month alcohol free – well done to all involved.
August – 2019 
Well done to the team for completing the City2Surf fun run in Bondi 4th year running.
September – 2019
We had a great new addition to the team with our Marketing & Social Media Coordinator extraordinaire Michael Pantaleone joining us. If you're a regular follower of our socials, you will have witnessed the great work he has done since his arrival increasing following across all our platforms Facebook, LinkedIn and Instagram.
October – 2019 
I was delighted to be nominated for the second year running for the Irish Australian Chamber of Commerce "Young Entrepreneur Category". Unfortunately, we didn't win this time around, but let it be noted that we celebrated like winners that night nonetheless!
November – 2019
Nigel was promoted to Group Operations Manager to oversee the HLH group entities; Hunter Labour Hire, HLH Manufacturing and HLH Landscaping. This was well deserved after over four hardworking and busy years with the Group where Nigel has brought on and managed 100s of clients. We attended Royal Randwick for Melbourne Cup day, winning horse races left, right and centre. We also attended the 'Brightest & Best Local Business Awards' hosted by Waverley Council. We won the award in 2019 and were looking forward to back-to-back wins but it was not meant to be. Once again, we still celebrated the night like winner…dangerous with work at 8 am the next morning.
December – 2019
Well, it's safe to say the HLH team finished 2019 on a high with our weekend away to Byron Bay. After a hard year's work from the recruiters, finance and marketing departments we all flew up to stay at Elements of Byron for a couple of days to celebrate the year's success. Highlights of the weekend included the kayaking with dolphins, Michael's Xmas speech and group prank on MP at the Balcony Bar and the Stone & Wood Brewery tour.
January – 2020
While January is traditionally a slow month in business and specifically construction, we got off to our busiest January to date with a large number of requests being filled for a good mix of old and new clients. We also added a new recruiter, Ronan Martin, to the team to focus on business development for the HLH Manufacturing division.
February – 2020
February continued to get even busier for all the HLH Group divisions with us reaching our all-time record high number of workers out on hire. This spike was again a mix of new projects starting up and older clients coming back on board with labour hire requests.
March – 2020
While I said we were going to be as positive as possible I couldn't write this article without mentioning COVID-19 and how the country went into lockdown in March. Thankfully the construction and manufacturing industries were deemed safe to remain open by the government. Despite this, we still had a 40% decline in requests as a direct result of COVID-19. After lengthy discussions and endless planning, we introduced a new payroll system called 'Astute Payroll'. In the beginning as any new system the implementation was a headache for all involved. Luckily, we had our ever-so competent Finance Manager Sarah on the ball steering the ship around smoothly.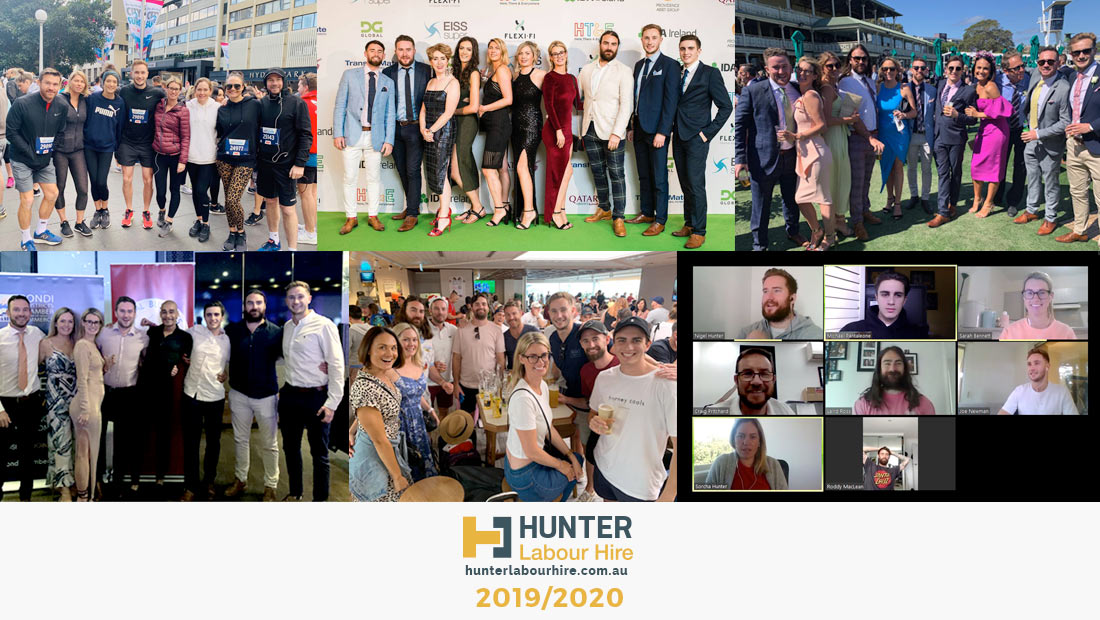 Some HLH Group photos from throughout the year.
April – 2020
With the whole office working from home since the end of March by the time April came around daily Zoom meetings and very casual workwear had become the norm for the team. The Friday afternoon trivia Zooms were probably a highlight of that month. It made life appear to be normal for an hour or so as we battled our way through general knowledge, geography, sport, music and film questions.
May – 2020 
As the number of new COVID cases began to decline we noticed our client's confidence in the industry started to return. The volume of workers onsite slowly began to increase with projects that had been put on pause now being given the go-ahead again. The team also finished 'The Push-Up Challenge' completing 3,046 push-ups in 21 days.
June – 2020
This has been probably the best month of the year for me with restrictions being loosened we were able to get the team back together in the office. I think this has improved the whole team's morale and is hopefully another step back towards normality resuming as soon as possible.
Plans for 2020
Plans for the year ahead include expanding regionally into Victoria, initially focusing on the Greater Melbourne Area and supplying to existing clients that operate interstate. We aim to continue to provide a quality labour hire service to our clients and provide great job opportunities to qualified candidates.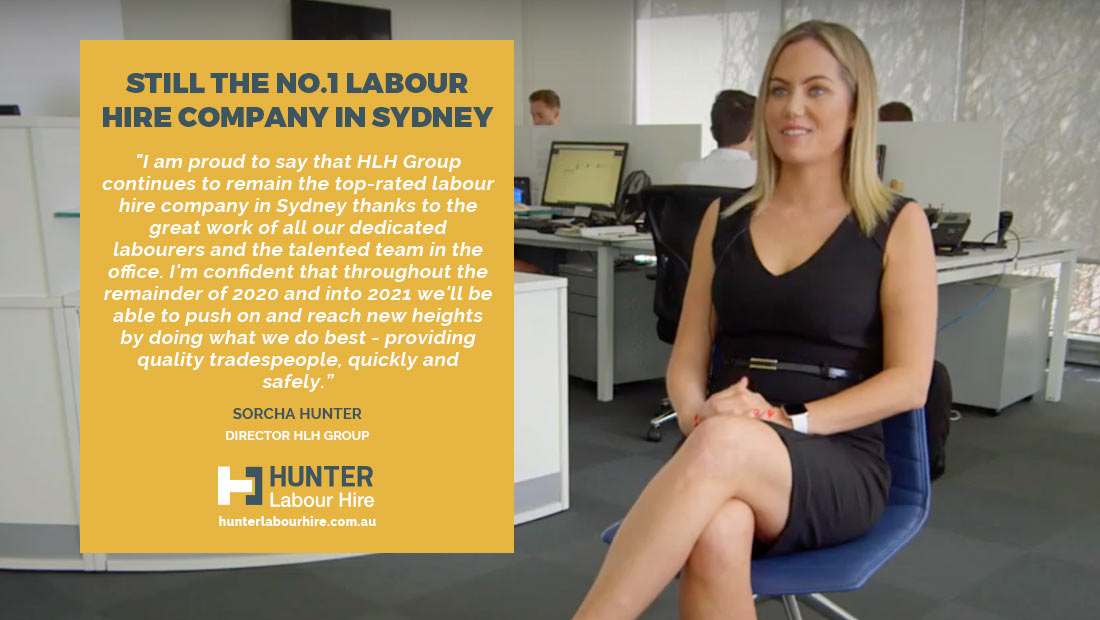 Still The No.1 Labour Hire Company in Sydney
I am proud to say that HLH Group continues to remain the top-rated labour hire company in Sydney thanks to the great work of all our dedicated labourers and the talented team in the office. I'm confident that throughout the remainder of 2020 and into 2021 we'll be able to push on and reach new heights by doing what we do best – providing quality tradespeople, quickly and safely.
Need Labour Hire?
If you would like to speak to the team about how we can help you with any temporary labour requests please give us a call today on 02-89852019, drop us an email to info@hunterlabourhire.com.au or contact us online for more info.