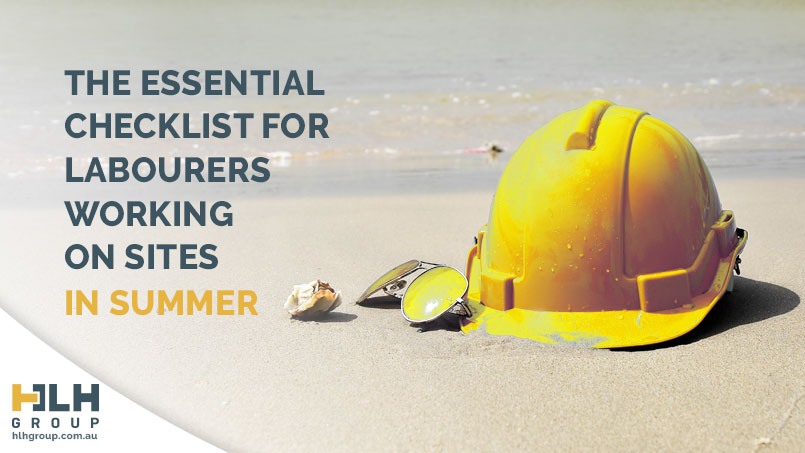 16 Dec

The Essential Checklist for Labourers Working on Sites in Summer
Checklist for Summer Labourers
The weather is heating up again and in no time you'll have yourself some tradie tan lines that will be the envy of every beachgoer in Sydney. Your sun-starved feet and ankles will be looking like they should belong to somebody else when compared to the rest of your lower half that has picked up a nice spring tan whilst labouring on site. Your upper half suffering a similar fate after soaking up the sun in a t-shirt or singlet, both leaving a trail of destruction on that perfect, even tan you were hoping for.
There have to be some downsides to working outside and enjoying the sun. Unfortunately, tradie tan lines are one of them.
Essentials for Working on Site During Summer
Luckily for you, HLH Group has a constructed a list of essentials for working on site during summer so you can have a safe and enjoyable time on site. Maybe you're new into Sydney or have entered our I'm A Tradie Get Me Down Under draw but hopefully, after reading our list, dodgy tan lines will be the only thing you need to worry about this summer.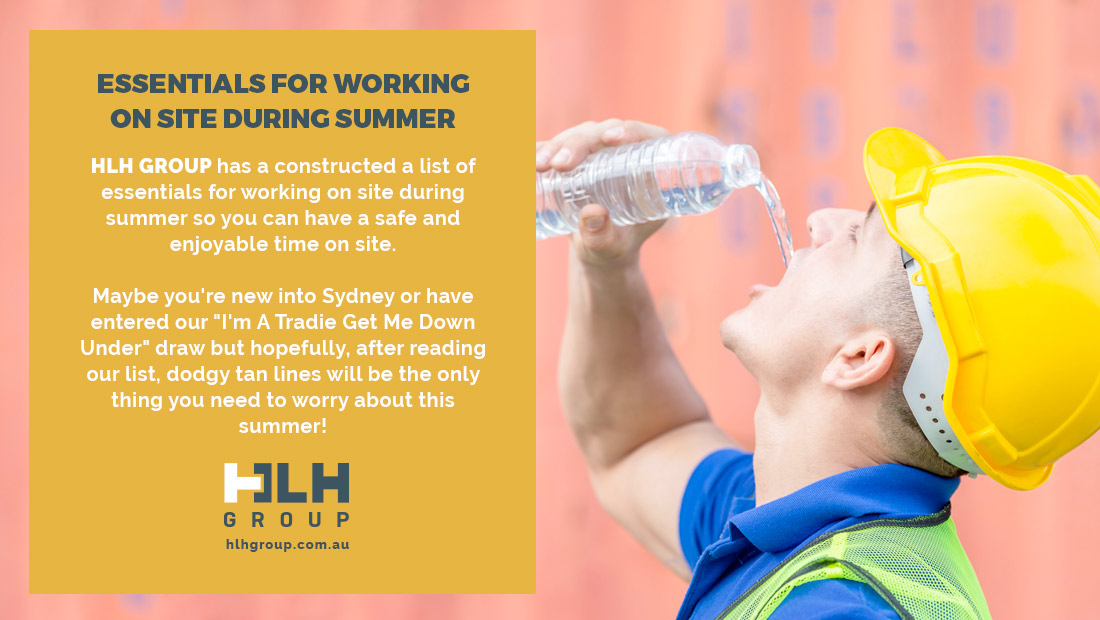 Sunscreen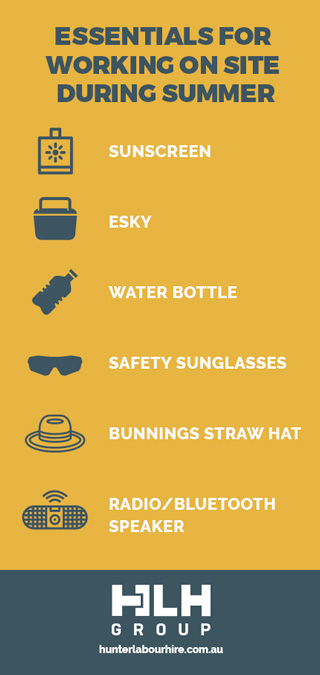 One of the most important things you will need whilst working onsite through a 'Sydney Summer' is sunscreen. Most sites will always have their own but we recommend you bring along a bottle just to be safe and keep it close by. When working long hours in the sun SPF 50+ is the best sunscreen you can use. Apply before you start work and again throughout the day to protect any exposed skin from getting burnt while you work.
Esky
An esky, a food cooler, a chilly bin. Whatever you call them you are going to want to pick yourself up a lunch box to keep all your food cool and safe for the day. Throw in an ice pack or two and your food for the day will be kept at a temperature like it was straight out of the fridge.
Water Bottle
Like an esky, but for your water. You can fill this up in the morning with water and ice and it will last you the full day. Keep this close by and stay hydrated as you work. You can easily fill it up if you run out of water and most bottles come with a cup/lid that you can mix an electrolyte in to help with hydration.
Safety Sunglasses
If you have any hope of seeing clearly whilst working outside you will want to make sure you have a pair of safety sunnies for site. Not only do these help keep the sun out of your eyes but they will help to protect your eyes from foreign objects, splashes, dust or blunt force trauma. With over 50,000 work-related eye injuries each year in Australia it is important that you not only have safety glasses but that they are AS/NZS1337.1:2010 safety rated.
Bunnings Straw Hat
Surely a staple part of every tradies summer wardrobe? The trusty Bunnings straw hat has been protecting Australian workers for generations upon generations. From construction to landscaping work and everything in between, it is the perfect hat to provide you with all-round shade whilst working in the sun.
Radio/Bluetooth Speaker
This goes without saying, but having a working radio on site in summer is equally as important as fresh running water and electricity for most labourers. Unofficial research has shown that having a radio with WFSM or Nova playing throughout the day can increase construction worker productivity by at least 25%. In the wrong hands, this can have the opposite effect so please be careful when selecting your DJ on site. There is nothing worse for labourers than trying to shovel dirt whilst listening to slow playing hits from Adele or Amy Shark.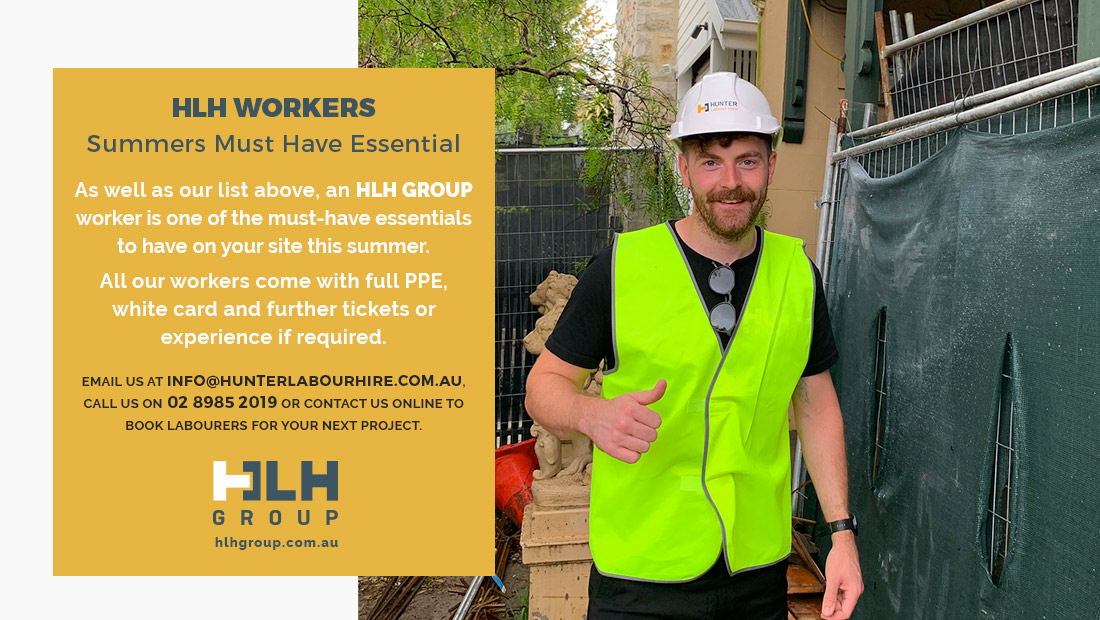 HLH Workers – Summers Must Have Essential
As well as our list above, an HLH Group worker is one of the must-have essentials to have on your site this summer. All our workers come with full PPE, white card and further tickets or experience if required. Email us at info@hunterlabourhire.com.au, call us on 02 8985 2019 or contact us online to book labourers for your next project.