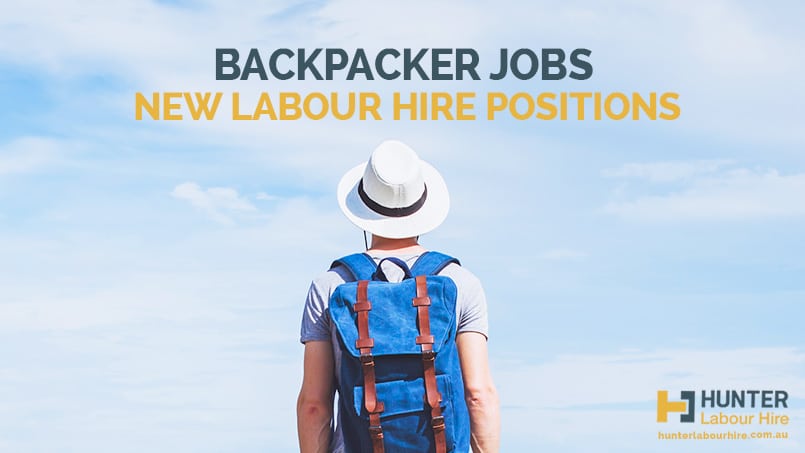 08 Jun

Backpacker Jobs – New Labour Hire Positions
Backpacker Jobs Sydney
At Hunter Labour Hire we have a diverse range of employees including backpackers from all parts of the world. We have lots of casual work to suit working holiday visa makers if you have construction experience or if you have a trade then even better. We've been providing backpacker jobs in Sydney for years now and enjoy working with different tradies from all over the world.
What Do You Need To Get A Casual Construction Job?
So if you've just rocked into Sydney with backpack bulging with your possessions for the foreseeable future and want to secure yourself a job then the below are the things you need to have. We have lots of casual construction jobs in Sydney so if you meet the requirements below then we want to hear from you!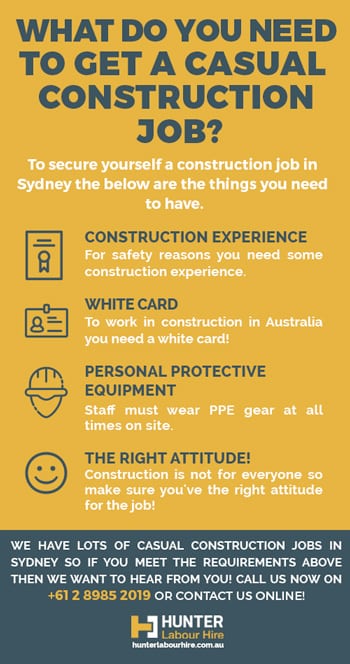 Construction Experience
While some casual jobs may not require much experience – a job in construction definitely does! Reasons for this are obvious and most importantly is safety. A job on a construction site has many dangers and experience on a site is necessary to be able to identify these and work in a safe manner. Operating power tools and working around heavy machinery must be done carefully and correctly. If you have experience and skills relevant to construction then put them on your resume but if you don't then don't lie, you won't fool anyone!
White card
Got the right experience? If you want to work in construction in Australia, then you will need to get a white card. This is required before you can carry out any construction works. You can complete the course online easily just make sure you have the correct PPE to complete the online course video. You can complete it online here.
Personal Protective Equipment
It is essential to make sure you have the correct Personal Protective Equipment (PPE) in order to keep yourself safe and minimize various risks on site. As a minimum you will need:
Hard hat
Steel Toe Cap Boots
Hi Vis Shirt
Gloves
Safety Glasses
Ear Muffs / Plugs
The Right Attitude!
A job in construction is not for everyone. It can be very demanding, physical at times and long hours are not uncommon. If you are okay with this then there are rewards to be had including great wages and seeing the fruits of labour as jobs progress along.
Backpacker Jobs Available Now!
So now that you know what you need to have to be able to apply for a backpacker job with us it's now time to find out what jobs we currently have available for backpackers!
General & Skilled Labourers – We have various clients all over Sydney looking for labourers to assist them for short term contracts and casual positions. This work offers backpackers the opportunity to gain valuable construction experience and earn some money to fund their travels throughout Australia.
Carpenters – We need carpenters for a variety of jobs around Sydney from installing cladding to framing walls and roofs. Got tools and transport? Great! If not, we can (for the right candidates) supply tools and transport.
Plumbers – There is also a huge demand in Sydney for quality plumbers. Work can vary from maintenance to fit off. If you are confident in your skills and have plumbing qualifications from overseas many companies may be keen to employ you as trade assistant or 'unlicensed plumber'.
Scaffolders & Scaffold Labourers – If you have scaffolding experience and are familiar with the various components, how to stack gear and work in a chain then we would like to hear from you. While you do need a minimum of a Basic Scaffolding ticket from Australia to erect and dismantle scaffolding you can assist scaffolders without it.
Electricians – We have plenty of work for electricians who have received their qualifications overseas. You will be able to work as a trade assistant / unlicensed electrician performing most tasks under the supervision of a licensed electrician. You will require a basic tool set with cordless drills.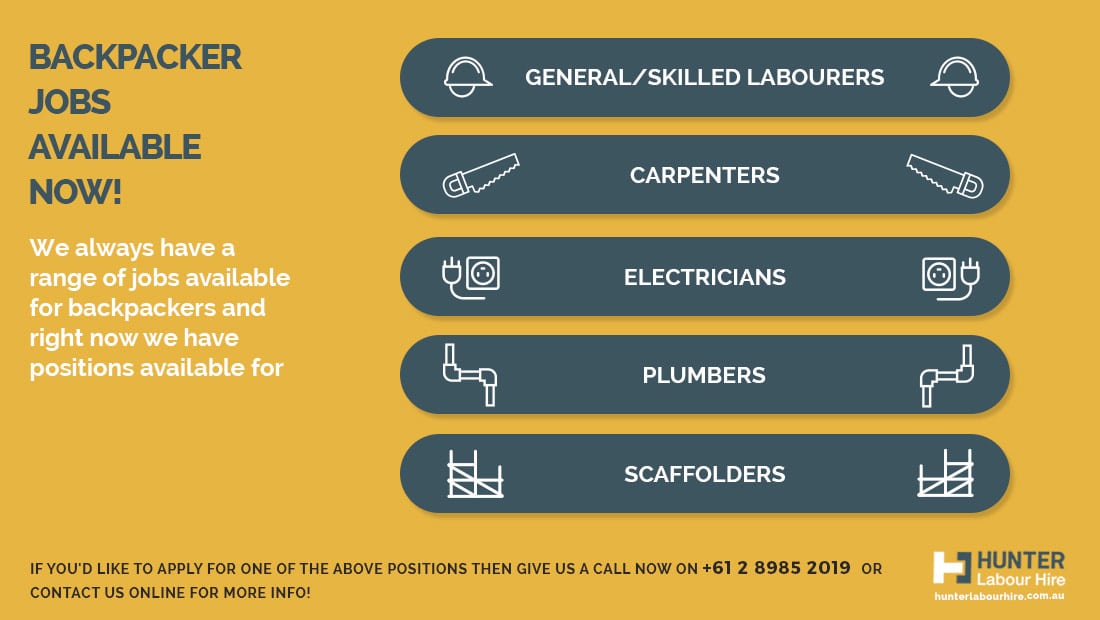 Want to work for Sydney's Best Labour Hire company?
To apply for work with us you can apply directly online via our current vacancies. Alternatively send your resume to jobs@hunterlabourhire.com.au or call the office today on 02 8985 2019 and we'll get you registered for work!