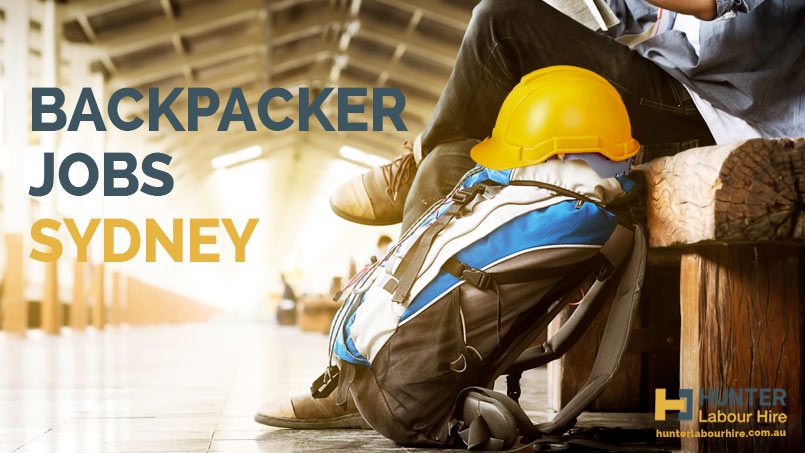 15 Nov

Backpacker Jobs Sydney
Jobs for Backpackers in Sydney
In recent years Australia has become one of the most popular locations in the world for backpackers. With cheap flights available year-round from all over the world, great weather, great wages and the opportunity of a 2-year working holiday visa available to most nationalities it's not hard to see why.
A lot of the backpackers who visit Australia have to work at some stage to help fund the rest of their trip. There are numerous job opportunities for backpackers but this week's blog will focus on the job opportunities Hunter Labour Hire can offer backpackers, why Sydney is so popular for backpackers and some of the popular hostels that backpackers base themselves in during their stay.
Job Opportunities For Backpackers in Sydney
Unless a client of ours specifically asks for an Australian resident, every single vacancy Hunter Labour Hire have on offer is available to backpackers.
We understand that when backpackers first arrive in Australia seeking employment, they are unlikely to have the contacts for work required to find a job immediately. Hunter Labour Hire can connect backpackers with companies all over Sydney and following a registration/induction with the team here, assign them to a job to meet their skill set.
Here are some of the the most popular opportunities Hunter Labour Hire has for backpackers at the moment.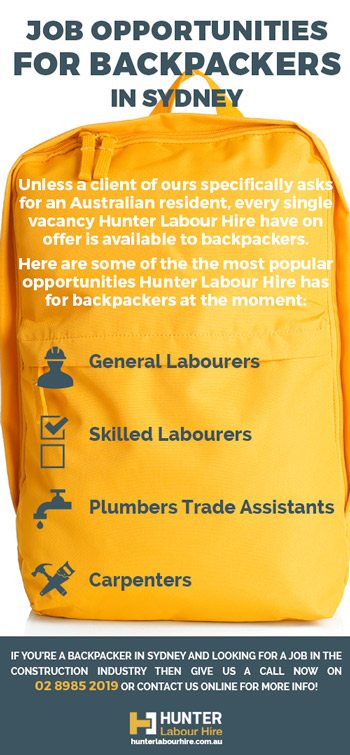 Backpacker Jobs – General Labourers
This is our most common position available to backpackers who have a minimum of 1 year's construction experience. The job can involve a variety of general duties such as assisting with deliveries, demolition, site clean-up, equipment assembly and distribution of materials.
Skilled Labourers – For Backpackers With Experience
Skilled labour positions are only available for guys who have extensive labouring experience or in-depth knowledge of a trade (unqualified/unlicensed guys). An example of such a role would be a carpenter's assistant. These positions would only be available to guys who are familiar with all carpentry tools and would be able to take on some extra responsibilities such as measuring, setting out, making cuts and fixing materials.
Plumbers Trade Assistants
These positions are only available to qualified plumbers including overseas qualified plumbers. Duties would include stacks, rough ins, fit offs etc. Working alongside licensed plumbers to ensure that projects are completed on time to the required standard.
Backpacker Jobs for Carpenters
These positions are only available to qualified carpenters including overseas qualified carpenters. Positions vary depending on the scope of works required and the skill set of the carpenter. Typically, carpenters can be split into 3 categories. Framing carpenters, first fix carpenters and second fix/finishing carpenters. At Hunter Labour Hire we have an extensive database of clients who are always looking for experienced carpenters, so we would almost certainly be able to place a carpenter as long as the registration and induction process goes well.
Why Sydney is So Popular for Backpackers
Sydney will almost certainly feature on all backpacker's itinerary's when they set off from their home country. Year by year the numbers of backpackers coming to Sydney is on the rise. Reasons for this include:
Dry and warm climate most of the year.
Fantastic employment opportunities and wages.
The opportunity of a 2-year working holiday visa.
It's iconic sites and beaches.
Its "home from home" feel.
Fantastic healthcare and amenities.
It's not hard to see why a lot of backpackers stay for the full 2 years and commonly go on to get sponsored to stay longer and even become permanent residents further down the line. There are plenty of jobs for backpackers in the construction industry and once you get a good job here it can be hard to leave!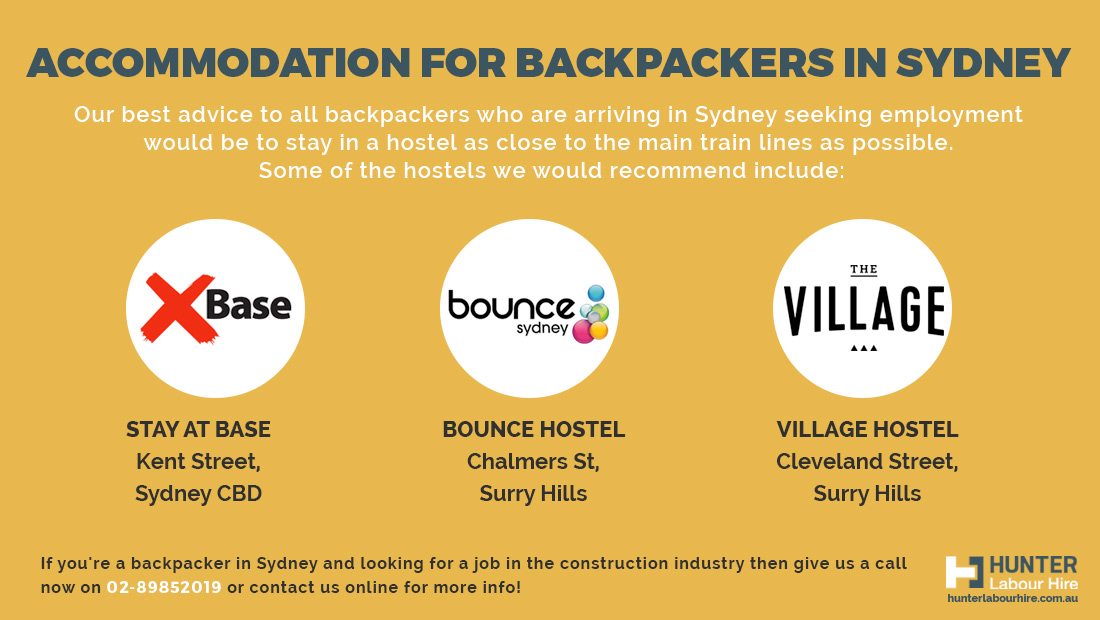 Accommodation For Backpackers in Sydney
Our best advice to all backpackers who are arriving in Sydney seeking employment would be to stay in a hostel as close to the main train lines as possible. Preferably close to central station, alternatively somewhere along the Bondi Junction to Central train line. This will help reduce commute times for work on a daily basis yet ensure that they are still less than a 30-minute journey to the most popular beaches. Some of the hostels we would recommend include:
Each of these hostels offer backpackers the best of both worlds. Great locations for work, above average accommodation and a great social vibe.
Jobs for Backpackers in Sydney Construction Industry
At Hunter Labour Hire we are always looking for the best in labour hire talent. If you like the sound of the above and are eager to work in the Sydney Labour Hire Industry then we want to hear from you. Give the team a call now on +61 2 8985 2019 or register online to work with us and we'll get back to you asap.