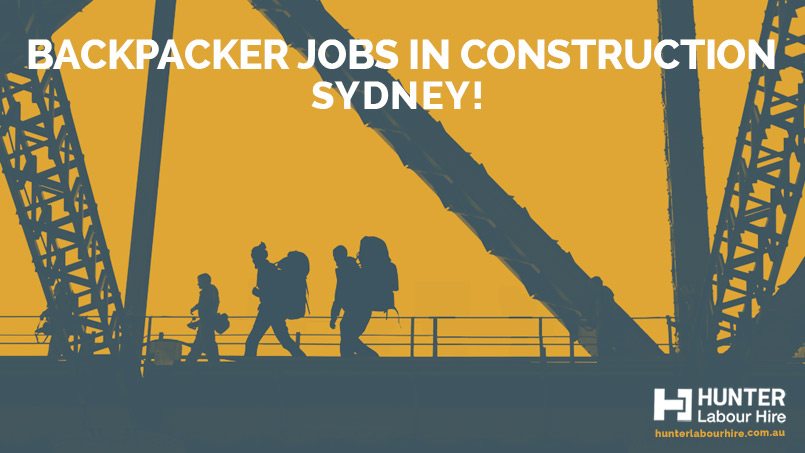 18 Oct

Backpacker Jobs in Construction – Sydney!
Backpacker Jobs in Construction
You have arrived in Sydney on a working holiday visa and you are beginning your job search to find suitable work to further fund your travels. Where do you start? Many backpackers find employment within the construction industry and you can too whether you are looking for a couple of days work each week or you want to commit to a long-term position. At Hunter Labour Hire we have loads of backpacker jobs available.
What Do You Need to Get A Backpacker Job in Sydney?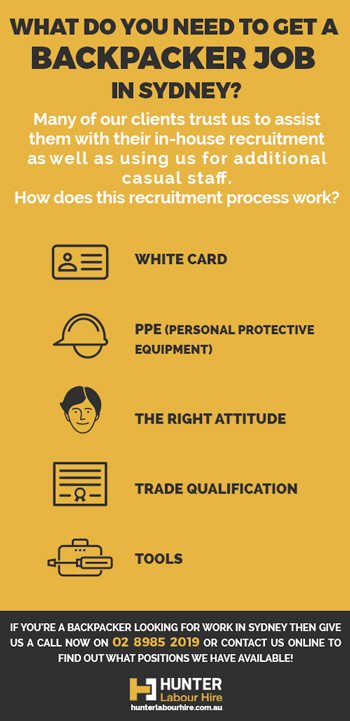 White Card
You will need to have completed the general construction induction and have obtained your white card before you can carry out construction work in Australia. The white card shows any prospective employer that you have completed the necessary training & assessments and are aware of how to work and act safely in the construction industry.
PPE (Personal Protective Equipment)
To work safely in construction, you will need to have the relevant Personal Protective Equipment. The minimum PPE requirements on any site are a hard hat,  steel toe cap boots and a hi vis top. However most sites will also require you to wear gloves and protective eyewear. When operating most power tools you should ensure you have ear muffs or ear plugs to protect your ears.
The Right Attitude
To find work and impress on site you will need to have the right attitude for construction work. Working in this industry can be physically tough and does require long hours from time to time so be prepared for hard work and long days. At the end of the day however there is great reward in being part of a project and seeing it come to fruition.
Trade Qualification
If you have trade qualifications from another country then you may be able to continue working in that trade over here while on a Temporary Visa. Make sure you bring a copy of your trade certificate with you this is required to show you have done an apprenticeship overseas. While you may not be fully recognized as a qualified tradesperson in Australia we can get you work as a trade assistant. The following trades are in massive demand in Australia:
Electricians
Carpenters & Joiners
Scaffolders
Plumbers
Concreters and Formworkers
Plant Operators (Excavators, Bobcats, Skidsteers)
Tools
Some skilled labouring roles and all trade jobs will require you to have the right tools for the job so make sure you know what is required and get what is needed.  At Hunter Labour Hire we supply tools to our workers so that they can do their job properly and get the job done. If you are a tradie and don't have the required tools give us a call and we can kit you out with tools to work with some of our busy clients on exciting jobs all over Sydney!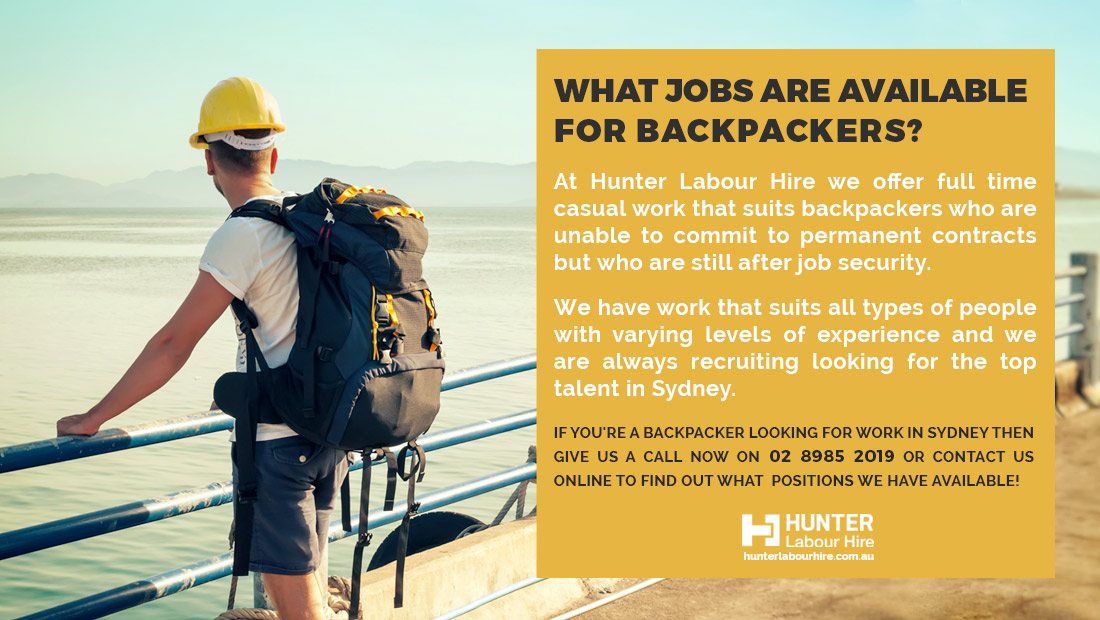 What Jobs are Available For Backpackers?
At Hunter Labour Hire we offer full time casual work that suits backpackers who are unable to commit to permanent contracts but who are still after job security. We have work that suits all types of people with varying levels of experience and we are always recruiting looking for the top talent in Sydney.
Register for Work with Sydney's Best Construction Companies today!
We work with some of Sydney's best companies to provide meaningful work and long-term roles that benefit all parties. If you work with us and our clients you will be placed in a position where you can contribute to projects and make a difference. Register for any potential positions we have here and if we have a role to match your skillset and experience we will invite to come for an interview at our Bondi Junction office!
Check out our latest vacancies here on our website. Or give the office a call on 02 8985 2019 to talk to one of our recruitment consultants who will find the right role for you.