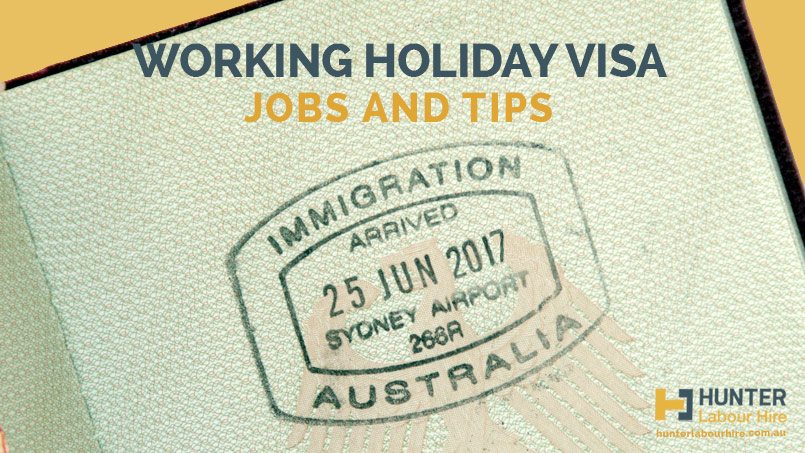 02 Dec

Working Holiday Visa Jobs and Tips
Working Holiday Visa Jobs
Many Working Holiday Visa (WHV) holders choose to find employment within the construction industry. The main reason for this is that there is huge demand for construction workers in Australia. Whether you are a carpenter looking to experience working in the Australian sunshine or you are just finding your feet in the construction industry the chances are there is a suitable role for you.
Working Holiday Visa Jobs in Construction Industry – What You Need!
The first thing you must do to work in the construction is to get your white card. You can get your white card online or in person at various registered training organizations throughout Sydney.
You will also need to make sure you get personal protective equipment (PPE) such as hard hat, hi visibility tops, gloves, protective glasses and steel toe capped boots which can be purchased in stores such as Bunnings and K-mart.
Once you have your white card and PPE you are ready to start applying for jobs in the construction industry.
Prepare Your Resume – Highly Relevant Construction Experience
Make sure you have a resume crafted to show off your experience in construction or at least show some relevant experience that will attract potential employers. Once your resume is ready its time to get in touch with Hunter Labour Hire. Send your resume to our friendly team at jobs@hunterlabourhire.com.au.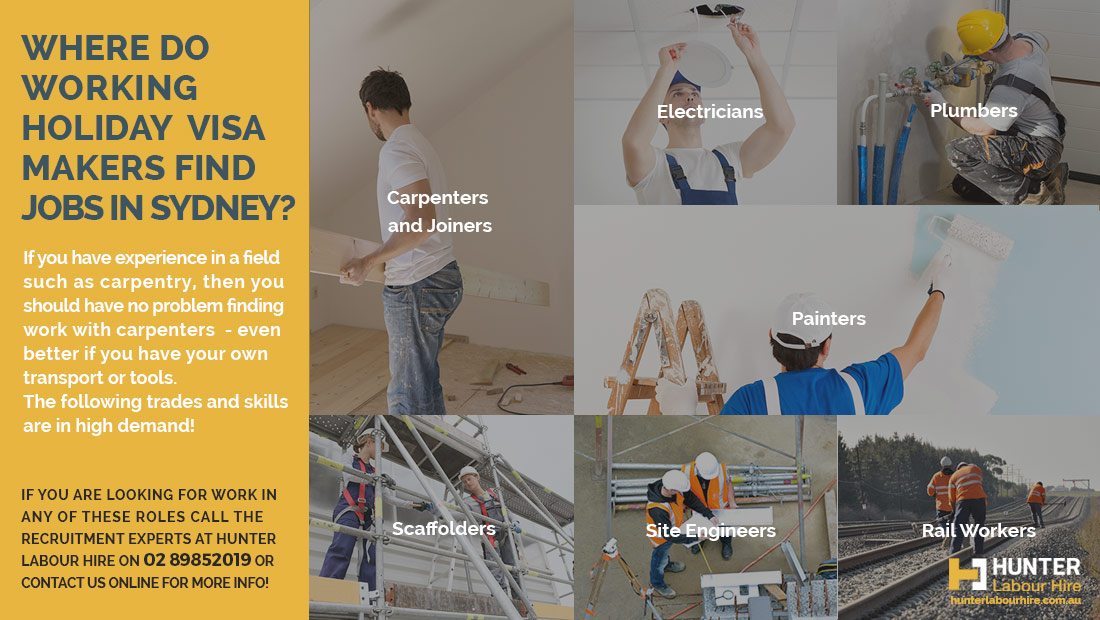 Where do Working Holiday Visa Makers Find Jobs in Sydney?
Many backpackers start off their travels working so that they can fund a trip up the East Coast, go exploring the Outback, or else venture across the Tasman sea to New Zealand.
But, where do they find backpacker jobs in Sydney? Some back packers find work as general labourers setting up events, cleaning construction sites, even unloading freight from containers and other manual tasks required around the city. Other backpackers find work as a traffic controller once they do their white card, blue card and yellow card courses.
If you have experience in a field such as carpentry, then you should have no problem finding work with carpenters – even better if you have your own transport or tools. The following trades and skills are in demand!
Carpenters & Joiners
Electricians
Plumbers
Painters
Scaffolders
Site Engineers
Rail Workers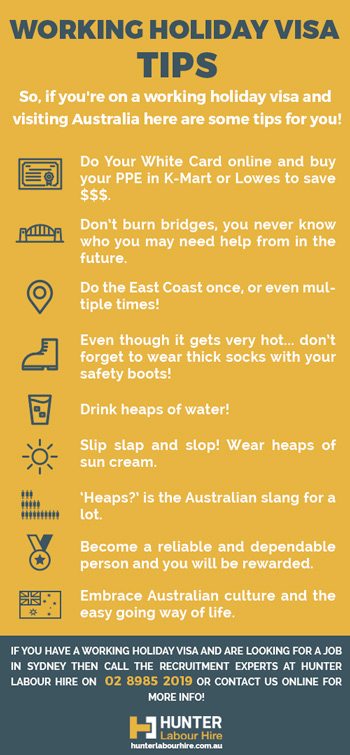 If you are looking for work in any of these roles call the recruitment experts at Hunter Labour Hire on 02 89852019 or send us your resume to
jobs@hunterlabourhire.com.au
Working Holiday Visa Tips
So, if you're on a working holiday visa and visiting Australia here are some tips for you!
Do Your White Card online and buy your PPE in K-Mart or Lowes to save $$$.
Don't burn bridges, you never know who you may need help from in the future.
Do the East Coast once, or even multiple times!
Even though it gets very hot…… don't forget to wear thick socks with your safety boots to protect your feet from blisters and even getting trench foot from sweaty feet.
Drink heaps of water!
Slip slap and slop! Wear heaps of sun cream.
'Heaps?' is the Australian slang for a lot.
Become a reliable and dependable person and you will be rewarded.
Embrace Australian culture and the easy going way of life.
Ready to Find the Right Working Holiday Visa Job for You?
At Hunter Labour Hire we are always looking for top talent to join our team to service the construction industry in Sydney. If you are looking for work fill in our find work form or call the Hunter Labour Hire recruitment experts on 02 8985 2019 today.