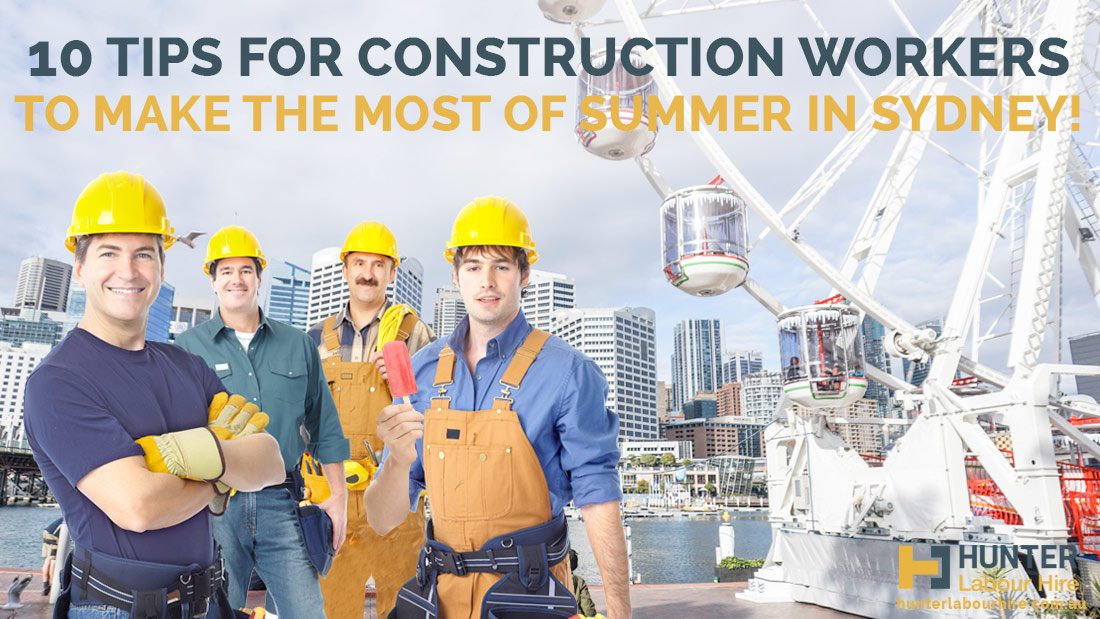 01 Nov

10 Tips For Construction Workers To Make The Most Of Summer in Sydney
Tips For Construction Workers In Sydney During Summer!
Are you new to Sydney and not sure what to expect while working in construction during the summer months? Or maybe it's been a long winter and you have forgotten just what a Sydney summer is like? Well we have put together a list of ten essential tips for you to make the most of working in Sydney during the summer.
1. Get A Job Sorted ASAP!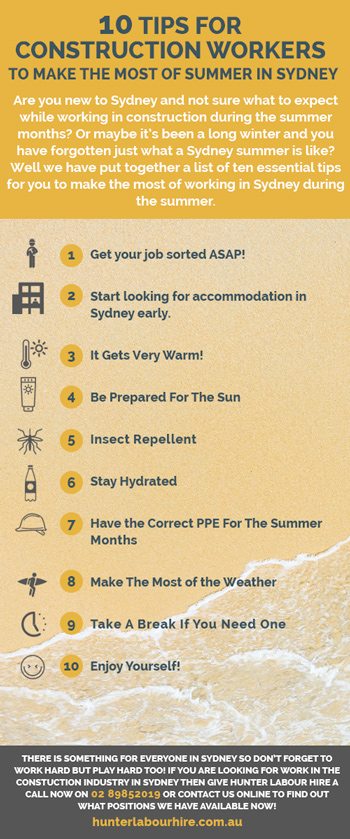 The working population of Sydney swells during the summer months so be sure to secure your work early as the jobs market becomes very competitive and employers get to choose the cream of the crop regardless of whether you are a skilled carpenter or a general labourer.
Register for work with Hunter Labour Hire today!
2. Looking for Accommodation in Sydney?
As the working population soars along with arrival of more and more tourists in Sydney so does the demand for accommodation. This can make it difficult for people to find accommodation in the area. We recommend that anyone coming to Sydney to work has accommodation in Sydney sorted plenty of time in advance.
3. It Gets Very Warm!
In Sydney, the average summer time temperature is 26 C which may not sound very hot but when you are working hard on site you will quickly work up a sweat. Temperatures can reach high 30s in heatwaves that hit Sydney. This means that instead of having lunch in the sun, you will be running for the cool of the shade. NSW Work Cover Recommend 5 Steps to Staying Safe in hot conditions while working. Sites even close once the Mercury reaches over 37 C.
4. Be Prepared
Throughout the summer months there is an abundance of sunshine so you will need to have sun cream to protect yourself on site from UV rays. While the sunshine glare from the sun itself and objects on site can make the simplest of tasks difficult so a pair of tinted safety glasses are highly advisable if not necessary. The best part about purchasing sun cream and sunglasses is that you can then keep receipts for these and then offset the cost when calculating your annual tax return.
5. Insect Repellent
Mosquitoes, along with ourselves, enjoy the extra skin on show throughout the summer months. If mossies like your blood, then you're going to have a bad time on a Sydney construction site if you do not have any mosquito repellents! Also, be prepared for an invasion of cockroaches and large spiders such as Huntsman, the more insect repellent the better!
6. Stay Hydrated
Due to the high temperatures, you are likely to be working up a thirst regardless of work being performed. If you are labouring for a bricklayer or controlling traffic around site, you will need to keep a large bottle of water handy to make sure you stay hydrated.
7. Have the Correct PPE For The Summer Months
While it may be tempting to wear short sleeve hi vis shirts for the summer months many sites will not allow you on site unless you have long sleeve tops and long work trousers. This is due to high sun exposure. The more skin covered up the less risk. The usual PPE requirements are still required such as hard hat, gloves, glasses ear muffs and steel toe boots regardless of the weather conditions.
8.Make The Most of the Weather
Many Australian tradesmen and women get up at the crack of dawn to take advantage of the bright warm mornings by going for a surf at the local beach or going for a jog around the local park. What better way is there to start the day than by clearing the sleepy eyes and head with some exercise or simply some fresh air.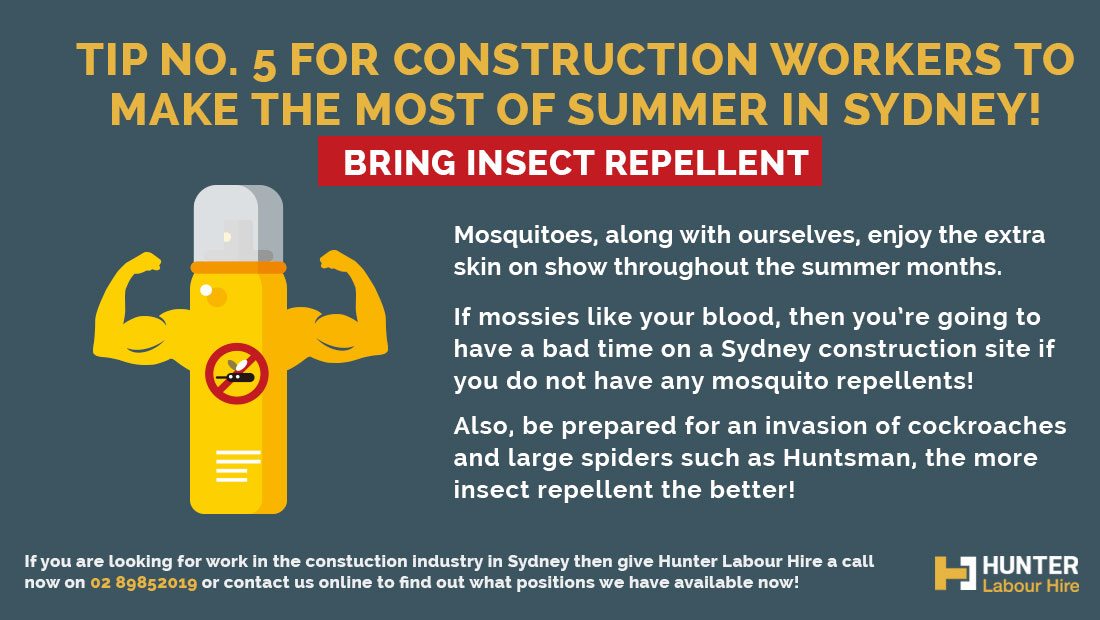 9. Take A Break If You Need One
Most supervisors on site are reasonable and understand that working in warm weather can take its toll. If you are feeling the effects of the weather let them know you need a break in the shade for a couple of minutes, to rehydrate and eat some food.
10. Enjoy Yourself!
Have you got work sorted? Staying safe while working in the hot conditions? Great! Now it's time to enjoy yourself after a hard week working. The best part of Sydney for many of its inhabitants is its many beaches so why spend some time relaxing soaking up some sun and cooling down in the water. If beaches are not your thing there are many trendy cafes, bars and restaurants to enjoy nice food and beverages.  Or maybe you fancy getting lost in the Blue Mountains or other National Parks around Sydney. There is something for everyone so don't forget to work hard but play hard too!
Labour Hire Jobs Available In The Sydney Construction Industry Now!
Are you in Sydney now and looking for work? We have a variety of labour hire jobs available in the construction industry from skilled labouring roles to plumbing positions. Call the office today on 02 89852019, email your resume to jobs@hunterlabourhire.com.au or contact us online and we will get back you soon.