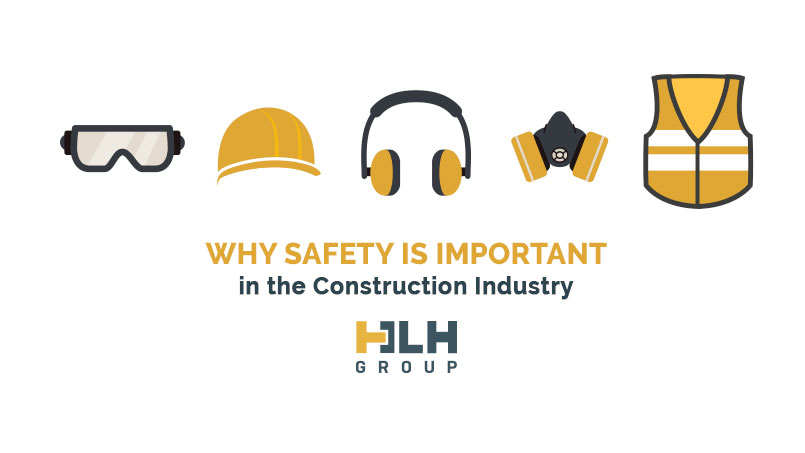 21 Jan

Why Safety is Important in the Construction Industry
Importance of Safety in the Construction Industry
Safety is a huge part of the modern construction industry and basic safety measures started to come in around the start of the 20th century – before then it was cheaper to swap an injured worker than it was to introduce safety regulations and protocols! Building and construction sites can be dangerous places at times and without proper construction training employees can put themselves and others at risk of being injured. Construction training can be something as basic as manual handling training – which prepares workers on how to safely lift and carry heavy objects – to something as technical as underwater welding training, widely regarded as one of the most dangerous jobs in the world. In Australia, all construction workers are required to have a minimum of a white card and site appropriate PPE to safely work on site.
White Card for Construction
The white card was introduced to Australia for the construction industry on January 1st 2012 and is a course designed to bring all construction workers up to scratch on how to work safely. The white card is recognised throughout every state in Australia and can be completed through an online course or in a face to face classroom setting. The white card is not limited to only labourers and tradespeople however, anyone who enters an operational construction site routinely for work, such as surveyors and architects may also need a white card. According to statistics from Safe Work NSW from 2014-2018, construction was the fourth most dangerous industry in Australia with 24 fatalities in this period behind only:
Agriculture, forestry & fishing
Transport, postal & warehousing
Mining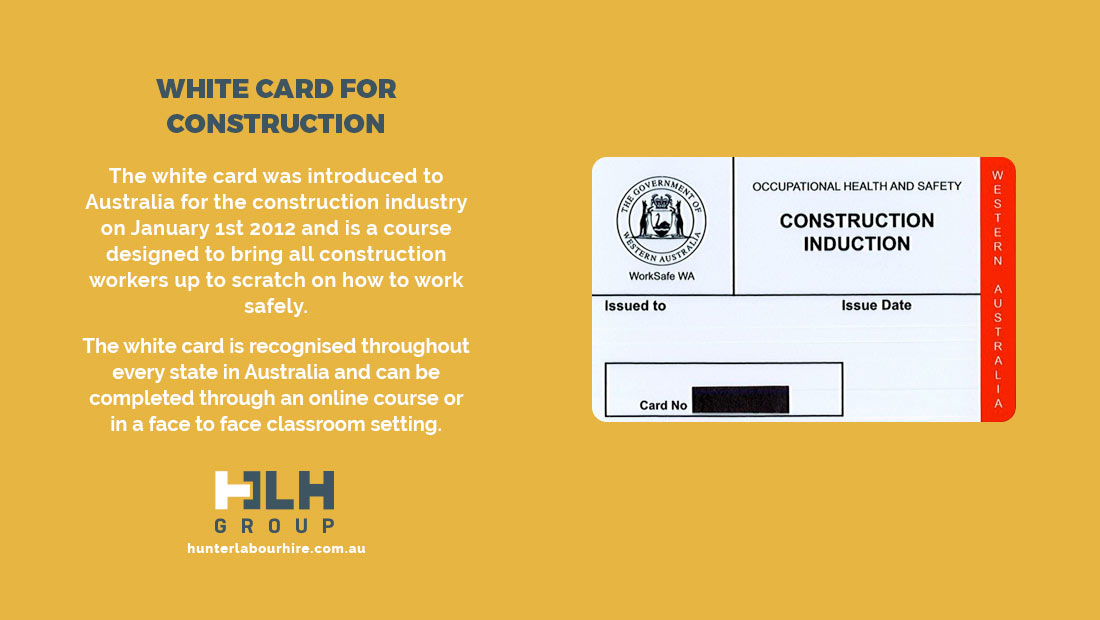 Safety Requirements for Specific Roles
More specific roles such as working in a high-risk environment, working at heights, using elevated work platforms, working in confined spaces, operating machinery, driving vehicles, rigging and traffic control will require their own specific construction tickets and licences in addition to the white card in order to be considered to work in these areas.
PPE for the Construction Industry
Before setting foot on a construction site you should always check what PPE (personal protective equipment) is required. Most construction sites require:
A hard hat
A hi-vis shirt or vest
A pair of steel-capped safety boots
A pair of safety specs and ear protection
These 4 items are usually displayed on a safety sign at the site entrance to warn people of possible hazards. Most sites consider this the bare minimum for entry and the site manager or safety manager is highly unlikely to let you on site without these!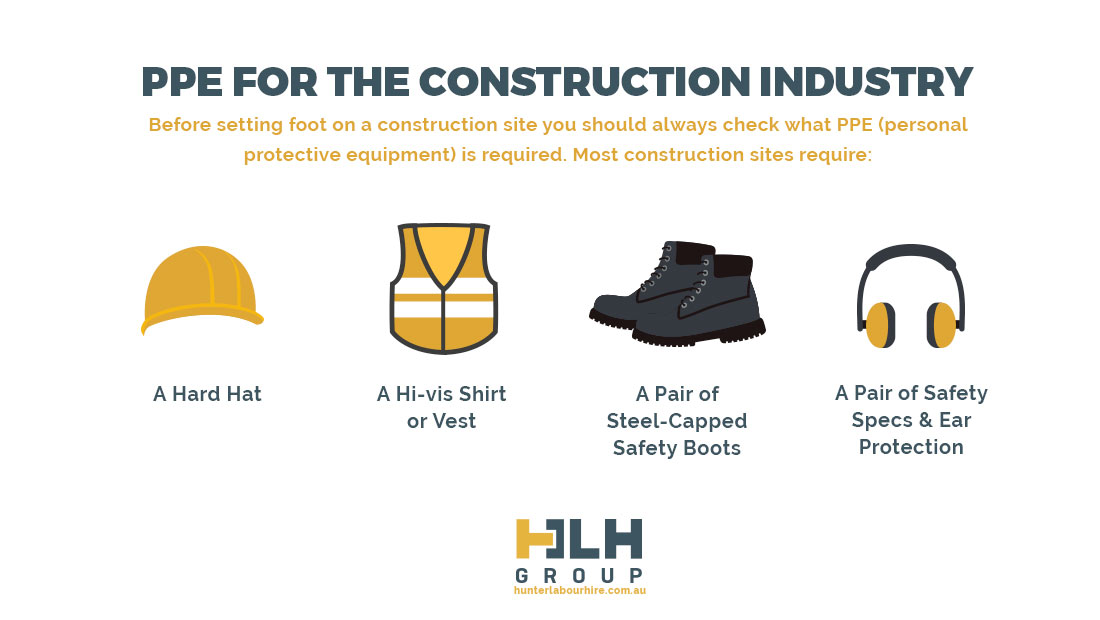 Hard Hats for Construction
Hard hats for construction sites come in all different varieties and colours but at a minimum, they should:
Resist penetration by objects
Absorb the shock from a blow to the head by an object
Be slow to burn
Be water-resistant
Other PPE Items for Construction
Hi-visibility, luminescent clothing was introduced to make construction workers more easily visible and reduce accidents. In construction jobs such a traffic control nightshift, hi-visibility clothing is potentially life-saving.
Safety boots are also a key PPE item. First introduced in the 1930s, steel-capped boots soon became mandatory for construction workers in many parts of the world, protecting the feet from falling objects and debris – often occupational hazards of the construction site.
Construction Safety Roles
The Health and Safety Manager / Officer is generally in charge of maintaining and implementing the safety of the site, however, every worker is responsible for safety. Any worker who feels unsafe has the right to refuse to work or even put a stop to work if they feel something is dangerous. Site managers, supervisors and anyone experienced enough or qualified may also hold 'Tool Box Talks' which often address various safety issues or refresh other workers on procedures and protocols. It's highly important to keep safety at the forefront of everyone's mind when working together on a construction site.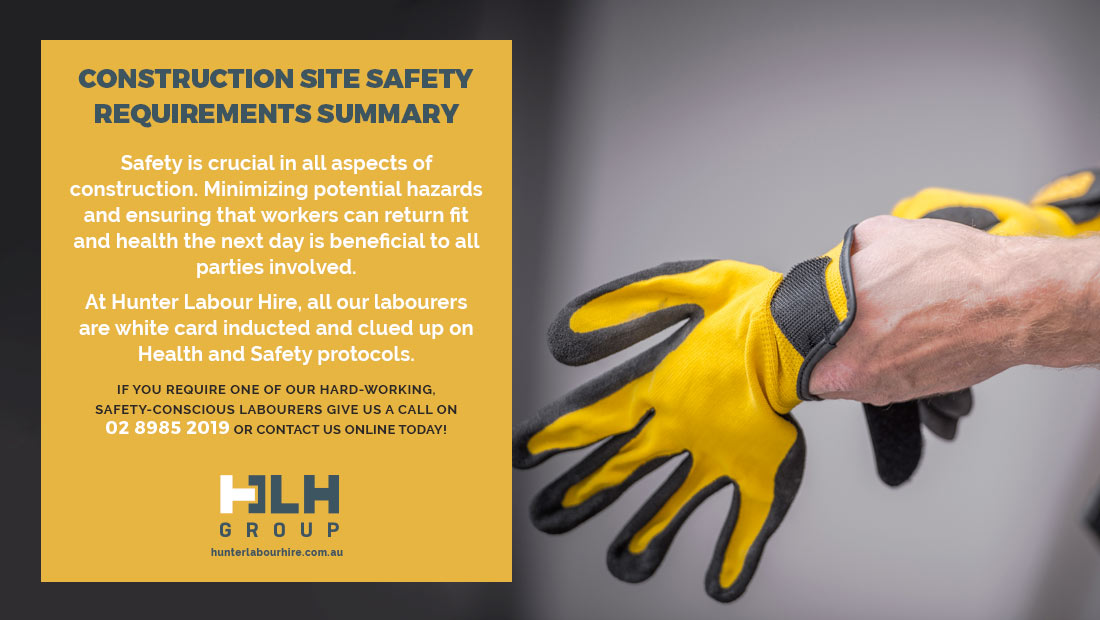 Construction Site Safety Requirements Summary
Safety is crucial in all aspects of construction. Minimizing potential hazards and ensuring that workers can return fit and health the next day is beneficial to all parties involved. At Hunter Labour Hire, all our labourers are white card inducted and clued up on Health and Safety protocols. If you require one of our hard-working, safety-conscious labourers give us a call on 02 8985 2019 or contact us online today!