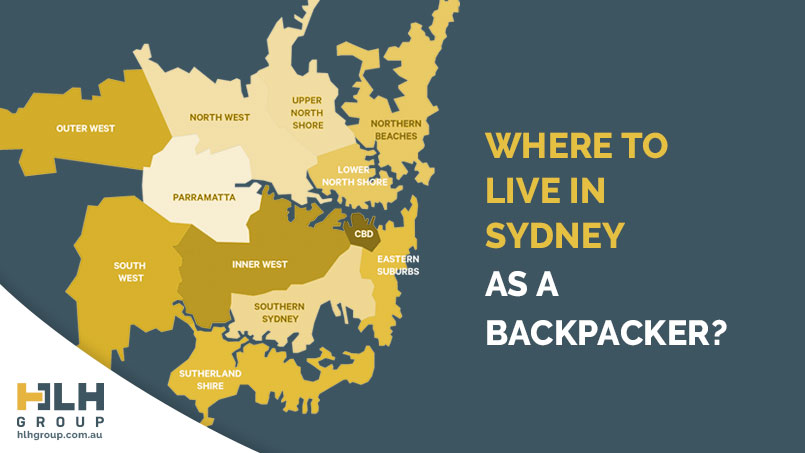 07 May

Where to live in Sydney as a Backpacker?
Where to live in Sydney
We have a team of various nationalities, consisting of English, Scottish, Irish, Welsh & Australian. Between us all, we know the best destinations and activities within Australia, especially Sydney. From the Northern Beaches to Southern Sydney we all have our opinions on where the best places are to live in Sydney. There are lots of backpacker jobs in Sydney and in the next 600 words or less, we will give you a brief overview of where the best places are to live in Sydney as a backpacker. We will dissect each distinct area of Sydney and make sure you pick the right accommodation and neighbourhood for you.
Living in The Eastern Suburbs
We start off with the most popular place to live and by far, the place where backpackers, student visas and almost the entire nation of Ireland live – the Eastern Suburbs of Sydney. Famous for its beaches this place has it all with lovely coastal walks, beautiful beaches and astronomical rental prices. The Eastern Suburbs mainly include Bondi Beach, Maroubra, Clovelly, Bronte Beach, Coogee, Tamarama, and the popular and usually cost-effective option of Bondi Junction as it's close to the train station. Beachside is lovely but you need to remember that getting to work will be at least 40 min to 1h 15 which is no easy task 5 days a week when the temptations of the Coogee Bay Hotel and Coogee Pavilion are calling. The one thing we especially love about the Eastern Suburbs in Sydney is it makes feel like you're on a constant sunny holiday as there is just THAT buzz in the air.
Best Feature: Distance to Beaches
Worst Feature: Expensive Renting Prices
Living in the Sydney CBD
So you want to be right in the heart of the city? The lifeblood of any city the CBD has seen a dramatic fall in foot traffic since COVID, however, times are on the up with the return of backpackers in Sydney. In the CBD you will have an endless pick of all the hostels to choose from and is a rite of passage for all backpackers coming to Australia. The CBD also has some great food options and entertainment so if you are looking for something to do one evening you are minutes away from all the action. Getting to work is super easy from Sydney's CBD with all the transport options available – buses, trains, light rail and ferries making which makes the commute a dream. Great choice to live for convenience. If you are looking for the CBD experience without being right in the business centre, we recommend suburbs like Surry Hills, Newton and Paddington. They are on the outskirts of the Sydney CBD and provide at times a more atmospheric neighbourhood.
Best Feature: Endless Entertainment & Public Transport Options
Worst Feature: Constant Traffic & Busyness
Living in The Northern Beaches
There is a constant divide with the Northern Beaches – it's either for you or it isn't. The constant timeless debate is between Manly & Bondi as both offer very similar attractions on paper but in reality, they offer quite a different vibe. Nicknamed "The North Shores Bondi", this place is a mix of locals who never cross the Harbour Bridge, a splatter of backpackers and South Americans on student visas. Although Manly might be crazy busy, it also offers up quite a relaxed vibe compared to Bondi which is constantly rammed with tourists (especially in summer). Sydney's Northern Beaches run from Cremorne to Avalon and have some of Sydney's best secret beaches. There is a strong demand for labour hire workers in the Northern Beaches as the majority of Sydney lives south of the Harbour Bridge. So, if you were looking to move there you wouldn't struggle to find a labour hire job in the Northern Beaches. Transport to the city is easy thanks to the B1 and Manly's fast ferry but if you are looking to travel to Palm Beach you will need transport as public transport is not as accessible and convenient. Our only hesitancy with the Nothern Beaches is that a lot of your backpacker friends and events will be hosted in the Sydney CBD or Eastern Suburbs. This means that you will be constantly far from home and the transport costs such as public transport, Uber and taxis will be sure to add up.
Best Feature: Less Crowded & Employment Demand
Worst Feature: Constant Travel
Living in the Inner West
Sydney's Inner West is a popular area to rent in Sydney because it's more affordable than a lot of suburbs. These suburbs mainly consist of Newtown, Marrickville, and Redfern. The Bohemian Capital of Sydney mainly Newtown is an eclectic mix of people from all corners of the globe. Some would even say it has possibly the best nightlife in the whole of Sydney. Food options in Newtown are brilliant with everything you could possibly need from Indian to Pub Food to Vegan restaurants – Newtown has the lot. Places like Newtown & Redfern have busy main streets with so many cool and hidden bars and you'll find more alternative types living there. Other than the great pubs and nightlife scene, it's easy to get into town by jumping on the train for 10 minutes to Sydney Central. Easy!
Best Feature: Alternate Vibe with Great Pubs & Restaurants
Worst Feature: Not Modern
Where to Live in Sydney Guide
So that's it. Our summary of living in the beautiful city of Sydney, NSW. We've discussed the Eastern Suburbs, Sydney CBD, Inner West and Northern Beaches and hopefully, it makes your decision on where to live that much easier. Once you have decided where to live in Australia, then you should give one of our friendly recruitment consultants a call who can provide you with consistent construction work near your accommodation. Give us a call at (02) 8985 2019, email us at jobs@hlhgroup.com.au or contact us online.