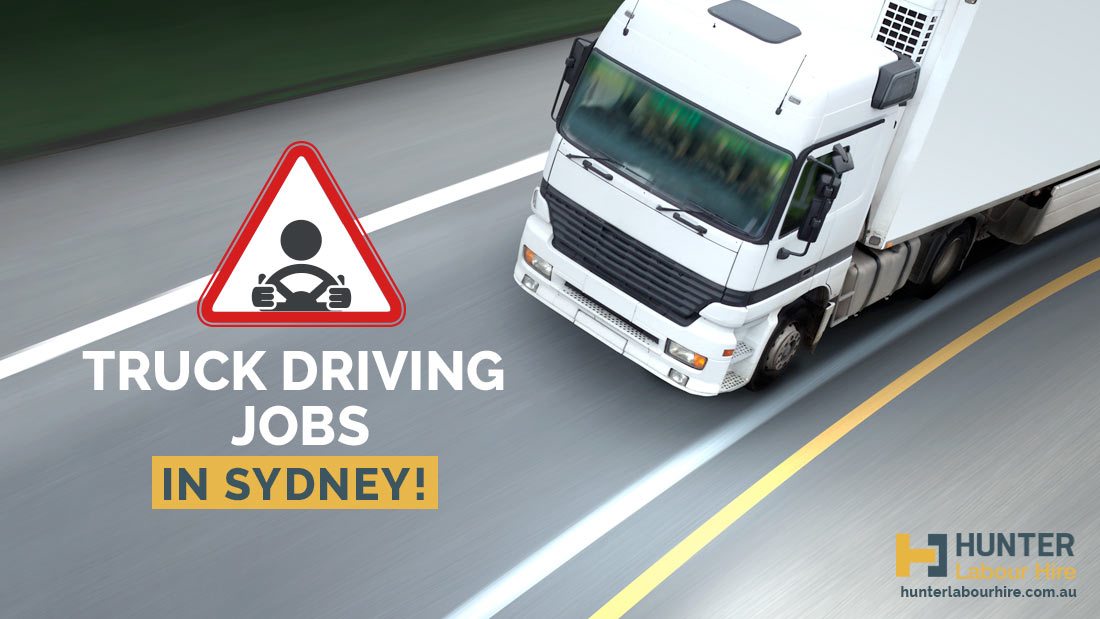 16 Oct

Truck Driving Jobs in Sydney
Truck Driver Jobs Sydney
A lot of people love the idea of driving, taking off with the freedom of the road but still completing a very important task. Whether it be transporting goods from one side of Australia or delivering specific material to a construction site, it's all relative. If this sounds like something you might be interested in you should consider applying for one of our truck driving jobs in Sydney.
Trucks most commonly used in the construction industry are LR, MR & HR. These are usually used when transporting steel, timber, machinery, material or equipment to and from construction sites.
Are You Looking For A Truck Driver Job in Sydney?
The truck driving industry has seen a decline in the past couple of years with a close to half percentage cut in registered truck drivers in Australia. With the demand for truck drivers on a huge increase and constantly growing it is the ideal job for someone who is unsure of their career choice.
At Hunter Labour Hire we strive to supply reliable strong and driven (excuse the pun!) candidates to fill these roles as truck drivers. Truck driving is a huge responsibility that requires punctual, reliable, patient and motivated candidates. Efficient truck drivers can assist construction companies to complete their projects on time and within budget.
Different Types Of Truck Driver Licences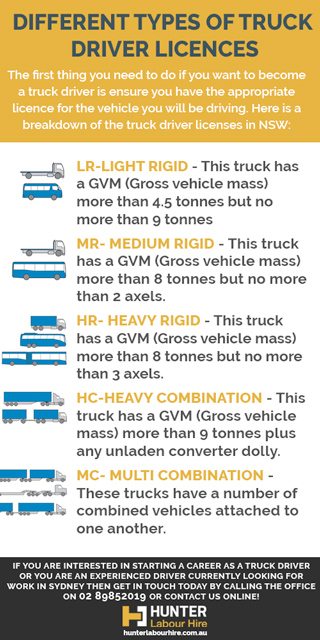 The first thing you need to do if you want to become a truck driver is ensure you have the appropriate licence for the vehicle you will be driving. Here is a breakdown of the truck driver licenses in NSW (check out our guide to high risk work licenses here). In order to complete these there is usually a knowledge test on each of the licenses, complete a driving test in the specific sized truck and also complete an eye test. As each license is so different these can vary and some may require more tests in order to get you truck driving license. For further information on how to obtain a truck driving licence we recommend you contact the Roads and Martime Services.
LR-Light Rigid – This truck has a GVM (Gross vehicle mass) more than 4.5 tonnes but no more than 9 tonnes. An example of this is a mini bus that can hold 12 people or a tractor.
MR- Medium Rigid – This truck has a GVM (Gross vehicle mass) more than 8 tonnes but no more than 2 axels. An example of this is a bus holding more than 12 people or a medium rigid truck that is towing a single trailer.
HR- Heavy Rigid – This truck has a GVM (Gross vehicle mass) more than 8 tonnes but no more than 3 axels. An example of this could be a bus that has two sections e.g. one rigid section that is connected to one another so as to allow rotary movement
HC-Heavy Combination – This truck has a GVM (Gross vehicle mass) more than 9 tonnes plus any unladen converter dolly. An example of this is a combination of two vehicles attached to one another.
MC- Multi Combination These trucks have a number of combined vehicles attached to one another.
Truck Driving Jobs Available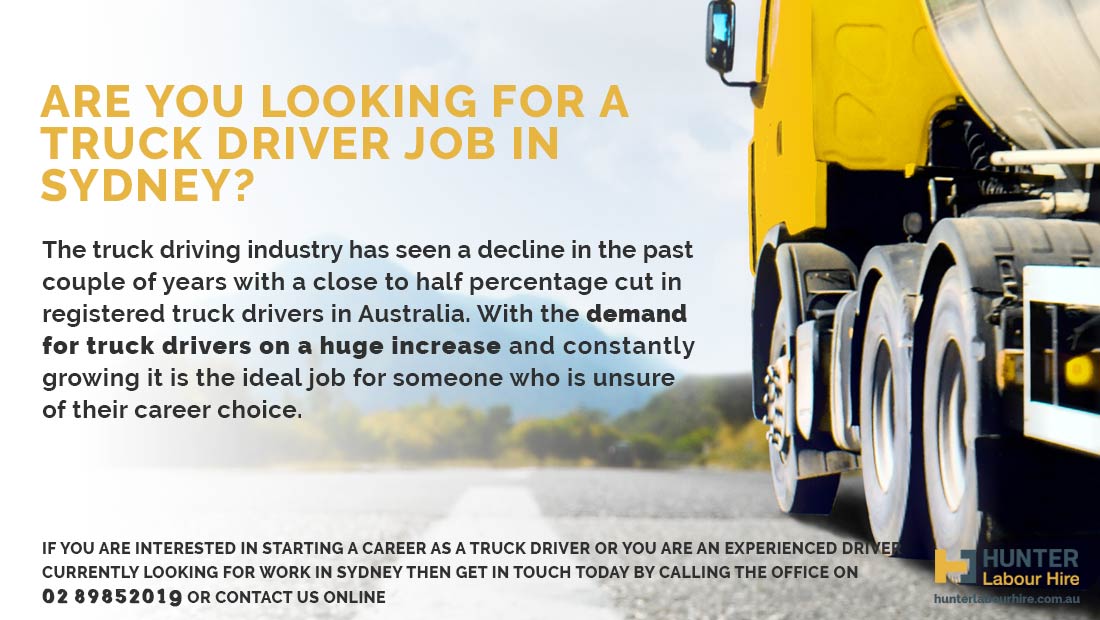 If you are interested in starting a career as a truck driver or you are an experienced driver currently looking for work in Sydney then get in touch today by calling the office on 02 89852019, filling in the find work form or emailing your resume to jobs@hunterlabourhire.com.au.