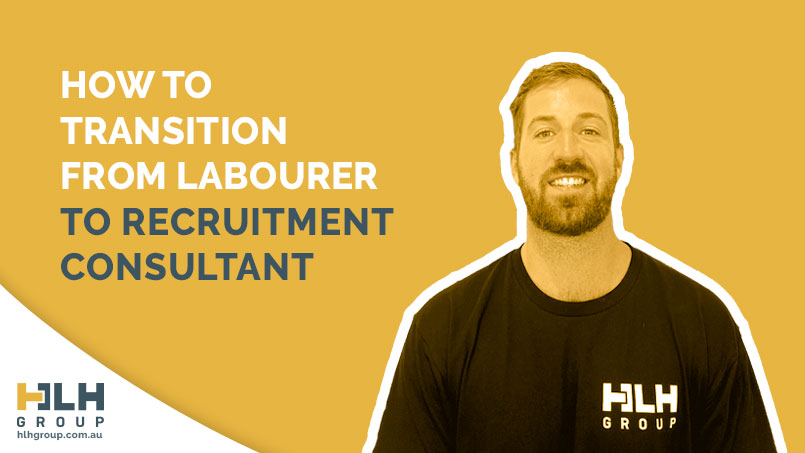 24 Jun

How to Transition from Labourer to Recruitment Consultant

Hello fellow readers. My name is Will Martin and in this blog, I will be talking you through my journey from moving to Australia and becoming an HLH Group labourer and then eventually transitioning into a recruiter role.
From Labourer to Recruitment Consultant
So here's how my journey started.
I'm sure if you were to ask the majority of the world how their 2020 went, they would describe the horrors of the pandemic negatively impacting people's personal and professional lives. Many businesses went under, people couldn't socialise and many were encouraged to stay at home for weeks on end – taking its toll on people's mental health. I feel a touch of guilt when I say 2020 was one of my best years to date. I had recently arrived in Australia after a 3-month trip travelling around South-East Asia and was counting my blessings I made it into the country before the international borders closed in March 2020.
Settling in Sydney
Once I landed in January, I was able to travel to Melbourne and Tasmania with some friends which was an unforgettable experience. After comparing Melbourne to Sydney, I decided Sydney would be where I would settle. The beautiful beaches, blue skies and impressive coastal walks appealed to me, and I felt like I was living in a holiday destination 24/7. With the high living costs, I knew once I arrived in Sydney, that I would need to get a job ASAP to fund my desire to explore more of Australia.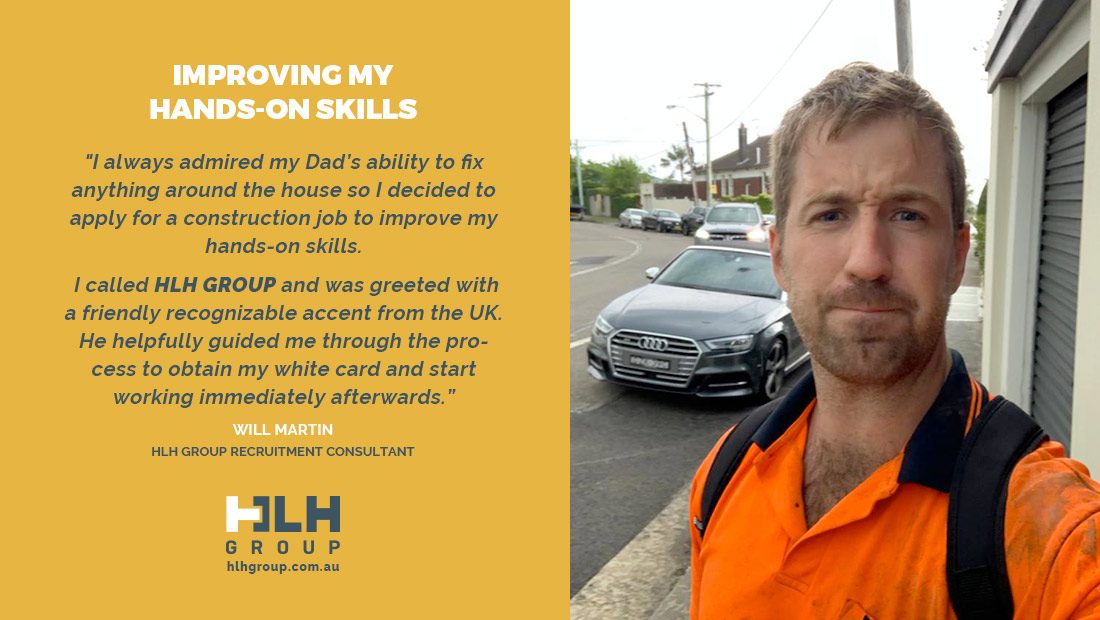 A Job To Improve My Hands-on Skills
Since leaving university I had always worked in an office typing emails and making sales calls. Although I did enjoy my previous jobs, I had a burning desire to try something new to broaden my skillset (whilst ideally keeping me physically fit). I always admired my Dad's ability to fix anything around the house so I decided to apply for a construction job to improve my hands-on skills. I called HLH Group and was greeted with a friendly recognizable accent from the UK. It turns out my recruiter was from a similar part of England, and he helpfully guided me through the process to obtain my white card and start working immediately afterwards.
The Right Attitude is Better Than Experience
Once I'd completed my white card course and bought my PPE (hard hat, high vis top and boots), I was sent through an address to head to the following day. At 7 am the next day I arrived at a 3 million dollar residential property in Dover Heights which had a rooftop overlooking Sydney's beautiful harbour. I performed several tasks which included carrying materials, grinding brickwork and general clean-ups of the site. The project manager was very understanding of my lack of experience and guided me through all the tasks. I was keen to learn so I discovered that the right attitude is often favoured over the amount of experience.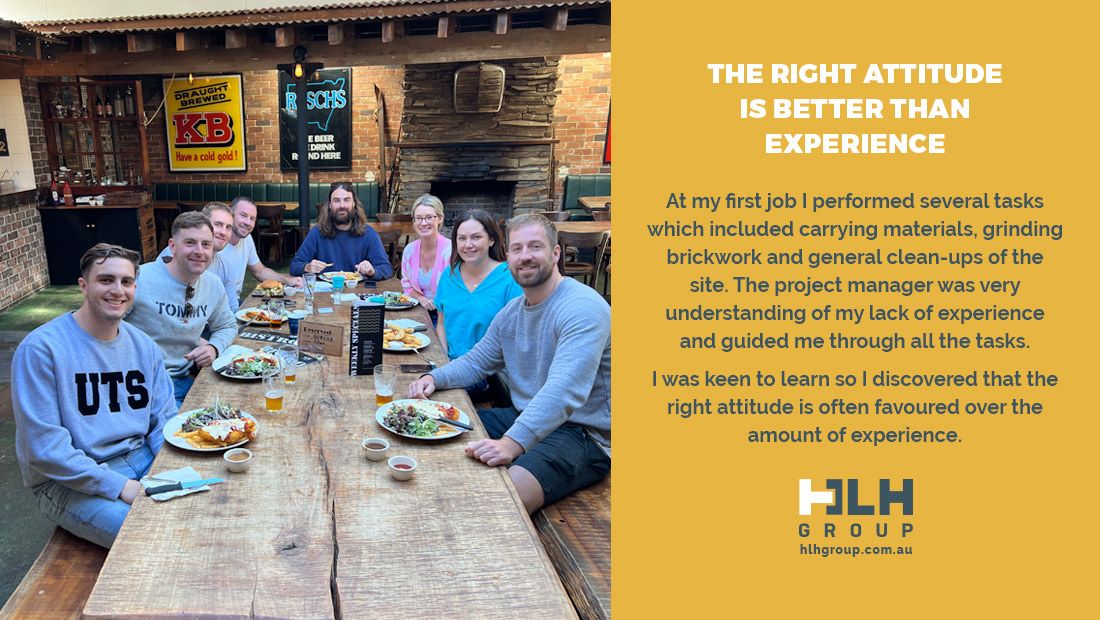 Skills and Experiences for Life
For the next 18 months, I then worked across numerous sites in Sydney which included brick repointing a block of apartments in Bondi, installing rods in the Sydney Opera House roof, repairing a leak in the roof at Sydney Olympic Park and many more. During that time, I learnt how to confidently operate a jackhammer, grinder, circular saw, impact driver, bandsaw and reciprocator saw as well as many other useful skills such as cement mixing, working at heights, scaffolding, walkway installation and tree surgery. I met some amazing people on numerous sites and have taken away some skills I can use for the rest of my life.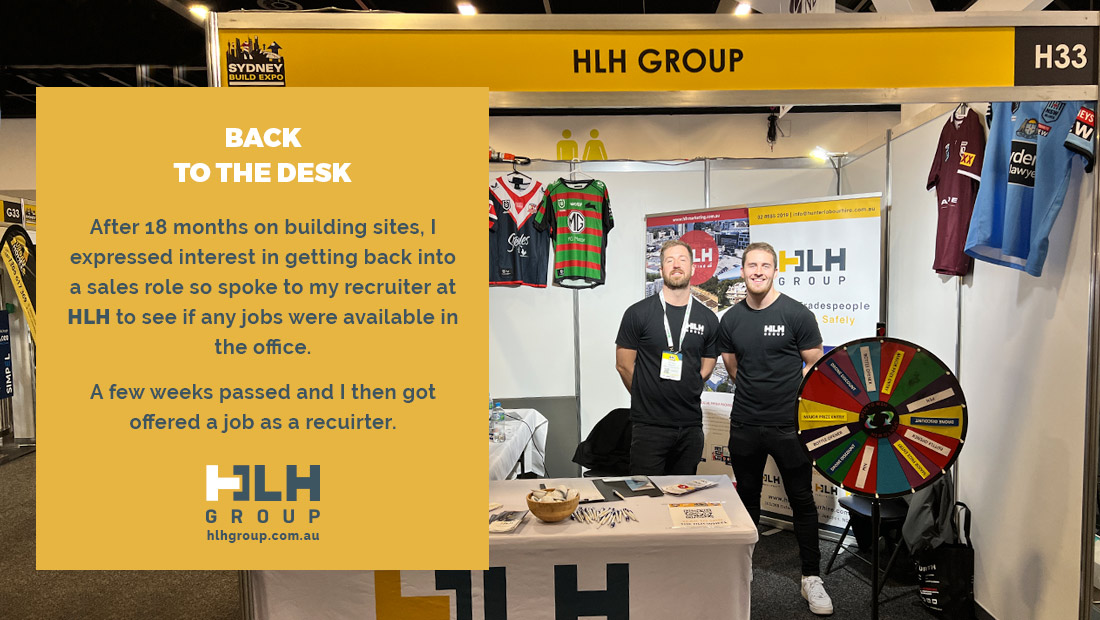 Back to the Desk
After 18 months on building sites, I expressed interest in getting back into a sales role so spoke to my recruiter at HLH to see if any jobs were available in the office. A few weeks passed and I had a call from Sorcha Hunter who mentioned they would be expanding the recruiting team due to the international borders opening up, allowing backpackers back into the country. I felt like I'd be a good fit for the role as I'd been on the other side of the business and understood the role as a labourer. I joined the team shortly afterwards and was great to finally meet the boys who had been lining up jobs for me during the past year and a half. The office has a great working environment with a clear attitude of "work hard, play hard". Once targets and KPIs have been hit then the team are rewarded with half days or can play table tennis in the meeting room which gives the team a great incentive for a better work/life balance.
"Highly Recommend HLH Group for any Overseas Workers"
So, there you have it. That's my experience of Australia and how I transitioned from an HLH Group labourer to a recruiter. After working both sides of the trade, I highly recommend HLH Group for any overseas workers looking for flexible working days whilst travelling through Sydney. If you're looking for a construction role in Sydney, please send your resume to info@hlhgroup.com.au, call the office line at (02) 8985 2019 or contact us online for more details.