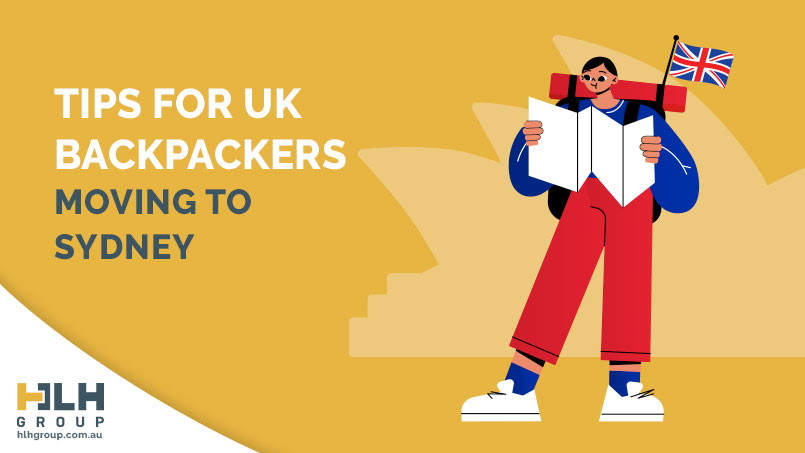 16 Sep

Tips for UK Backpackers Moving to Sydney
Moving to Sydney – Tips for UK Backpackers
Last night I was chewing the fat with my old man on the phone, catching up after I'd arrived back in Sydney following a couple of weeks at home in Scotland. My dad described Australia as 'The Lucky Country' a phrase first coined by Donald Horne back in 1964 for the title of his bestselling, pop culture book. Despite the name of the novel, 'The Lucky Country' is actually an indictment of Australia's lack of enterprise. My dad, however, probably meant it as a reference to Australia's abundant natural resources, historically strong economy, and bountiful job opportunities. Now you might be thinking, this place sounds like the cat's pyjamas, and you'd be right. For backpackers, Sydney is a haven. With scorching summers, idyllic beaches, tropical rainforests, and a laid-back style, it's easy to see why people from around the world flock to Australia to live, work and travel around it. Here are a few simple tips for UK backpackers if you're thinking of moving to Sydney and assimilating with the Aussies.
Put Yourself Out There
It's bloody daunting leaving the safety of home to start a new life on the other side of the planet, especially if you're going solo. Making mates is probably going to be on your agenda and building a solid network of people around you will help you thrive. Stay in hostels, sign yourself up for events, explore your environment and you'll encounter like-minded people in no time. In Sydney, groups like A County Down Under and 'How's the Head?' are open communities that run social events and activities and are a great resource if you're looking to meet people. There's a sense of freedom that comes with having an open conversation with a stranger and it's a breed of confidence I don't think I fully had until I left the UK. It may also be daunting but even just introducing yourself to people in public places like pubs, clubs and sporting events. As soon as you hear that familiar UK accent it's time to say 'G'day'. HLH sponsor a few local sporting teams in the area that have a host of Irish, English and Scottish players. These sporting teams will help you find similar people to you.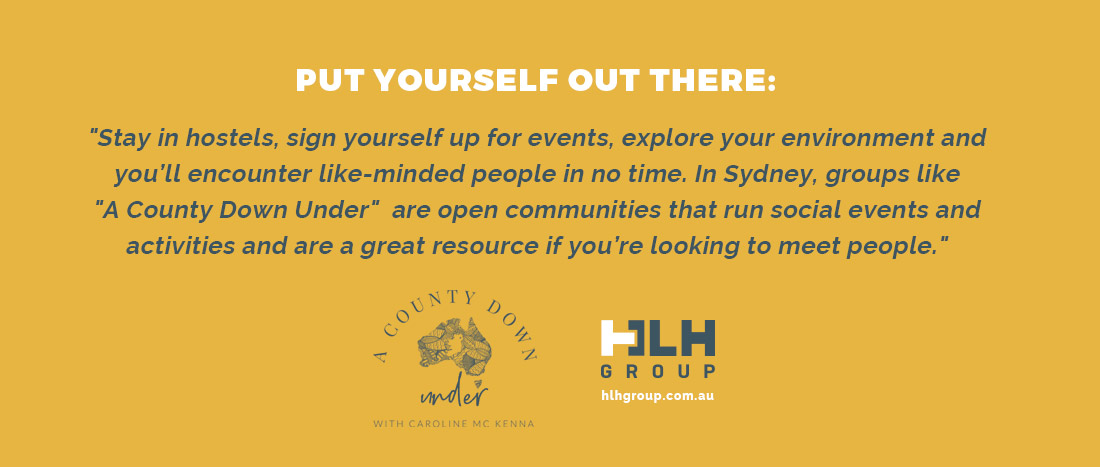 Building Character
Getting your first job in a foreign country is a nice feeling, especially considering how expensive living in Australia can be sometimes. Working casual construction jobs in Sydney is a handy option for backpackers and the industry is one of the main employers in Australia. Complete your White Card course, grab some PPE and you're all set for your first construction gig. Builders in Australia are crying out for workers from entry-level labourers to skilled tradesmen and operators. I found working as a general labourer in Sydney for over two years a rewarding experience Working alongside carpenters, electricians, plumbers, landscapers, and scaffolders and meeting people from all over the world whilst improving my practical skills. If you have recently arrived or planning to move and want to work in construction, there are plenty of easy ways to apply. Click here to register, email jobs@hlhgroup.com.au or call us on (02) 8985 2019.
Travel
It seems pretty obvious but once you get to Australia it's easy to get stuck in a big city, Melbourne and Sydney being the largest and most popular. If you're looking for a scenic yet sociable trip, the east coast of Australia is a solid option. From Sydney, take the greyhound bus or grab your own transport and head up to Byron Bay, where you'll see some of the world's most beautiful beaches and a thriving hippy community; you'll soon be walking around barefoot on your way to yoga. From Byron, you'll be in Queensland and not far from Fraser Island, the largest sand island in the world complete with tropical rainforests, beaches of pure silica sand and wild dingos roaming. Another popular spot is Airlie Beach where you can cruise the Whitsunday islands, where can swim with manta rays, and turtles and witness the whitest, natural sand on the planet. Finally, you'll arrive in Cairns which is teaming with fellow backpackers and travellers. Go scuba diving during the day and boogie at night in any of the lively party hostels littering the city. If you still have the thirst for travelling after that, head down the west coast, and hope for the ferry to Tasmania head up to Darwin for guaranteed sunshine.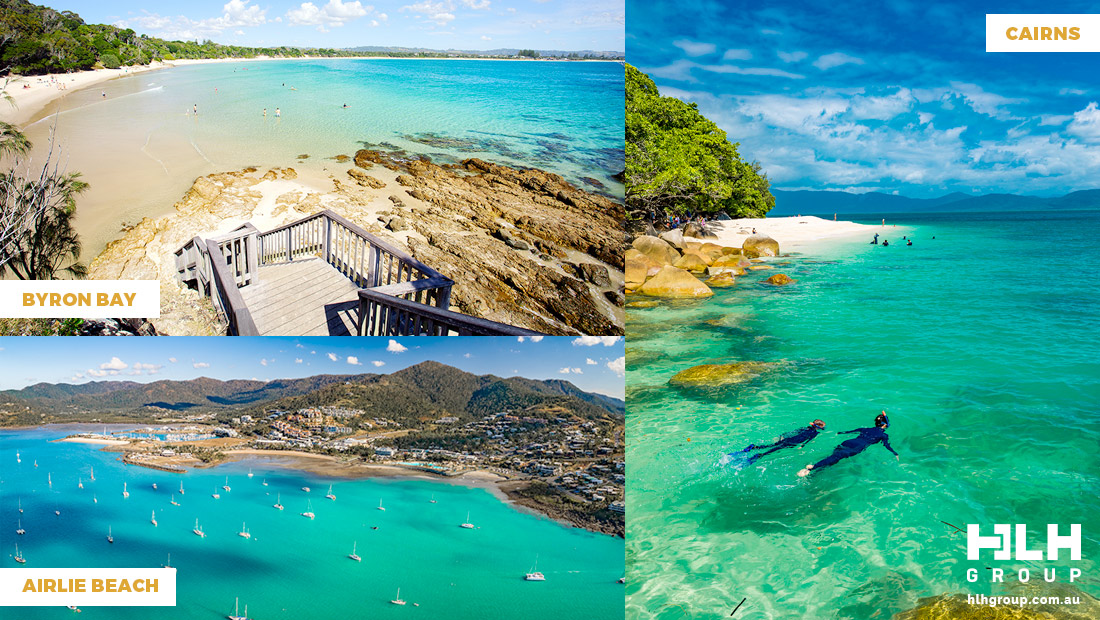 Moving to Australia Survival Guide
Our final helpful tip is to download our Moving to Australia – Survival Guide. We've seen hundreds of backpackers pass through our doors over the years from all parts of the world. Not to mention, most of our office staff originate from England, Ireland and Scotland. Our survival guide is free to download and will act as a blueprint for aspiring travellers seeking to make a move to Australia and should be your go-to when it comes to any queries or concerns you may have.We cover everything from accommodation recommendations, how to find work, visa options and construction industry advice. Trust us, it will be worth your while – get your copy now.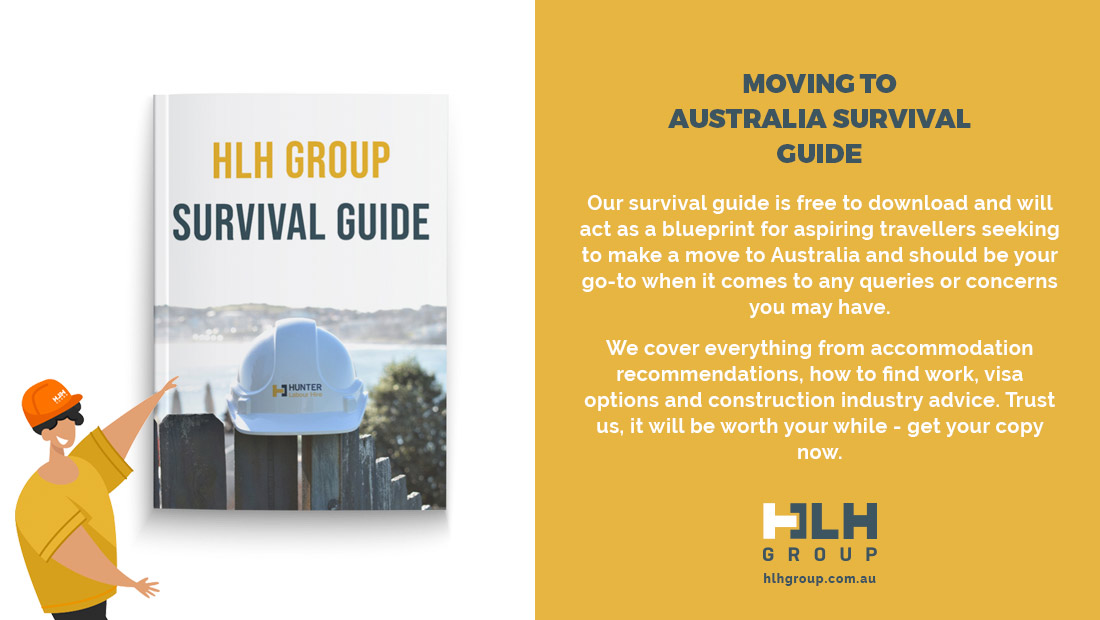 Contact Us
For those that are due to arrive soon, we wish you the best of travels and look forward to seeing you Down Under. For those backpackers that have arrived in Australia and planning on exploring Sydney, we can help you! Earn money whilst you explore all this great city has to offer. We can find you a construction or warehouse role close to your accommodation so you can live in Sydney without the worry of running out of money. To apply for a role with us you can register online, email jobs@hlhgroup.com.au or call us on (02) 8985 2019 – Whatever is easiest for you. See you soon!