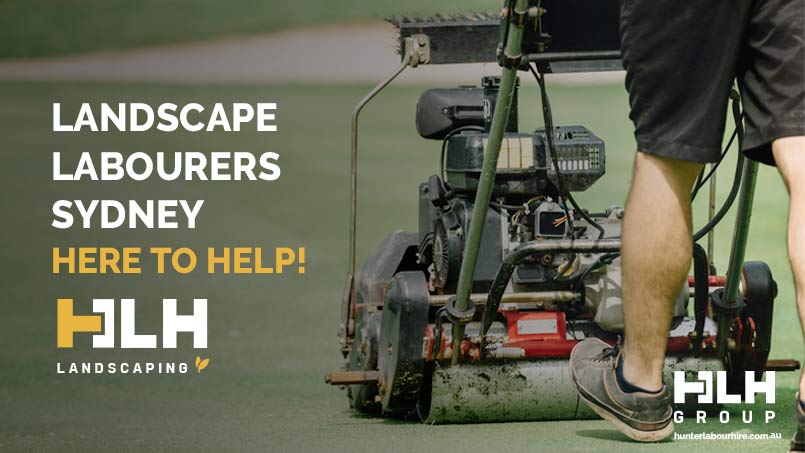 03 Dec

Landscape Labourers Sydney – Here To Help!
Landscape Labours in Sydney
At HLH Landscaping we have supplied various types of workers to landscaping and gardening companies all around Sydney and other parts of NSW. We have assisted businesses of all types from small sole traders to some of Sydney's biggest landscaping companies. Our landscape labourers are mainly supplied on a casual labour hire basis, however, some clients choose to take on the labourers permanently which we are more than happy to facilitate via a temporary worker to a permanent contract.
Landscape Labourers We Have Supplied in the Past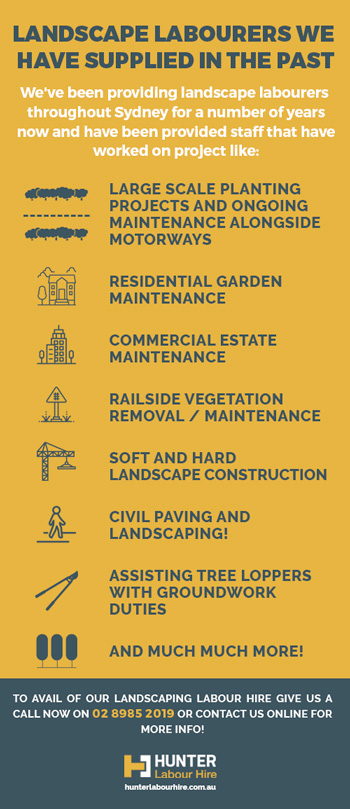 We've been providing landscape labourers throughout Sydney for a number of years now and have been provided staff that have worked on project like:
Large scale planting projects and ongoing maintenance alongside motorways
Residential Garden Maintenance
Commercial Estate Maintenance
Railside Vegetation Removal / Maintenance
Soft and Hard Landscape Construction
Civil Paving and Landscaping!
Assisting Tree Loppers with groundwork duties
And much much more!
What is Included in our Landscape Labour Hire Rates?
We like to be as transparent as possible with our labour hire rates and that holds true with our landscape labour hire. Check out a detailed breakdown of what the rate includes.
Before ever stepping foot on site all our landscaping staff have been through the HLH Group recruitment process. This ensures we keep the quality of our candidates as high as possible.
All workers are paid in line with the relevant awards
All workers are fully insured by our Workers Compensations and Public Liability policies.
We provide all staff with the PPE they require to get the job done. From head to toe, you can be sure that HLH Landscaping staff will turn up ready to go.
All signed up clients have access to their own dedicated recruitment and account managers who will ensure that clients get the staff when they need them.
We cover all payroll requirements too!
The HLH Landscaping Promise
The HLH Landscaping Promise: We promise to deliver the right worker, in the right place, at the right time and for the right price.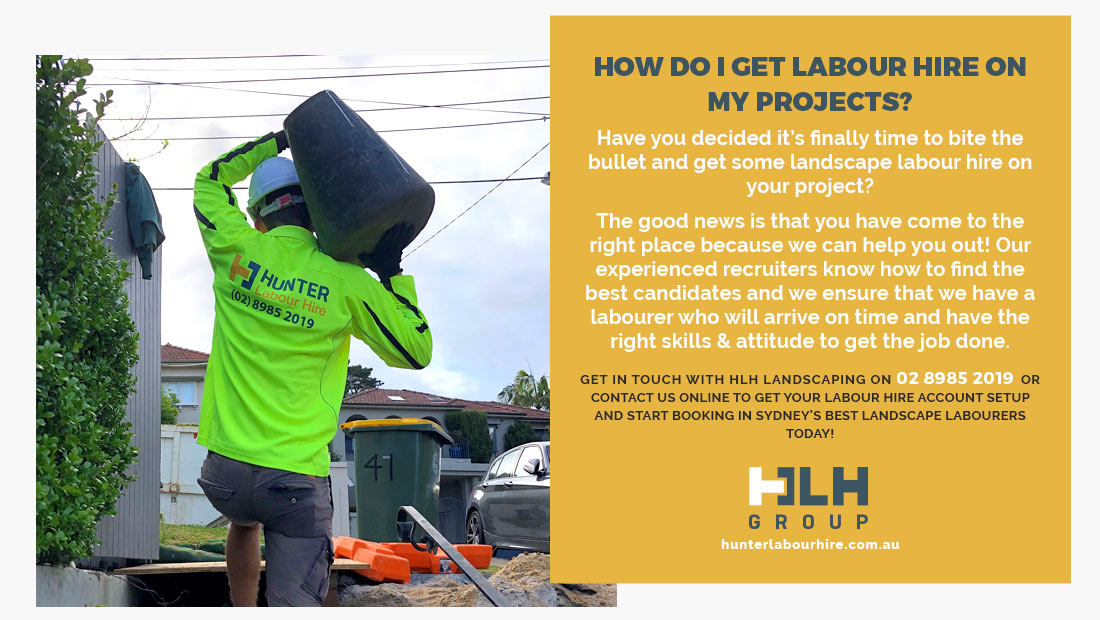 How Do I Get Labour Hire on my Projects?
Have you decided it's finally time to bite the bullet and get some landscape labour hire on your project? The good news is that you have come to the right place because we can help you out! Our experienced recruiters know how to find the best candidates and we ensure that we have a labourer who will arrive on time and have the right skills & attitude to get the job done.
Get in touch with HLH Landscaping on 02 8985 2019 or contact us online to get your labour hire account setup and start booking in Sydney's best landscape labourers today!