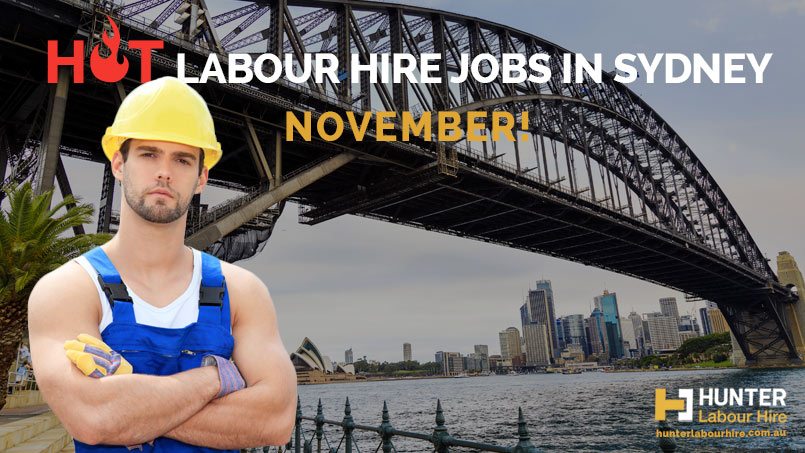 07 Nov

Hot Labour Hire Jobs in Sydney This November!
Labour Hire Jobs in Sydney Available Now!
At Hunter Labour Hire we are experiencing huge demand for our labour hire services and are getting new jobs in nearly every hour! As a result, we are hiring for loads of positions throughout Sydney from Bondi to Penrith, from Cronulla to Palm Beach. We have a range of work from jobs on large commercial projects with tier 1 and 2 companies to residential renovations with local builders throughout Sydney.
What Labour Hire Job Vacancies Do We Have Now?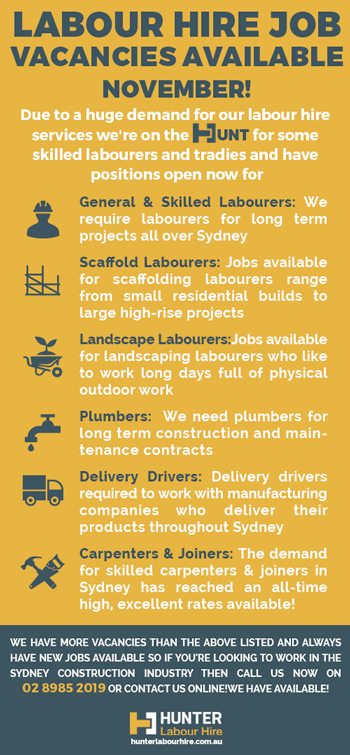 As we said we're on the hunt for a range of different tradies and skilled labourers and have positions available now for the following jobs:
General & Skilled Labourers
Our clients are always searching for additional hands to help them out with all sorts of tasks on site from site clean up to moving materials for various trades. If you have worked as a labourer and know how to use power tools and assist trades then you will be given more responsibility as a skilled labourer. Skilled labourers will get paid more than a general labourer. We require labourers for long term projects all over Sydney. The most important thing for this position is the ability to work hard and be reliable.
Scaffold Labourers Needed
We work with scaffold companies who work with a variety of different scaffolding systems from Layher to Aluminum to Haki. Projects sizes for scaffolding labourers range from small residential builds to large high-rise projects. You won't need to be able to erect and dismantle the scaffold however you will need to know the various scaffolding components and know when to pass the right gear to the scaffolders. Stacking gear correctly and safely is important, while also being in good physical condition as the scaffolding is tough and heavy work.
Landscape Labourers
With Spring upon us Summer is fast approaching. As such Sydneysiders are revamping their gardens getting ready for longer and warmer evenings. Our landscaping clients need landscaping labourers who are available to work long days full of physical work such as digging trenches to spreading top soil. Not only will you need a strong back, but you will also need a healthy appetite for hard work too.
Plumbers
We need plumbers for long term construction and maintenance contracts. Our clients are commercial plumbing companies who have an almost endless pipeline (heh?) of work running into late 2018. They require people experienced in reading blue prints and installing stacks and fitting off. In order to apply for these positions, you must be a qualified plumber with a basic tool kit including drills.
Delivery Drivers
Delivery drivers required to work with manufacturing companies who deliver their products throughout the Sydney region. As a minimum you will need to have full clean drivers licence, ideally you will have and LR or MR licence. Must have knowledge and experience of driving around Sydney roads. Long term work leading to full time positions for the right people. We always need truck drivers on our books as well so if you have a truck licence then we want to hear from you too!
Carpenters and Joiners
Our clients can't get enough carpenters for their projects. The demand for skilled tradesmen in Sydney has reached an all-time high. We have work available all over Sydney from Western Sydney, to the Northern Beaches, Eastern Suburbs and the CBD. If you are fully qualified carpenter and have your own tools, then we want to hear from you today. We are offering excellent pay rates and long-term work. Get in touch.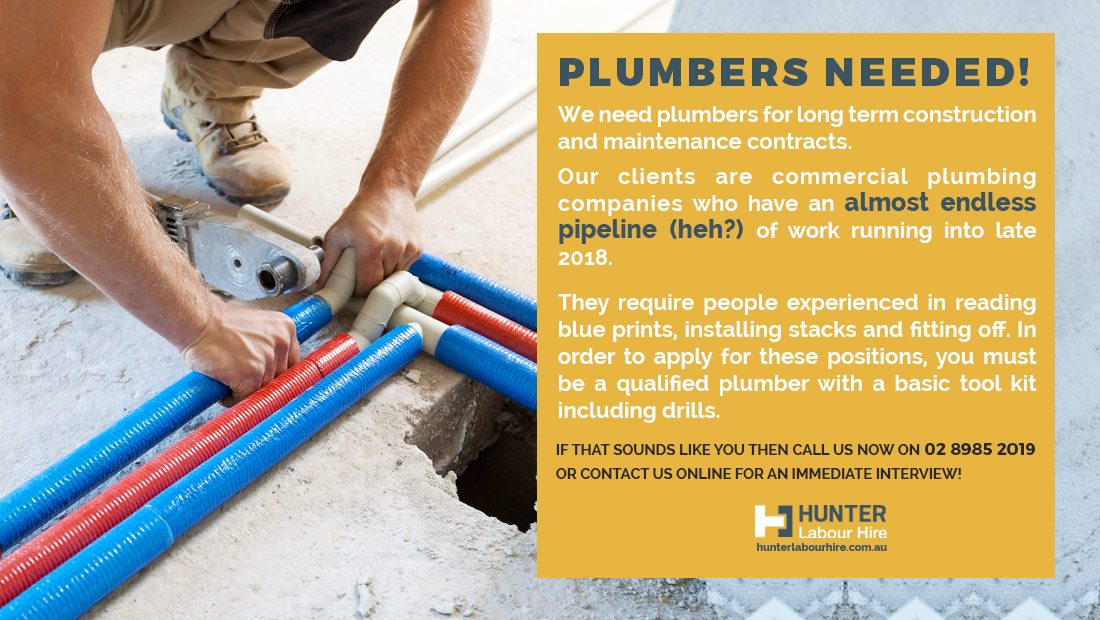 Want to Join our Team?
We have more vacancies than the above listed, and always have new jobs available each day so check out our live labour hire jobs board which is updated as new jobs come in and see which position suits you best!
If you are looking to work for one of Sydney's busiest labour hire and recruitment companies, then get in touch with us today. Call the office on 02 8985 2019, send you resume to us at jobs@hunterlabourhire.com.au or contact us online!