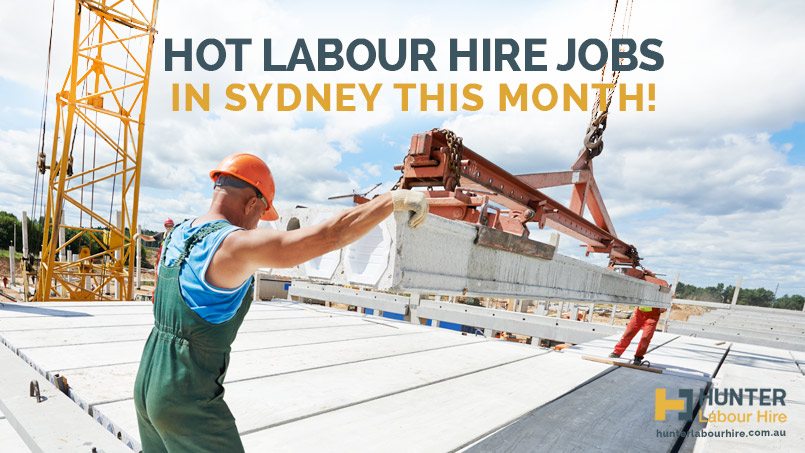 12 Sep

Hot Labour Hire Jobs in Sydney This Month!
Hot Labour Hire Jobs Sydney
Spring is in the air and the construction industry shows no signs of slowing down. Hunter Labour Hire is always on the lookout for good hard working reliable labourers and tradies and so here are some of the hot labour hire jobs in Sydney that we're looking to fill asap!
Current Hunter Labour Hire Jobs!
Each month we try to bring you an update about some of the labour jobs available and this month is no different as we're actively looking to recruit staff for the positions below. We also have on online jobs board which gets updated daily with new jobs – check it out here and if any of the jobs below tickle your fancy then we want to hear from you today!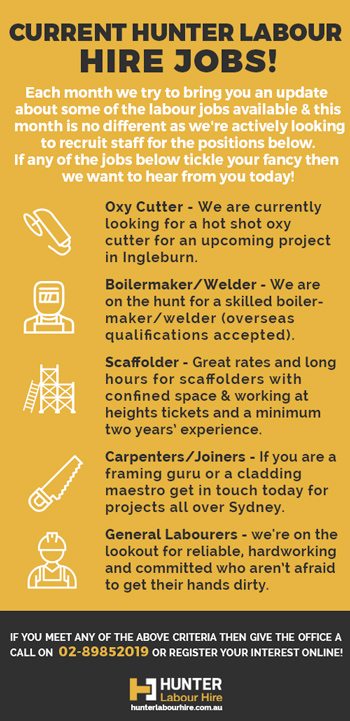 Oxy Cutter Job
We are currently looking for a hot shot oxy cutter for an upcoming project in Ingleburn. Must have 2 years of oxy cutting experience (boilermakers, T/As, welders will be considered) as the job with involve cutting up scrap aluminum and assisting around the workshop. The job is ongoing for the right candidate.
Boilermaker/Welder Job
We are on the hunt for a skilled boilermaker/welder (overseas qualifications accepted). Must be experienced in Mig, Tig and stick welding. Ideal candidate would be comfortable working autonomously or a part of a team, pride in you work is a must. Long term work for someone with the right attitude and who is reliable.
Scaffolder Jobs
We have a client that does a mix of commercial, residential and occasional industrial scaffold shutdown work. Their next shutdown is beginning in October and they're looking for additional scaffolders. These will be great rates with long hours. Must have scaffolding, confined space and working at heights tickets and a minimum two years' experience. They also have a number of vacancies with immediate starts on residential projects.
Carpenters/Joiners
Looking for carpenters and joiners for projects all over Sydney to start now! So, if you are a framing guru or a cladding maestro get in touch today. What we look for in our carpenters is a hardworking committed attitude, attention to detail and reliability. If you fit the above criteria then please do get in touch.
General Labourers
Hunter Labour Hire is on the lookout for reliable, hardworking and committed general labourers who aren't afraid to get their hands dirty. We have work all around Sydney for experienced general labourers who are willing to go the extra mile. In return we provide great rates, ongoing work and the chance to learn new skills on site.
If you meet any of the above criteria then give the office a call on 02 8985 2019 or register your interest online here.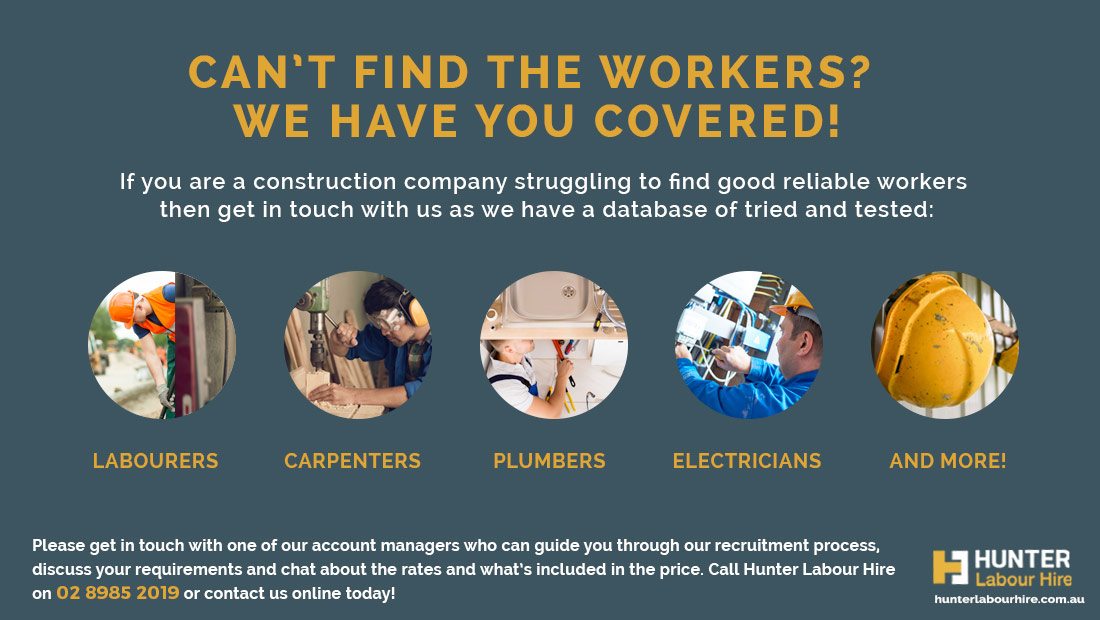 Can't Find The Workers? We Have You Covered!
If you are a construction company struggling to find good reliable workers then get in touch with us as we have a database of tried and tested labourers, carpenters, electricians, plumbers and more at great rates. Please get in touch with one of our account managers who can guide you through our recruitment process, discuss your requirements and chat about the rates and what's included in the price.
Call Hunter Labour Hire on 02 8985 2019 or contact us online today!