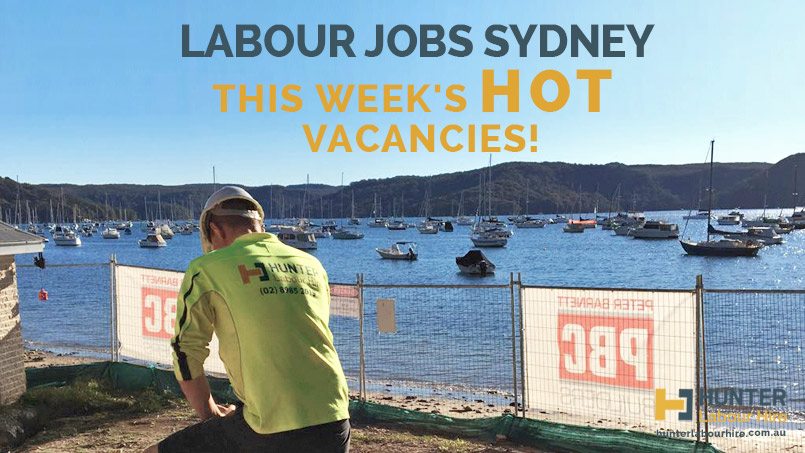 10 Aug

Labour Jobs Sydney | This Week's Hot Vacancies!
Labour Jobs in Sydney
This year has been a record breaking year for Hunter Labour Hire, off the back of Sydney's continued construction industry boom, the number of job vacancies we have open is continuously on the rise. This week's blog we will be outlining the vacancies we are currently looking to fill, the types of candidates and skill sets we are after, and some success stories from candidates that have already been placed in similar roles.
Labour Jobs in Sydney Available Now!
This week's HOT vacancies are as follows: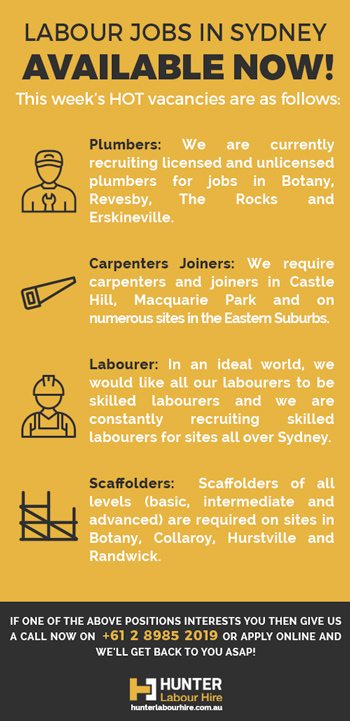 Plumbers:
We are currently recruiting licensed and unlicensed Plumbers for jobs in Botany, Revesby, The Rocks and Erskineville. Each job is at a different stage and could involve the plumbers being required to do anything from stacks, rough-ins, stormwater drainage or second fix sanitary wear installation work. The ideal candidate for this role would be a qualified plumber with over 3 years' experience. Plumbers with knowledge of all aspects of plumbing would be favourable as this would help ensure that they can see a job through from start to finish. Plumbers must also have their own hand tools and a cordless drill set to be considered for all positions.
Carpenters/Joiners:
We require Carpenters and Joiners in Castle Hill, Macquarie Park and on numerous sites in the Eastern Suburbs. Again, the jobs can vary quite significantly from site to site. Some sites are at the very early stages and are predominantly framing work, others are at second fix (skirting, architrave, detailed joinery etc) and some projects are more external cladding and decking work. Due to the volume of work and timescales each of the stages tend to have attached to them, there is a little more flexibility on the candidates we would be looking for to fill these positions. Guys with a skillset mainly focused towards joinery for example would be considered equally as an all-rounder. Candidates with over 3 years as a qualified carpenter with a real eye for detail ensuring quality is never compromised to save time. Also, guys who have a full set of hand and power tools as well as transport to get these tools to and from site is essential.
Skilled Labourers:
In an ideal world, we would like all our labourers to fall within the above category. We recognise that there is a significant difference between a general labourer and a skilled labourer and often our clients expect skilled guys. We are constantly recruiting skilled labourers for sites all over Sydney. Ideal candidates for these positions would have varied knowledge of all aspects of the construction industry, experience assisting qualified tradesmen and be comfortable using all hand and power tools. Logical thinkers who can foresee what is required next without having to be told by the site supervisors continuously. Finally, guys with any other construction tickets & licences in addition to their white card.
Scaffolders:
Scaffolders are required on sites in Botany, Collaroy, Hurstville and Randwick. We are looking for scaffolders at all levels (basic, intermediate and advanced). The work is a varied mix of residential and commercial. Ideal candidates for these positions would be scaffolders with over 3 years' experience as a qualified scaffolder. Candidates with an extensive knowledge of both quick stage and layher scaffolding would be preferable. Strategic thinkers who can plan one step ahead, ensuring that safety is never compromised is essential for all positions. All scaffolders would be expected to have a full tool belt of scaffolding tools.
More Labour Jobs Available in Sydney
These are just a few of the vacancies we are recruiting for this week and a bit of a background on the types of candidates we are looking for to fill the roles. You can find the full list of vacancies and the full job descriptions here and each month we'll bring you an update on some of the best labour jobs available.Below are some quotes from successful candidates who are out working for Hunter Labour Hire now.
Testimonials From Some Of Our Guys
We like to look after our staff and you can read what some of them think about working with Hunter Labour Hire below!
"Since starting with I've Hunter Labour Hire I've been in full time work. Initially doing skilled labouring work for various clients, I was then put forward for a permanent position as a Mechanical Engineer/Hydraulic Fitter, which I was successful in securing. I now head up the Engineering department for the Sydney based operations of a major international company. There have been some challenging positions along the way, but the office staff have always done a great job of getting me jobs that best suited my skillset."
– Neil, Mechanical Engineer/Hydraulic Fitter
"I arrived in Sydney and following a recommendation from a friend registered with Hunter Labour Hire. They found me work immediately and I have been on the same project ever since. My duties are varied and include making sure the site is kept tidy for health and safety, marking out and digging footings, assisting farmworkers removing form structures and assisting all trades on site whenever needed."
– Alex, Skilled Labourer
"I arrived in Sydney from the UK two months ago now. After a couple of weeks of traveling I registered with Hunter Labour Hire. They got me some labouring work the next day and two days later a position as a Plumber. Since then I've worked on 3 sites with the same company doing a range of plumbing work such as rough-ins, stacks, stormwater drainage and second fix work. The people I work with are friendly and the working conditions are very safe. I was also provided a company vehicle to get to site with for a few weeks which was very useful. I would highly recommend Hunter Labour Hire."
– Harry, Plumber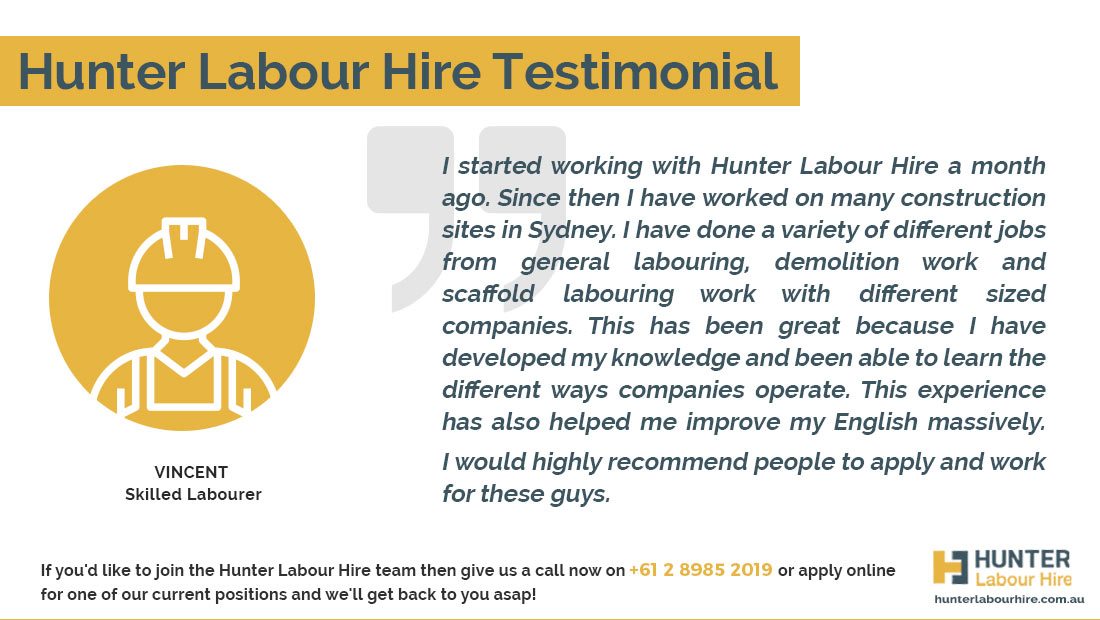 "I started working with Hunter Labour Hire a month ago. Since then I have worked on many construction sites in Sydney. I have done a variety of different jobs from general labouring, demolition work and scaffold labouring work with different sized companies. This has been great because I have developed my knowledge and been able to learn the different ways companies operate. This experience has also helped me improve my English massively. I would highly recommend people to apply and work for these guys."
– Vincent, Skilled Labourer
Find Labour Work In Sydney Now!
At Hunter Labour Hire we are always looking for the best in labour hire talent. If you like the sound of the above and are eager to work in the Sydney Labour Hire Industry then we want to hear from you. Give the team a call now on +61 2 8985 2019 or register online to work with us and we'll get back to you asap!