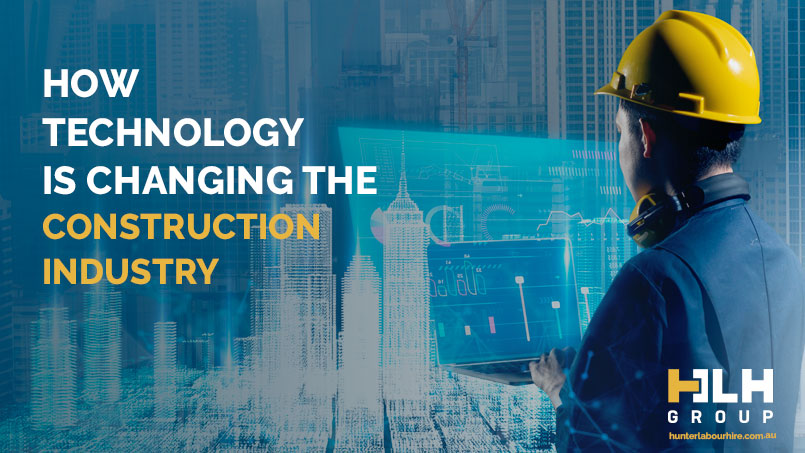 22 Sep

How Technology is Changing the Construction Industry
How Is Technology Changing the Construction Industry?
What does a hardhat, cordless drill, forklift, a cement mixer truck and a modern hydraulic excavator all have in common? The obvious answer is that they are all tools and equipment commonly found on most construction sites today. However, the correct answer we are looking for is that they are all pieces of construction technology that didn't exist 100 years ago! Technology is changing the way construction sites operate, making it much easier to complete projects on time and safely. In this week's blog, we will be talking you through a few technological advancements changing the face of the construction industry as we know it.
Back to the Future for Construction Technology
In recent times, new technologies in construction are being developed at a breathtaking pace. What seemed like technology only available in Marty McFly's 'Back to the Future' universe like software-based tools, mobile apps, autonomous heavy equipment, drones, robots, virtual reality, and 3D printed buildings are here and being deployed and used on job sites all around the world.
Drone Usage in the Construction Industry
Let's kick things off with drones, one of the more recent technological developments in the construction industry. Drones are being used on worksites in numerous ways. Project managers and site inspectors are frequently using drones to conduct job site inspections and identify any potential hazards/risks. The key advantage of using a drone is that it allows supervisors to observe the construction site from angles that cannot be reached without it. Alternatively, many companies including our labour hire firm use drones as a means of producing social media content. The lightweight technology now allows construction companies to showcase their work of art to a wide audience. Drones are also being used to tackle more dangerous jobs, like bridge and building inspections. This won't eliminate the need for workers, but it will mean that workers will need to be trained on how to use the technology to perform these tasks.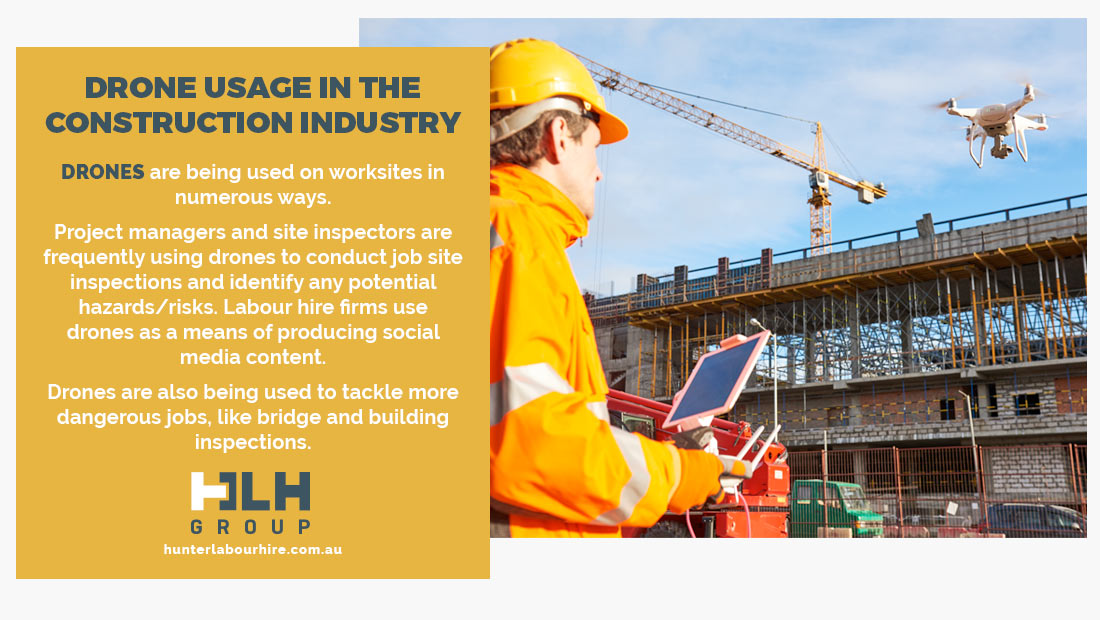 Safety & Training
In 2019, according to SafeWork Australia, 10 Australian workers were fatally injured whilst working within the construction. Even one Australian worker is way too big of a number to succumb to fatal injuries on site. In an attempt to replicate an ideal world of 0 fatalities safety and training has been amplified on worksites with technology being the main vehicle. Do you see the image of the combat helmet beside this text? What if I told you it is not a combat helmet used in the first war but the very first design of the hard-hat created in 1919. With the introduction of CAD designs and advanced research, construction workers are more protected than ever before…who knows what a hardhat will look like in another 100 years' time? Nowadays, individuals can obtain a white card online after completing several courses and thorough training modules. Many leading companies are turning towards technological solutions to properly train and monitor workers in an effort to prevent accidents and reduce the rate of serious injuries and worker deaths. The benefit of training through technology means it is accessible, any worker any where can be inducted with a stable internet connection and smart device.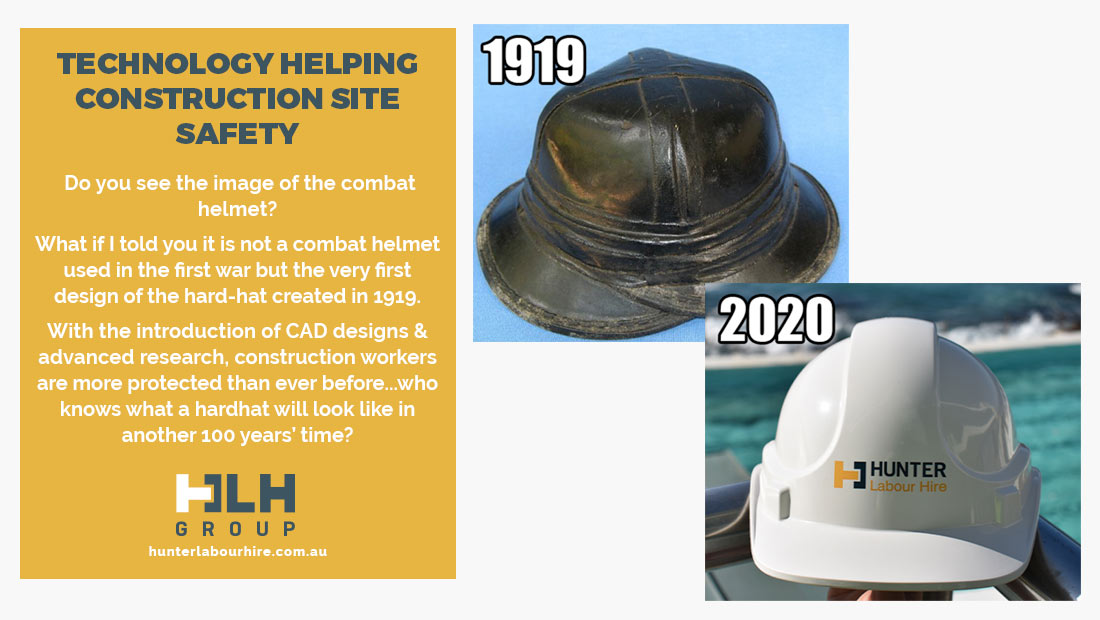 Augmented and Virtual Reality Use in the Construction Industry
What can go wrong on the construction site? Absolutely everything, that's why strategic planning is essential. A modern advancement that is being used is more frequently is Virtual Reality (VR) and Augment Reality (AR). VR simulators have been used for years to train soldiers, pilots, and surgeons and is increasingly being used in the same way to train construction workers on everything from operating cranes and excavators to welding and masonry work. Another use for VR is allowing home buyers a chance to co-operate with construction companies in viewing a 3D virtual reality of their future home. The main difference between Virtual Reality and Augmented reality is that AR adds digital elements to a live view often by using the camera on a smartphone or smart device. Augmented Reality will prove to be of great use for the construction industry especially for converting blueprint designs to reality. Essentially, allowing project managers and architects to visualise their designs in real-time and plan for the next stage of the project. This will decrease lead times for major projects as the construction site will be able to plan efficiently
Construction Tech is Increasing Productivity
Construction companies are slowly but surely implementing technology in their daily regime. Whether we like it or not our current construction practices will become obsolete at some point in the distant future as technology advances and humans get smarter. Construction companies that are researching and implementing construction technology are reaping the rewards with increased productivity, better collaboration, and completing projects on time and under budget—resulting in higher profit margins.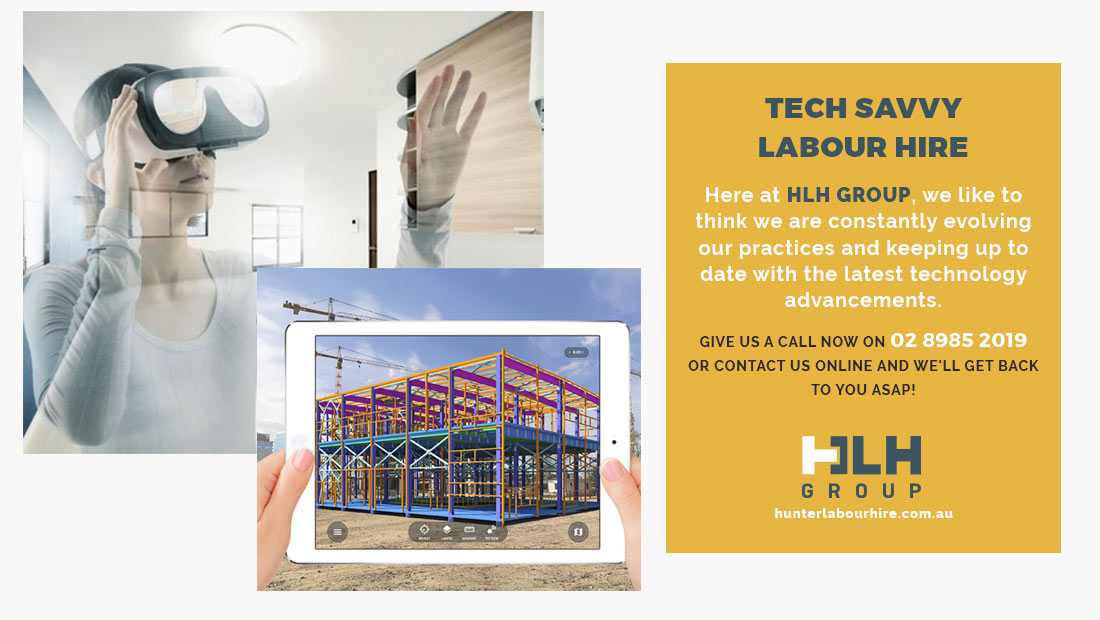 Tech Savvy Labour Hire
Here at HLH Group, we like to think we are constantly evolving our practices and keeping up to date with the latest technology advancements. If you would like to get in touch with our technologically savvy team regarding labour hire requirements for your next project feel free to send us an email to info@hunterlabourhire.com.au, give us a call us on 02 8985 2019 or contact us online for more info.