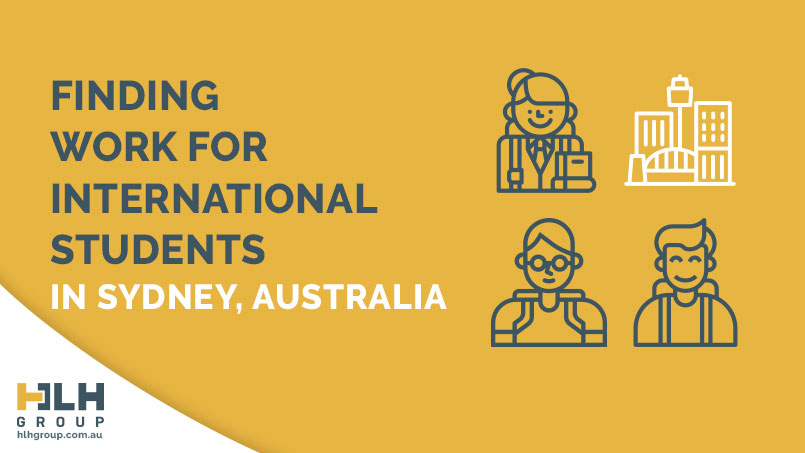 14 Oct

Finding Work for International Students in Sydney, Australia
How to Find Work for International Students in Sydney
Over the years, Australia has emerged as a popular study destination and its ever-growing international student community is the testimony to its success. With world-class facilities, globally venerated universities, and practical exposure, studying in Australia has several benefits. If you are planning to study in Australia soon, then you are probably wondering what to expect and if it's the right move for you. This blog will answer all your queries and give you an insight into living in Australia, specifically Sydney as an international student.
Cost of Living and Studying in Australia
For an international student, a major part of student life in Australia is managing finances and maintaining one's lifestyle. The cost of living may be slightly higher in Sydney than in some other Australian cities, but it's still possible to get by on a student budget. There are two major costs to factor in, i.e. the cost of studying and the other living expenses which include accommodation, food costs and utilities. Not to mention, all money spent enjoying Sydney's nightlife (…of course when all assignments are complete). Although the costs vary based on location, university, and the degree being pursued, having an idea of the costs can help in managing the finances. On average, the cost of studying in Australia to pursue a degree in any of the renowned universities is somewhere between 15,000 AUD – 36,000 AUD per year.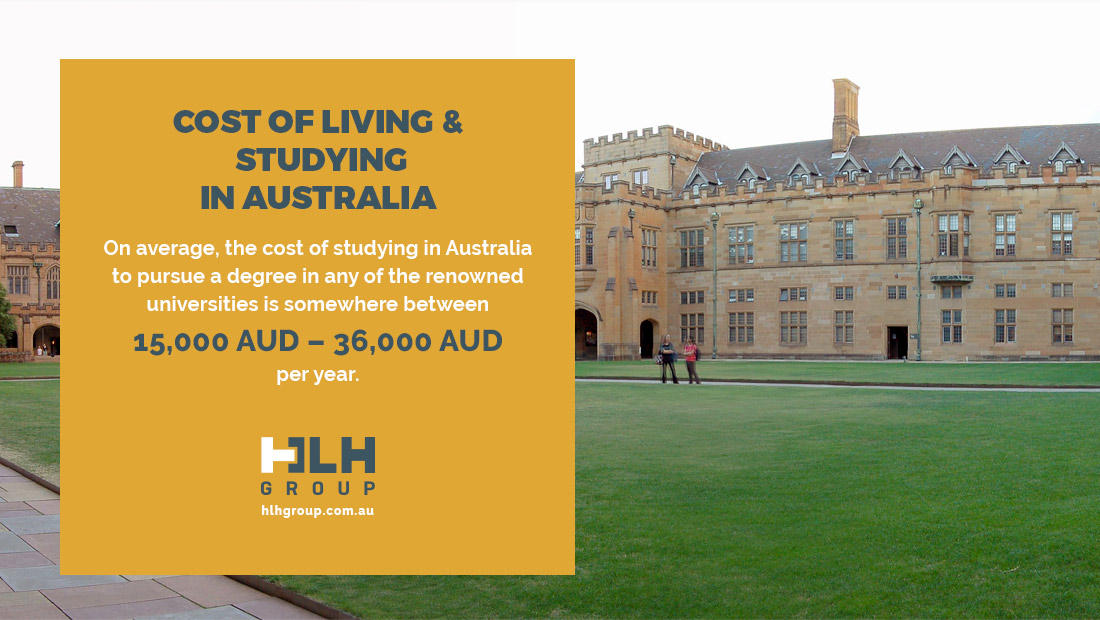 Work and Studying in Sydney
A major aspect of student life in Australia for international students is finding work opportunities while studying to pay for the high cost of living. International students can work full-time at the moment due to updated government laws to help aid the current labour hire shortage. Working can help students stay on top of their finances as well as travel to the tourist destinations of Australia. The minimum wage in Australia is 21.38 AUD/hour and students can easily land a job in multiple fields such as a tutor, retail, or in other areas associated with the field of their qualification. A popular job for students is working in construction. If you have no prior construction experience and you are physically competent then working as a general labourer might be your calling. At the moment the minimum wage in construction is quite high, not to mention all the benefits such as travel, overtime and RDOs. At HLH Group, we can provide willing general labourers $30AUD/hour + travel each day + superannuation. The best part about working with HLH Group is that you can choose your working days between Monday to Friday (*must give notice). We understand that you are in Australia to study and explore, that's why we offer our workers the luxury of flexibility. We also pay your wage each week on a Thursday so you will never be short on any bills. Once you decide what industry you would like to work in, there are several different ways to find the perfect job for your immigration journey. Let's take a look at some options.
How To Find a Student Job in Australia
1. Check Out the Australian Government Website
This is a great starting point. This website (in particular this page here) lists skill shortages. Skilled Visas are designed to target genuine skill shortages, which means the industries are actively looking for recruitment. The Australian Government likes to keep these updated to diversify the country's business expertise and increase entrepreneurial talent. Take a look and see if you fit their profile.
2. Search Job Listings
Several similar websites in Australia list vacancies and job opportunities. It's worth checking these out to see if you can find a vacancy that suits you first. In particular, the sites compiled in the list below will often state whether the job will be suitable for immigrants and whether or not the employer will provide visa support. This is a really helpful tool, which will save time during your job search.
Seek.com.au: When looking for employment in Australia, Seek is the first website you should go to. Bookmark this page and refer to it often. There are thousands of jobs in all different fields.
HLH Group: As mentioned above, if you want to work in construction in Sydney, we are the number one labour hire agency to work for. With over 300+ 5-star reviews across Facebook and Google, it's clear to see why. Check out our labour hire job vacancies now.
Australian Government Job Search Site: >Again, this is a great site to bookmark. It is recognised as the second most effective resource for those seeking employment in Australia.
Career One: Career One has an easy-to-use interface, helpful blog articles on employment in Australia, and features vacancies for larger companies, like Uber, MilkRun and McDonalds.
Facebook Groups: There is an endless amount of Facebook groups out there to help you find a working opportunity. There is the more generic job dumping groups like 'Jobs in Sydney', 'Backpacker Jobs 2022', etc. However, if you are looking for something more specific like [Insert Country] Around Sydney, you will find like-minded people with job offerings and FAQs around the local area. Just be careful of scammers and people looking to take advantage of new travellers. Some people offer working-from-home jobs or online sales roles with ridiculous salaries…beware! They will either not pay you for your hard work or try and steal money from your bank account.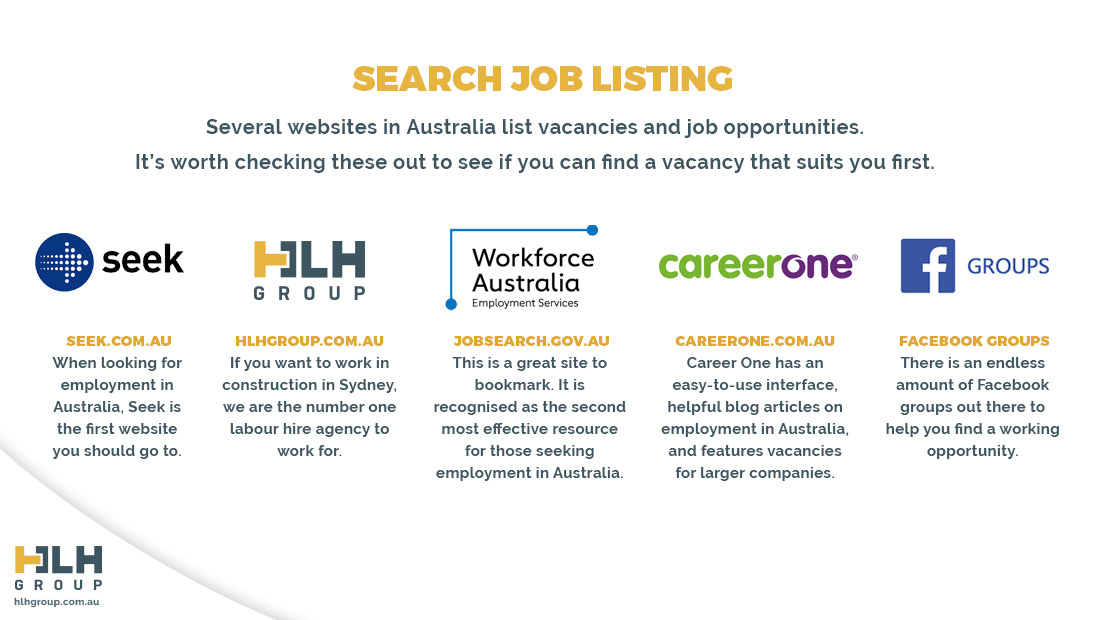 Finding Work for International Students in Sydney
Well, there you have it. A brief guide to managing finances whilst working as a student in Australia. You will have no trouble finding work in Sydney, the only thing that might hold you back is the language barrier if you are not familiar with speaking English. However, there are plenty of roles that don't require a high level of English such as general labouring, cleaning, retail, removalists, etc. For more information and advice check out our guide to moving to Australia for new arrivals on where to live, find work, Sydney construction and everything in between. And, feel free to get in touch with our team – we're happy to help you get going here in Sydney!