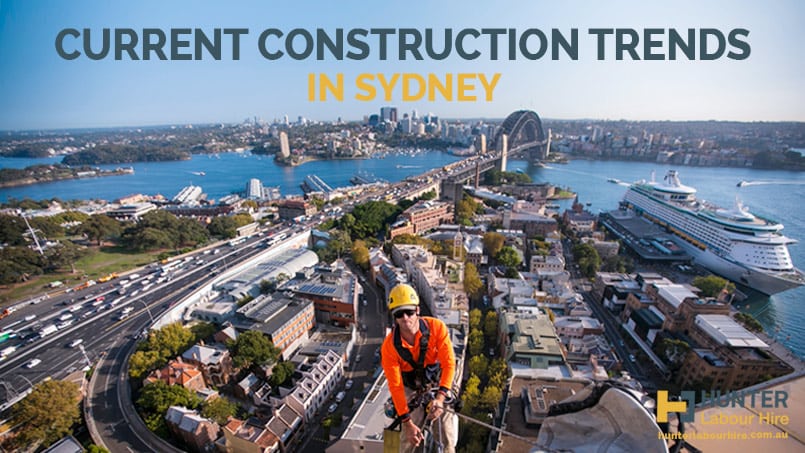 28 May

Current Construction Trends in Sydney
Construction Trends in Sydney
While we have all heard about how busy the construction industry in Sydney has been; particularly in the infrastructure and high-density apartment dwellings sectors, Hunter Labour Hire will now take a look at what other construction trends are happening at the moment around the city.
Renovation Work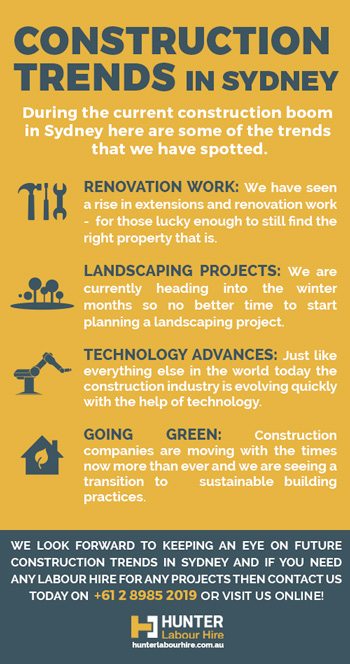 Lately we have seen a rise in extensions and renovation work for those lucky enough to still find the right property that is. We recently had our master craftsman carpenter Damien working on a renovation project in Paddington for one of our clients. He was responsible for most of the high spec fit-out work including the bespoke kitchen in the property. On another recent site visit to one of our client's projects in Mosman; they were working on a complete renovation and two of our carpenters assisted with the framing on the job. We have a great track record of supplying quality carpenters on labour hire so if you are looking for a carpenter on your next project please get in touch today to book one in.
Landscaping Projects
We are currently heading into the winter months so no better time to start planning a landscaping project that you can enjoy when the summer rolls around. Outdoors spaces have evolved a lot of the last few years we have seen clients be more adventurous with their projects; cabanas, outdoor kitchens and log burners are all on trend. If you have a landscaping company and are in need of some additional labour why not give us a call and ask us about our landscape labour hire and find out how we can assist you on your next project.
Technology Advances
Just like everything else in the world today the construction industry is evolving quickly with the help of technology. Today builders have access to apps that enable them to have blue prints at the tap of a button so should you need to make a change the app can then send a notification to all trades on site. Also, in a previous blog on future trends in construction we have spoken about the Hadrian X which is a robot capable of laying up to one thousand bricks an hour with the highest level of accuracy which is soon to be trialed in Saudi Arabia building fifty thousand homes. But whilst the finishing touches are being made to Hadrian X you can hire a traditional bricklayer from us to help get your project underway.
Going Green on Construction Sites
Construction companies are moving with the times now more than ever and we are seeing a transition to sustainable building practices. Every construction project is expected to increase their participation through green design and sustainable construction materials and supplies. Recycling, reusing and rethinking our approach to common daily activities on site is a must for builders.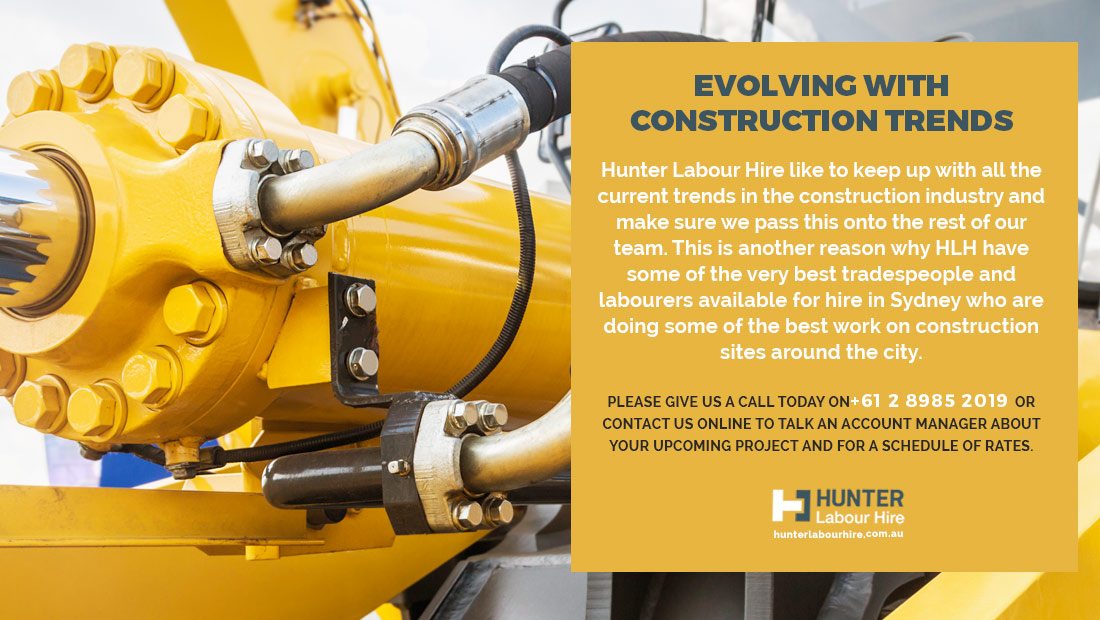 Evolving With Construction Trends
Hunter Labour Hire like to keep up with all the current trends in the construction industry and make sure we pass this onto the rest of our team. This is another reason why HLH have some of the very best tradespeople and labourers available for hire in Sydney who are doing some of the best work on construction sites around the city. Please give us a call today on 02 8985 2019 or contact us online to talk an account manager about your upcoming project and for a schedule of rates.