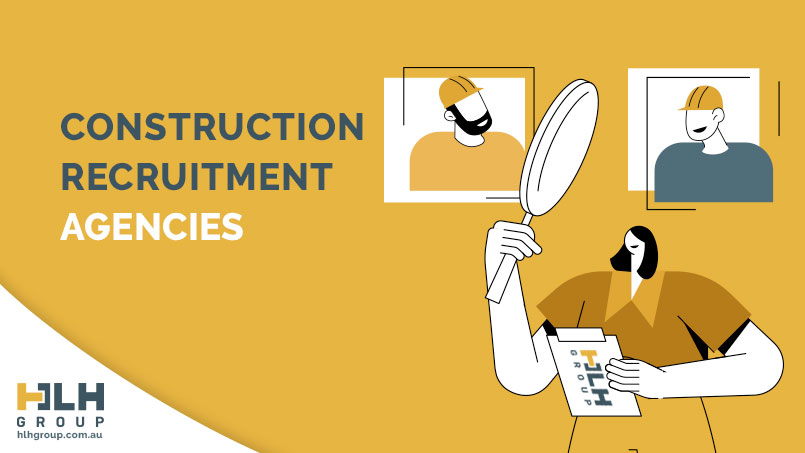 02 Nov

Construction Recruitment Agencies
Construction Recruitment Agencies Sydney
When it comes to the bustling construction industry, the right personnel can make or break a project. As pioneers in this domain, HLH Group has consistently bridged the gap between construction enterprises and the competent workers they require. But with so many agencies around, how do you ensure you've picked the right construction recruitment agency? Let's dive deeper.
What to Look for in a Construction Recruitment Agency
Comprehensive Industry Insight
For optimal results, it's crucial to use an agency with an in-depth knowledge of the construction sector. Such agencies are well-versed in the ever-changing construction industry and the unique challenges faced and can accurately pinpoint the specific skill sets essential for diverse roles. Since 2015, we have been deeply immersed in the Sydney construction industry, giving us deep insights. Our hands-on experience ensures we anticipate industry shifts, align with current trends and consistently meet the evolving demands.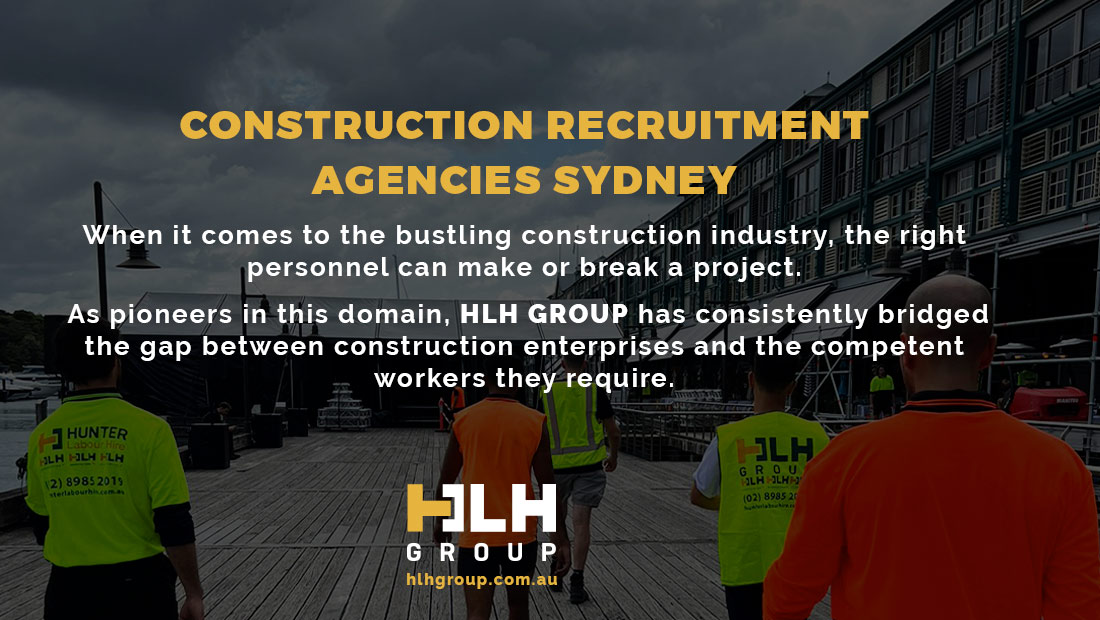 Transparent and Ongoing Communication
Keeping clients in the know is the hallmark of a trustworthy recruitment agency. Every step, from defining job requirements to discussing suitable candidates, should be communicated promptly and transparently. We pride ourselves on fostering open channels of communication. Clients are consistently updated by their dedicated account manager to ensure clarity and organised placements.
Rigorous Candidate Screening
An efficient recruitment process is marked by meticulous candidate screening. This guarantees that only the most competent and dependable candidates are shortlisted, simplifying the hiring experience. Our thorough vetting procedures are second to none. We understand the significance of trust and reliability in this sector. As a result, every candidate we recommend is handpicked, ensuring they possess the recommended skill requirements as well as a high level of safety training & experience.
Versatile Hiring Options
The unpredictable nature of construction means your hiring needs can change overnight. The ideal agency should provide the adaptability to support both immediate and long-term staffing needs. Our diverse service range, from casual labour hire to permanent recruitment, guarantees we're equipped to accommodate every hiring scenario. Whether it's a last-minute let-down or a scheduled long-term leave, we have you covered.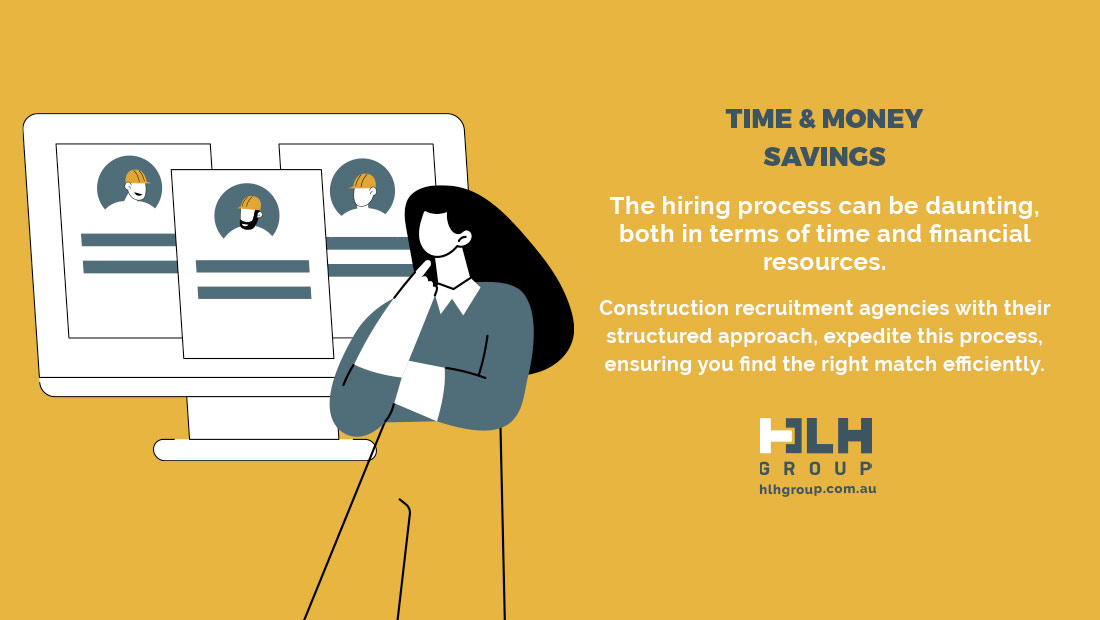 Benefits of Using a Construction Recruitment Agency
Significant Time and Money Savings: The hiring process can be daunting, both in terms of time and financial resources. Construction recruitment agencies with their structured approach, expedite this process, ensuring you find the right match efficiently.
Access to an Expansive Talent Pool: Construction recruitment agencies maintain an extensive network, giving them the advantage of tapping into a broad spectrum of candidates. This also includes those talents who might not be actively looking for a job but are perfect for your requirements.
Expertise and Specialisation: We have a pulse on market trends, current salary benchmarks, and the availability of workers.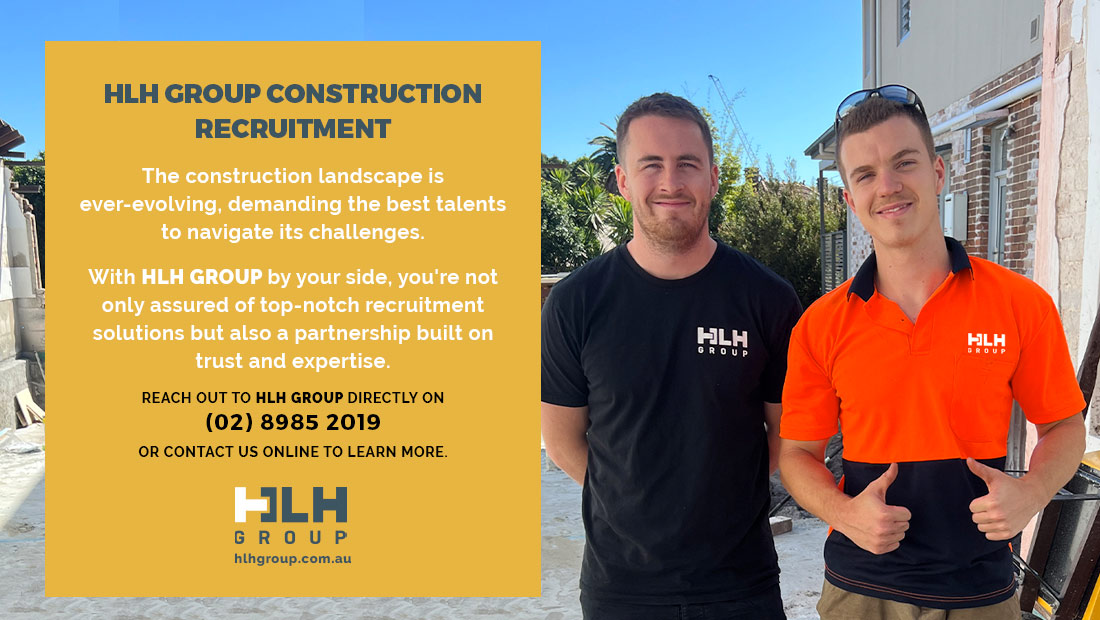 Why Use HLH Group for Your Construction Recruitment Agency?
Adaptable Solutions: From immediate short-term hires to strategic permanent construction recruitment placements, we offer a spectrum of services tailored to your needs
Diverse Service Offerings: Beyond traditional labour hire, we cater to an array of roles, encompassing everyone from carpenters to site managers.
Reputation: We're equipped with the expertise to consistently deliver exceptional results. We have over 300+ 5-star Google reviews.
Central Standby System: Understanding the unpredictable nature of construction projects, we've implemented a unique standby system. Stationed at Central Station, we always have skilled workers ready to go in the mornings. So, in the event of a last-minute cancellation or an unexpected sick leave, our clients can rest easy knowing a replacement is on the way, ensuring minimal disruption to the project's timeline and productivity.
The HLH Group Promise
Having firmly established our roots since 2015, HLH Group stands as a company of reliability and quality in Sydney's construction recruitment industry. Our focus on client satisfaction, integrity and delivering top-tier talent ensures we remain the first choice for many construction companies. Whether your requirements lean towards labour hire or a more permanent role, we have a solution tailored for you.
Contact HLH Group for Labour Hire & Construction Recruitment
The construction landscape is ever-evolving, demanding the best talents to navigate its challenges. With HLH Group by your side, you're not only assured of top-notch recruitment solutions but also a partnership built on trust and expertise. Don't let your next project wait. Reach out to HLH Group directly on (02) 8985 2019 or swiftly place your request via our online form.