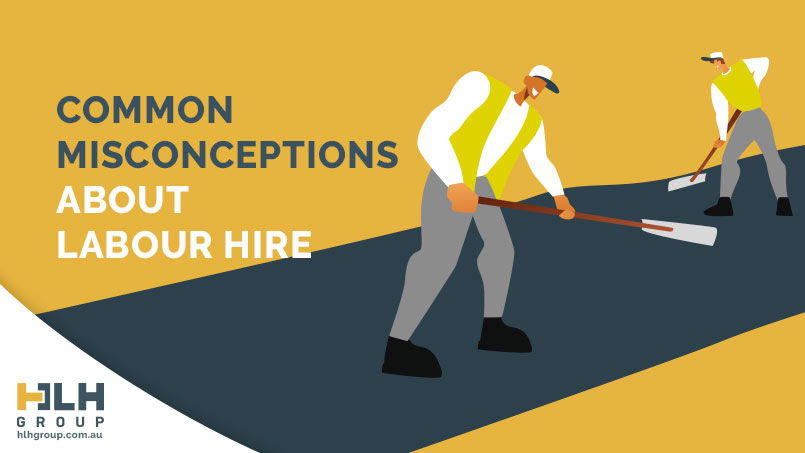 16 Mar

Common Misconceptions About Labour Hire
Labour Hire Misconceptions
Builders throughout Sydney generally have 3 options when it comes to hiring staff. They can hire workers directly, doing all the sourcing and recruiting themselves; paying them on the books. They can use subcontractors from other companies known as 'subbying'. Lastly, they can utilize labour hire agencies and hire labour, trades and operators on hourly rate. All three methods of hiring have their own pros, cons and associated costs. Labour hire can be an excellent option for construction companies who need flexibility and help at short notice, however it can carry a bad reputation due to several common misconceptions. In this post we'll go through the common misconceptions about labour hire.
"Dude, Where's My Labourer?"
One of the most common misconceptions about labour hire is that workers don't show up, leaving builders in a pickle and shorthanded when they need it most. Whilst I can't speak for every recruitment agency in Sydney, HLH Group have alleviated this pain point by paying workers to be on standby everyday at central station. This enables us to send extra hands to jobs first thing in the morning should the clients have been let down or have any last minute requests. HLH Group also have a strong vetting process and recruiters with a wealth of experience, which helps us eliminate potentially unreliable workers before they have the chance to stitch us up.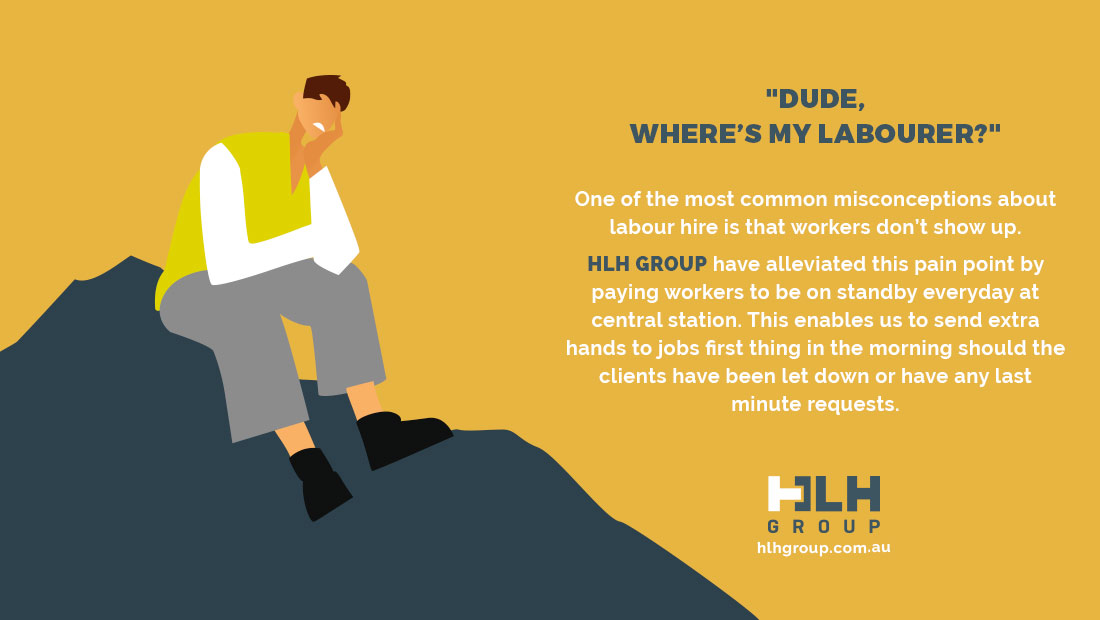 "The Boy's No Good"
Unfortunately, due to bad experiences in the past and general hearsay, labour hire workers can get a reputation for being a hindrance rather than an asset. At HLH Group we aim to have the best quality candidates and maintain our high standards. There are a couple of different ways in which we do this:
Human Approach: Treating candidates as humans, not numbers. By showing candidates respect and being open and honest with them, you build up trust and foster a happy workforce.
Holiday Makers: Using the working holiday maker market to our advantage. With borders open, a new wave of workers who are hungry and ready to go have landed many of whom have an excellent work ethic and positive attitude.
Striking out: Candidates who aren't living up to client expectations or start to let us down are shown the door. With the balance of candidates now in our favour there is no room for workers with the wrong attitude.
Tickets & PPE: All HLH candidates working in building and construction come with full PPE, white cards and previous experience.
"The Price Ain't Right!"
Construction companies might argue that labour hire is too expensive for their business model. When compared to the cost of taking someone on full time, however, labour hire can actually save clients' money, and time and free up their own staff to work on other projects. If a builder takes a labourer on full time, they have to keep that worker busy, pay them rain hail or shine and accommodate any time off they need. Using HLH for labour allows them to chop and change when they need extra hands, without the headache of having to keep them busy. Schedules don't always go to plan in the construction sector so having the ability to call on HLH when they need someone at short notice can get them out of trouble and ultimately save them money.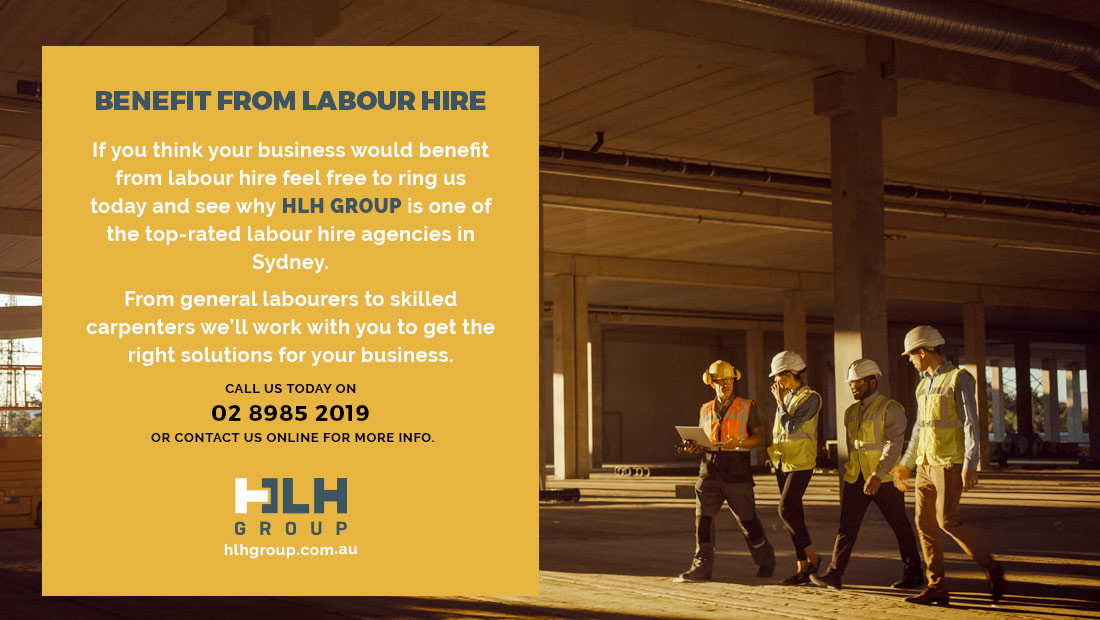 Benefit from Labour Hire
If you think your business would benefit from labour hire feel free to ring us today and see why HLH Group is one of the top-rated labour hire agencies in Sydney. From general labourers to skilled carpenters we'll work with you to get the right solutions for your business. Call us today on 02 8985 2019 or place a booking request online.