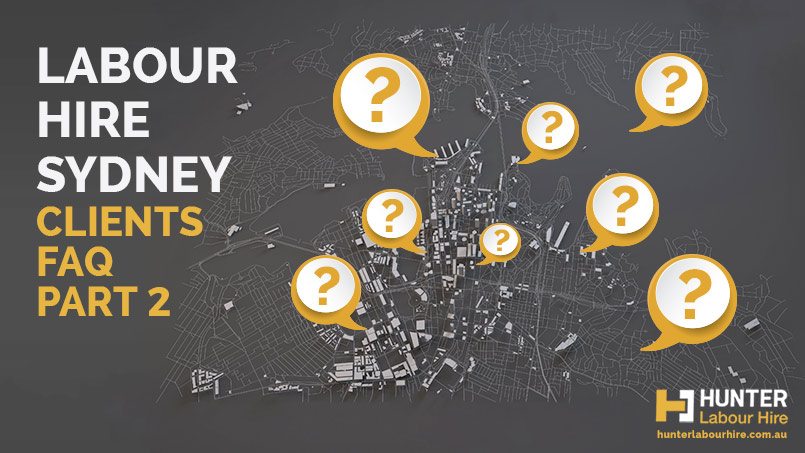 21 Apr

Labour Hire Sydney – Clients FAQ – Part 2
Labour Hire Sydney FAQ
Over the past two years we've been servicing over 100 clients that use our labour hire services. In that time we've learned a lot about what clients in Sydney need and more importantly, know how to answer the most frequently asked questions about labour hire in Sydney. This is part two of the most common FAQ we have received. If you don't see your question answered below check out our Labour Hire Sydney Client FAQ Part 1! And so, without further ado, let's get to the questions!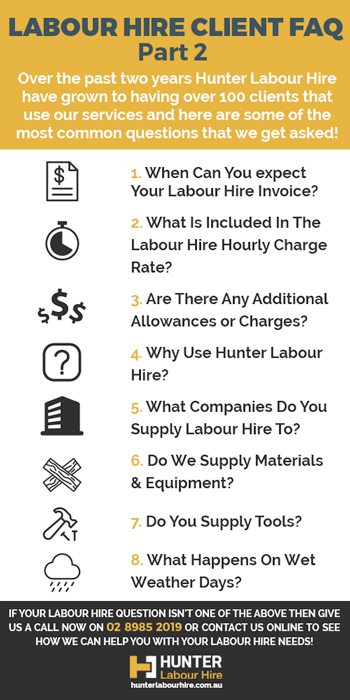 1. When Can You expect Your Labour Hire Invoice?
For complete transparency, we invoice weekly with time-sheets attached and a subcontractor's statement. The invoices are then broken down by dates and site address. We believe this is vital to any business to be able to see weekly expenditure and accurate invoices.
2. What Is Included In The Labour Hire Hourly Charge Rate?
We take care of everything from public liability insurance, worker compensation insurance, PAYG, payroll tax, superannuation and visa checks. All you need to do to arrange your labour hire is call us on 02 8985 2019 and can find more info about what the labour hire hourly rate covers here.
3. Are There Any Additional Allowances or Charges?
Daily fares and travel allowance is an additional charge at $25 per man per day. The normal rate is applied for the first 8 hours from Monday to Friday. Time and a half rate is applied after the first 8 hours from Monday to Friday and the first 2 hours work on a Saturday. Double time is applied after 10 hours work from Monday to Friday and after the first 2 hours Saturday and all day Sunday.
4. Why Use Hunter Labour Hire?
We are a cut above the rest, from getting up at 5:30am to make sure that all our workers are on site for 7am to taking calls on a Sunday afternoon to arrange labour for Monday our account managers are always contactable to arrange any last-minute requirements you might have. We are constantly evaluating and reviewing our workers on a daily and weekly basis to make sure they continue to meet our client's high expectations. If you're not sure why you should use labour hire, then then read about the advantages of labour hire here.
5. What Companies Do You Supply Labour Hire To?
We supply labour hire to anyone who needs it, from private home owners to tier 2 building companies. We have supplied companies with everything from carpenters to telehandlers. We aim to place the right candidates into the right jobs. We have a database of tried and tested labourers and tradesmen to choose from. So, if you need an electrician to help install switchboards or perhaps a joiner to help in your workshop get in touch on 02 8985 2019.
6. Do We Supply Materials & Equipment?
No, we don't generally supply materials or equipment.
7. Do You Supply Tools?
We can supply our skilled labourers with basic hand tools if they are required for the job. Tradesmen can be supplied with a full set of hand and power tools. If there are any specific tools required for a particular job you have please discuss this with your account manager and we will do our best to come up with the best solution or help you find tools in Sydney.
8. What Happens On Wet Weather Days?
If the weather is looking like rain then to avoid being charged we need to know an hour before the job is due to start so we can cancel the guys and avoid the minimum four hour charge.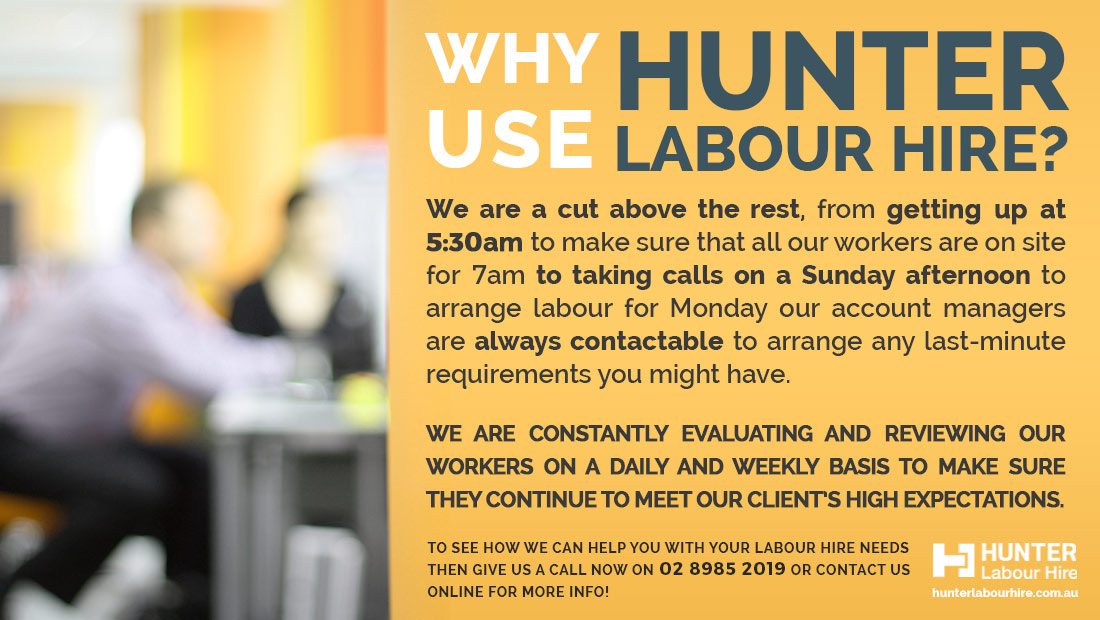 Need Some Labour Hire?
This is a question we can easily answer for you! Simply get in contact with one of our account managers who can set up an account for you. Once your account is active it only takes one call to your dedicated account manager and they will organise the labour hire for your job.
To discuss future labour hire requirements or to organise labour please call the office on 02 8985 2019, email info@hunterlabourhire.com.au or contact us online for our schedule of rates.