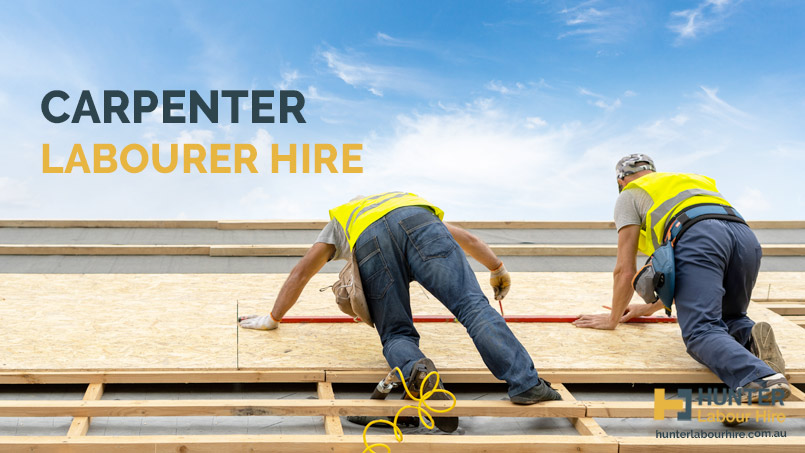 09 Apr

Carpenter Labourer Hire
Carpenter Labourer Hire Sydney
We opened in 2015 with a focus on supplying quality tradespeople to the construction industry in Sydney. An area in which we have successfully supplied tradespeople is for carpenter labour hire. We have supplied carpenters on a huge variety of projects and to this day ensure we are supplying quality staff to our clients whatever the job when it's required.
Skilled Carpenter Labourer Hire – Supplying the Best
We often get asked by prospective clients how do we know our carpenters are as good or skilled as they say they are? It's a valid question and thanks to our recruitment process we are able to ensure you the best carpenter labourer hire. Some of the items we do to get the best labourers are:
We interview all carpenters before sending them out on a labour hire or permanent basis. We ask them questions about their previous experience, discuss what they enjoy working on and where they want to go with work in the future.
We conduct reference checks on all carpenters ensuring their experience on their resume matches that of real life.
We constantly seek feedback on the performance of any carpenters we provided accepting nothing but the highest if standards.
Our construction recruitment agency is comprised of an experienced team who know what they are looking for when recruiting.
We make sure all carpenters engaged by us have their carpentry qualifications from Australia or overseas, with the relevant experience to match.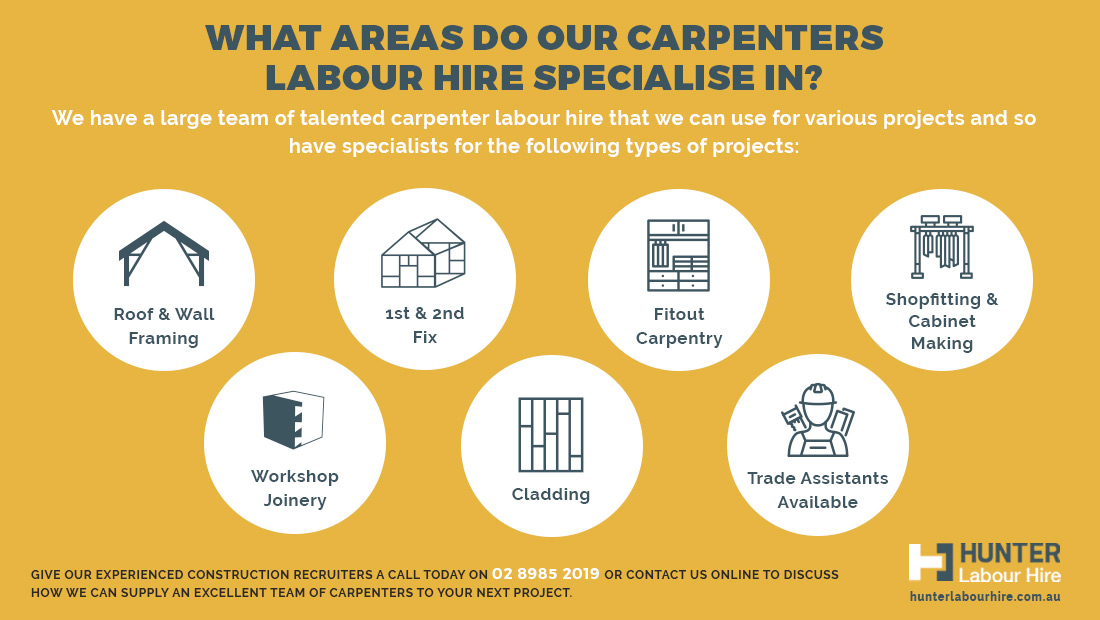 What Areas do our Carpenters Labour Hire Specialise In?
We have a large team of talented carpenter labour hire that we can use for various projects and so have specialists for the following types of projects:
Roof and Wall Framing
1st and 2nd Fix
Fitout Carpentry
Shopfitting and Cabinet Making
Workshop Joinery
Cladding
We also have trade assistants available.
What's Included in our Carpenter Labour Hire Rates?
When you use carpenter labour hire from us we like to provide a transparent labour hire rate so you know what's what. The following are included in our rates:
All our carpenters come with their own tools for the job. If you have any specific tool requirements let us know and we will endeavour to ensure they have what's needed to get the job done.
All our workers are covered under our insurances for Workers Compensation and Public Liability up to $20,000,000.
We ensure they are paid above the award to attract and retain the best carpenters.
Included in our rates is access to your own 24/7 account manager who will be readily available to help you source the best labour for your project and assist with any issues if they arise.
And Much More!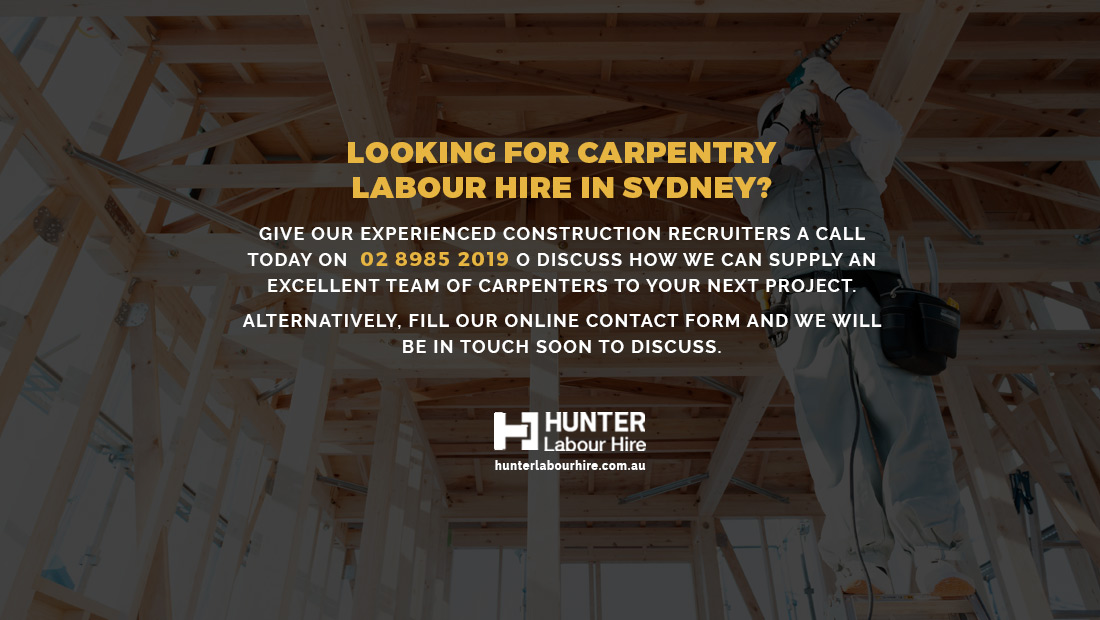 Looking for Carpentry Labour Hire in Sydney?
Give our experienced construction recruiters a call today on 02 8985 2019 to discuss how we can supply an excellent team of carpenters to your next project. Alternatively, fill our online contact form here and we will be in touch soon to discuss.