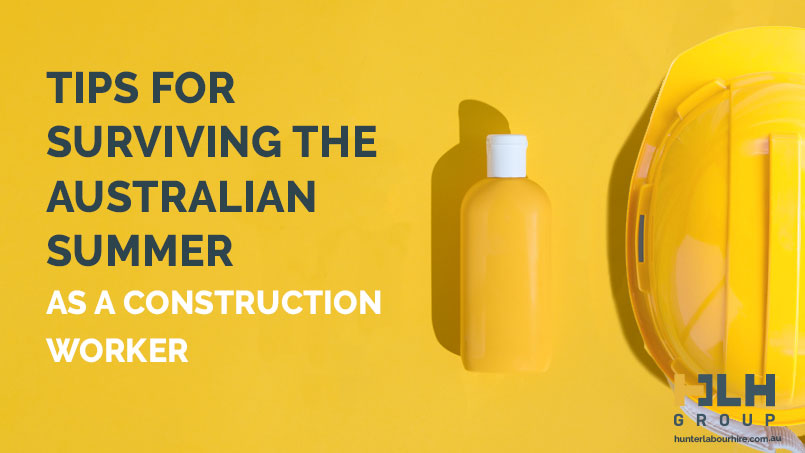 23 Dec

Tips for Surviving the Australian Summer as a Construction Worker
Record Breaking Summer Labour Hire!
HLH Group has recorded a record number of labour hire requests in recent weeks and expect things to stay like this for the rest of summer. This time of year is Sydney's busiest with many travelers flocking to the city for Christmas and summer. We have noticed a high volume of candidates returning from travelling and completing their regional work and keen to keep busy throughout the summer months. Luckily, we are always interested in bolstering our team of reliable and hard-working employees.
Things To Consider When Working in Construction During The Summer
However, there are many things to consider when it comes to working during the summer months in the construction industry in Sydney. The first and most important one is the weather. There are parts of Sydney that can rise in temperatures up to 35-40 degrees on occasion. With a lot of work conducted outdoor on sites, it is vital that workers take extra precautions regarding sun exposure. This includes sun lotion, personal protective equipment (PPE), keeping hydrated, taking breaks from direct sunlight and insect repellent are among the important things to consider.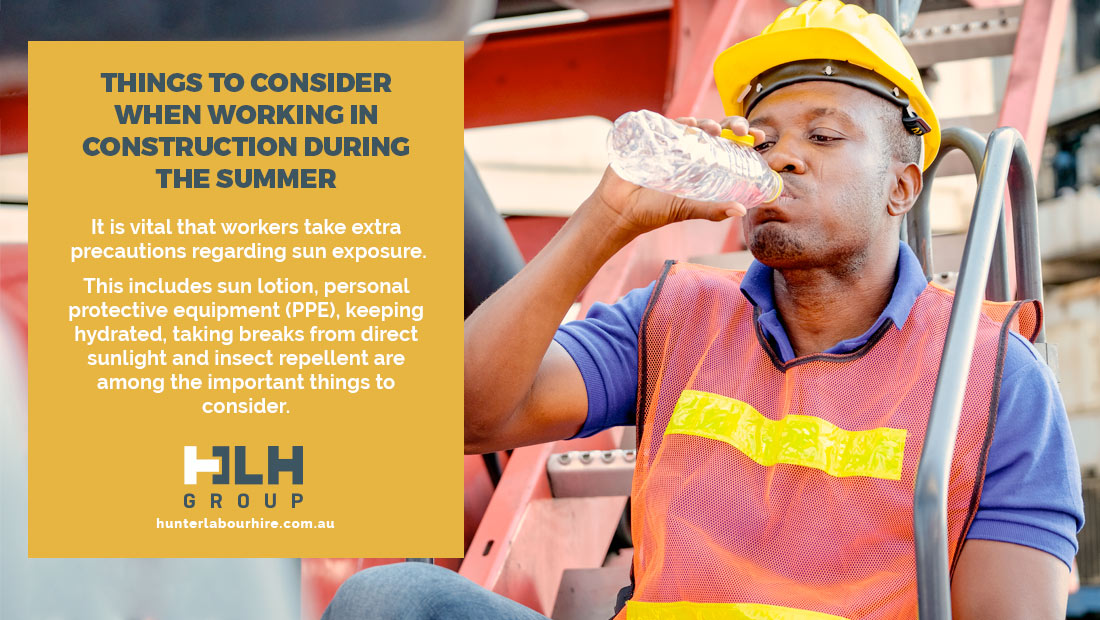 Risks Associated with Sun Exposure
There are many risks associated with prolonged sun exposure such as sunburn, sunstroke, so these precautions must be taken seriously. As mentioned, personal protective equipment can be utilised to reduce the risk associated with heat. Examples of this include sunglasses which protects your eyes against ultraviolet (UV) light exposure. UV light is a type of electromagnetic radiation and can have a harmful impact on your eyelid, cornea, lens, and retina. You are always subjected to sunlight exposure no matter how sunny a day is. It is advisable that you wear sunglasses all year round but particularly important during summer months when there is extra UV. Sunglasses also contribute to skin protection when it comes to stopping your eyelids – a very painful place to get sunburnt!
Remember, Always Wear Sunscreen
Sun lotion is a crucial daily item to carry in the work bag. Sun lotion protects you against sun rays that can damage skin with overexposure. Sun protection factor (SPF) is displayed on the product which indicated the level of sun protection you require. SPF 15-29 is for medium sun protection and SPF 30-50 is for high sun protection (… we recommend 30+ in Australia). Regarding clothing, hats (when helmets are not needed), long sleeves, hard hat brims are all valuable items to have at your disposal.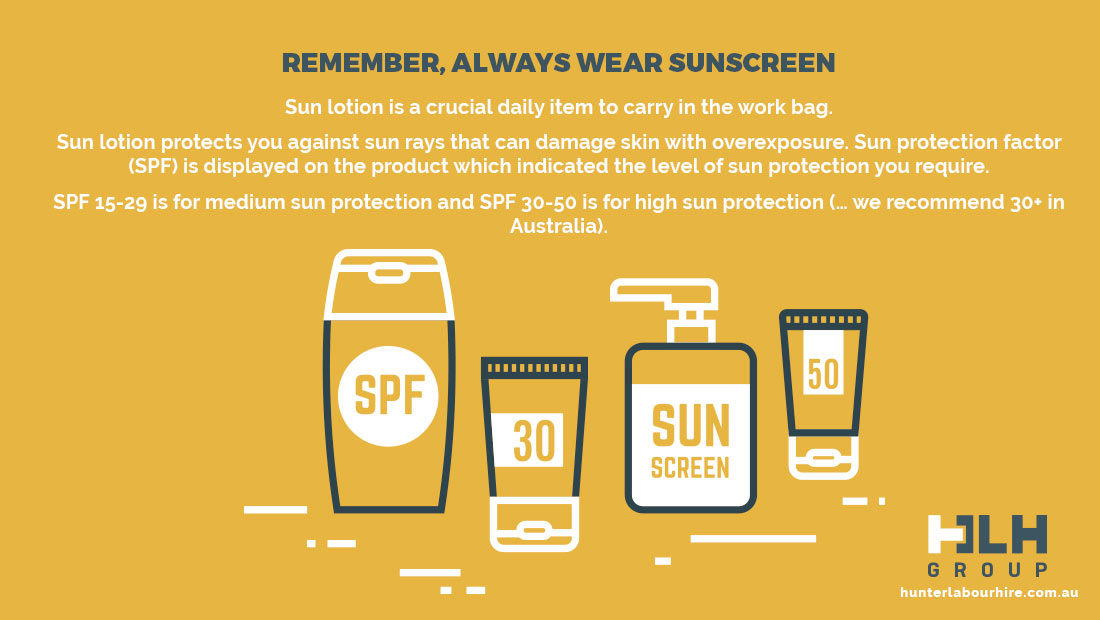 Stay Hydrated
There are other things you can do throughout the days to minimise overexposure to the heat. Drinking plenty of hydrating fluids, avoid alcohol the night before as this can seriously dehydrate you. You can also eat hydrating foods such as watermelon, cucumber and other fruits, vegetable, and salads. Avoid greasy and fried foods if possible as they usually have a lot of salt which absorbs your body fluids. sugary foods also create an acidic substance that requires a lot of water to process properly. According to the Mayo Clinic, the average woman should drink 2.7 litres of water daily and the average man should have 3.7 litres. It should be considered that this is on an average day. In high temperature, while conducting physically demanding work.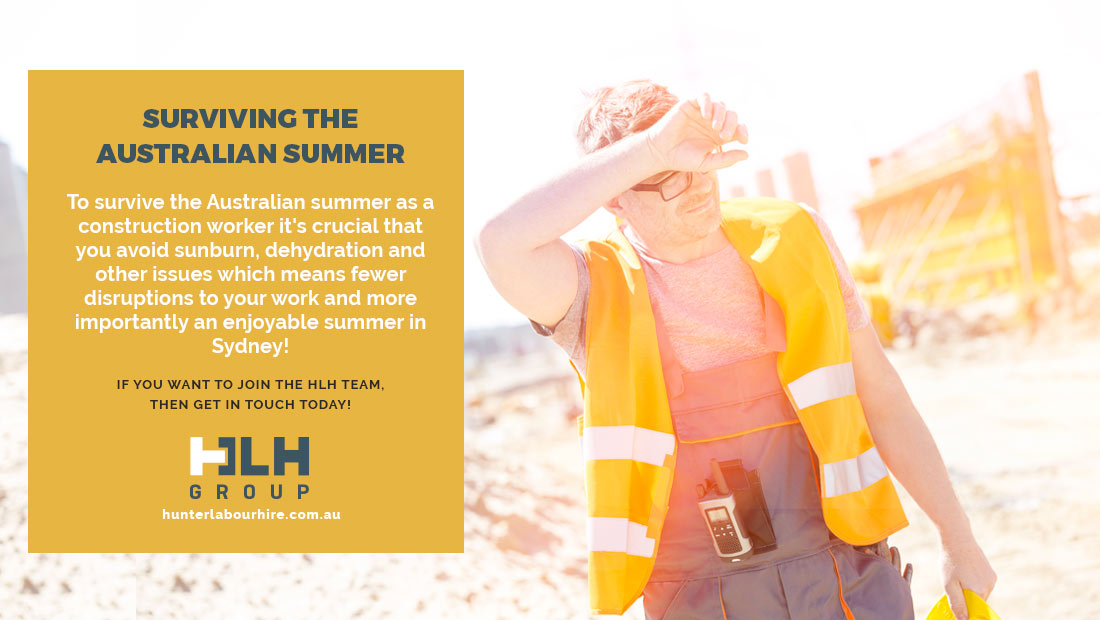 Surviving The Australian Summer
All these things to consider are crucial when surviving the Australian summer as a construction worker. Avoiding sunburn, dehydration and other issues mean fewer disruptions to work and more importantly an enjoyable summer in Sydney! If you want to join the HLH team, then get in touch today!