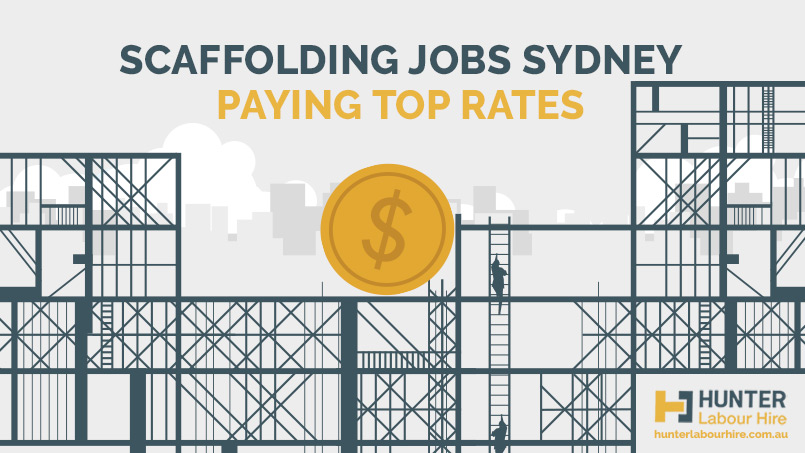 06 Jun

Scaffolding Jobs Sydney – Paying Top Rates
Scaffolding Jobs Sydney
Hunter Labour Hire have been supplying labour and scaffolders to some interesting projects throughout Sydney. Whilst the HLH group has been expanding and opening up new divisions we have always been providing scaffolding hire to projects throughout Sydney and have recently been working on some interesting projects. We also have some incredible scaffolding jobs available that are paying top rates and so if you like good pay on challenging projects, then read on!
Some Interesting Scaffolding Projects
We have recently been filling scaffolding jobs for our clients to assist with the install of a landing platform at Sydney Cricket Ground to enable them to carry out modification work to the Clive Churchill Scoreboard. We were also engaged to provide scaffolders and labourers to assist with the installation of 4 swing stages on a project located in Darling Harbour – the project was to be carried out over a 2-week period after 4pm to minimize disruption to site.
One of the most interesting projects we supplied labour and scaffolders to was work carried out on Snapper Island. This was a challenging project due to the fact that part of the scaffolding would be submerged under water at high tide and this posed several problems. Components had to be fastened so that they would not dislodged with the rising tide and get washed away. All plywood, lap boards, sole boards, etc were fastened using a combination of banding strapping and self-tapping screws. This all had to be done within a 4.5-hour window and had to coincide with the delivery barge.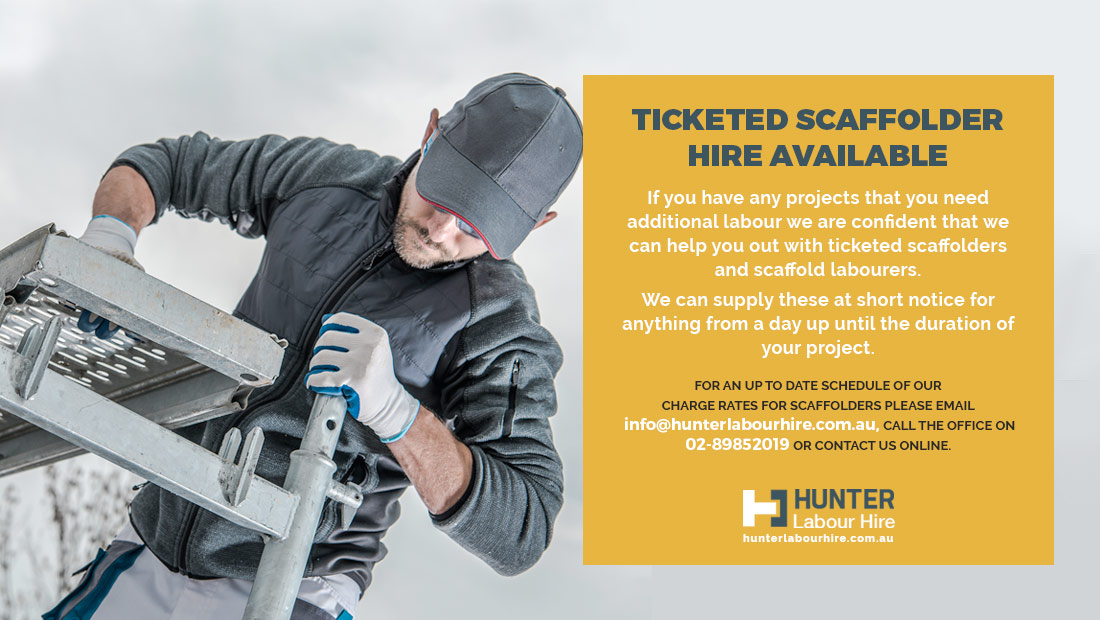 Ticketed Scaffolder Hire Available
If you have any projects that you need additional labour we are confident that we can help you out with ticketed scaffolders and scaffold labourers. We can supply these at short notice for anything from a day up until the duration of your project. For an up to date schedule of our charge rates for scaffolders please email info@hunterlabourhire.com.au, call the office on 02-89852019 or contact us online.
Increased Demand for Scaffolders in Sydney
Since the elections have finished, we have seen an increase in activity in the residential sector ranging from remedial work to new builds. We've also seen commercial jobs have been steadily increasing the the last few months with clients working on Universities, schools and multi-story car parks.
On the industrial side HLH have supplied crews of scaffolders to on shutdowns around regional NSW these often include 12-hour night shifts. We will have some more of these coming up later in the year too. Requirements for those vacancies include Confined Space and Working at Heights tickets, and basic ticket.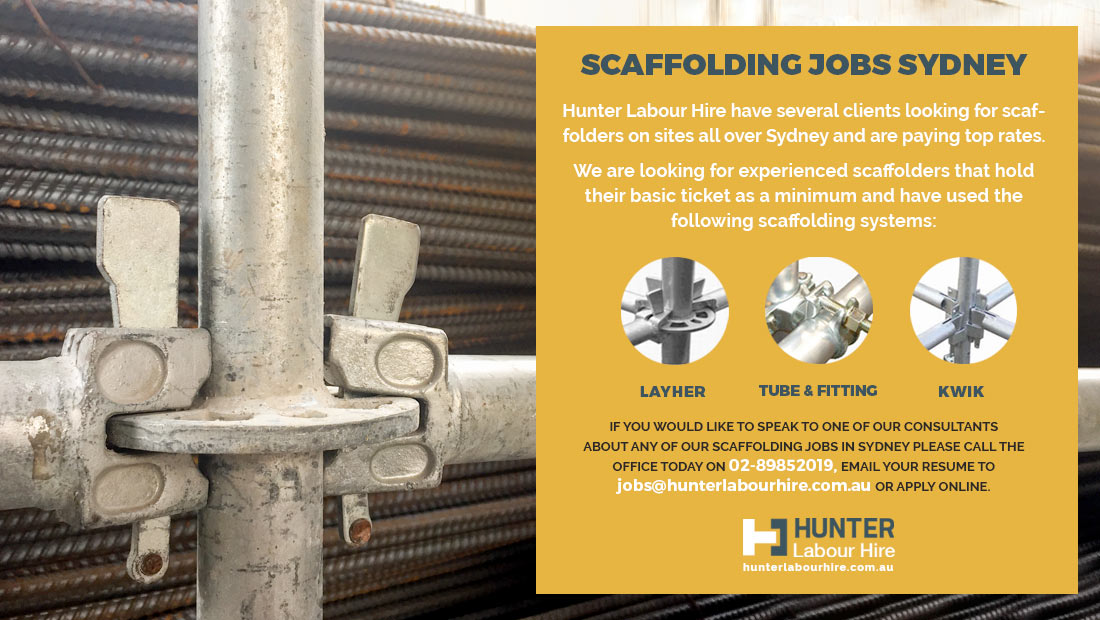 Scaffolding Jobs Sydney
Hunter Labour Hire have several clients looking for scaffolders on sites all over Sydney. We are looking for experienced scaffolders that hold their basic ticket as a minimum and have used the following scaffolding systems: Tube and Fitting, Kwik Stage and Lahyer.
A number of our clients are so busy at the moment that they're hoping to take scaffolders on a fulltime basis with ongoing work and are paying top rates. If you would like to speak to one of our consultants about any of our scaffolding jobs in Sydney please call the office on 02-89852019, email your resume to jobs@hunterlabourhire.com.au or apply online.