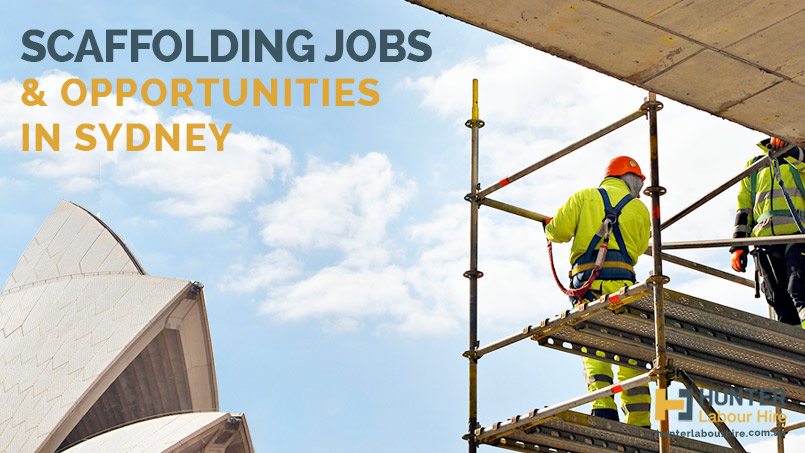 03 Aug

Scaffolding Jobs & Opportunities in Sydney
Scaffolding Jobs in Sydney
As construction work continues to soar in Sydney, so does the demand for scaffolding jobs and scaffolding labour hire. We at Hunter Labour Hire specialise in recruiting experienced scaffolders through our strict screening process which ensures they meet the requirements for any job big or small. If you are looking for work as a scaffolder or in need of hire, read on to find out why Hunter Labour Hire is the right company for you!
Why work for Hunter Labour Hire?
At Hunter Labour Hire we have many scaffold companies as clients, this in turn generates consistent work for the scaffolders themselves. Our core group of scaffolders have been with us for some time and know that when one project finishes, another will start the following day for them. Scaffolders are in high demand in Sydney so we guarantee our scaffolders long term work and competitive pay rates. If you have overseas qualifications and experience we can still guarantee work as a scaffold labourer. Most of our jobs start at 7am and finish at 3.30pm which allows for a great work life balance.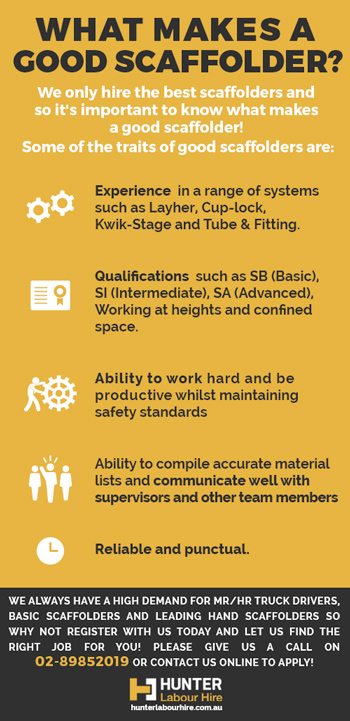 Why Choose Hunter Labour Hire For Your Scaffolding Labour Requirements?
As mentioned above the demand in Sydney is extremely high for good scaffolders at the moment. Alongside the core group of scaffolders already working at Hunter Labour Hire we have the facility to resource more on demand. We have networks in Queensland and Victoria and can bring scaffolders in for long term projects. Also, we have a large number of scaffolders with overseas qualifications and experience who we can supply as scaffold labourers.
What Makes A Good Scaffolder?
We only hire the best scaffolders and so it's important to know what makes a good scaffolder! Some of the traits of good scaffolders are:
Experience in a range of systems such as Layher, Cup-lock, Kwik-Stage and Tube & Fitting.
Qualifications such as SB (Basic), SI (Intermediate), SA (Advanced), Working at heights and confined space.
Ability to work hard and be productive whilst maintaining safety standards.
Ability to compile accurate material lists and communicate well with supervisors and other team members
Reliable and punctual.
We always have a high demand for MR/HR Truck Drivers, basic scaffolders and leading hand scaffolders so why not
register with us today
and let us find the right job for you! Please send your resume to us at
jobs@hunterlabourhire.com.au
or give us a call on 02-89852019.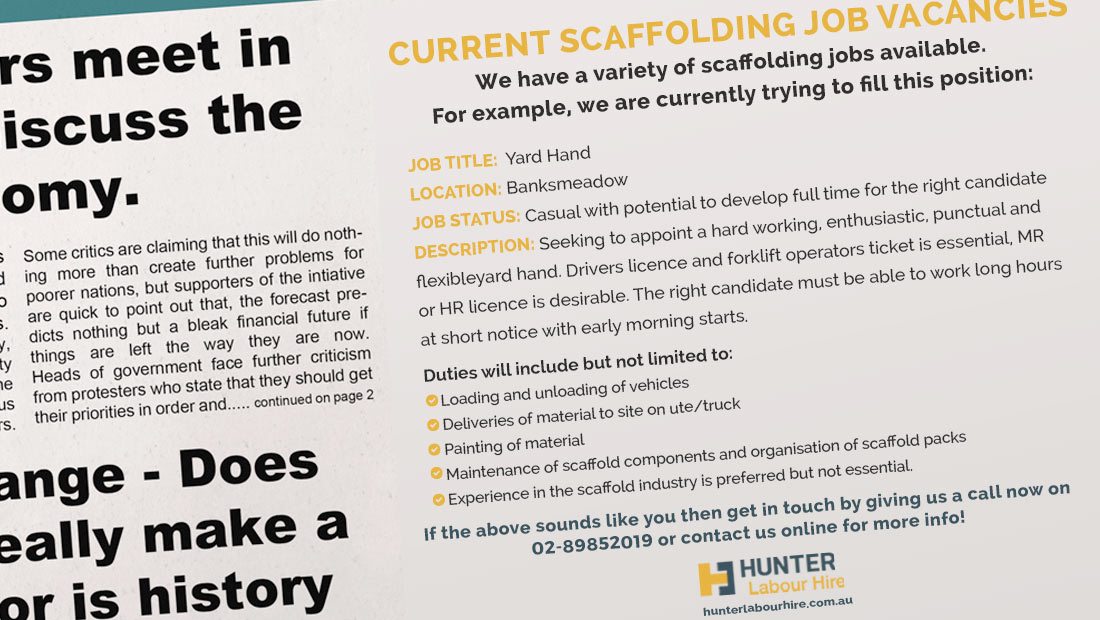 Current Scaffolding Job Vacancies
We also have a variety of scaffolding jobs available. For example, this week we are currently trying to fill this position:
Job Title: Yard Hand
Location: Banksmeadow
Job Status: Casual with potential to develop full time for the right candidate
Description: Seeking to appoint a hard working, enthusiastic, punctual and flexible yard hand. Drivers licence and forklift operators ticket is essential, MR or HR licence is desirable. The right candidate must be able to work long hours at short notice with early morning starts.
Duties will include but not limited to:
Loading and unloading of vehicles
Deliveries of material to site on ute/truck
Painting of material
Maintenance of scaffold components and organisation of scaffold packs
Experience in the scaffold industry is preferred but not essential.
If the above sounds like you then get in touch by giving us a call now on 02-89852019 or contact us online for more info!
Save