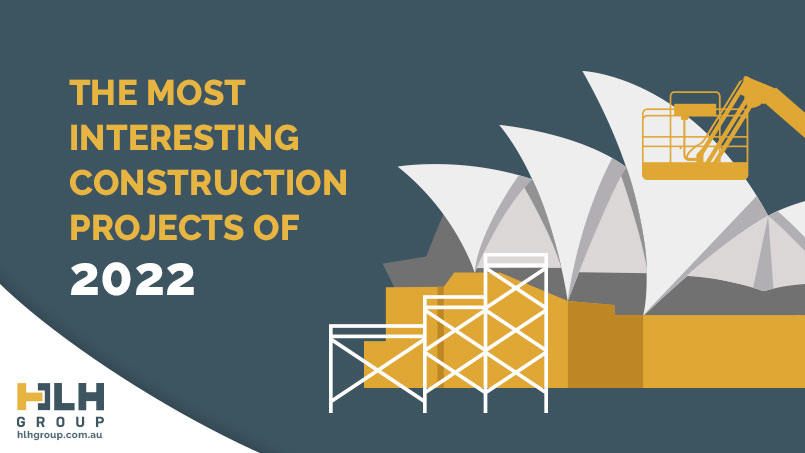 10 Jun

The Most Interesting Construction Projects of 2022
Interesting Construction Projects
Since our establishment back in 2015, we have received over 1000 client labour hire requests. Most of them are very standard requests for general or skilled workers on a construction site in Sydney, NSW. However, every now and then we receive a request that is truly unique and worth mentioning. We've compiled some of our most unique and interesting projects for 2022 that we currently have workers placed on.
Pointsbet Stadium (aka Shark Park)
If you're a Rugby League fan then you definitely know about this famous ground. Located in the heart of Cronulla, Shark Park is the home ground of the Cronulla Sharks. A few years ago, the adjoining Sharks Leagues Club was given a $20 million makeover. COVID impacted the construction timeline of it, and the surrounding development, with completion now due for mid-2023. We've had workers on the project since last year and it has been a truly interesting project to be a part of. Especially, when we are tuning into Fox League on the weekend and can see the blue scaffolding and construction site in the top left corner of the TV screen.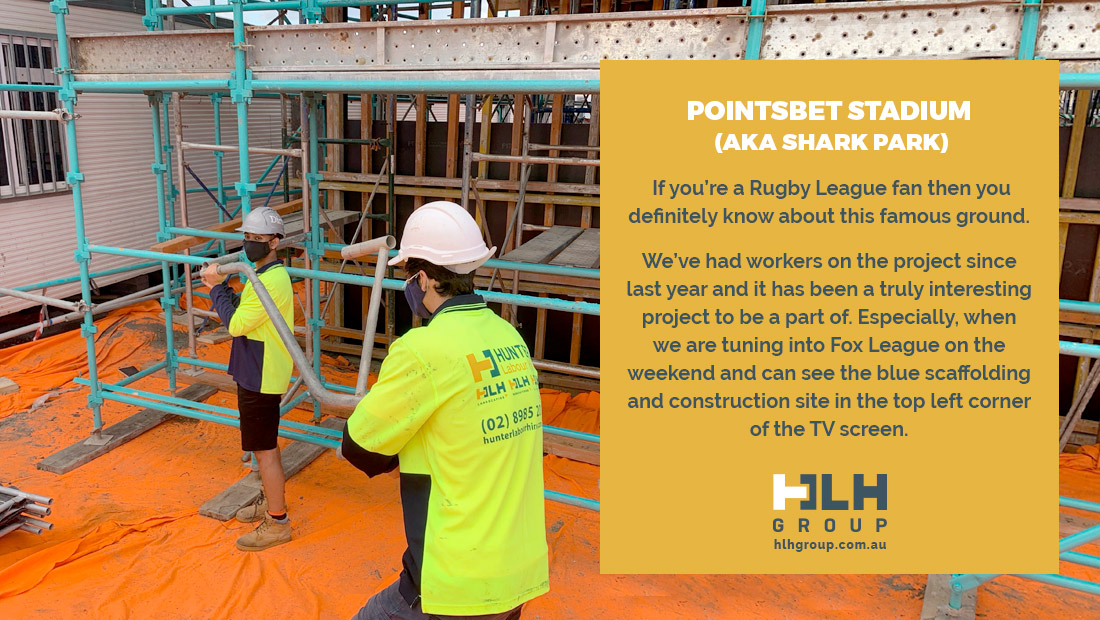 Sydney Opera House
Another noteworthy project currently underway is one of the most iconic buildings in the world – the Sydney Opera House. The western building is currently in the process of being completely refurbed which will be the first major revamp taking place since the building was opened in 1973. The changes being made will provide a significant improvement to the audience's experiences with an updated mechanical stage, new seating and modernised communal areas throughout. Behind the scenes, the roof's structure is being strengthened with new steel beams which were imported specifically from Switzerland. Over the past 2 years, we have provided the site with several labourers who hold working at heights tickets. They have performed numerous tasks on the roof including demolition work, moving materials and attaching hangers to the new beams. The labourers on site are often delighted when discovering they can play a part in developing one of the most widely recognised buildings in the world and is certainly a story to tell the grandkids about their chapter in Australia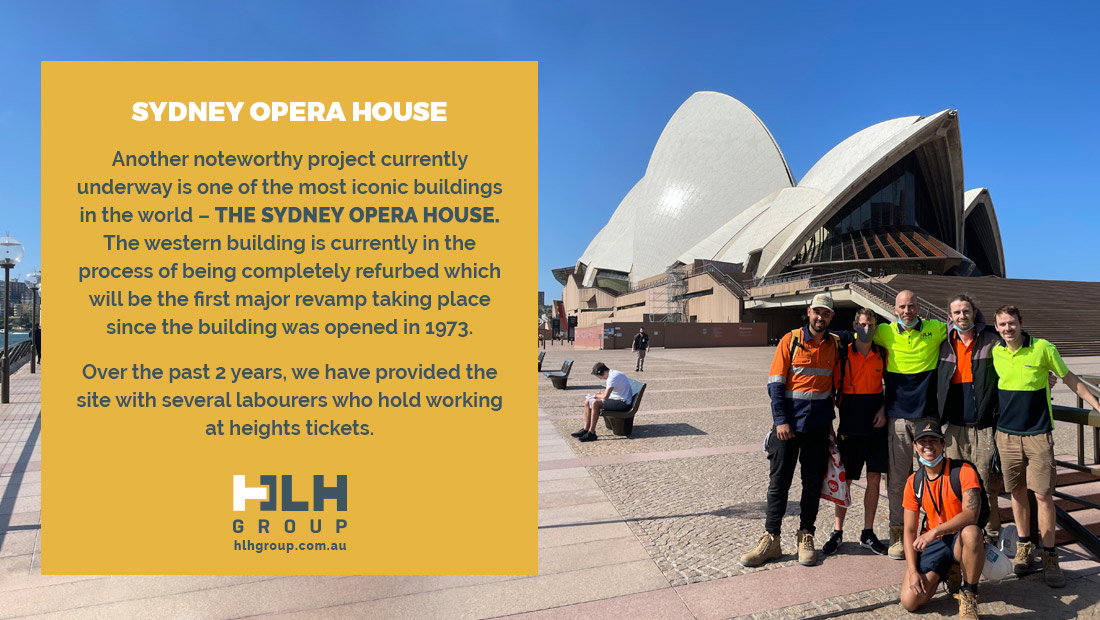 High-End Residential Projects
Apart from the odd large project, HLH Group mainly supplies to smaller residential sites across Sydney. Typically, workers can find themselves working on high-end residential properties which are either being built from scratch or undergoing refurbishment. With Australia's beautiful coastline, many of these properties are found on the coast with picturesque views of the ocean. Most recently, we had workers on a project in Seaforth which sold for $11 mil in 2013 and now has an estimated value of around $30mil once works have been completed. It's safe to say the labourers enjoyed the scenic views of the harbour from this incredible property.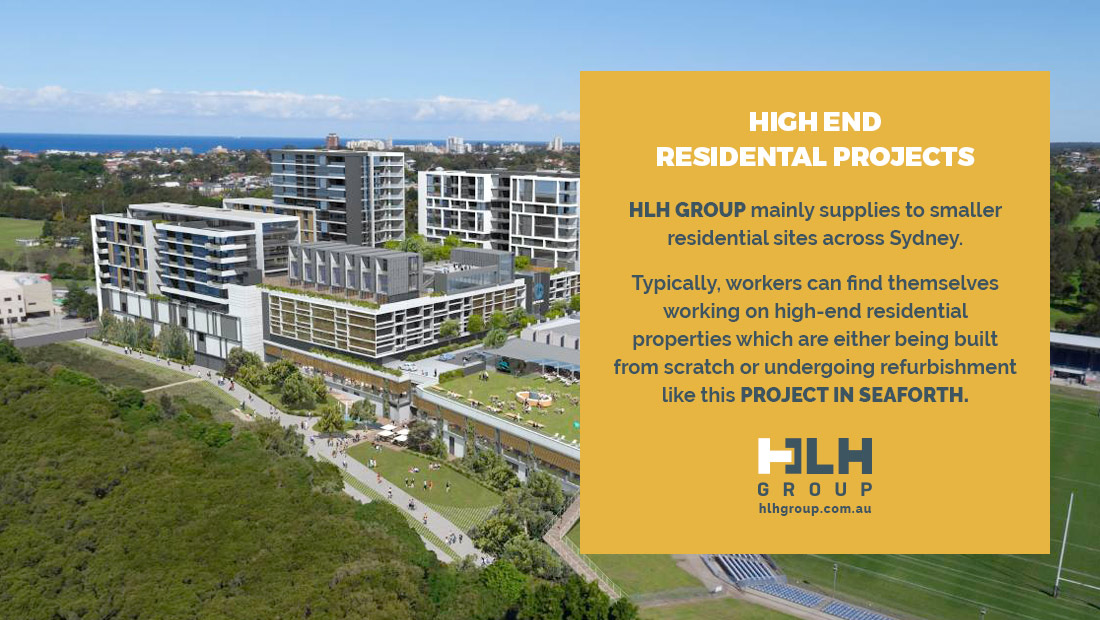 US Embassy
A major project which commenced in 2019 is the new US Embassy in North Sydney. Over the past few years, we have provided over 100 labourers to this iconic site which boasts 6000 square metres of office space. The building has undergone significant refurbishment including a new entrance, foyer, lift system and high-quality end of trip facilities. As one of our main clients, we have ensured that the embassy has had a consistent number of workers at any time to make sure deadlines are met. Our onsite tradespeople are kept busy with overtime and Saturday work available which proves popular for backpackers looking to save up quickly. One of our largest projects will be wrapping up at the end of the year and we are proud to be a part of the development.
What's Next for 2022?
Well, that's it, the above are some of our most interesting project for 2022 so far. Let's hope we can continue to find unique worksites for our HLH workers. We couldn't pick a favourite construction site out of all these options as they are all special in their weird and unique way. Let us know what's the most interesting project you've worked on or been a part of.
Are You A Backpacker Looking for Work?
Many backpackers are seeking employment to save up for their next adventure but why not include work as part of the adventure. Working at some of these iconic buildings will be an unforgettable experience and a great way to meet like-minded people. HLH Group has numerous opportunities available across Sydney. To get started you will need to complete your white card course and buy PPE and you are good to go! If you are seeking employment and would like to join the team please email your resume to jobs@hunterlabourhire.com.au or apply online and one of our consultants would be happy to help.