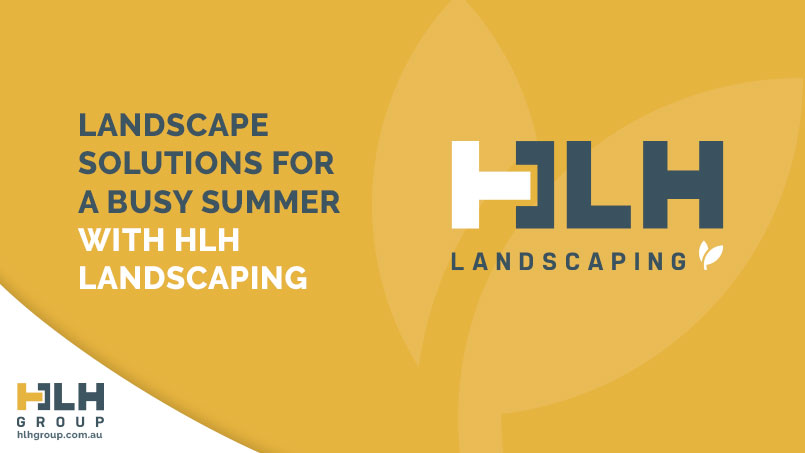 26 Oct

Landscape Solutions for a Busy Summer with HLH Landscaping
Summer Landscaping Solutions
As October sunrays begin to warm the Australian terrain, the construction and landscaping industry is in full throttle. Landscaping companies are gearing up for the seasonal rush, where projects multiply and timelines tighten. For these busy times, having a labour hire agency that understands your needs and can supply the right workforce is essential. Enter HLH Landscaping, a name synonymous with specialised landscaping labour solutions tailored for the diverse needs of the landscaping sector. Whether it's the inner heart of Sydney or the scenic terrains of Rural NSW, we've got you covered.
Landscaping Labourers
Landscaping labourers are the backbone of any landscaping project. They lay the foundation, quite literally, for everything from sprawling commercial ventures in Western Sydney to exquisite boutique garden constructions. While many of our landscapers are offered on a casual labour hire basis, it's not uncommon for clients to spot their potential and take them on permanently, transitioning them via our temporary-to-permanent contracts. What sets our labourers apart is their proficiency in a variety of tasks – from preparing the ground for retaining walls to setting pavers in place. More importantly, safety is our priority. With a commitment to providing a safe working environment, we equip our staff with the necessary PPE and ensure they have the required training, meeting and often exceeding site requirements. Our routine site checks are a testament to our commitment to safety, ensuring compliance and adherence to the highest standards.
Landscaping Tradespeople
Qualified and competent, our tradespeople are an asset to any landscaping project. With a minimum qualification of Certificate III in Landscape Construction or its international equivalent, they've been the driving force behind successful renovations of golf courses to the construction of luxury residential projects throughout Sydney. Depending on client needs, we offer both casual labour hire for project durations and also facilitate the hiring of permanent landscapers, especially for leadership roles.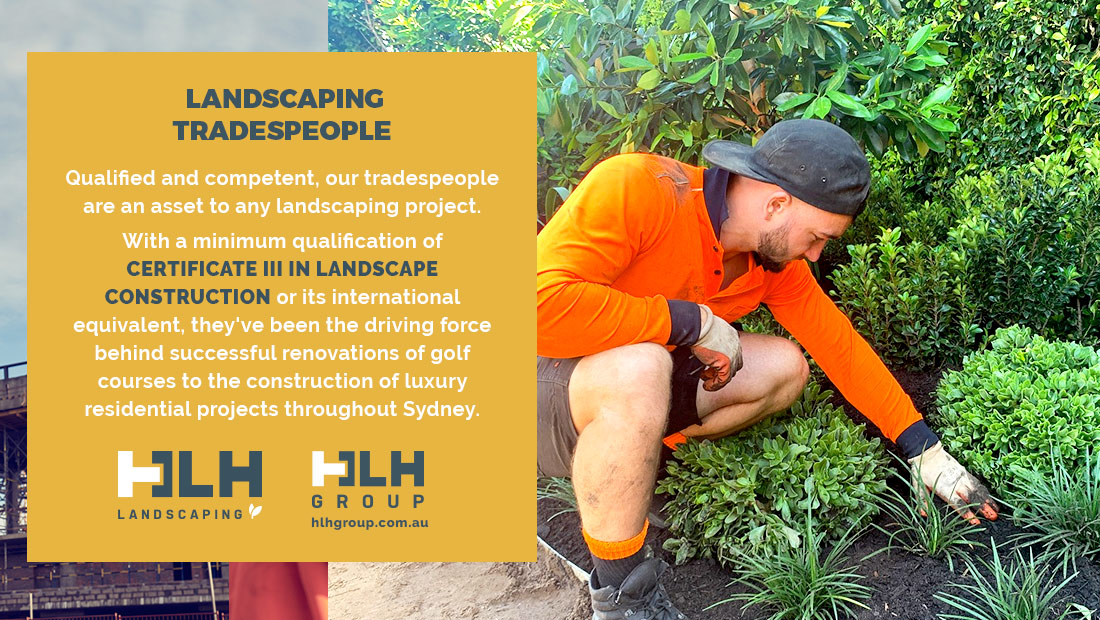 Arborist & Ground Workers
Trees are a significant component of any landscaping project, and our team of skilled arborists and groundworkers are trained to care for them, ensuring they complement the overall design and aesthetic. From mulching and pruning to intensive tasks like tree removals and stump grinding, our team is equipped with the experience and tools necessary. With a minimum of 2 years of industry experience, our arborists hold the required licenses and training, guaranteeing efficient and safe task execution.
Machine Operators
The complexity of landscaping projects often necessitates the use of heavy machinery. At HLH Landscaping, we have machine operators experienced in handling a variety of machinery – from mowers and aerators to the more heavy-duty excavators and chippers. Regardless of the task, be it mowing a sports field or excavation for a landscaping project, our operators come with a minimum of 2 years' experience, the required certifications, and always prioritise safety.
Greenkeepers
Keeping the greens in pristine condition is an art and science combined. Our dedicated greenkeepers understand the nuances of turf management, ensuring lush, verdant landscapes. Catering to sports fields, golf courses, and more, they utilise their expertise to maintain and enhance these spaces, delivering visually appealing and healthy greens.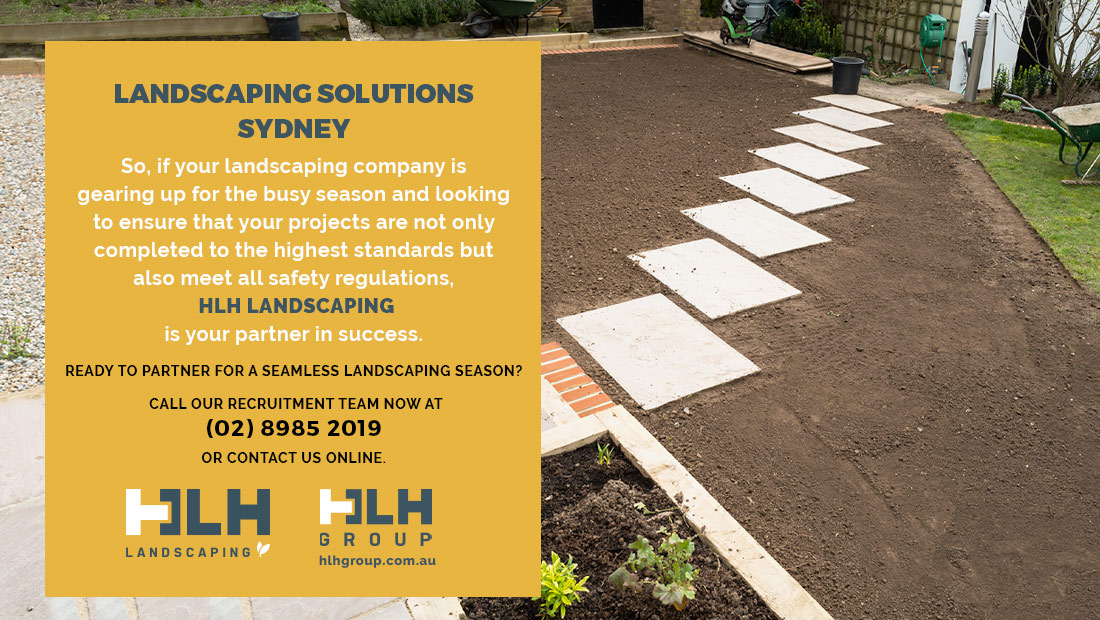 Landscaping Solutions Sydney
So, if your landscaping company is gearing up for the busy season and looking to ensure that your projects are not only completed to the highest standards but also meet all safety regulations, HLH Landscaping is your partner in success. Our dedication to safety, paired with our extensive range of skilled workers, ensures your projects thrive.
Ready to partner for a seamless landscaping season? Call our recruitment team now at (02) 8985 or contact us online.