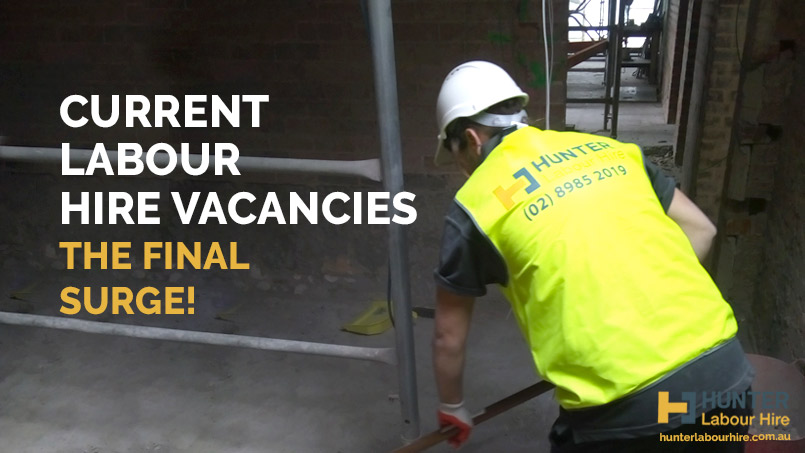 30 Oct

Current Labour Hire Vacancies – The Final Surge!
Labour Hire Vacancies
As we near the end of 2019 we are currently experiencing a high number of requests as clients try to get projects over the line before the end of the year. With many residential projects due for handover before Christmas, we understand there will always be a higher demand for carpenters in particular but also TA's and labourers.
Our landscaping labour hire division is also currently busy supplying workers to several residential and commercial clients as well as some golf courses that have used Hunter Labour Hire to assist with their full-time staff over the busy summer months for a number of years now.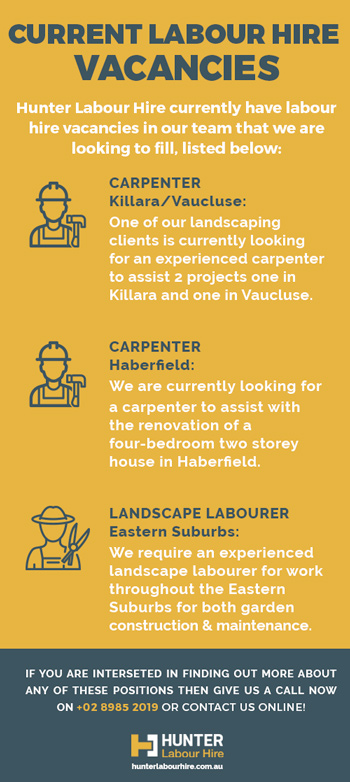 Temporary Labour Hire Staff
Hunter Labour Hire have been supplying temporary staff across Sydney since 2015 and our consultants know and understand the market demands vary with the seasons. This understanding means we are well prepared to manage clients' needs and expectations and also balance our staff levels to keep up with growing demand as it gets to busier parts of the year. Hunter Labour Hire currently have labour hire vacancies in our team that we are looking to fill, listed below.
Carpenter – Killara/Vaucluse
One of our landscaping clients is currently looking for an experienced carpenter to assist 2 projects one in Killara and one in Vaucluse. Work will involve decking, fencing, construction of wooden garden beds, seating area and a small set of stairs. We are looking for somebody who has their own tools and transport as the site will change depending on what stage the rest of the project is at. Must be able to read and understand plans and display a great level of workmanship. Must be able to work well within a team and independently.
Carpenter – Haberfield
We are currently looking for a carpenter to assist with the renovation of a four-bedroom two storey house in Haberfield. The project is a high end architecturally designed home so experience working on this kind of project is a must. Applicants need to have hand tools and basic power tools, anything else needed will be provided by the client on-site. Experience with windows, doors, flooring and cladding.
Landscape Labourer – Eastern Suburbs
We require an experienced landscape labourer for work throughout the Eastern Suburbs for both garden construction and maintenance. Our client is responsible for a complete garden makeover from removing existing plants, turf, fencing, paving, decking and creating the new garden space and its continued maintenance. We are looking for somebody who has at least 2 years' experience landscaping and will be comfortable with both the construction and maintenance side of things.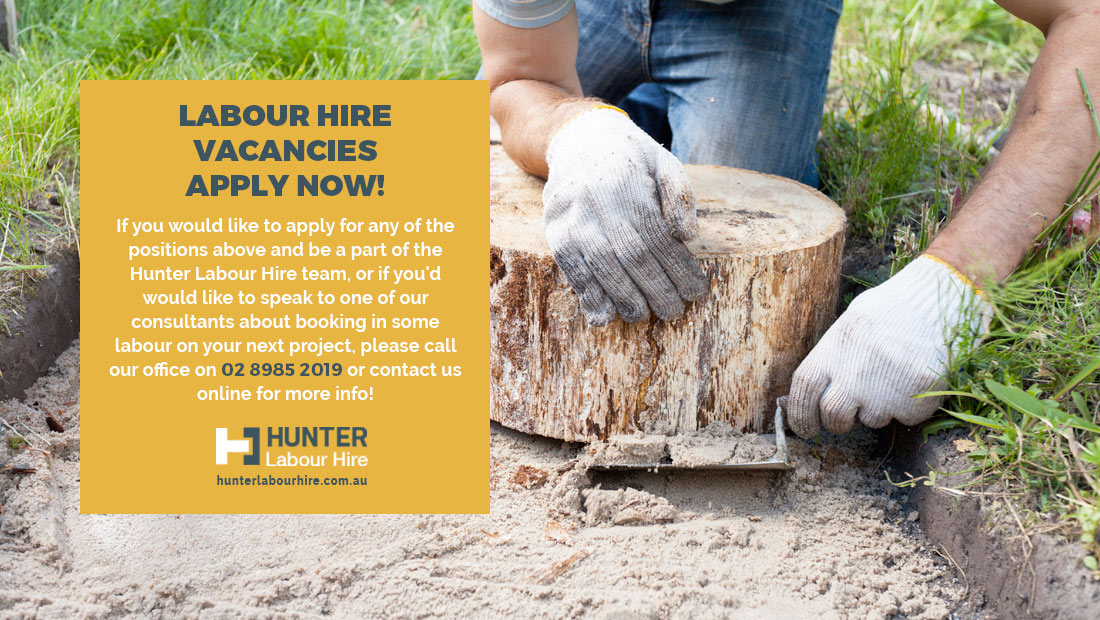 Labour Hire Vacancies – Apply Now!
If you would like to apply for any of the positions above and be a part of the Hunter Labour Hire team or if you'd would like to speak to one of our consultants about booking in some labour on your next project, please call our office on 02 8985 2019 or contact us online for more info!