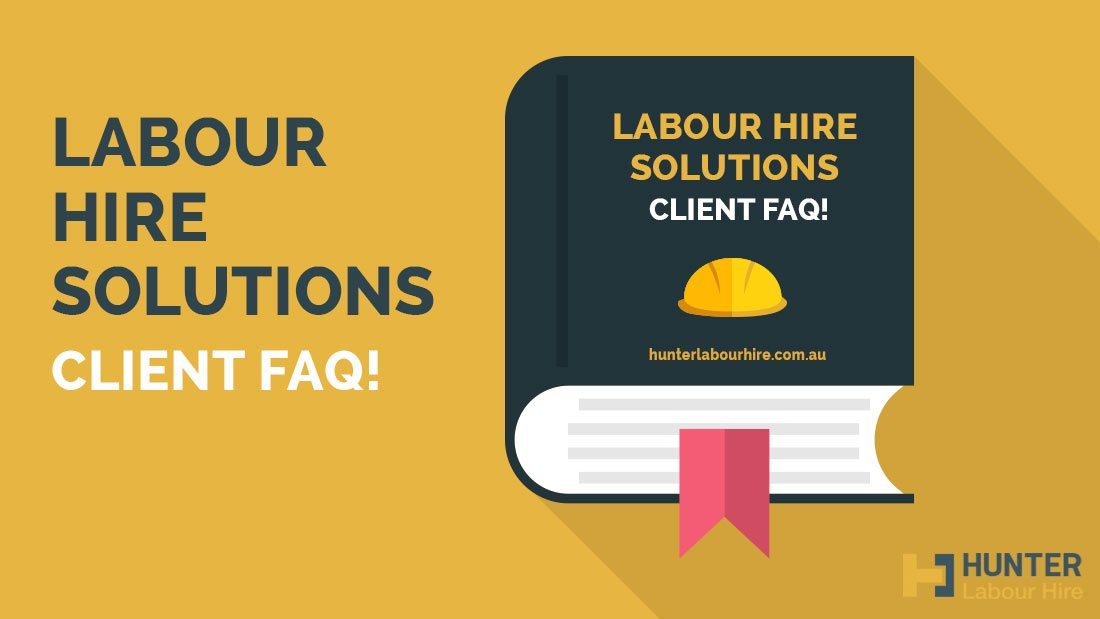 01 Jul

Labour Hire Solutions – Client FAQ!
Labour Hire FAQ For Clients
On a daily basis at Hunter Labour Hire we often hear the same type of questions from our clients so we have put together a list of questions that we frequently get asked. This will hopefully help us to answer any queries that you may have.
1) I have never used labour hire before, what is it?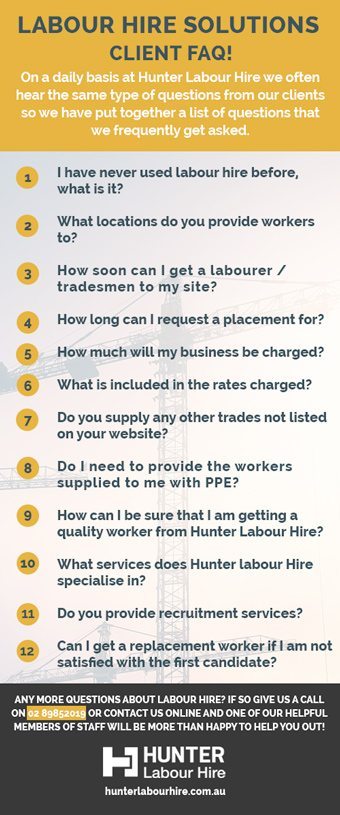 Labour Hire is a casual supply of screened and experienced labour for help on your projects.  All workers our employed by Hunter Labour Hire and supplied to you based on an agreed hourly rate.  Here is what a quality labour hire company should offer you.
2) What locations do you provide workers to?
We provide our workers to the Sydney metropolitan area on a next day basis depending on specific requirements. We can also service other regions of NSW when given suitable notice.
3) How soon can I get a labourer / tradesmen to my site?
If you are looking to hire a labourer we can often supply labourers on the day they are requested subject to availability. We also strive to supply tradesmen as soon as they are requested however due to the current high demand, we advise that you give us as much notice as possible to ensure we can fulfil your requirements.
4) How long can I request a placement for?
We supply our workers for a minimum of four hours. However we do try to ensure that our workers get a minimum of 8 hours on a daily basis to ensure they get fair reward for their efforts.
5) How much will my business be charged?
You will be charged a mutually agreed upon hourly rate for the use of our workers and an additional charge to cover the workers travel as per the General Building and Construction Award 2010. All rates are exclusive of GST. There are no other hidden charges.
If you would like to discuss rates with one of our account managers then call the office on 02 89852019 today.
6) What is included in the rates charged?
To see what is included in our rates check out our blog on what we include in the labour hire hourly rate.
7) Do you supply any other trades not listed on your website?
Short answer, yes! Long answer – we have experience sourcing and supplying candidates for a variety of different projects such as sheet metal workers for shutdowns and electrical trade's assistants for air-conditioning installations. To discuss your specific needs then get in touch today.
8) Do I need to provide the workers supplied to me with PPE?
No. Hunter Labour Hire provides all of its workers with the Personal Protective Equipment (PPE) that they need on site. If you have any specific work safety wear that you require on site then let us know and we can ensure that any workers we supply match your site's safety requirements.
9) How can I be sure that I am getting a quality worker from Hunter Labour Hire?
Hunter Labour Hire has a very stringent recruitment process that we strictly adhere to. From the initial stages of screening candidates to our interview stage we evaluate all candidates to ensure that they fit our client's requirements and have proven construction experience.
10) What services does Hunter Labour Hire specialise in?
We specialise in offering casual labour hire, but also offer temporary and permanent placements. If you need quality temporary or permanent construction staff then call Hunter Labour Hire today.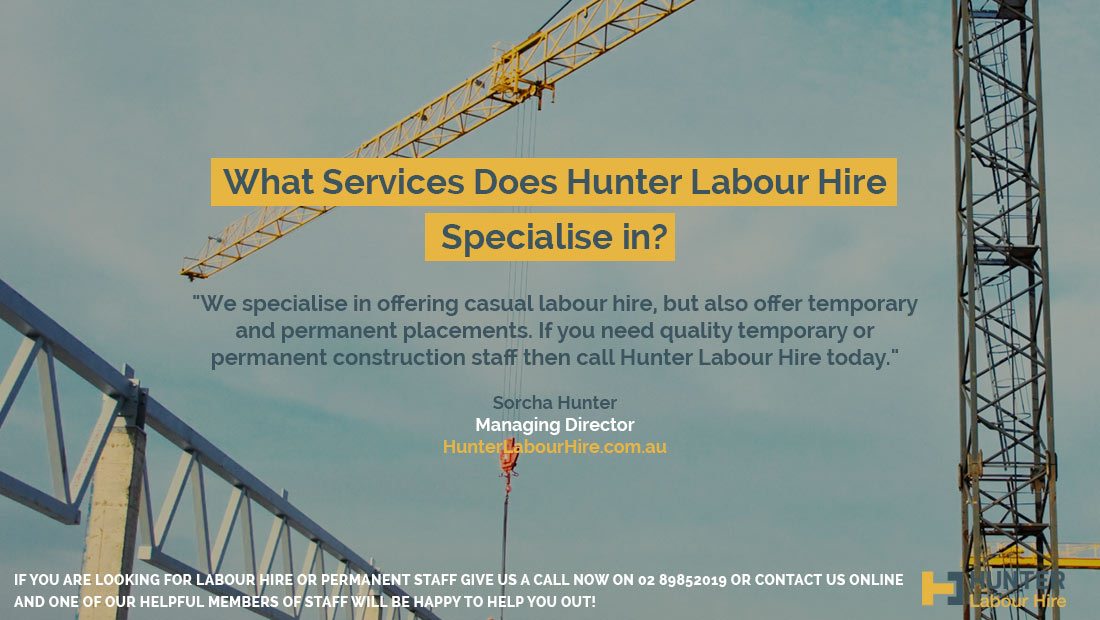 11) Do you provide recruitment services?
As well as providing labour hire, we also recruit permanent employees for our clients. If you would like us to source a candidate for you then let us know exactly what you need and we will begin to search our internal database and also explore external options to source the perfect match for your company.
12) Can I get a replacement worker if I am not satisfied with the first candidate?
We will replace any candidates that are not performing satisfactorily.  This can be done on a next day basis in some instances however this can take longer depending on the specific candidate requirements.
Any More Labour Hire Questions?
If you have any queries that are not listed here then give the office a call on 02 89852019, contact us online or email your query to info@hunterlabourhire.com.au and one of our helpful members of staff will be more than happy to help you.