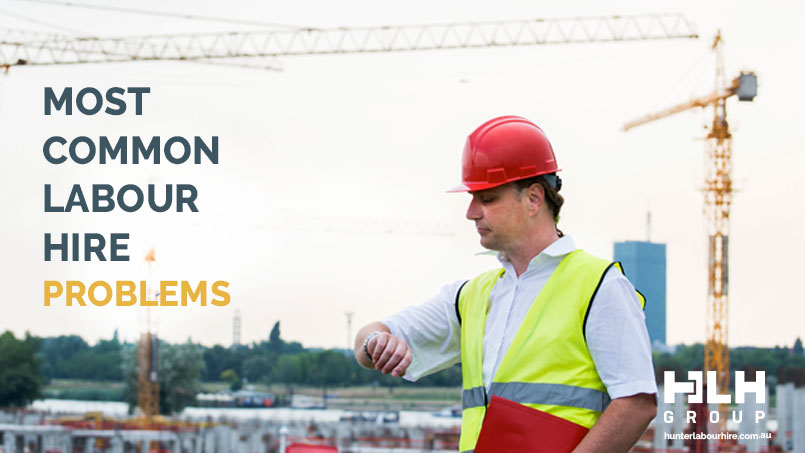 13 Jan

Most Common Labour Hire Problems
Common Labour Hire Problems
Since our foundation in 2015 Hunter Labour Hire has strived to stand out from the pack and worked to address common labour hire problems our clients have had with labour hire in the past. From client and candidate management to timekeeping and invoicing, Hunter Labour Hire are continually looking at ways to improve our service and make booking in a labour as easy and hassle-free as can be. So, in this week's blog we'll take a look at some of the most common problems to arise when using labour hire and some of the steps that we have implemented to ensure Hunter Labour Hire continues to be the No.1 labour hire firm in Sydney.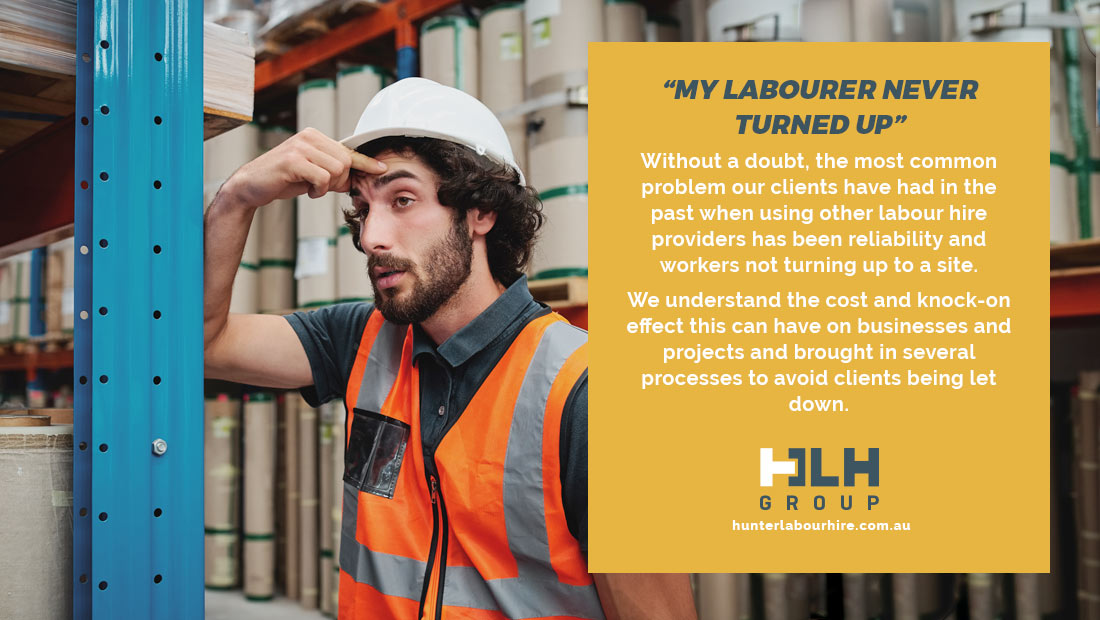 1) "My Labourer Never Turned Up"
– workers not turning up
Without a doubt, the most common problem our clients have had in the past when using other labour hire providers has been reliability and workers not turning up to a site. We understand the cost and knock-on effect this can have on businesses and projects and brought in several processes to avoid clients being let down, these include:
Once any job is booked in, details are sent to the worker and they confirm they have received the details and will be there.
Each morning our account managers check in with their workers to ensure everybody is up and on their way to work.
If somebody was to call in sick we have labourers available each day at Central Station on standby ready to go to work. This ensures the labour you book in will be on site for 7 am.
We have also brought in a fleet of HLH vehicles to help get our workers to sites that would otherwise be hard to get to on public transport.
2) "I Know It's Late, But…"
– late requests
Something we pride ourselves on at Hunter Labour Hire is our availability and our turnaround time in getting our workers to site. Our account managers are available around the clock to handle any request as early or as late as it comes in. We know a lot can change on site day to day, even hour to hour, and our team are available whenever you need to help you keep moving.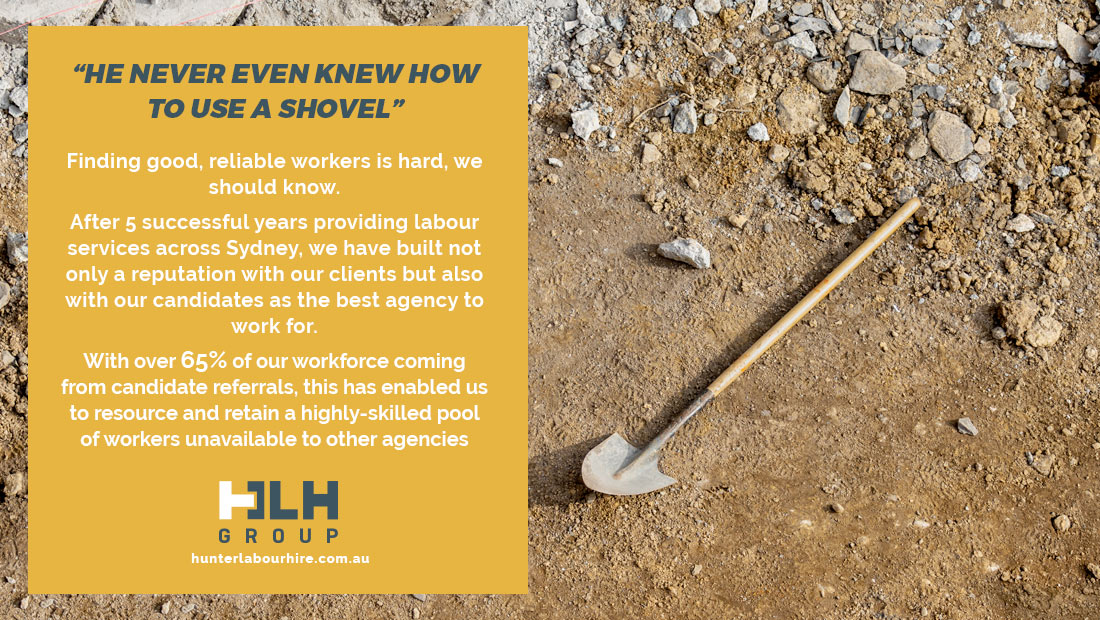 3) – "He Never Even Knew How To Use A Shovel"
– Inexperienced or unskilled workers being sent to the site.
Finding good, reliable workers is hard, we should know. After 5 successful years providing labour services across Sydney, we have built not only a reputation with our clients but also with our candidates as the best agency to work for. With over 65% of our workforce coming from candidate referrals, this has enabled us to resource and retain a highly-skilled pool of workers unavailable to other agencies. Before starting work with HLH Group each worker must first complete:
General screening
HLH registration and induction
Reference checking
Tickets, licenses and visa checks
With this registration process in place, it means we not only personally know each worker but we understand their skill set and what they can and cannot do. We also receive daily feedback on candidates from clients, ensuring we continue to employ only the best workers available.
4) – "I Lost My Timesheet"
– Problems submitting and approving timesheets.
After hearing "I put my timesheet in the washing machine" one too many times our accounts team brought in a new payroll and timekeeping system in mid-2020. The new system moved away from the traditional paper timesheets and into the 21st century with a new online timesheet. This online timesheet system not only made it easier for the workers on site but also made approving timesheets as simple as one click of a button.
5) – "I Had A Different Labourer Each Day"
– Swapping and changing workers.
We know the importance of having the same worker for the duration of the job. Swapping labourers everyday costs you time for inductions, talking them through the job and what you need them to do. When we supply a worker, we supply the same worker until the job is done or the client no longer needs them.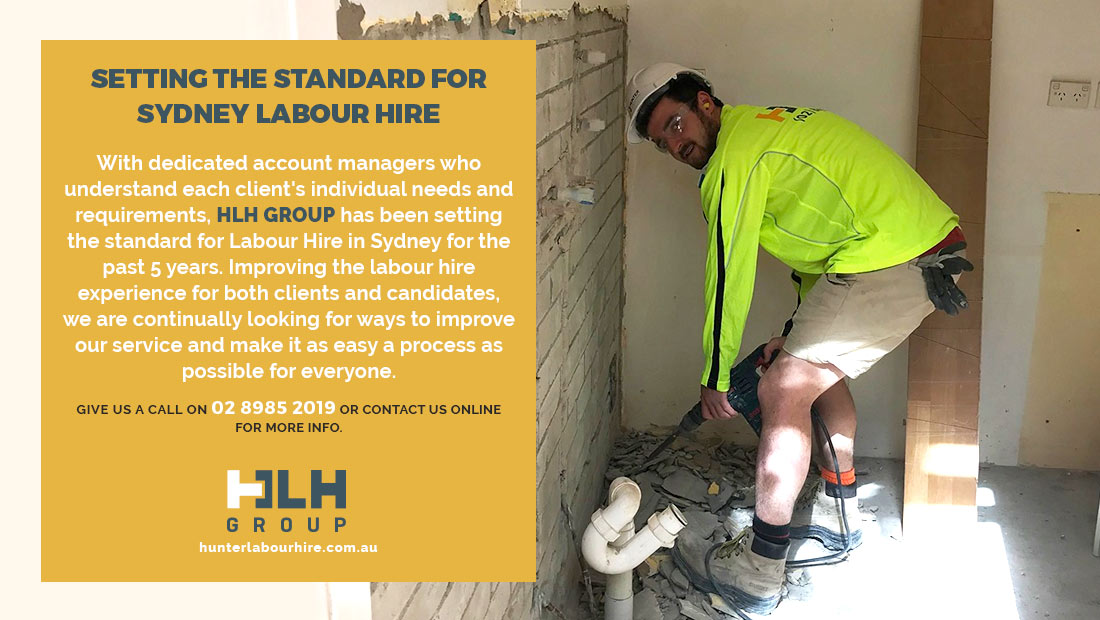 Setting The Standard for Sydney Labour Hire
With dedicated account managers who understand each client's individual needs and requirements, HLH Group has been setting the standard for Labour Hire in Sydney for the past 5 years. Improving the labour hire experience for both clients and candidates, we are continually looking for ways to improve our service and make it as easy a process as possible for everyone.
To discuss how we can improve your business call our team today on +61 2 8985 2019 or contact us online for more info.