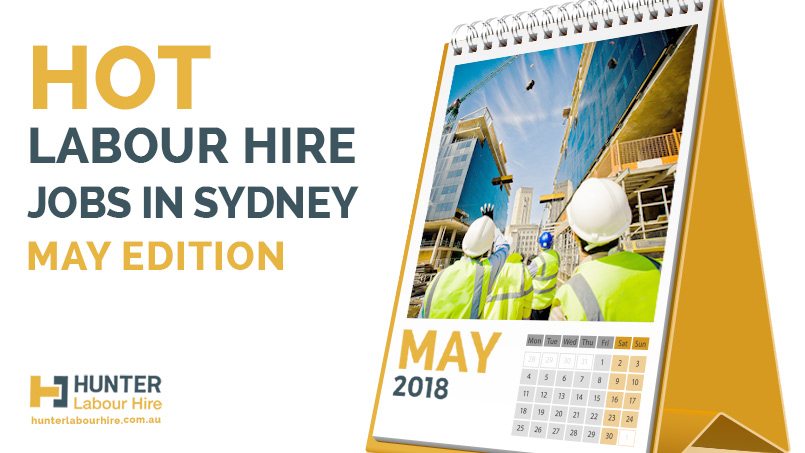 17 May

Hot Labour Hire Jobs in Sydney – May Edition
New Labour Hire Jobs Available!
Construction companies throughout Sydney have been reaching out to Hunter Labour Hire to supply them with quality labourers and tradies to finish their current projects. As a result of this we have lots of casual construction jobs available in variety of positions. Whether you're in Narrabeen or Newtown, Bondi or Belmore, the chances are we have a suitable position for you.
What Jobs Are Available?
We always have a variety of new labour hire jobs available and this month is no different. If one of the positions below takes you fancy make sure you apply now or if you know someone who would be good for a position why not refer them and get a $50 Westfield voucher? With that out of the way, onto the latest jobs!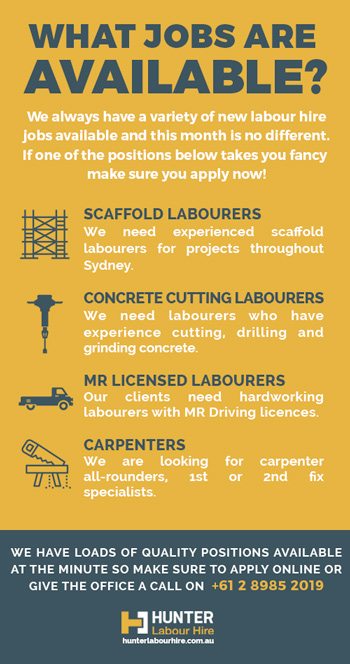 Scaffold Labourers
We need experienced scaffold labourers for projects throughout Sydney. From residential projects to large commercial projects if you're a hardworking scaffold labourer who appreciates the daily graft associated with the scaffold industry, then get in touch. You will need to be able to stack scaffolding, be familiar with the various components to feed scaffolders and to be able work in a chain when required. A strong back is required for this position!
Concrete Cutting Labourers
We need labourers who have experience cutting, drilling and grinding concrete. Most of this work will involve using large concrete saws and grinders to cut concrete. This position offers the opportunity to specialize in an exciting area of construction. There is a very realistic opportunity for this role to become permanent with opportunities for progression!
MR Licensed Labourers
Our clients need hardworking labourers with MR Driving licences. MR Vehicles required to be driven include trucks with a GVM (Gross Vehicle Mass) of more than 8 tonnes and two axles. We have shopfitting companies, demolition, scaffolding and civil companies that are currently looking for MR drivers to join their team. The jobs are all hands-on roles and will require you to labour on sites when not driving the truck.
Carpenters
Quality carpenters are in high demand and we need to hire more carpenters to work on exciting projects in Sydney. We are looking for carpenter all-rounders, 1st or 2nd fix specialists. Ideally you will have your own full set of tools and transport to assist you get to site, however we can arrange this in certain circumstances and for the right candidates.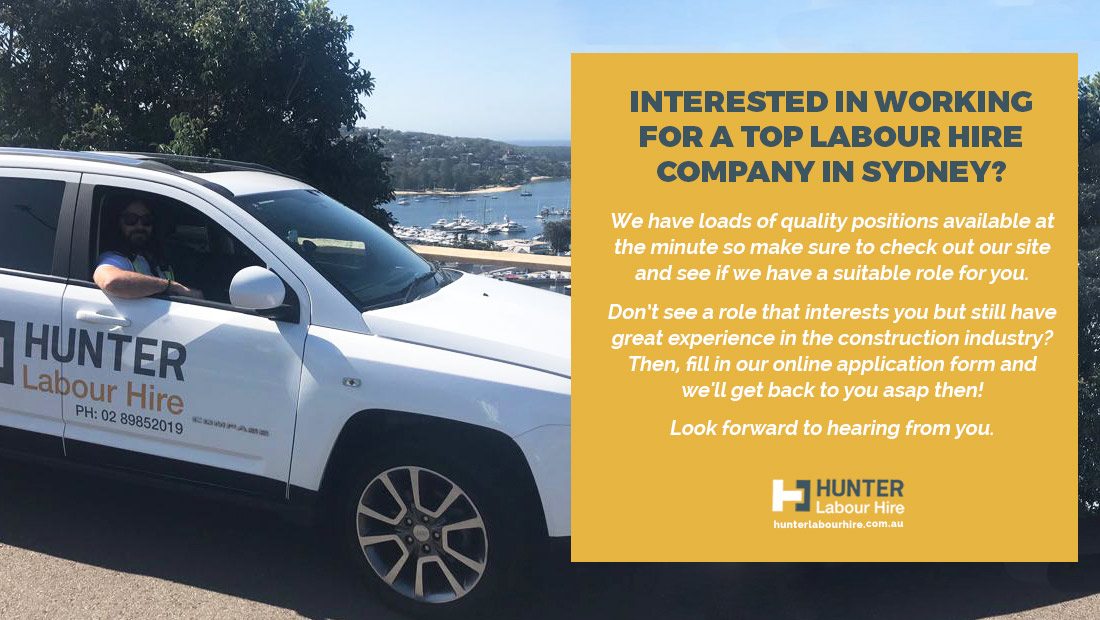 Interested in working for a Top Labour Hire Company in Sydney?
We have loads of quality positions available at the minute so make sure to check out our job vacancies section and see if we have a suitable role for you. Don't see a role that interests you but still have great experience in the construction industry? Fill in our online application form and we'll get back to you asap then!
Look forward to hearing from you.