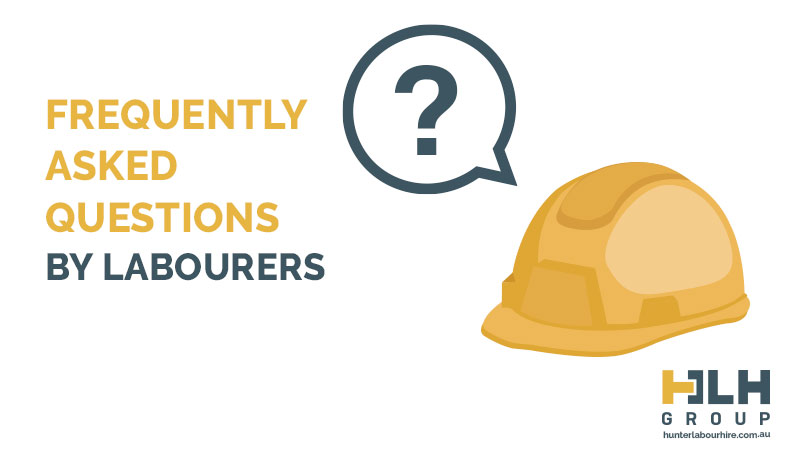 11 Jun

Frequently Asked Questions by Labourers
Labour Hire FAQ
Are you currently looking for work with a labour hire company? But you maybe have a number of questions that you would like the answer to? Fear not, our labour hire gurus have put together a FAQ guide for individuals that want to work in a casual construction job in Sydney with HLH Group. Below are the most commonly asked questions by our current labour workers and potential candidates.
What is Labour Hire?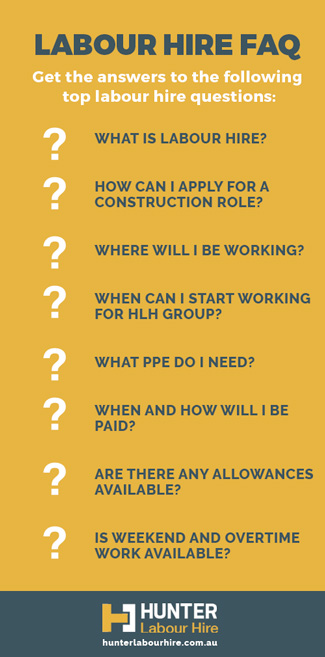 Labour Hire is a casual supply of experienced, skilled and unskilled labour to help construction companies fill any additional labour requirements they have but cannot fill using their own staff resources due to a variety of factors. In most cases, workers are employed by an organisation on a casual basis.
How Can I Apply For a Construction Role?
You can apply for a construction job with HLH Group by registering on our website or email us your up to date resume to jobs@hunterlabourhire.com.au – from there one of our friendly recruitment consultants will access your resume and identify how you can be best used on site.
Where Will I Be Working?
The majority of our clients' projects are in the Sydney metro area which can be easily accessed with public transport or by personal vehicle. However, for workers that live outside of Sydney, we have a host of projects for clients in the Wollongong and Newcastle area.
When Can I Start Working For HLH Group?
We have an abundance of client requests for workers as there is a current labour shortage in Australia. Depending on your experience we can get you started within the two days of registration (…sometimes even earlier if there is a vacancy or late minute client request).
What PPE Do I Need?
As a very minimum you will need to have a white card (General Construction Industry Card) and basic PPE including a hard hat, hi vis top, steel toe cap boots, and gloves/glasses. We can supply you with HLH Group hi-vis tops once you start working as part of the team.
When and How Will I Be Paid?
At HLH Group, we pay all our workers each Thursday after the week that has been worked, your wages will be in your bank account by Friday morning at the latest. We use Astute Payroll which eliminates the need for paper timesheets making paying labourers easier than ever. The system requires all workers to manually enter their hours for approval by 10 am each Monday. To ensure you get paid on time please make sure your profile details are updated with correct bank details and TFN.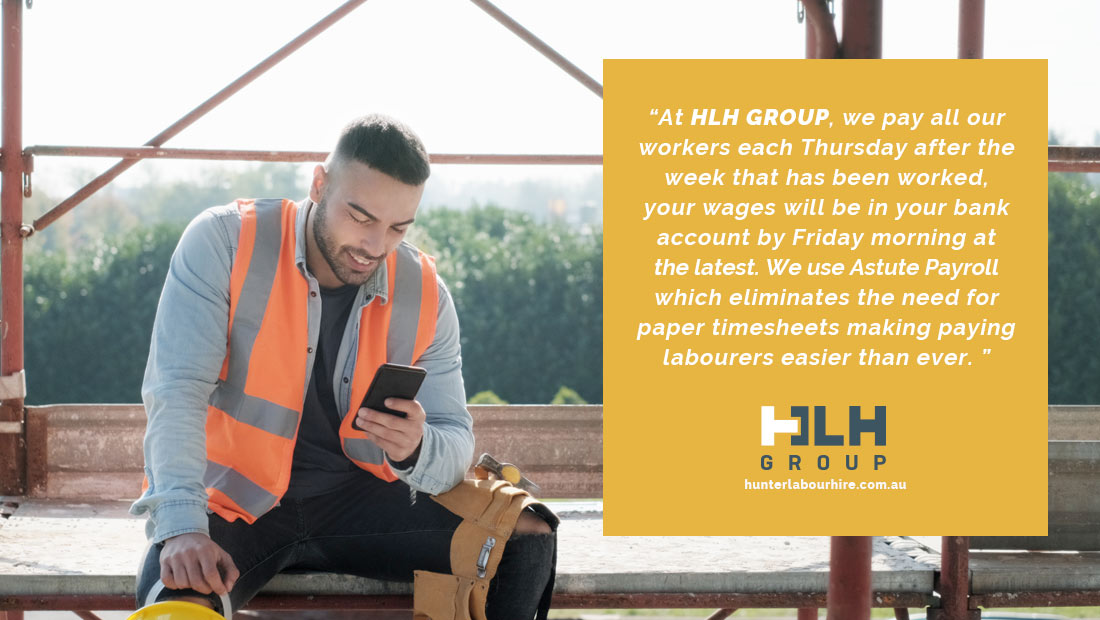 Are There Any Allowances Available?
HLH Group pays all its casual labour employees minimum daily fares and travel allowance. While from site to site there are some additional allowances such as a meal allowance and even on-site allowances depending on the client's construction site.
Is Weekend and Overtime Work Available?
From time to time and based on the site we place you on there will be an opportunity for overtime hours and you will be paid penalty rates accordingly. However, it is usually the best workers on-site who get offered more hours. If you are keen on overtime work, then it is up to you to show the client that you are worthy of the extra cost implied by penalty rates.
Any More Labour Hire Questions?
We hope you have found the answer to any questions you may have had but if not then get in touch with us today by filling in our online contact form, by emailing info@hunterlabourhire.com.au or by calling the office on 02 8985 2019.