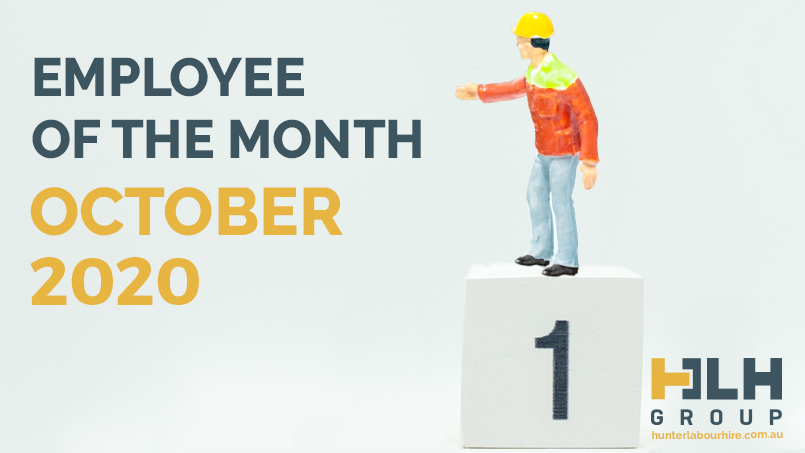 24 Nov

Employee of the Month October 2020
HLH Employee of the Month – October 2020
Well, October certainly flew by. We are now halfway into November and we have seen an increase in bookings across the board, we have been especially busy in the Northern Beaches over the past couple of weeks. Picking an 'Employee of the Month' has been especially difficult this month due to the monstrous effort everyone one of our candidates put in over the month of October. This month the winner is someone who has shown themselves to be extremely adaptable on all jobs we have thrown at him and the winner is Claudio Bravo. Claudio has worked for us over the past 2 years on many projects and has always shown himself to be a true professional on every job we have thrown his way from general labouring to landscaping Claudio has always given 100% no matter what the job. However, one job he has excelled in and has really found something he enjoys is scaffolding labouring and even being invited into the client's office to help with tenders by producing augmented reality scaffolding. Congratulations Claudio.
Account Manager Statement
"I have found Claudio to be a fantastic and reliable worker always going above and beyond for me on all jobs, over the last 2 years he has been all over Sydney for us with no complaints and continues to get great feedback on all jobs we send him on. I hope we can continue to work together over the coming months."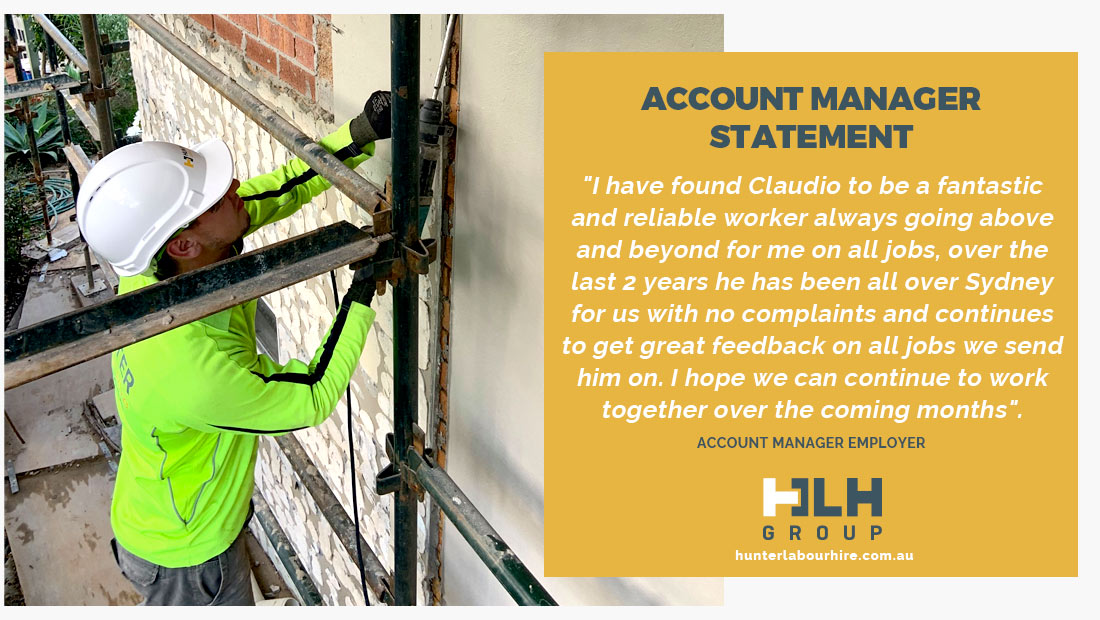 Client Statement
I want to take the opportunity to give you feedback about the great work Claudio has been doing for us since you took him on board with HLH. He has always been a good worker and much appreciated by all our scaffolders on site. He gave us a huge effort during the massive dismantlement in the ABC building in Ultimo, working at night for 2 months and becoming a key person for what concerns the labouring on our sites. Lately he surprisingly approached us with his engineering skills from back home, collaborating in our office as a drafter and developing a 3d modelling system to improve our potential during the tendering phases of our projects. He is another great worker that HLH had the ability to discover and keep with them for such a long time, giving him the opportunity to slowly show all his potential and passion for the construction industry in general. Good on you guys and thanks again for the great workers you are dedicating to our projects.
Words from Claudio
"I have enjoyed working for Hunter Labour Hire over the last 2 years, I have received consistent work on good jobs even after I left to do my farm work when I arrived back I was offered work straight away. You must work hard and do a good job and they will keep you busy with jobs all over Sydney. I highly recommend Hunter Labour Hire to anyone looking for consistent work on good jobs just don't be afraid to work hard."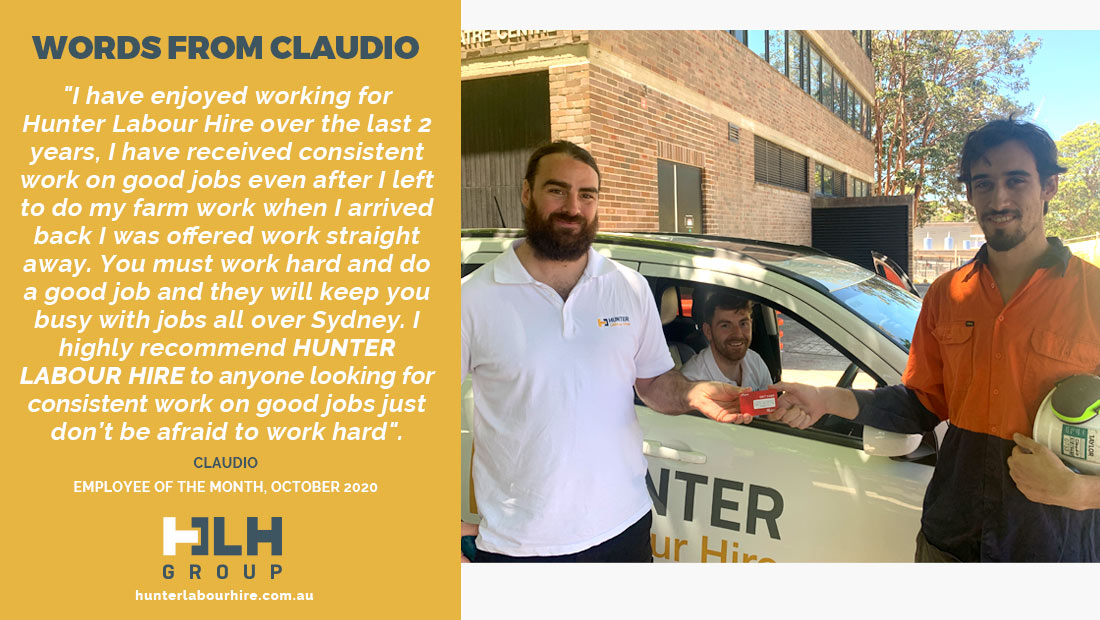 Labour Hire Jobs Available
At Hunter Labour Hire we are always looking for the best labour hire talent so if you think you have the relevant experience and can be the next Claudio then we want to hear from you. Give our team a call on 02 8985 2019 or register online with us today!