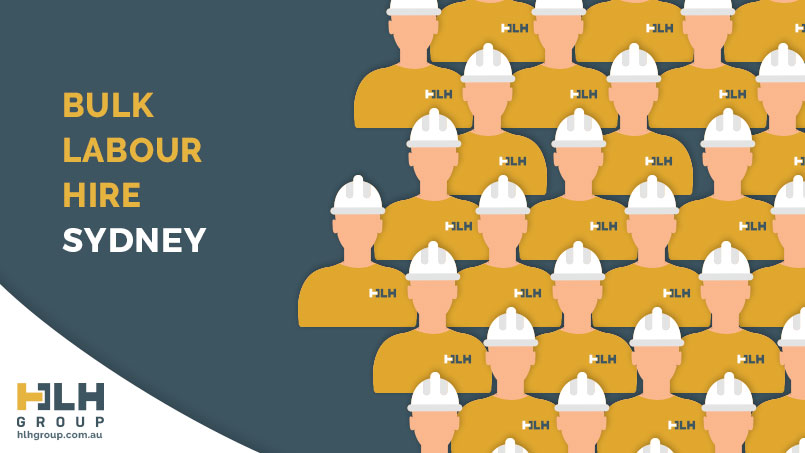 04 May

Bulk Labour Hire Sydney
Bulk Labour Hire
If you're a builder in Sydney, you know that finding the right laborers and tradespeople can be a challenge. It can take a lot of time and resources to find skilled workers who are reliable and available when you need them. You are probably already aware of the benefits of using Labour Hire vs In House recruitment, for instance the added flexibility, potential for cost savings, reducing financial risk and reducing admin. But have you considered the additional benefits of using bulk labour hire? Here at HLH Group we have a huge supply of skilled tradespeople, trade assistants and labourers of all levels of experience. We have a strong history in providing Labour Hire across all of Sydney and we want to highlight to you benefits of using bulk labour hire.
Flexibility of Bulk Labour Hire
We know that in the construction industry often we are hit with unexpected hurdles. Using bulk labour hire allows you the peace of mind that you can be flexible and adapt your workforce as needed. With bulk labour hire, you can easily adjust your workforce to meet the demands of your project. If you need more workers, you can request them from the labour hire company, and if you need fewer workers, you can scale back. This level of flexibility can be particularly useful in the construction industry, where project timelines can change rapidly. At critical points in a projects delivery where deadlines are looming you can easily and quickly scale up the number of workers through one convenient point of contact.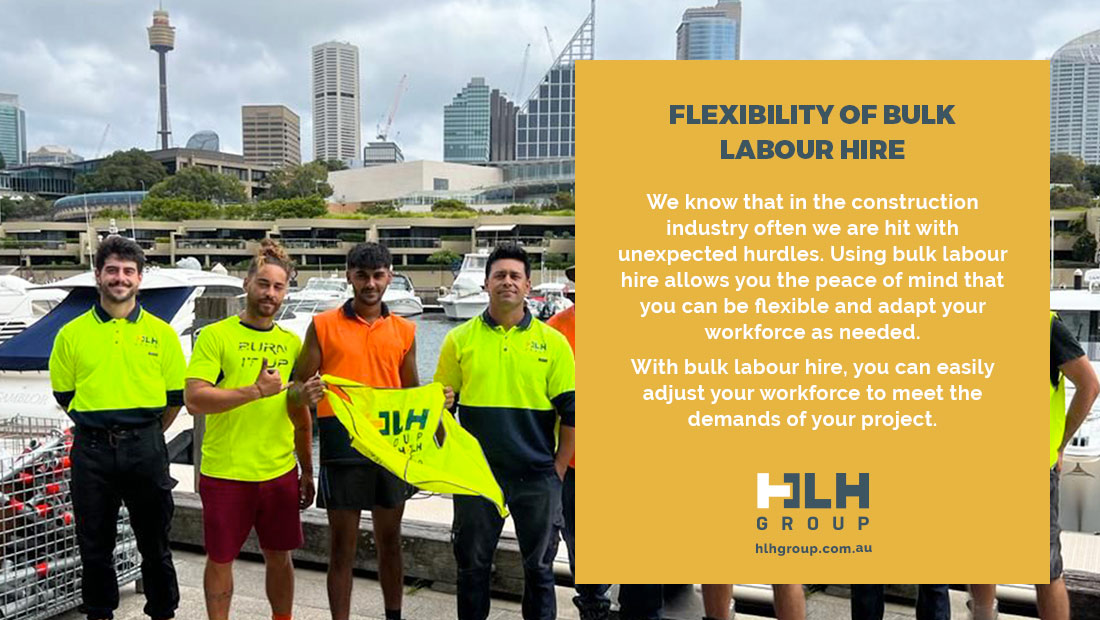 Quicker Turnaround Times for Projects
Hiring multiple workers from a labour hire company can help you get your projects done faster. With more hands-on deck, you can divide tasks more effectively and speed up the work process. This is particularly useful for larger projects where multiple tasks need to be completed simultaneously. Our skilled recruiters can listen to your needs and provide you the right talent to ensure your job is completed in as quick a time as possible. Providing you with tradespeople who have previous experience with the labourers or trade assistants we are also providing ensures that the team will work with maximum efficiency. Our recruiters have close relationships with all workers we supply so they can select a team which delivers for you.
Safety Benefits of Bulk Labour Hire
With a larger workforce, you can take a more proactive approach to safety. By dividing tasks more effectively and assigning workers to specific roles, you can help reduce the risk of accidents and injuries on the job site. When you hire multiple workers from a labour hire company, you can be assured that you're getting workers who have been vetted and trained to a certain standard. This can help ensure that the quality of work is consistent across your entire workforce, rather than relying on individual workers who may have varying levels of skill and experience.
Reduction in Admin and Paperwork
Why not make your life easier? If you are already using labour hire you know you can reduce your risk of legal issues related to employment. The labour hire company is responsible for handling payroll, taxes, and other HR-related matters, which can help reduce your liability as an employer. Why not reduce this further by scaling up how much you use labour hire. It reduces admin on your part only having to pay one invoice at the end of a week as opposed to delivering a long payroll for each individual employee, let us worry about that.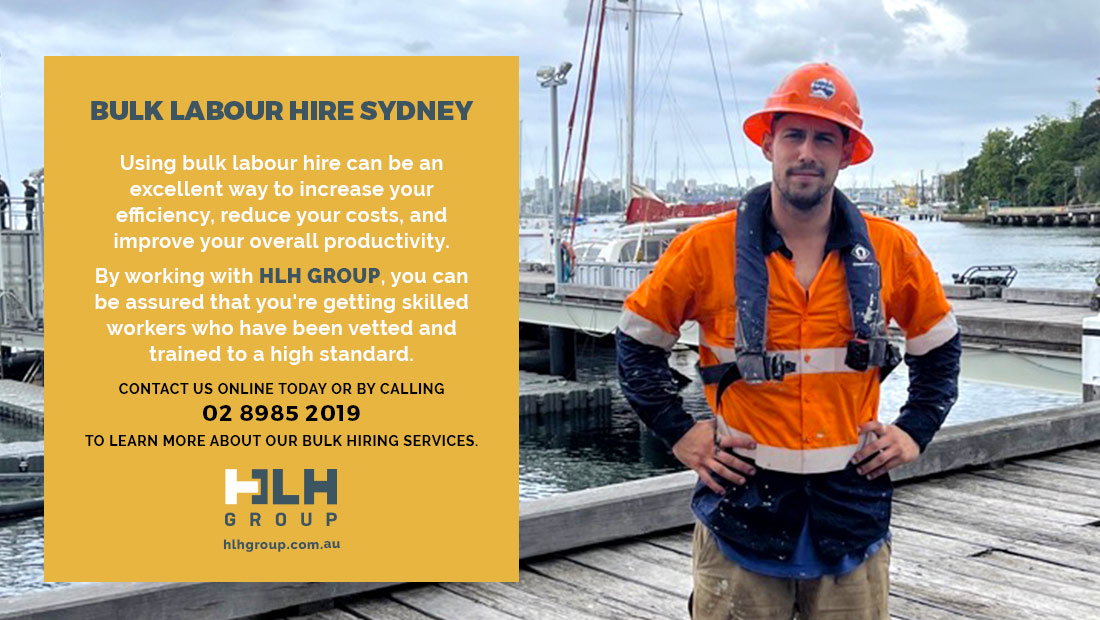 Bulk Labour Hire Sydney
In conclusion, using bulk labour hire can be an excellent way to increase your efficiency, reduce your costs, and improve your overall productivity. By working with HLH Group, you can be assured that you're getting skilled workers who have been vetted and trained to a high standard. Contact us online today or by calling 02 8985 2019 to learn more about our bulk hiring services.