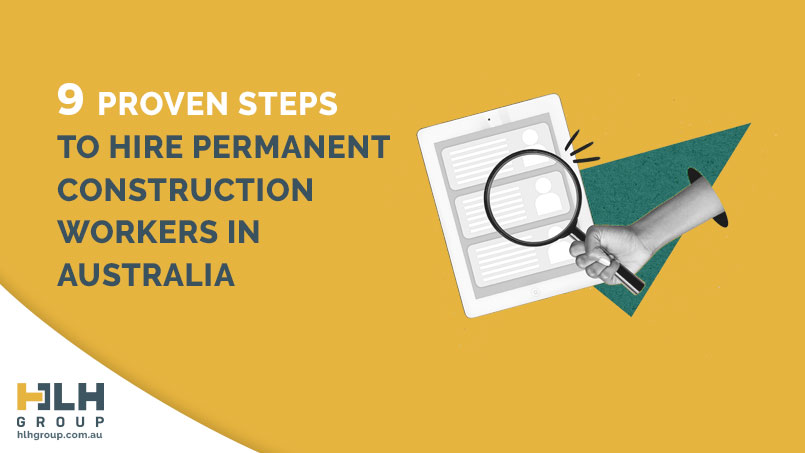 26 Jul

9 Proven Steps to Hire Permanent Construction Workers in Australia

Are you finding it difficult to recruit reliable, skilled construction staff for your company? In the competitive Australian market, attracting quality construction talent can indeed be a daunting task. Yet, it is not impossible. By deploying effective hiring strategies, you can not only attract but also retain the top talent that can drive your construction business forward. That's where HLH Group steps in. Our step-by-step guide not only simplifies the hiring process but also equips you with strategies to successfully build a competent and dedicated construction team. So let's begin your successful hiring journey today!
1. Clearly Define Job Roles
Begin by clearly defining the roles and responsibilities for the positions you need to fill. Identify the required skills, qualifications, construction tickets and experience for each role. This will help you create accurate job descriptions and attract the right candidates. Decide what type of person will suit the role and who would make a good fit for you team.
2. Create Compelling Job Descriptions
Write detailed job descriptions that accurately reflect the expectations and requirements of the positions. Highlight the essential skills, qualifications, and experience needed. Include information about the construction projects, company culture, and any unique benefits or perks you offer. Use clear language and provide a realistic preview of the job.
3. Advertise the Job Openings
Utilize a variety of channels to advertise your job openings. Some effective methods include posting on online job boards, industry-specific websites, social media platforms, and local newspapers. Also, consider networking with construction industry associations and using recruitment agencies specialized in the construction sector such as HLH Group.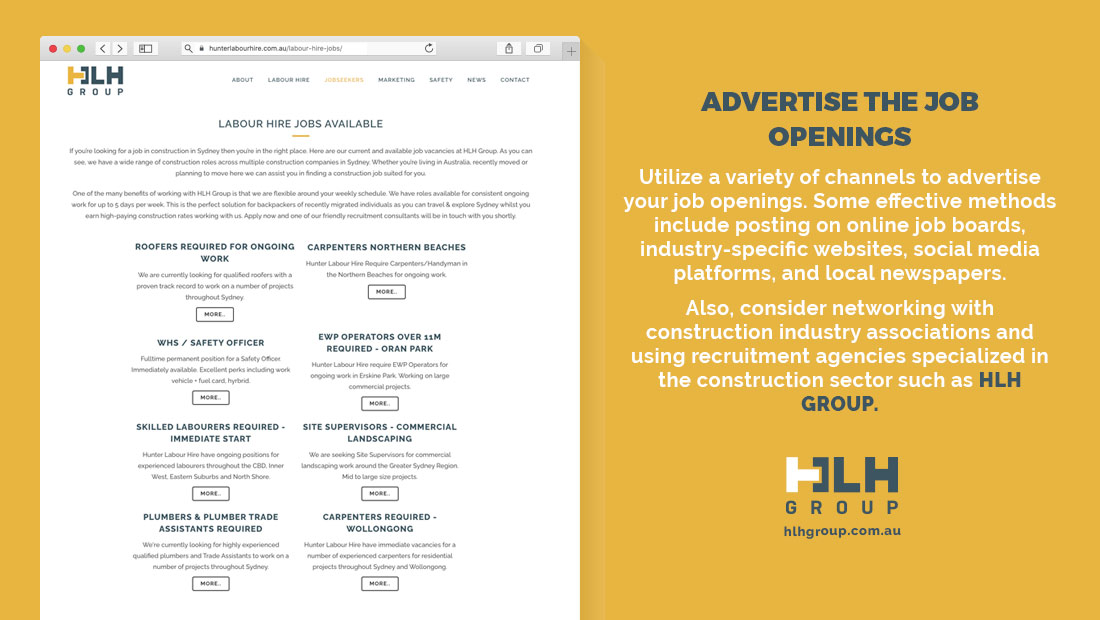 4. Screen Resumes and Applications
Review the received resumes and applications to shortlist candidates who meet the essential criteria. Look for relevant experience, qualifications, and skills. Pay attention to candidates who demonstrate a strong understanding of the construction industry and have a track record of successfully completing projects similar to yours. At HLH Group we can take care of this process for you leaving you with a suitable shortlist of candidates ready to interview.
5. Conduct Thorough Interviews
Schedule interviews with the shortlisted candidates. Prepare a set of structured interview questions to assess their technical knowledge, problem-solving skills, teamwork abilities, and cultural fit within your organization. Conduct both phone or video interviews and in-person interviews to evaluate candidates thoroughly. We take care of scheduling interviews for all our clients whether they are on site, at your main office or via Video Call platforms.
6. Check References and Verify Credentials
After the interviews, check the references provided by the top candidates to confirm their past work performance and reliability. Additionally, verify any claimed certifications, licenses, or qualifications to ensure the candidates possess the necessary credentials for the job. Reference checking can be a time-consuming process but it is a very important part of the recruitment process. We take care of this for some of our clients whilst some maintain its their preference to do it themselves.
7. Assess Cultural Fit
Evaluate how well the candidates align with your company's values and culture. Construction projects often require teamwork and collaboration, so it's important to select candidates who can work well in your organizational environment.
8. Offer Competitive Compensation
Research the market rates for similar positions in your area to offer competitive compensation packages. Take into account factors such as experience, qualifications, and the scope of the role. Providing a fair and attractive remuneration package increases your chances of attracting top talent. This is integral in the Australian construction market where demand for talent is always high. At HLH Group we can handle the negotiation of salaries for staff and make sure all parties are happy with the proposed agreements.
9.Provide Clear Onboarding and Training
Once you've made your hiring decisions, ensure a smooth onboarding process for the new employees. Clearly communicate their roles and responsibilities, introduce them to the team, and provide any necessary training to help them acclimate quickly to their new positions. Getting new employees off on the right foot is integral.. don't take the small things for granted and make sure they have the right equipment and tools for the job available from day one. A good onboarding process will involve consistent feedback and communication with new starters well past the first month of employment.
Effective Hiring Strategy for Permanent Recruitment
To conclude, an effective hiring strategy is key to building a successful construction team in Australia. Our nine-step guide provides you with a blueprint to attract, hire, and retain the best talent. It requires careful planning, clear communication, and a strong understanding of your company's needs and culture. But remember, you don't have to navigate this complex process alone.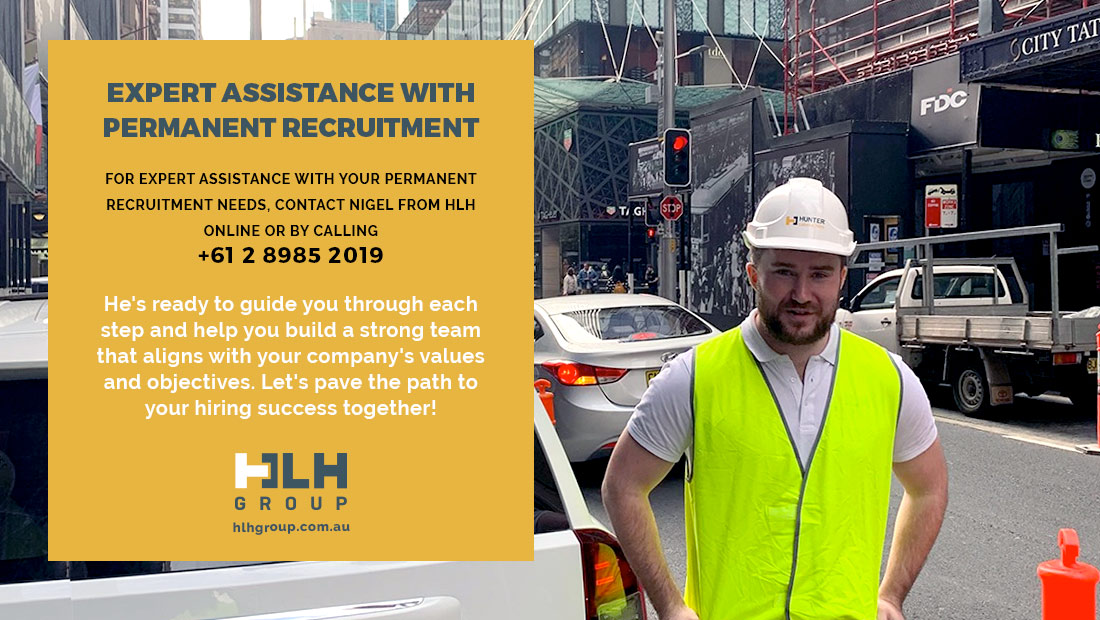 Expert Assistance with Permanent Recruitment
For expert assistance with your permanent recruitment needs, contact Nigel from HLH online or by calling +61 2 8985 2019. He's ready to guide you through each step and help you build a strong team that aligns with your company's values and objectives. Let's pave the path to your hiring success together!