18 Feb

Skilled Labour vs General Labour – Which Is Best For You?
Skilled Labour vs General Labour
Our vision at Hunter Labour Hire is to supply quality labour hire quickly and safely and whether you are looking for skilled labour or general labour you're guaranteed the same exceptional 5 star service. We have an extensive and impressive database of skilled and general labourers from all areas of construction. Our thorough recruitment process allows our consultants to recruit the best of the best when it comes to labourers and tradies. One common question that we get from our clients though is if they need a skilled or a general labourer to carry out their required tasks on site. And so, in this post we'll take a look at skilled labour vs general labour so you can determine which is best for your project, read on!
What is a General Labourer?
So, the first thing to understand is what is a general labourer? A general labourer, also known as an unskilled labourer, is hired to carry out basic labour tasks. They do not have years of specialised training. Some of the duties carried out by our general labourer hire include, but is not limited to the following:
Site Clean-Up
Assisting with deliveries
Moving of materials
Use of basic hand tools
Event set up
Rubbish Removal
Digging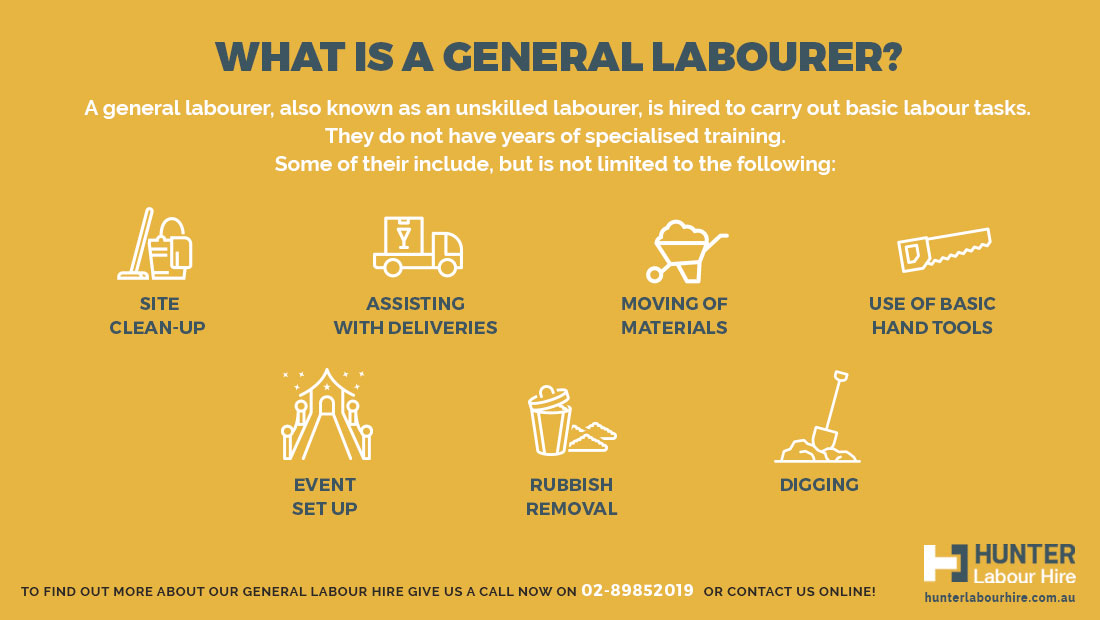 Hunter Labour Hire has the most reliable pool of general labourers compared all labour hire companies in Sydney. This is due to our one-strike policy, whereby we do not tolerate our staff not turning up on site. We have general labourers on standby from 6 am every morning, should you need any sick cover on-site or if you need that extra pair of hands at the last minute.
What is a Skilled Labourer?
Skilled labourer hire is employed to carry out more complex tasks, using more advanced tools to carry out such tasks. Our skilled labourers have more than two years of construction experience and a large number of them have trade qualifications from outside of Australia. Examples of the work carried out by skilled labourers include:
Use of hand and power tools
Demolition
Assisting Tradesmen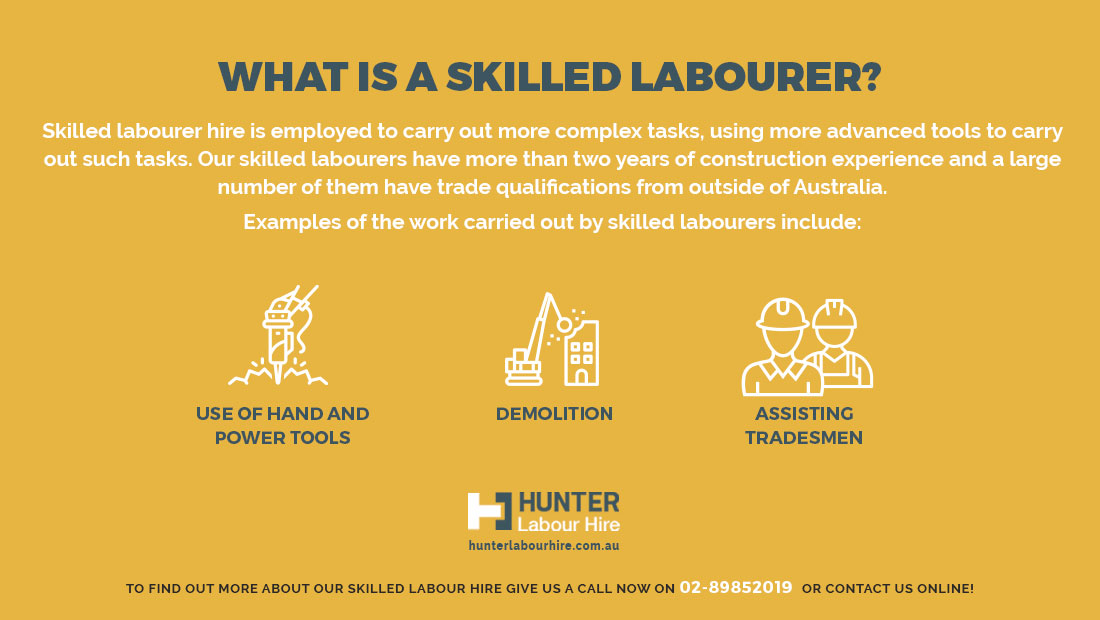 Skilled labourers ensure that your required tasks are completed in an efficient and timely manner, saving you time and money. You can ensure that your project will progress on schedule to a high standard. Put your mind at ease and allow our skilled labourers to give you the best value for money!
Unsure If You Need A General or Skilled Labourer?
So, now that you know the difference between skilled and general labours do you know which is best for your project? At times it can be hard to determine and so we recommend that you contact our friendly team of consultants who are on hand to advise you on the best course of action for your labour hire needs. We aim to ensure the best quality of service and understand the individual capabilities of each of our labourers, ensuring that your labourer is the best fit for your project.
Maintaining Standards for Our Clients
Whether you need skilled or general labour hire you can be guaranteed quality. To maintain standards in the quality of workers that we supply to our clients, we always appreciate feedback from our clients and keep our tradies motivated with Employee of the Month Awards. We also ask for weekly feedback and ratings from clients on each worker we send out to their site. Our tried and tested guys are always our first choice of workers, and we always interview our workers to assess their skills and experience before putting them to work. We also have company vehicles for our workers to use in getting out to the site, along with some basic hand tools if required, ensuring that your labour hire arrives on time with the tools needed.
Attributes of our Labourers
Over the years our experienced team of consultants have become 'people professionals', able to determine whether or not an applicant is the right for your project and looking beyond their qualifications, construction tickets & licences and qualifications. We have some talented members on the recruitment team in the HLH who have honed their senses to be able to ensure that any labourers we take on have, at a minimum, the following key basic attributes that will make them successful labour hire:
Physically fit
Willing and able to work long hours
Able to work well with others
Able to carry out duties as instructed
Safety First and Safety Last
Safety is of the utmost importance to us here at Hunter Labour Hire, and we strive to provide incident-free workplaces for our clients and workers alike. To ensure this, we carry out regular site inspections to ensure the satisfaction of both client and candidate. All our labour hire will arrive on-site with all required PPE, including high visibility clothing, steel toe cap boots and a hardhat. Regardless of what labour hire you opt for, rest assured that safety will be the first and last thing in their mind.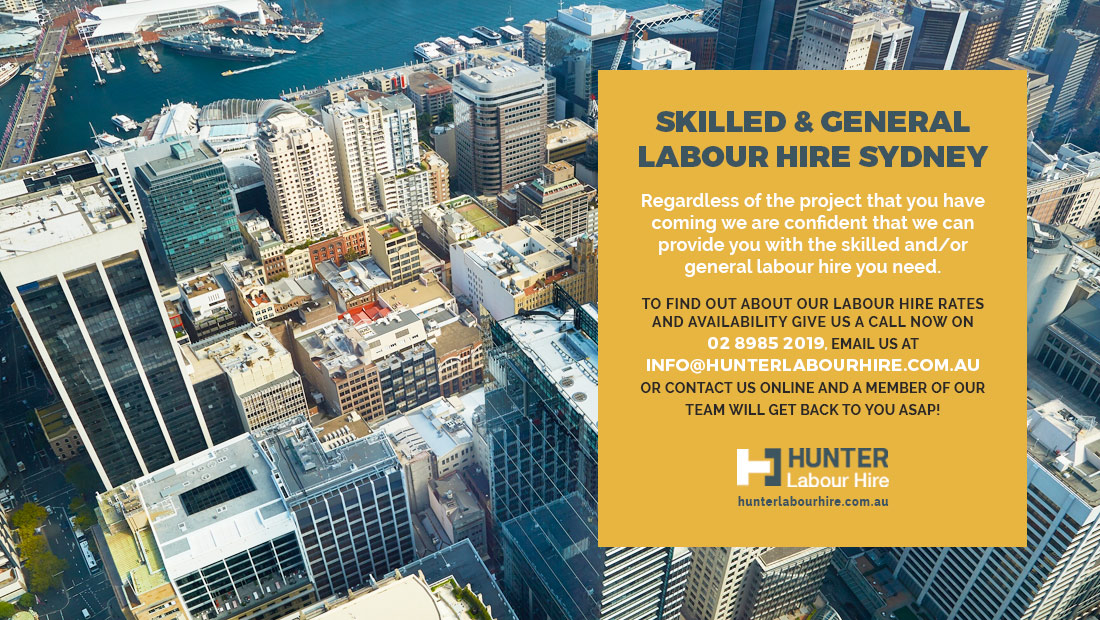 Skilled & General Labour Hire Sydney
Regardless of the project that you have coming we are confident that we can provide you with the skilled and/or general labour hire you need. To find out about our labour hire rates and availability give us a call now on +61 2 8985 2019, email us at info@hunterlabourhire.com.au or contact us online and a member of our team will get back to you asap!