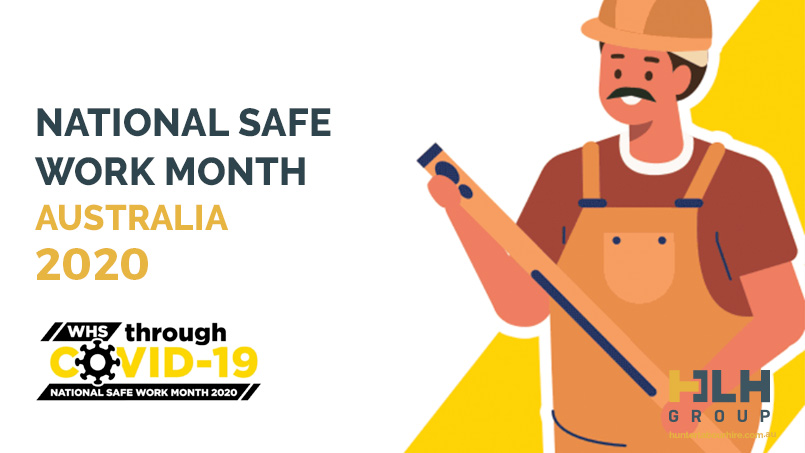 14 Oct

National Safe Work Month Australia 2020
About National Safe Work Month Australia 2020
Safe Work Australia is the national policy agency responsible for WHS and workers' compensation arrangements in Australia. Since 2009, SWA has run a national campaign each October to raise awareness of WHS and provide resources for Australian workplaces to run their own events. Last year in Australia, Safe Work Australia preliminary data showed that around 180 people died while doing their job. Around 107,000 people made a workers' compensation claim for serious injury or illness in 2017-18. No one should be unsafe at work and no injury or death is acceptable.
Working Together for Health & Safety in October
Each year Safe Work Australia set a different theme to follow that encourages safety amongst workplaces e.g. last year's theme was 'Be a Safety Champion'. Like most events and celebrations around Australia, this year is a little different from the impact of COVID-19 lockdowns and restrictions. For October 2020, the theme for National Safe Work Month is "Work Health and Safety through COVID-19". The theme for the month highlights the WHS challenges, as well as the positive outcomes brought on by the pandemic and the significant role WHS plays in keeping workers safe and preventing the spread of COVID-19. Workplaces have had to quickly adapt their practices and procedures to reduce the WHS risks arising from COVID-19 and to manage the psychological effects of the pandemic on workers.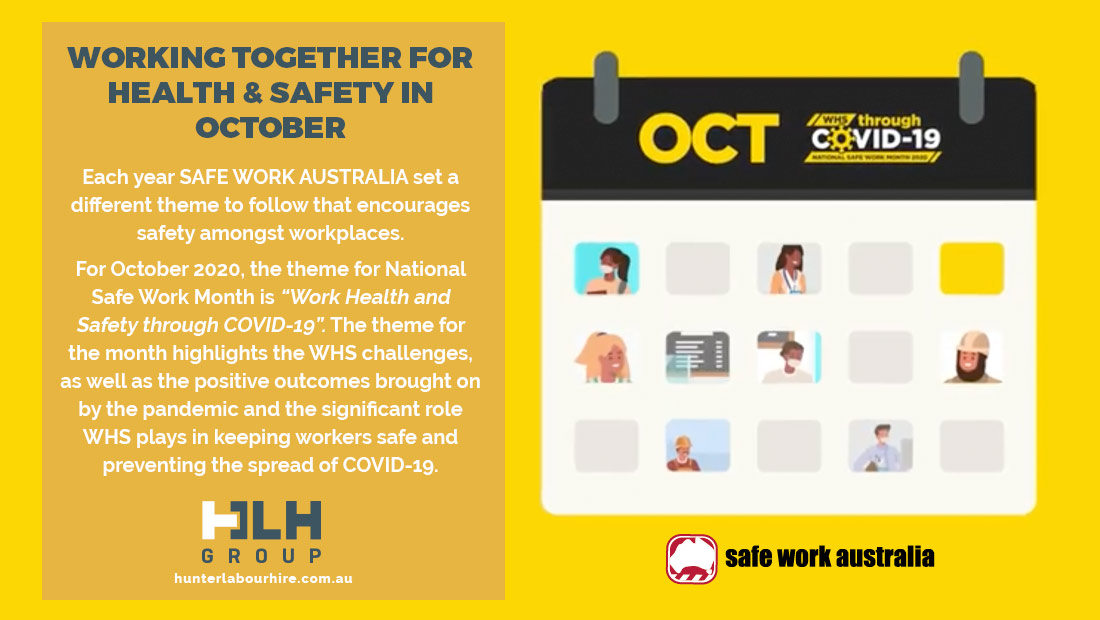 Controlling the Risk of COVID-19 on the Worksite
So, given the that's in it here are some safety practices can be implemented on your worksite to limit the risk of transmission of COVID-19 with other co-workers:
Screening Process – Employers should implement a screening process to minimise the introduction of coronavirus (COVID-19) to a construction site. For example, by asking employees entering the site at the start of their shift if they have travelled, been in contact with any confirmed cases of coronavirus (COVID-19) or if they have flu-like symptoms.
Workplace Mapping – Employers should implement processes to record the schedule and work locations for employees (including contractors), that enables tracing of those who have come into contact with the confirmed case.
Physical Distancing – Physical distancing of at least 1.5 metres should be implemented wherever possible. Employers should consider each work task and whether there is a safe alternative way to undertake the work with an increased distance between employees.
Hygiene – Ensure all employees follow good hygiene practices, including washing hands frequently with soap and water for at least 20 seconds, covering coughs and sneezes, or coughing into their elbow or shoulder and avoiding touching eyes, nose or mouth.
Cleaning – Thorough and regular cleaning needs to be undertaken of all work areas, transit areas (including personnel hoists and lifts), communal and meal break areas, shared facilities (eg bathrooms and kitchens) and shared equipment.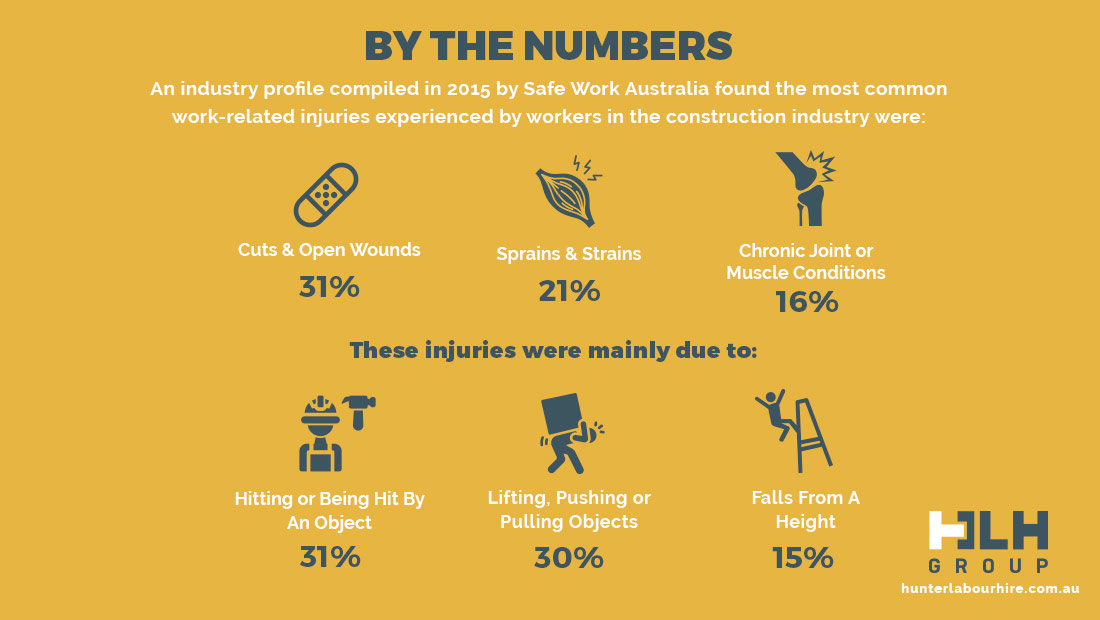 Construction Safety: By the Numbers
Although this year's theme of COVID-19 safe practices is essential to highlight it is also valuable to acknowledge general safety practices whilst working on site. An industry profile compiled in 2015 by Safe Work Australia found the most common work-related injuries experienced by workers in the construction industry were:
cuts and open wounds (31%)
sprains and strains (21%)
chronic joint or muscle conditions (16%).
These injuries were mainly due to:
hitting or being hit by an object (31%)
lifting, pushing or pulling objects (30%)
falls from a height (15%).
Resources for Supporting National Safe Work Month
Safe Work Australia has compiled a list of resources that you can use to encourage safe practices this month for National Safe Work Month:
Safe Working in the Construction Industry: Campaign Kit
COVID-19 Resource Kit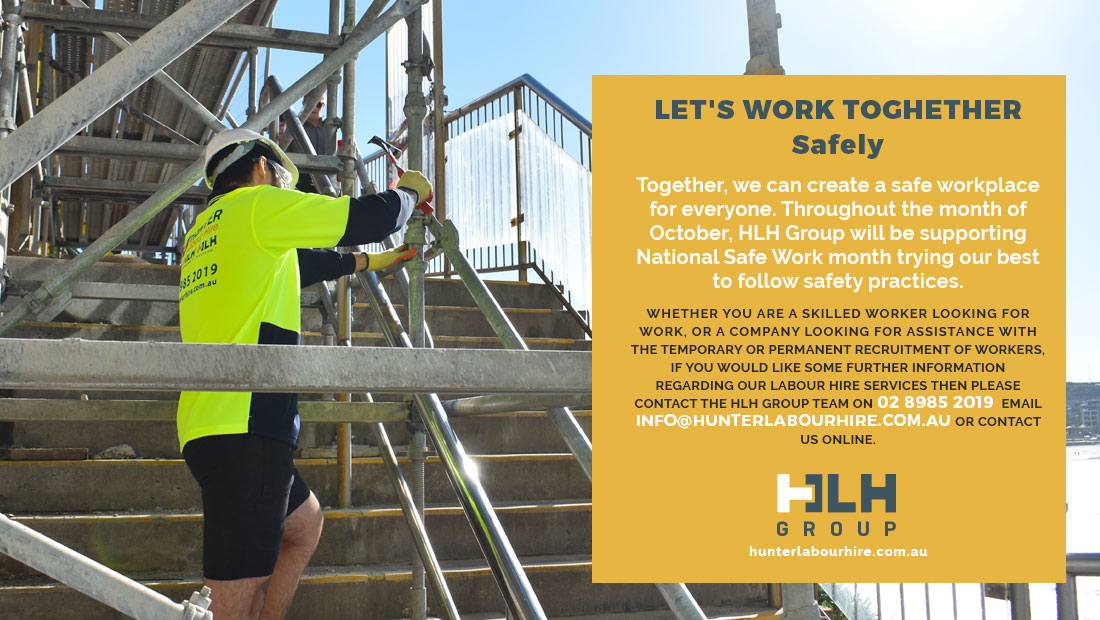 Let's Work Toghether – Safely
Together, we can create a safe workplace for everyone. We're in this together. Throughout the month of October, HLH Group will be supporting National Safe Work month trying our best to follow safety practices not only with our workers on-site but our employees in the head office. Whether you are a skilled worker looking for work, or a company looking for assistance with the temporary or permanent recruitment of workers, if you would like some further information regarding our labour hire services then please don't hesitate to contact the HLH Group team on 02 8985 2019, email info@hunterlabourhire.com.au or contact us online.