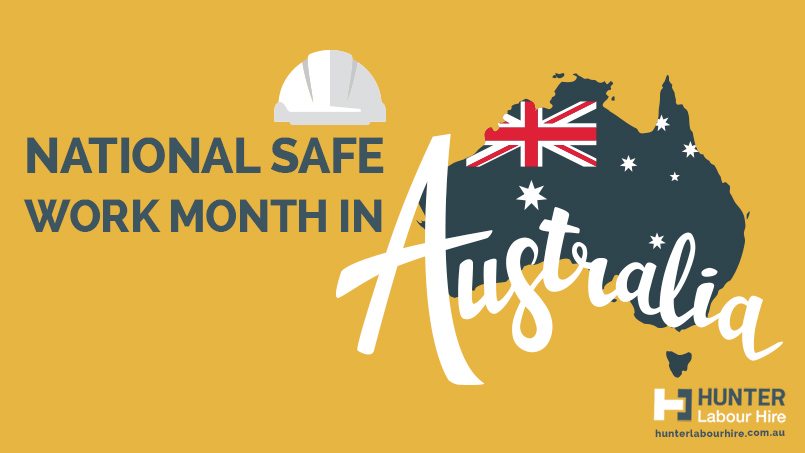 03 Oct

National Safe Work Month in Australia
Safe Work Month Australia – October 2017
October marks the start of "National Safe Work Month", an annual campaign which has been running since Safe Work Australia was established in 2008. The purpose of the campaign is to raise awareness about work health and safety (WHS) in the work place. Throughout October every state in Australia is hosting a variety of events to support the campaign (here's what is happening in NSW). Here at Hunter Labour Hire WHS takes priority over anything else and we very much support the annual campaign. This week's blog gives an overview of who Safe Work Australia are, what they do and what Hunter Labour Hire are doing to ensure compliance with WHS and support this month's campaign.
Safe Work Australia
Established in 2008 to develop a national policy and guidance for workers health and safety (Safe Work Australia Act 2008) Safe Work Australia is a Government agency responsible for improving work place health and safety and workers compensation agreements across Australia. Each state has WHS agencies responsible for enforcing the WHS laws in their jurisdiction. However, the responsibility also lies with business owners, managers and employers who have a duty to employees to ensure that they are doing as much as they can to enforce good WHS practices.
Safe Work Australia Partnerships
Safe Work Australia have developed partnerships between governments, unions and industry all working together towards the goal of reducing death, injury and disease in the workplace. All sharing the same mindset "No industry should be unsafe to work in and no death is acceptable". Since their interception there has been a steady decline in work related fatalities and workers compensation claims. However, the most recent statistics from 2012-13 show that work-related injury and disease cost the Australian community $68.1 Billion so there is still much work to be done.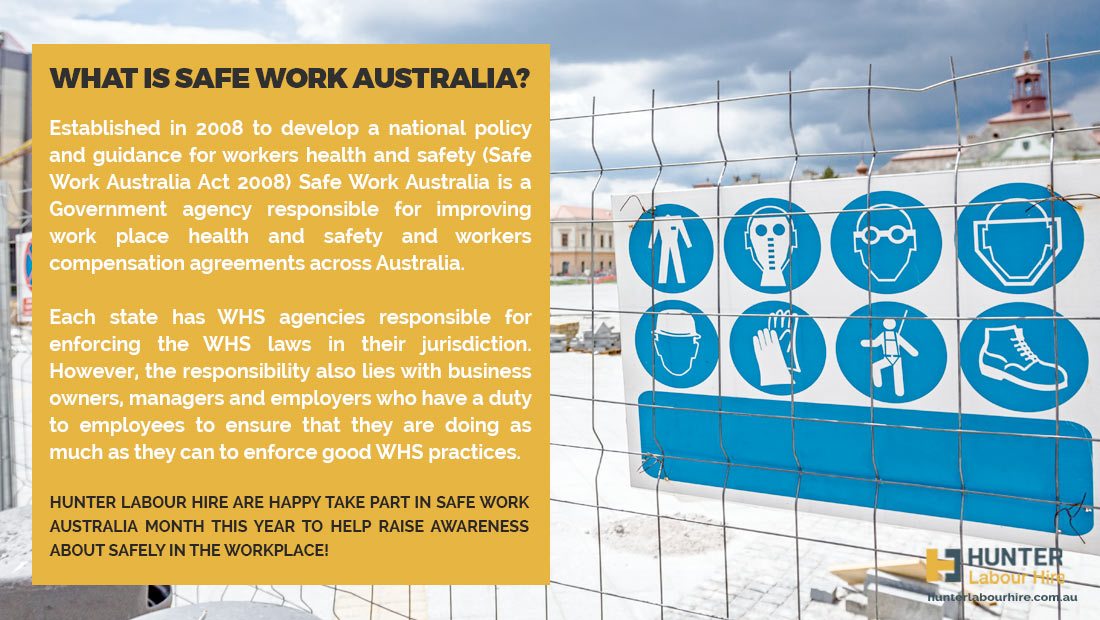 WHS at Hunter Labour Hire
At Hunter Labour Hire we have made it our number one priority to ensure that we as an employer, and our employees (office and site based), are compliant with WHS. With the building and construction industry being one of the most high-risk areas of work we could not afford to neglect such an important aspect of the industry. Some of the things we do to ensure compliance include: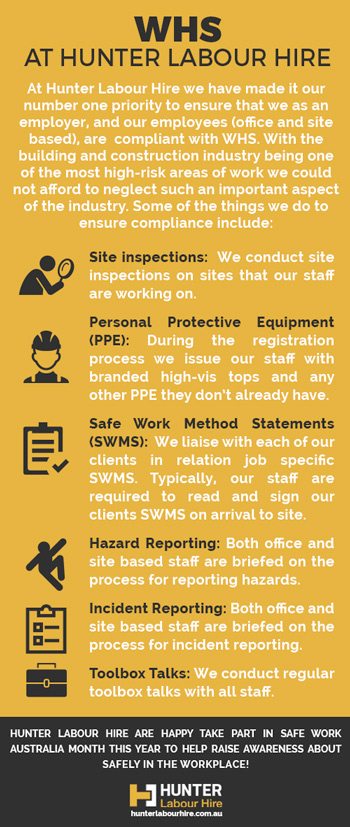 Site inspections – We conduct site inspections on sites that our staff are working on. This helps us to ensure that the site is being compliant with WHS and that our staff are working safely in a safe environment.
Personal Protective Equipment (PPE) – During the registration process we issue our staff with branded high-vis tops and any other PPE they don't already have. We also ensure that when sending out job details that the site PPE requirements are clear in the messages. This helps ensure that all our staff turn up in compliance with the sites requirements.
Safe Work Method Statements (SWMS) – we liaise with each of our clients in relation job specific SWMS. Typically, our staff are required to read and sign our clients SWMS on arrival to site. On occasions we also produce SWMS prior to a job too.
Hazard Reporting – both office and site based staff are briefed on the process for reporting hazards. All hazards are logged and procedures for how this hazard can be prevented into becoming an incident are put in place immediately.
Incident Reporting – both office and site based staff are briefed on the process for incident reporting. We keep a record of all incidents big or small and do everything we can in terms of implementing preventative measures going forward.
Toolbox Talks – we conduct regular toolbox talks with all staff. Site based staff are also advised that they may be required to take part in on site tool box talks with clients as well.
ISO Certification for WHS
We are continuously striving to improve our processes and procedures, ensuring that we are always in compliance with WHS. In addition, we are also in the process of obtaining our International Standards Organisation (ISO) for WHS, Environment and Quality. More information about the ISO will be covered in next week's blog.
Labour Hire Jobs Available
At Hunter Labour Hire we are always looking for the best in labour hire talent and so if you like the sound of the above and are eager to work in the Sydney labour hire industry then we want to hear from you! Give our team a call now on +61 2 8985 2019 or register online to work with us and we'll get back to you asap!