25 Oct

Landscape Labour Hire Sydney
Sydney Landscape Labour Hire
At HLH Group we setup a dedicated landscaping labour hire division HLH Landscaping in 2018 since then we have gone from strength to strength in this sector. We have supplied landscape labourers, landscapers and horticulturists all the way up to Palm Beach and as far south as Shell Cove in the Illawarra. The type of projects we have been supplying to ranges from ongoing maintenance work in memorial parks, golf course renovations, industrial estate maintenance and soft / hard garden landscaping. We have thoroughly enjoyed working on these projects and are well placed to work with more cutting hedge (shameless!) landscaping companies throughout the upcoming busy seasons.
How Can HLH Landscaping Help Your Company?
We offer both temporary and permanent recruitment services for all sorts of roles. So, whether you require a landscaper to get you through a busy few weeks or you want to expand your team permanently HLH Group have got you covered!
What Landscaping Roles Do We Recruit For?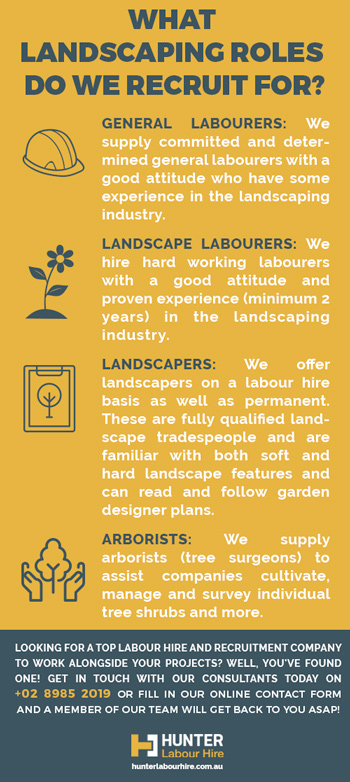 General Labourers: We supply committed and determined general labourers with a good attitude who have some experience in the landscaping industry. Whilst they may not be the most experienced, they are keen and able to assist with general duties on site. The tasks these guys are suitable includes the following: trench digging, spreading mulch, gardening duties such as lawn mowing, hedge trimming and weeding.
Landscape Labourers: We hire hard working labourers with a good attitude and proven experience (minimum 2 years) in the landscaping industry. The tasks these guys are suitable includes the following: trench digging, assisting with construction of retaining walls, garden features, some paving and other aspects that tradesmen as usually required to do.
Landscapers: We offer landscapers on a labour hire basis as well as permanent. These are fully qualified landscape tradespeople and are familiar with both soft and hard landscape features and can read and follow garden designer plans. If you need some experienced and qualified workers, then these are the workers for you!
Arborists: We supply arborists (tree surgeons) to assist companies cultivate, manage and survey individual tree shrubs and more. These guys are comfortable working safely from heights, operating heavy powered tools such as chainsaws and most importantly can work safely in a high-risk environment.
We Care About The Environment Too!
Along with the ISO's for management and quality, we also have ISO 14001 which means we have a management system for measuring and improving our organization's environmental impact. We are constantly assessing how we as a company can strive to minimize our impact on the environment in everything we do!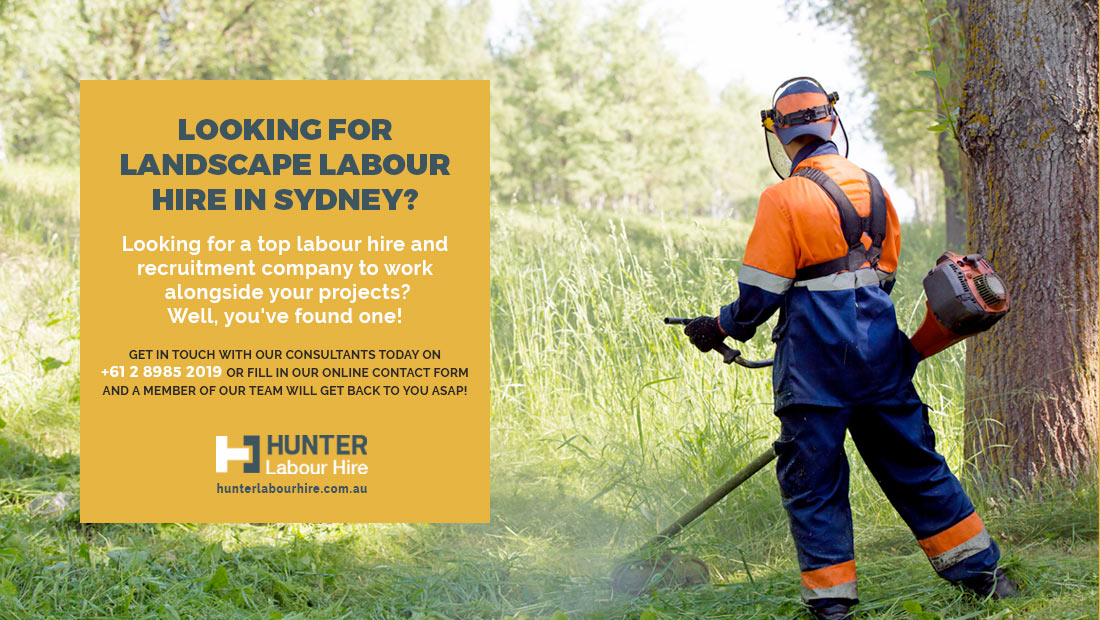 Looking For Landscape Labour Hire in Sydney?
Looking for a top labour hire and recruitment company to work alongside your projects? Well, you've found one! Get in touch with our consultants today on 02 8985 2019 or fill in our online contact form and a member of our team will get back to you asap!