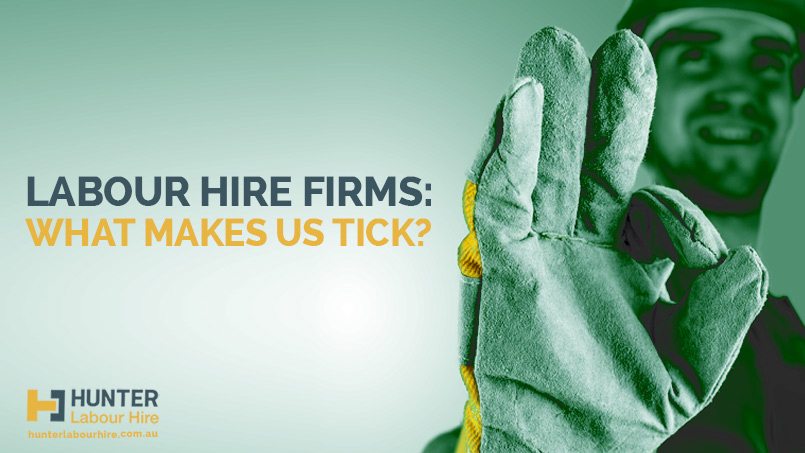 30 Mar

Labour Hire Firms: What Makes Us Tick?
Labour Hire Firms Sydney – HLH
At Hunter Labour Hire we pride ourselves on providing a quality service to both our clients and our candidates. Our people are the most important part of our business. Recruitment and construction are both very much people businesses, so as a construction recruitment company we need to appreciate and value our people for us to succeed.
Labour Hire Firm Culture
Within our business we strive to provide quality in everything we do from our internal recruitment to our candidate placements. We are constantly seeking feedback from our clients and candidates to ensure that we are doing our utmost to provide a quality service.
In order to develop relationships with both our candidates and clients, the HLH account managers understand the exact needs of our clients and what are candidates are capable of so they can match them accordingly.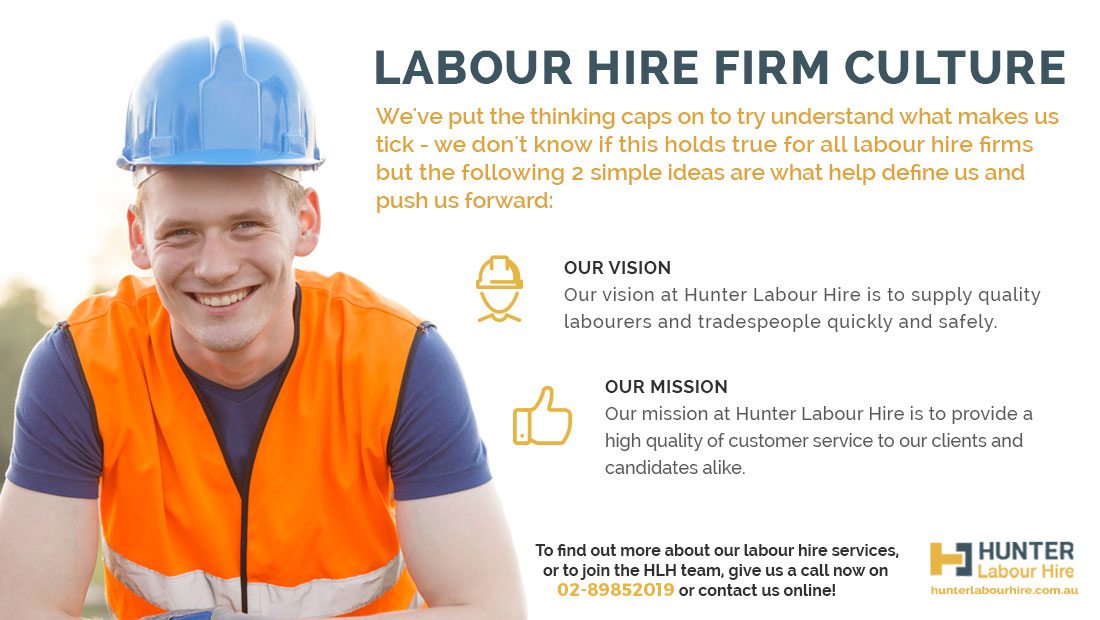 We have a work hard play hard mentality, so we like to reward ourselves for our efforts. Staff social events are a regular part of our calendar; Sydney Amazing Race, Spartan Races, The Melbourne Cup are some of our recent escapades. We've put the thinking caps on to try understand what makes us tick – we don't know if this holds true for all labour hire firms but the following 2 simple ideas are what help define us and push us forward:
1. Our Vision Our vision at Hunter Labour Hire is to supply quality labourers, skilled labourers tradespeople quickly and safely.
2. Our Mission Our mission at Hunter Labour Hire is to provide a high quality of customer service to our clients and candidates alike.
Our Values
Underpinning our mission and vision are the values that are key to our labour hire firm. These ideas or values encapsulate and set the tone for how we deal with clients, staff and tradies.
Integrity – We understand the importance of transparent and ethical business practices.
Safety – The safety of our clients, candidates and suppliers is paramount to us at Hunter Labour Hire. By implementing our integrated management system, we strive to operate incident and injury free worksites.
Quality – We continue to maintain the high quality and reputation of our candidates through our comprehensive recruitment and feedback processes.
Innovation – We are constantly developing our processes to meet the evolving needs of our clients.
Sustainability – We value the natural environment and are committed to minimising adverse impacts by integrating environmental management into business planning, strategy development and operational delivery.
Our Work Ethic
Whilst having a clear and defined vision and mission is important they would never see the light of day if not for our work ethic. Out of all the things that make our labour hire firm tick work ethic is definitely towards the top of the list as without a steely work ethic, especially in this business, things wouldn't run as smoothly as they should. As such our account managers always look for staff who have a strong and proven work ethic when hiring for our clients. Not only do our construction staff have a good work ethic, so do our office staff from our admin department to our management team we are all working hard to provide a quality service to all. We like to keep our standards very high in who we employ, we aim to employ the best, hardest working labourers in construction. Our best workers are kept in constant work and we ensure are candidate turnover is low because we know that tried and tested workers are best!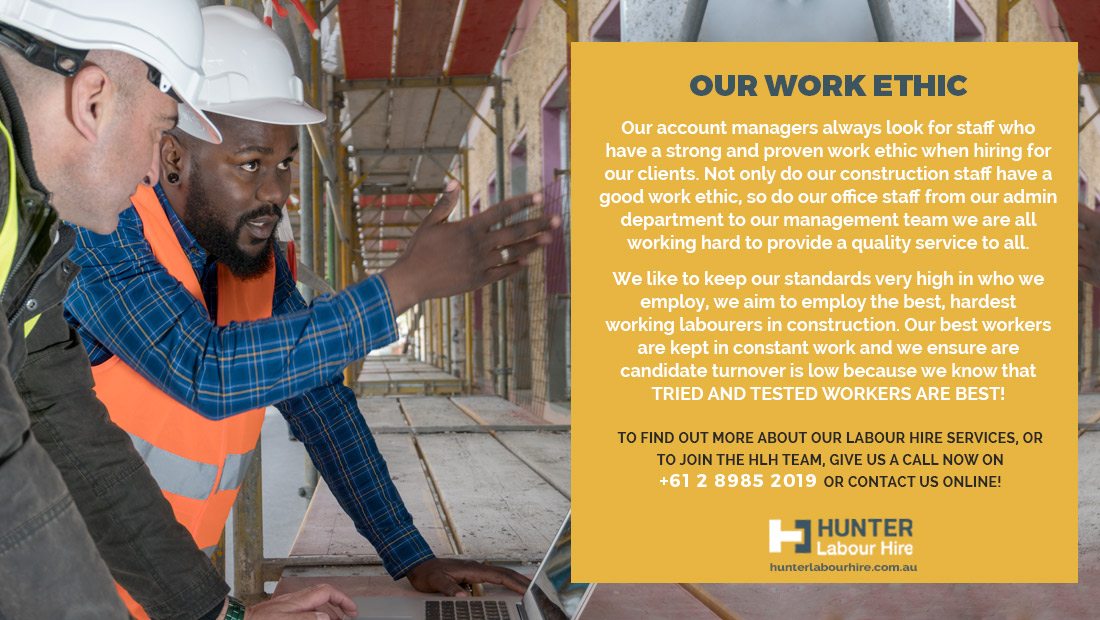 Did you know our account managers are available to their clients around the clock for labour requests or even just a friendly chat! Now that's a work ethic!
Recruitment Process
An important part of recruiting is making yourself an attractive company to work for. A core part of what we have done as a labour hire firm is invest a lot of time into developing our employer branding to attract the best talent in recruitment roles and site-based roles. We want people to work for us, and we want them to be motivated to do their best.
We meet every one of our candidates in person and if successful in securing a role with us induct them into our company at our office in Bondi Junction. We also perform reference and background checks on all our candidates. Our recruitment process is another key part of what makes us tick as it gives us the confidence we need to excel when talking with clients – thanks to our recruitment process we know we have some of the best labour hire available in Sydney and so we're able to get them excellent positions.
Want to Work With Sydney's Top Labour Hire Firm?
Do you like how we work and what we do? If you are looking to work with Sydney's top labour hire firm then give us now on 02 8985 29019 or fill in our online contact form and we will contact you back very soon.